Beer Bread Bruschetta with Salami
Beer Bread Bruschetta with Salami
I was looking at the calendar this morning when it struck me: at this time 16 years ago, I was packing up apartments and calling friends back home to let them know the news: I was moving to San Francisco! My husband (fiancé, at the time) and I were making the trek farther westward, to where our friends back east assumed we would be spending all our free time laying out on the beach, riding trolleys and sipping wine.
Well, they got the wine part right.
We soon discovered that Northern California beaches are for sweaters and strolling, trolleys were for tourists, and that there was a whole world of artisan foods out there, beyond wine.
In all these years, perhaps one of the most exciting parts about living here is exploring all the food, which is as varied as the views and the microclimates. It has influenced us in so many ways – it's hard for it not to! But one thing stays true, when summertime comes, I start to get excited about entertaining and picnicking, and eating simply with flavorful little bites rather than cozy, heavy meals.
Bruschetta is a summer staple, especially when the tomatoes ripen on the vine, and all you want to eat is a charcuterie board of salami! When I had a chance to partner up again with my friends at Columbus Craft Meats – another San Francisco local favorite (did you know that San Francisco is the salami capital of the US?) – I knew I wanted to make a bruschetta fit for summer, but with a little twist.
Let's start with the bread. There are many local favorites when it comes to incredible bread, but I wanted something homemade. And I also wanted to use some of the interesting craft beers that are just as fascinating as the wines brewed locally. I decided a Beer Bread Bruschetta with Salami sounded like a true San Francisco treat.
I took some craft beer that is brewed two towns away and made a beer bread dough, infusing it with both the IPA and some parmesan cheese. The dough rolled out beautifully into batons, and with a quick bake in the oven I felt like I was in a bakery downtown…but better!
To assemble the bruschetta, all it took was a quick toast of the bread, a smear of creamy ricotta cheese and it was ready to be topped with swirls of sliced salami, fiery red pimiento peppers, and fresh microgreens. Each bite was washed down with more of that delicious, foamy craft beer. So simple and so delicious, just as a light summer meal should be!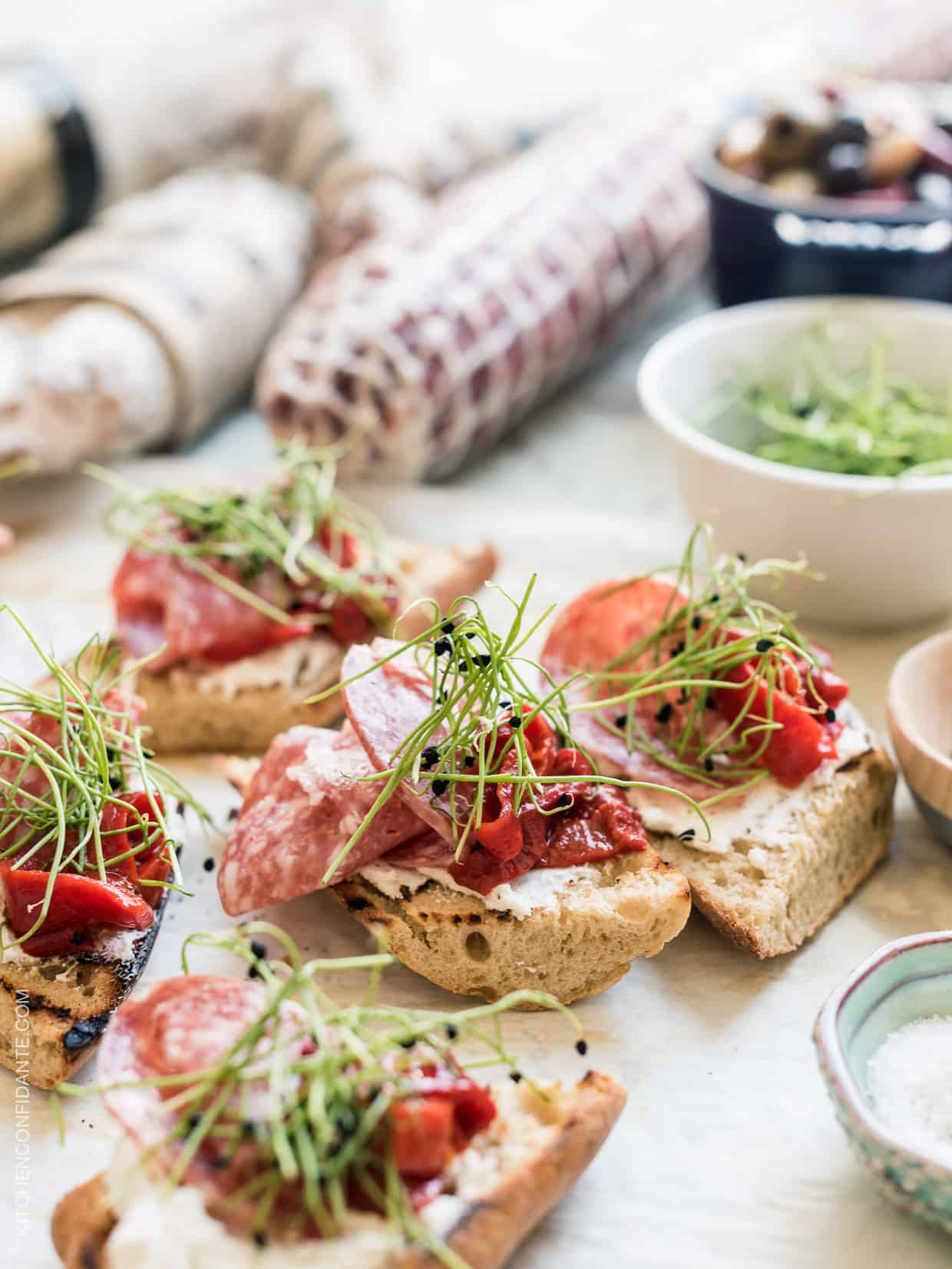 Thank you to Columbus Craft Meats for kindly sponsoring this post. All opinions are 100% honest & completely my own.
Beer Bread Bruschetta with Salami
Beer Bread Bruschetta with Salami is my antidote to everything summer: picnics, parties, or light summer meals! You'll love these bites made with homemade beer bread!
Print Recipe
Ingredients
For the Beer Bread Baguette
7 oz lukewarm water
6 oz good quality craft beer
1 ½ teaspoons active dry yeast
1 ½ teaspoons kosher salt
1 ¾ teaspoons granulated sugar
3 cups all purpose flour
½ cup bread flour
½ cup grated parmesan cheese
For the Beer Bread Bruschetta with Salami
1 Beer Bread Baguette (above)
3 tablespoons olive oil
8 oz good quality ricotta cheese
Kosher salt
Freshly ground black pepper
6 oz pimiento peppers
Your favorite Columbus Salame such as Columbus Italian Dry Salame, Sopressata and Artisan Collection Crespone Salame (in sticks or pre-sliced for convenience)
Micro greens – I used micro scallion (or substitute chives, finely sliced scallion, etc.)
Instructions
For the Beer Bread Baguette
In a mixing bowl, add the water, beer, yeast, salt and sugar and mix to combine. Add the all purpose flour, bread flour and parmesan cheese, and using the paddle attachment of a stand mixer, or a wooden spoon and some elbow grease, mix until all the flour is incorporated. There is no need to knead, just mix until combined.
Lightly cover the bowl and let the dough rest in a draft free place at room temperature for about two hours, or until the dough has risen and flattened on top.
If you plan on preparing the bread at a later time, then lightly cover the bowl and transfer to the refrigerator. The dough can be stored up to a week. However, the dough may be used immediately after the first rise.
When you are ready to bake, lightly dust the surface of the dough with flour and using floured hands, grab about an orange sized piece (about ½ pound in size), and cut if off with kitchen shears or a knife. Dust the dough with a little more flour, then turn the ends under, forming a ball in your hands. Once you have a ball, stretch the dough, dusting with a little more dough if necessary, and roll or fold the dough into a cylinder shape about 1 ½ inches in diameter. Place the dough on parchment paper and let it rest for about twenty minutes.
Preheat the oven to 450 degrees F with a baking stone in the center of the oven, and a broiler tray or cake pan on a shelf underneath.
When the dough is rested, lightly brush the loaf with some water and use a wet serrated knife to slash the bread with diagonal cuts down the length of the loaf.
Transfer the dough with the parchment paper onto the baking stone. Pour 1 cup of hot water into the broiler pan, close the oven door, and bake for about 25 minutes, or until golden brown and a nice crust has formed on the baguette.
Remove the baguette from the oven and let it cool on a rack before slicing.
For the Beer Bread Bruschetta with Salami
Slice the beer bread baguette in about 1 inch thick slices. Using a pastry brush, lightly brush both sides with olive oil, then place on a grill pan or grill to toast. You can also put it under the broiler for just a few minutes until golden brown on both sides.
Spread a little ricotta cheese on the toasts, and season lightly with salt and pepper. Top with a few slivers of pimiento pepper and thinly sliced Columbus Salami. Top with micro scallion. Enjoy!
Beer Bread Baguette adapted from recipes for Baguette and Wisconsin Beer-Cheese Bread, The New Artisan Bread in Five Minutes a Day by Jeff Hertzberg, M.D. and Zoe Francois (Thomas Dunn Books, 2013).