Cherry Rolls
Cherry Rolls
If you've ever been intimidated by cinnamon rolls or sweet rolls, this recipe for 90 minute Cherry Rolls is for you! It's simply sweet and oozing with cherry goodness!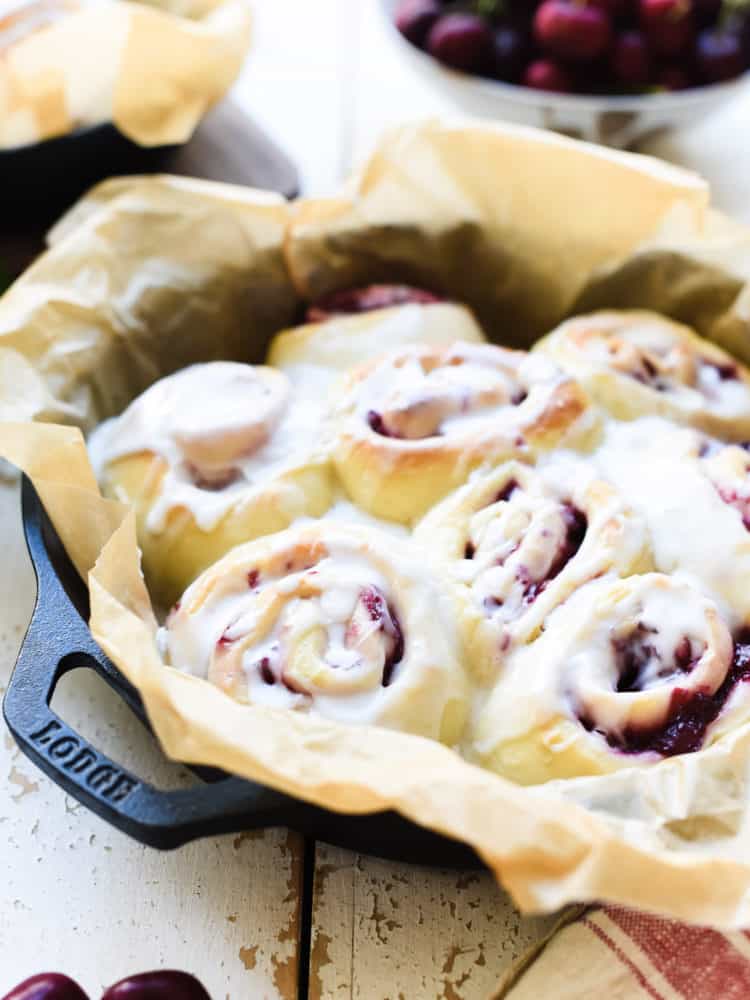 For someone who tries to sleep in on the weekends ("sleeping in" translating to 7am, though I do remember, quite fondly, of those long ago mornings waking past 10am, sigh!), the idea of making cinnamon rolls is always pushed aside, because by the time the dough had time to rise (twice), was filled and rolled, then baked, it was well past lunch time. And who wants sweet, gooey rolls after lunch?
Well, I do, but that's besides the point.
Rolls are amazing any time, but when you want a warm, sticky roll with your first cup of coffee, you resort to other measures.
Like cinnamon rolls out of a can. Or pancakes.
It was my daughter who changed my mind. Sometime last year, she surprised me with breakfast in bed — fluffy cinnamon rolls that forced me to ask her what dark hour she woke to start making them. When she told me she made them in under 90 minutes, I was incredulous.
A miracle!
Well, miracle might be a strong word, but it did give me hope. Over the last month or two, my craving for rolls returned, and after we went cherry picking, I knew I had to make some sweet Cherry Rolls with our harvest.
I used the same quick filling that I cooked up for those homemade cherry pop tarts I last shared with you, but I also made other versions using cherry preserves and jams, just to test for good measure. Making them with the homemade cherry filling or store bought cherry pie filling does yield a gorgeous ruby swirl and a more pronounced cherry flavor, but there's also something to be said about using the very convenient cherry preserves or jam. The latter results in a more dark and sticky, jammy cherry roll, and honestly, I like them both ways.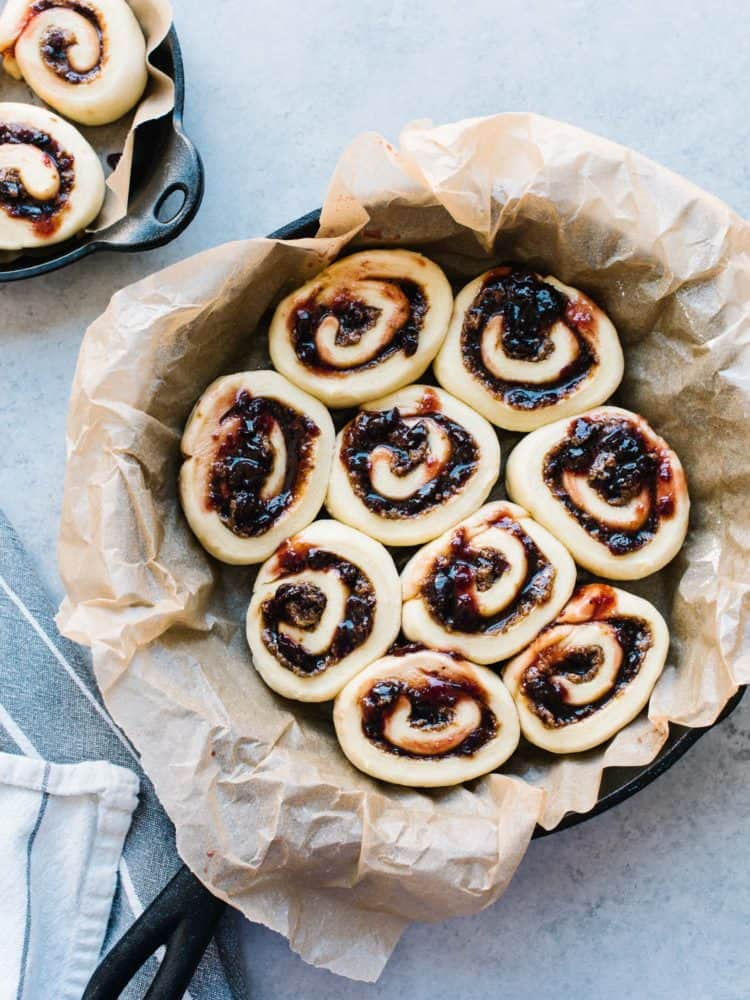 No matter which way you approach these cherry rolls, I love that there are many ways to make them in advance so you can enjoy them even earlier in the morning, which works perfectly for my house, since my husband is quite the early bird. You can form the rolls and freeze them, leaving you to simply thaw, rise and bake, or bake the whole tray, freeze them and reheat to enjoy any time of day. So if that means you want a cherry roll after lunch, well you can. And you should.
Eat Seasonal
Summer berries and stone fruit are here, the gardens are growing, and cooking is all about bright flavors! I'm excited to join Becky from Vintage Mixer and our friends to share dishes that embrace eating seasonal! Check out these recipes for more #EatSeasonal inspiration this June.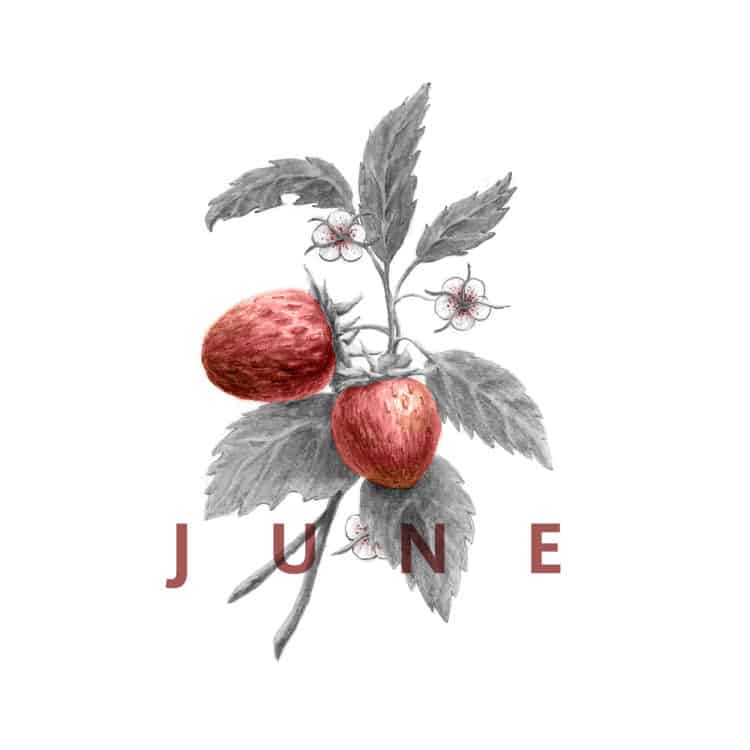 Chunky Citrus Guacamole by Foodie Crush
Pimento Cheese Spread with Pickled Green Garlic, Radishes, and Rhubarb by Food for My Family
French Green Lentil and Quinoa Salad by Letty's Kitchen
Simply Strawberry Pie by Joy Food Sunshine
Greek Three Bean Salad by Flavor the Moments
Strawberry Lime Chopped Salad by Vintage Mixer
Cherry-Rhubarb Pie Bars by Floating Kitchen
Roasted Strawberry Yogurt Pops by Completely Delicious
Rhubarb & Orange Frangipane Galette by Simple Bites
Minty Sweet Pea Hummus by She Likes Food
If you've ever been intimidated by sweet rolls, this recipe for 90 minute cherry rolls is for you! It's simply sweet!
Print Recipe
Ingredients
For the filling (see notes):
1/4 cup unsalted butter, softened
1/2 cup granulated, coconut or brown sugar (see notes)
2 cups fresh cherries, pitted
1/4 cup granulated sugar
2 teaspoons lemon juice
pinch kosher salt
1 tablespoon cornstarch
1 tablespoon cold water
For the dough:
3/4 cup 2% milk
1/4 cup unsalted butter
3 1/4 cups all-purpose flour, divided
1/4 oz (7g) instant yeast (1 package)
1/4 granulated sugar
1/2 teaspoon kosher salt
1/4 cup water
1 large egg, room temperature, lightly beaten
For baking:
1 large egg
1 tablespoon water
For the glaze:
1-2 tablespoons milk
1 1/2 – 2 cups powdered sugar
Instructions
Prepare the fillings:
Mix together the softened butter with the sugar (see notes below on sugars), set aside.
In a small sauce pan, stir the cherries, sugar, lemon juice and salt and cook for about 3-4 minutes, or until the cherries are soft and bubbly. Lower heat. Whisk together the cornstarch and water, and stir into the cherry, stirring constantly, until it is thick. Remove from the heat, transfer to a bowl and refrigerate for at least 30 minutes to cool completely.
Prepare the dough:
In a small sauce pan, heat the milk over medium-low heat until it begins to bubble and steam. Remove from heat and stir in the butter until it is melted and combined. Set aside the milk mixture to cool.
In a large mixing bowl or the bowl of an electric mixer fitted with the paddle attachment, whisk together 2 1/4 cups of the flour, yeast, sugar and salt. Make a well in the center of the flour mixture and add the water, egg and milk and butter mixture. Stir until well combined, then add the remaining 1 cup of flour in 1/2 cup increments, mixing until the dough has come together.
Place the dough on a lightly floured surface and knead by hand for about 5 minutes, or until the dough is smooth. If you are using an electric mixer, replace the attachment with a dough hook and allow the mixer to knead the dough until smooth, about 3 minutes.
Place the dough in a bowl, cover with a damp cloth and place in a warm spot to rise for about 10 minutes.
Make the rolls:
Roll out the dough into a 9×12 inch rectangle. Spread the butter and sugar mixture on the dough, followed by about 3/4 cup of the cherry filling. Starting with the long side of the dough, roll it up and pinch the seams of the dough. Slice the dough into 12 pieces, about 1 inch wide. Place cut side up in a buttered dish, cover and let it rise in a warm spot for about 30 minutes.
Preheat the oven to 375°F.
When the rolls are ready to bake, whisk together the egg and water and lightly brush on top of the rolls. Bake for about 20 minutes, or until the rolls are golden brown and fluffy.
While the rolls cool, make the glaze. Whisk in the powdered sugar into the milk in 1/2 cup increments until smooth and you achieve your desired consistency, using a little more or less as necessary. Drizzle or spread over the warm (but not too warm!) rolls.
Enjoy while warm.
Notes
The type of sugar you use can really change these cherry rolls — granulated sugar is great for a lighter cherry roll, while coconut or brown sugar adds a depth of flavor and almost caramelization to the rolls. They're all delicious, but it does change the final product, so choose accordingly.
If you would rather not make the cherry filling from scratch, substitute with cherry pie filling (I would chop up the cherries if they are whole) or cherry preserves or jam. Using preserves or jam will result in a darker, jammier cherry roll.
The cherry filling can be made several days in advance and stored in the refrigerator, making this even easier to make once you are ready to bake.