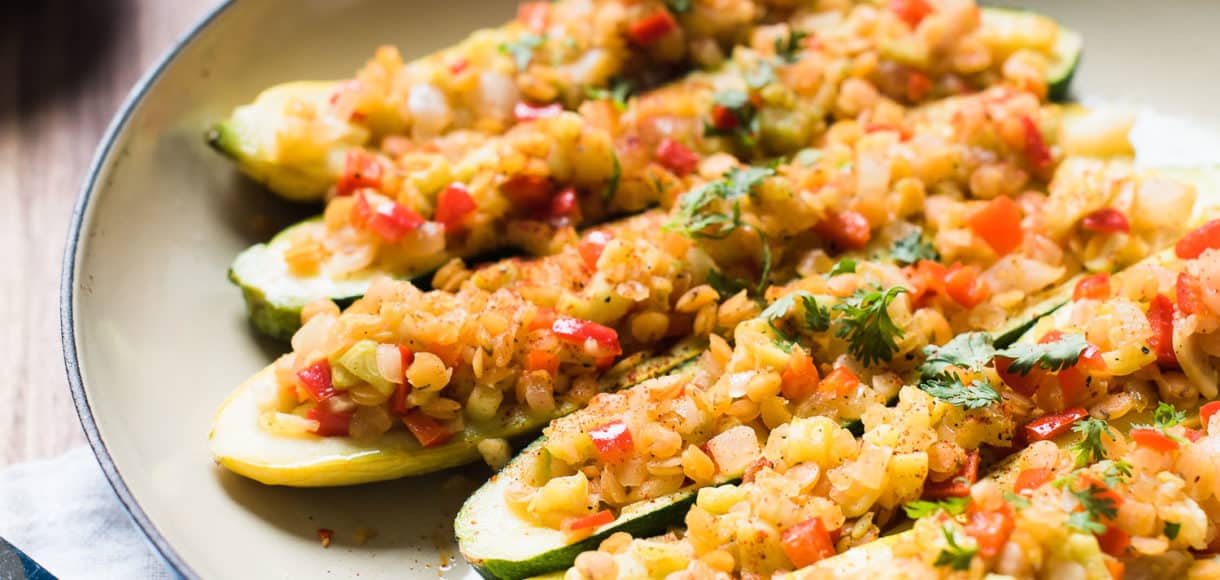 Lentil Stuffed Summer Squash
Lentil Stuffed Summer Squash
I often wonder if I can go vegan for a day, so I decided to give it a try with these Lentil Stuffed Summer Squash. Guess what? It was easier than I thought!
This post is brought to you in partnership with I Can't Believe It's Not Butter!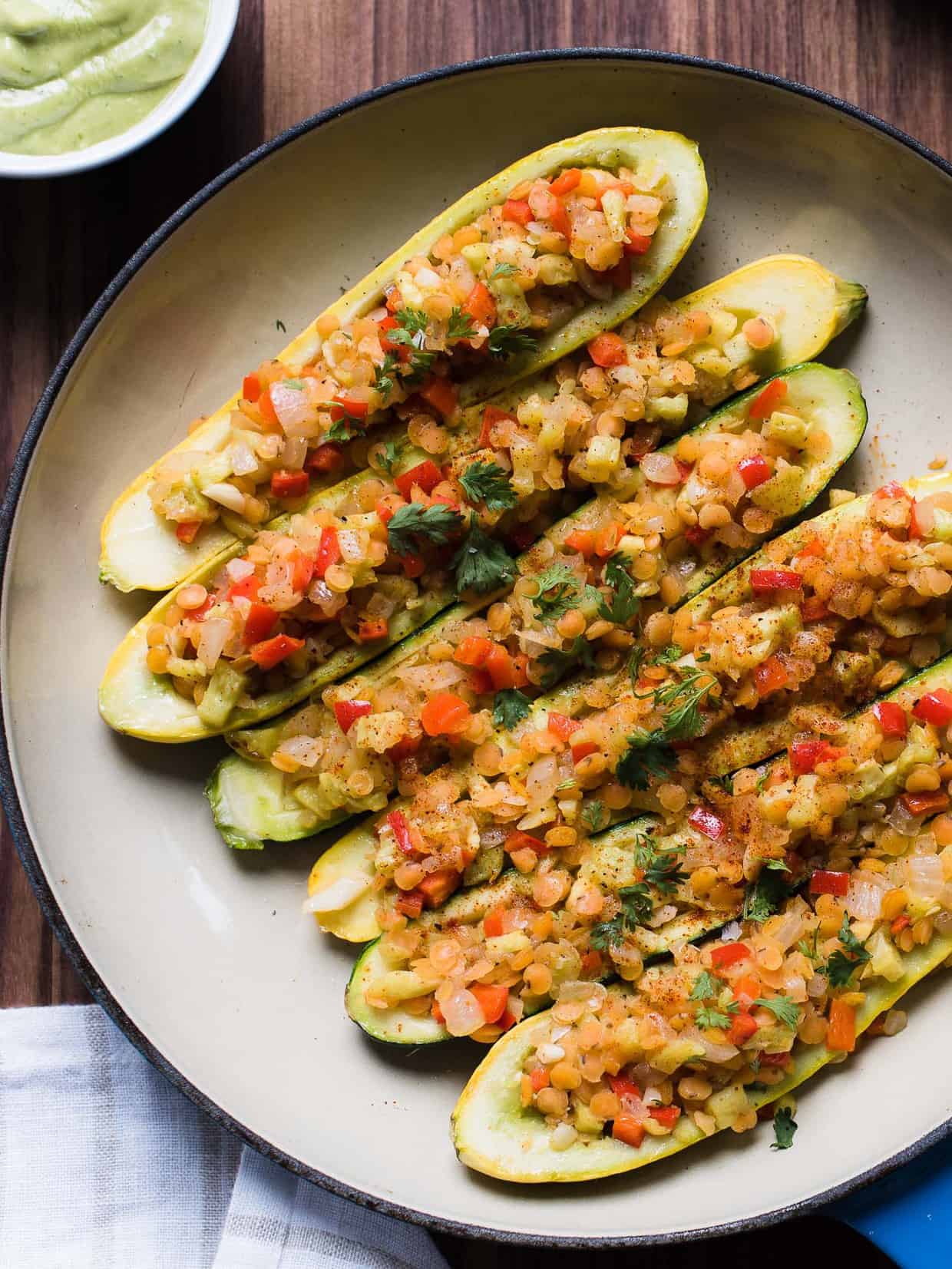 I often joke that if it weren't for my love for cheese and charcuterie, I could go vegan. But the truth is, aside from those indulgences, I already embrace vegetarian and vegan eating! I'm what I like to call a "part-time vegetarian" — at least for breakfast and lunch — and truth be told, if I didn't have a husband and children who were carnivores, I could very well be a full-time vegetarian.
The way I approach my food is this: for breakfast and lunch, I find myself craving all my vegetarian go-tos — I start the day with overnight oats, refuel after workouts with smoothies, and I eat the same darned veggie wraps for lunch nearly every day. Sometimes I swap out a buddha bowl or my favorite chickpea or lentil salads. But even if I'm on the road or grabbing lunch with a friend, I go meatless.
Then, for dinner, I'll cook whatever the rest of the family is craving.
I often think about how good I feel when I eat a more plant-based diet. When I consider the benefits of eating lots of vegetables, fruits, beans and nuts, I am drawn to vegan approaches to food, even if I embrace an omnivore's diet. More and more, I like to incorporate vegan cooking into my everyday approach.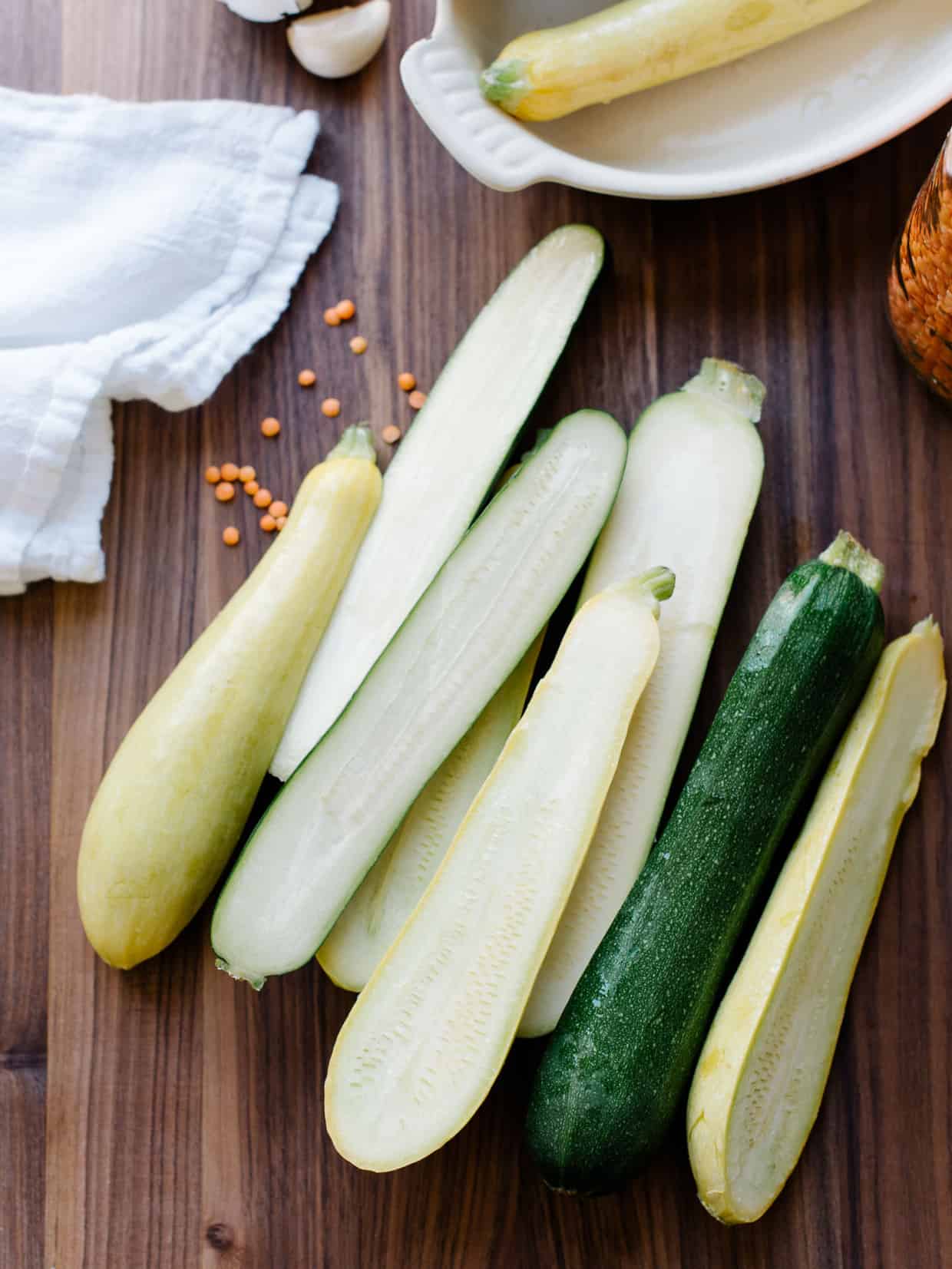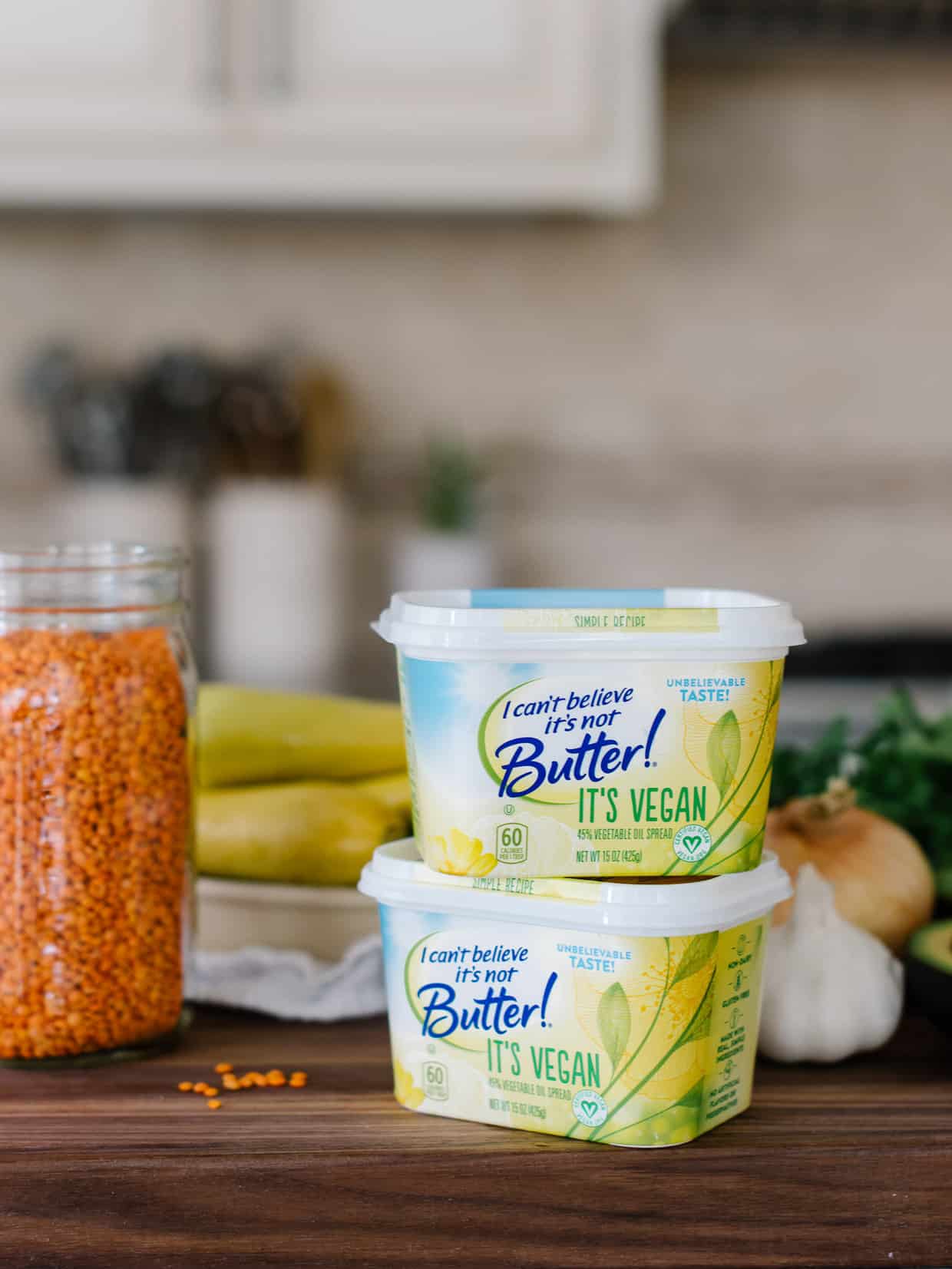 Because of this, I am really excited to partner with I Can't Believe It's Not Butter! to try two of their newest products: It's Vegan and It's Organic — these buttery spreads are made from real, simple ingredients and the goodness of plants, without artificial flavors, preservatives, or trans-fats, and are gluten-free, as well. Using It's Vegan, I decided to challenge myself to dabble for a day in a full vegan diet. Just one day, and I already have most of the day down pat so, the real challenge for me is dinner!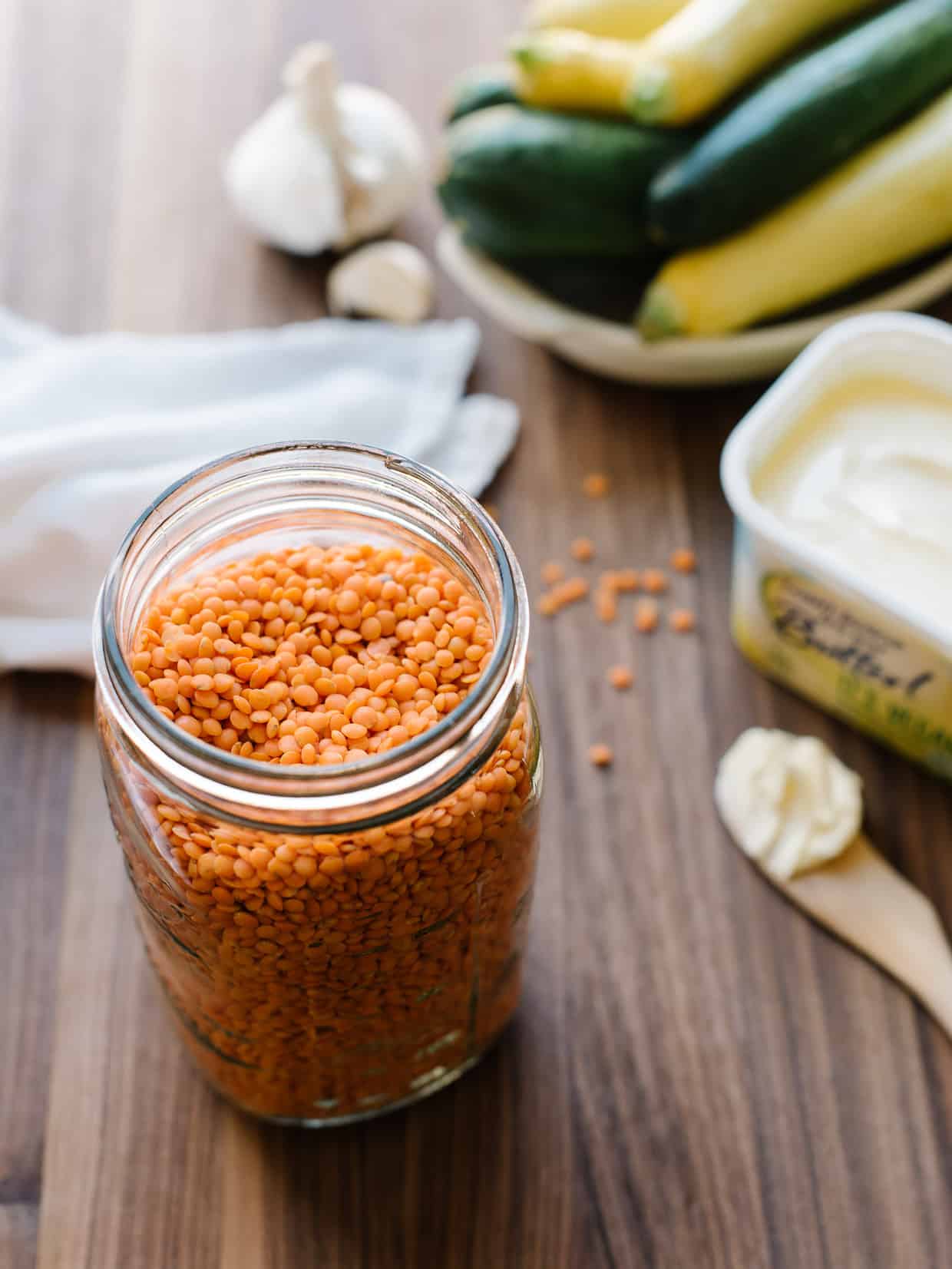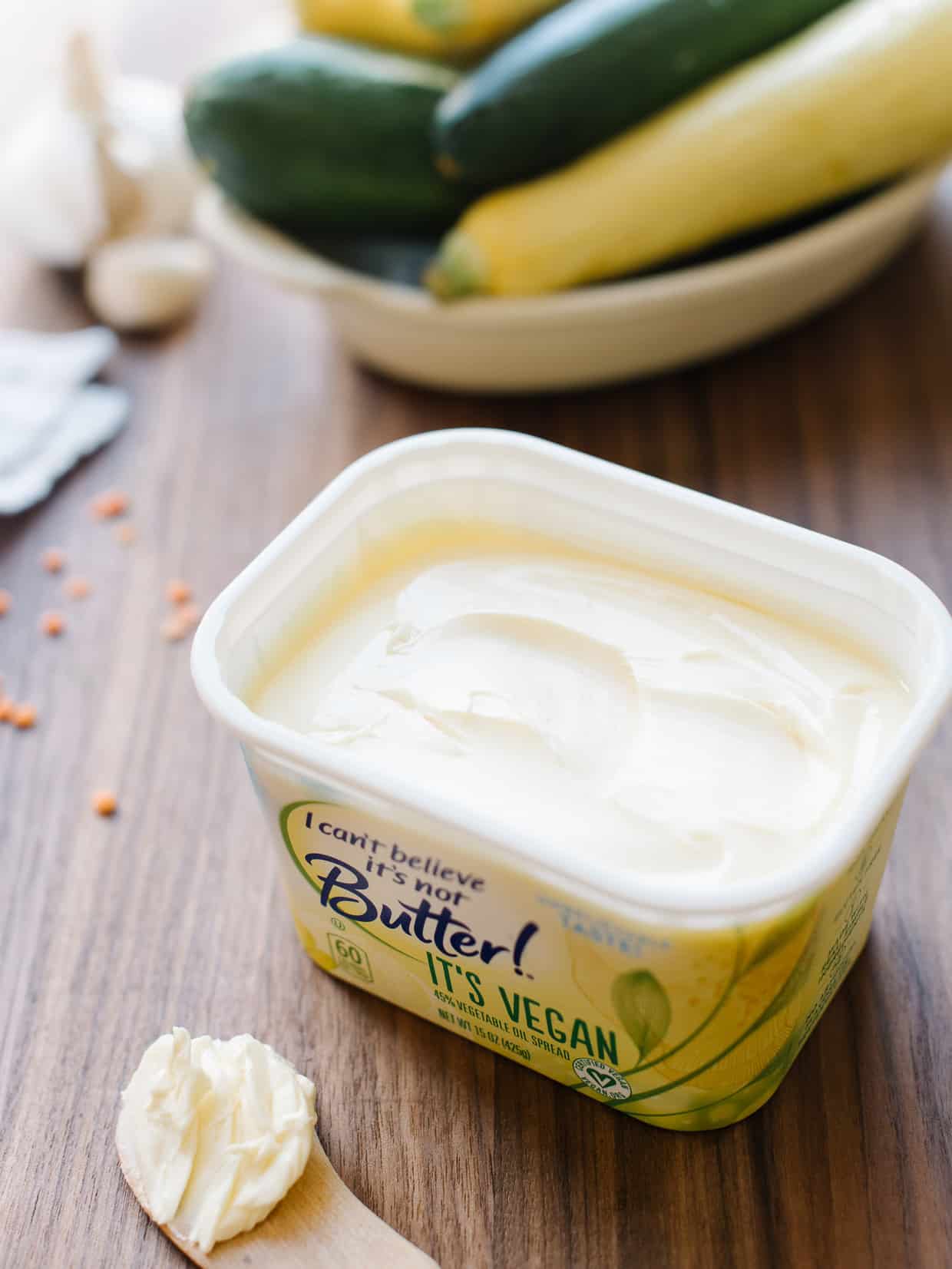 Actually, the biggest challenge for me was making a vegan-friendly meal that would win over the rest of the family. With zucchini and yellow squash so abundant this time of year, I knew that Lentil Stuffed Summer Squash was the way to go!
Making the dish vegan was quite easy, especially incorporating It's Vegan, which gave the lentil and veggie filling a buttery flavor that tasted decadent without the extra calories. Stuffed into the summer squash, I knew that my kids wouldn't be able to resist these zucchini boats.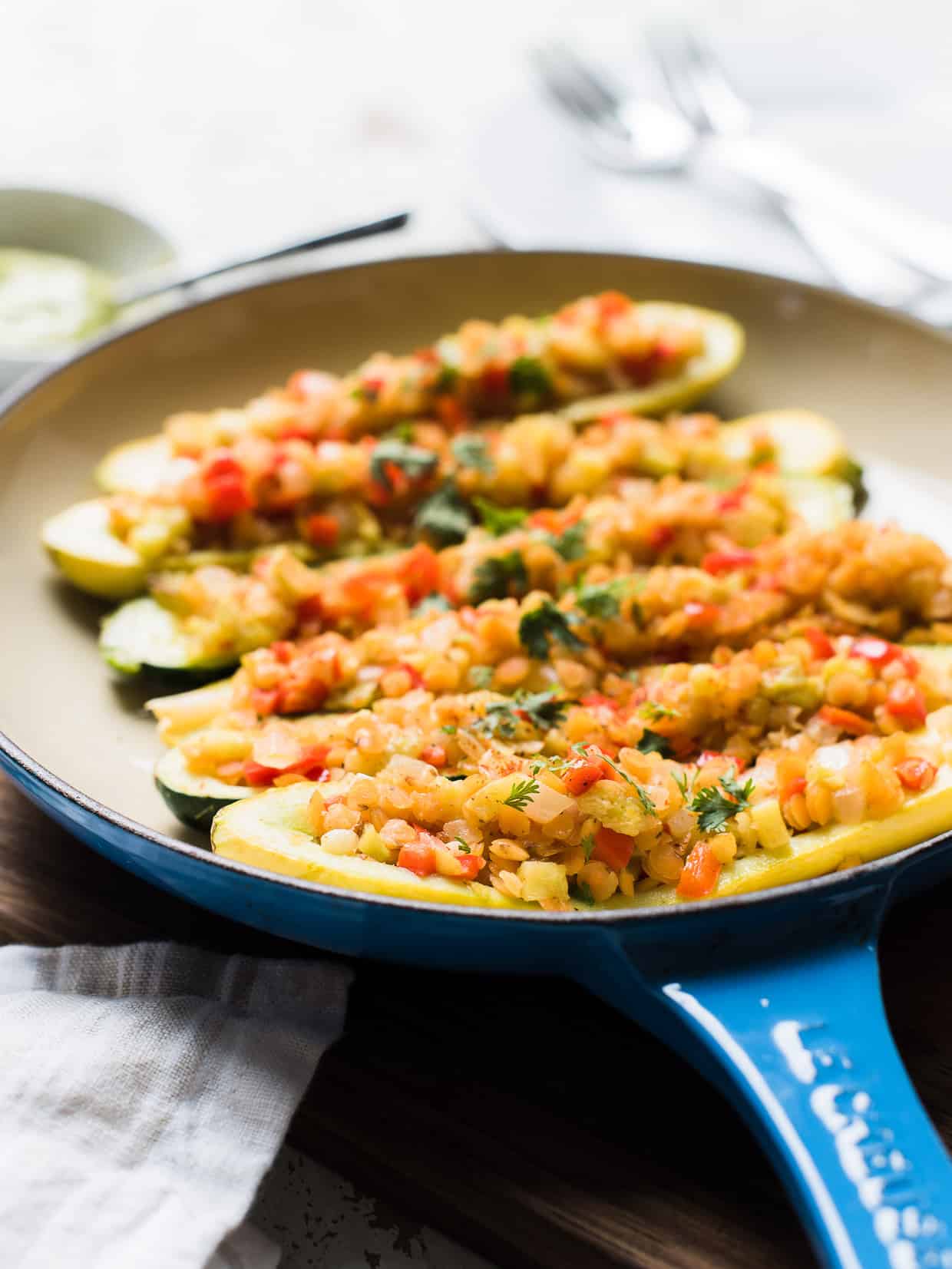 I made a vegan Avocado Cilantro Sauce to serve with the stuffed squash — made with avocado and almond milk, it was flavorful and creamy!
As far as challenges go, I have to admit that going vegan for a day was much easier than I thought it would be, and incorporating products like It's Vegan made it so simple! The best part, though, was when my husband reached for seconds and noted, "the squash is good!" to which I replied, "Yeah? It's vegan, you know," smiling triumphantly.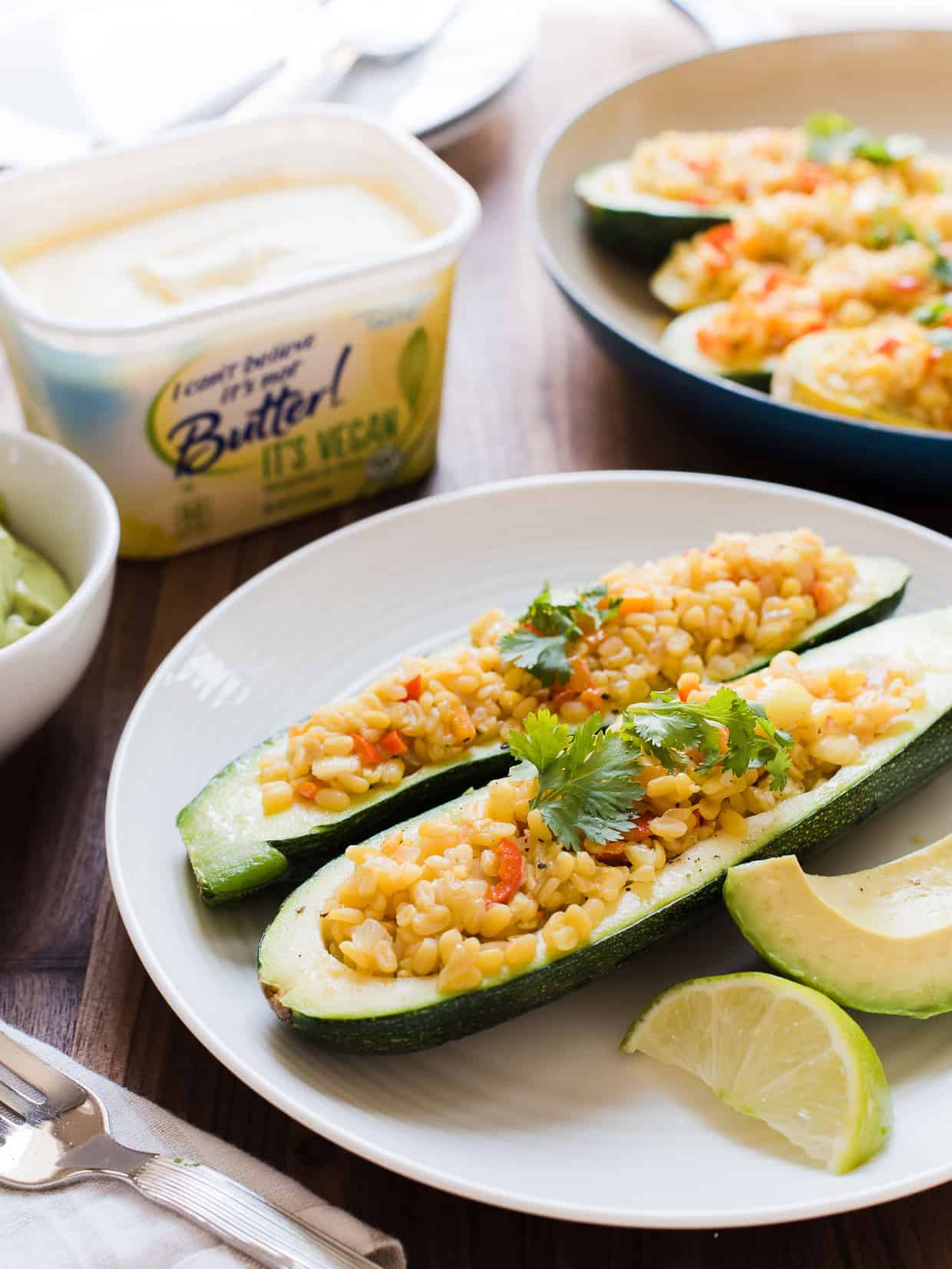 Find more vegan recipes at I Can't Believe It's Not Butter!
Disclosure: This post is brought to you in partnership with I Can't Believe It's Not Butter! Thank you for supporting brands that matter to me; sponsored posts such as this help behind the scenes at Kitchen Confidante. All opinions in this post are, as always, my own.
Lentil Stuffed Summer Squash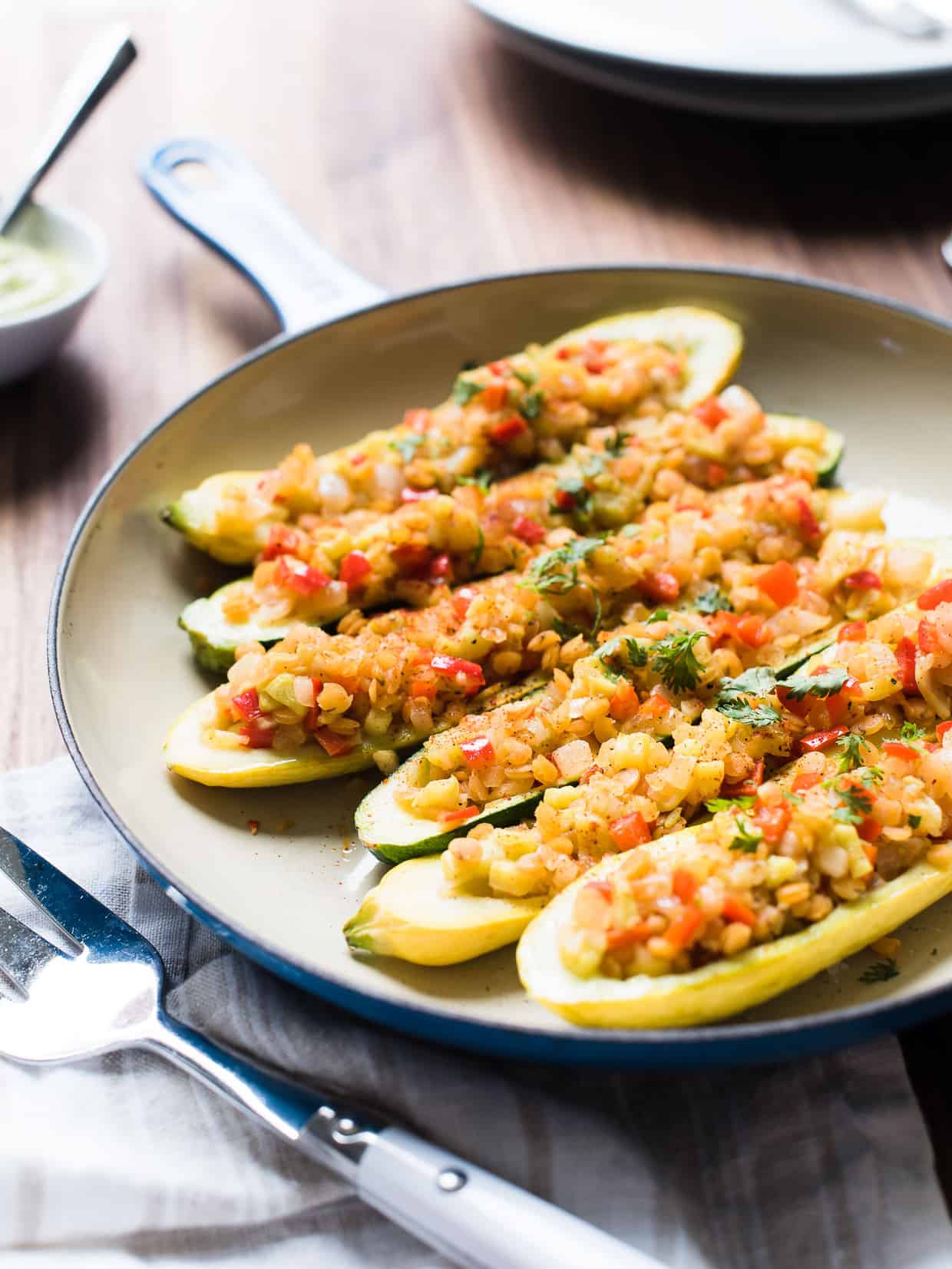 Print Recipe
Ingredients
For the Stuffed Squash:
1/2 cup lentils
1 1/2 cups vegetable stock
3 tablespoons I Can't Believe It's Not Butter! It's Vegan, divided
4 summer squash (i.e. zucchini or yellow squash)
1/2 cup yellow onion, finely diced
2 cloves garlic, minced
1/2 cup red bell pepper, finely diced
1 teaspoon sriracha
1/4 teaspoon ground cumin
1/4 teaspoon ground coriander
1/2 teaspoon white balsamic vinegar
Kosher salt, to taste
Freshly ground black pepper, to taste
Cilantro, for garnish
For the Avocado Cilantro Sauce:
2 cloves garlic, peeled
1 teaspoon Kosher salt
1 ripe avocado, pitted and peeled
1/2 cup almond milk
1/2 cup fresh cilantro
Juice of 1/2 lime
Freshly ground black pepper, to taste
Instructions
Make the Stuffed Squash:
Put the lentils and vegetable stock in a small saucepan over high heat.  Bring to a boil, then simmer for about 5 minutes or until the lentils are just tender. Be careful not to overcook as you do not want the lentils to be mushy. Drain and set aside.
Preheat the oven to 350°F.
Slice the summer squash in half lengthwise and use a spoon to scoop out the flesh, setting it aside for the filling. Take about 1 tablespoon I Can't Believe It's Not Butter! It's Vegan and rub it on the squash, place it cut side down on a baking pan. Bake for about 10 minutes, until it is just fork tender.
Chop the reserved squash finely.
Heat It's Vegan over medium-low heat in a deep sided sauté pan. Add the onion, garlic and chopped squash. Cook until the onions are translucent, about 4 minutes. Add the bell pepper, cooked lentils, sriracha, cumin, coriander, and vinegar, and cook, stirring occasionally for about 5 minutes. Season to taste with salt and pepper.
Stuff the squash with the filling.
Bake for about 10 minutes, or until the zucchini is fully tender.
Make the Avocado Cilantro Sauce:
In the bowl of a food processor, blend the garlic and salt until finely chopped.
Add the avocado, almond milk, cilantro, lime juice and pepper. Blend until smooth. If you feel the sauce is too thick, add a touch more almond milk.
Adjust the seasoning if necessary with salt and pepper.
The sauce can be prepared ahead of time and stored in a tightly sealed container in the refrigerator.
Serve:
Garnish with chopped cilantro and serve with the avocado cilantro sauce.