Meyer Lemon Ricotta Scones
Meyer Lemon Ricotta Scones
This recipe for Meyer Lemon Ricotta Scones will brighten up any winter morning with its moist, tender crumb and sweet lemon glaze.
How are you? It feels like forever and ago since I last said hello.
And all of a sudden, it's a new year.
Happy New Year!
I hope your holidays were warm, cozy and of course, delicious. I took some time off, digitally detoxing, enjoying time with my family, and cooking many old favorites.
Christmas brought us my sister and brother-in-law, and a hodgepodge of flavors. There was wasabi prime rib, beef, shiitake mushroom and barley soup, loaves of challah, ginataang bilo bilo, my mother's apple cake, and even Filipino pork barbecue. Everything I cooked conjured up old memories and strengthened new ones, and when I wasn't in the kitchen, it was so nice to take a break and allow myself to enjoy extended family, a sunset on the coast with my husband, and the rush of the holidays.
I decided to take the cooking off auto-pilot for the first time yesterday, when I reached for the bowl of beautiful Meyer lemons that my friend Leslie brought me. Meyer lemons, as you know, is my favorite part of this time of year, its scent leaving my hands smelling so sweet and bright, I swear, if someone bottled them as a perfume, I would gladly wear it.
Along with the Meyer lemons, I had a tub of ricotta cheese leftover from an attempt at homemade ravioli, and between you and me, the ricotta worked out so much better in this batch of Meyer Lemon Ricotta Scones. These tender scones, with its moist crumb and bright lemon glaze, were the perfect way to welcome the new year and fall back in love with baking again.
If you are looking for a way to use up some Meyer lemons, or better yet, get your hands dirty in the kitchen again, I hope you try these. As you roll out the scones, I think you'll love how therapeutic it is, from playing with dough to the aromatherapy of citrus, and of course, sharing them with the ones you love.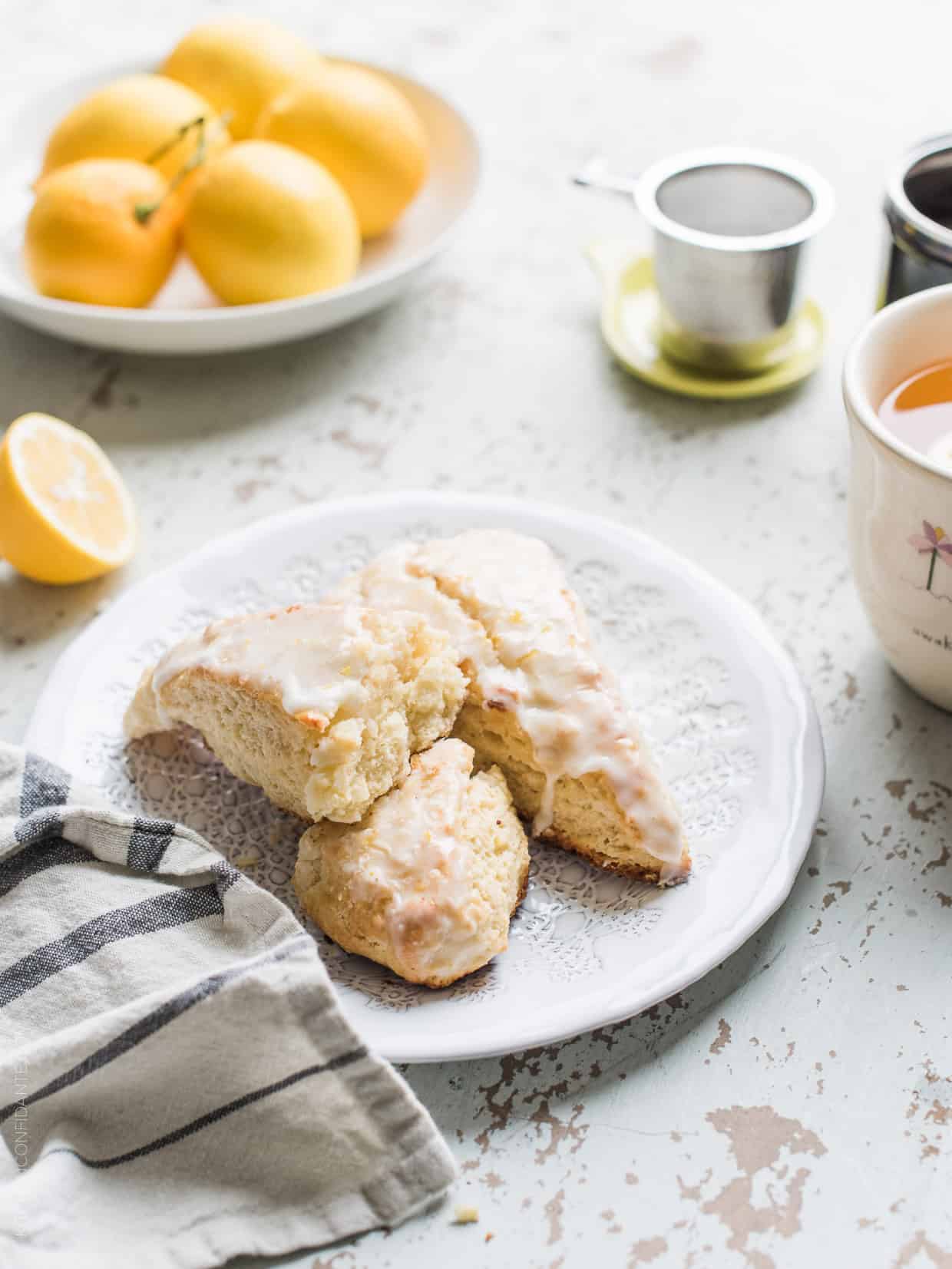 Meyer Lemon Ricotta Scones
This recipe for Meyer Lemon Ricotta Scones will brighten up any winter morning with its moist, tender crumb and sweet lemon glaze.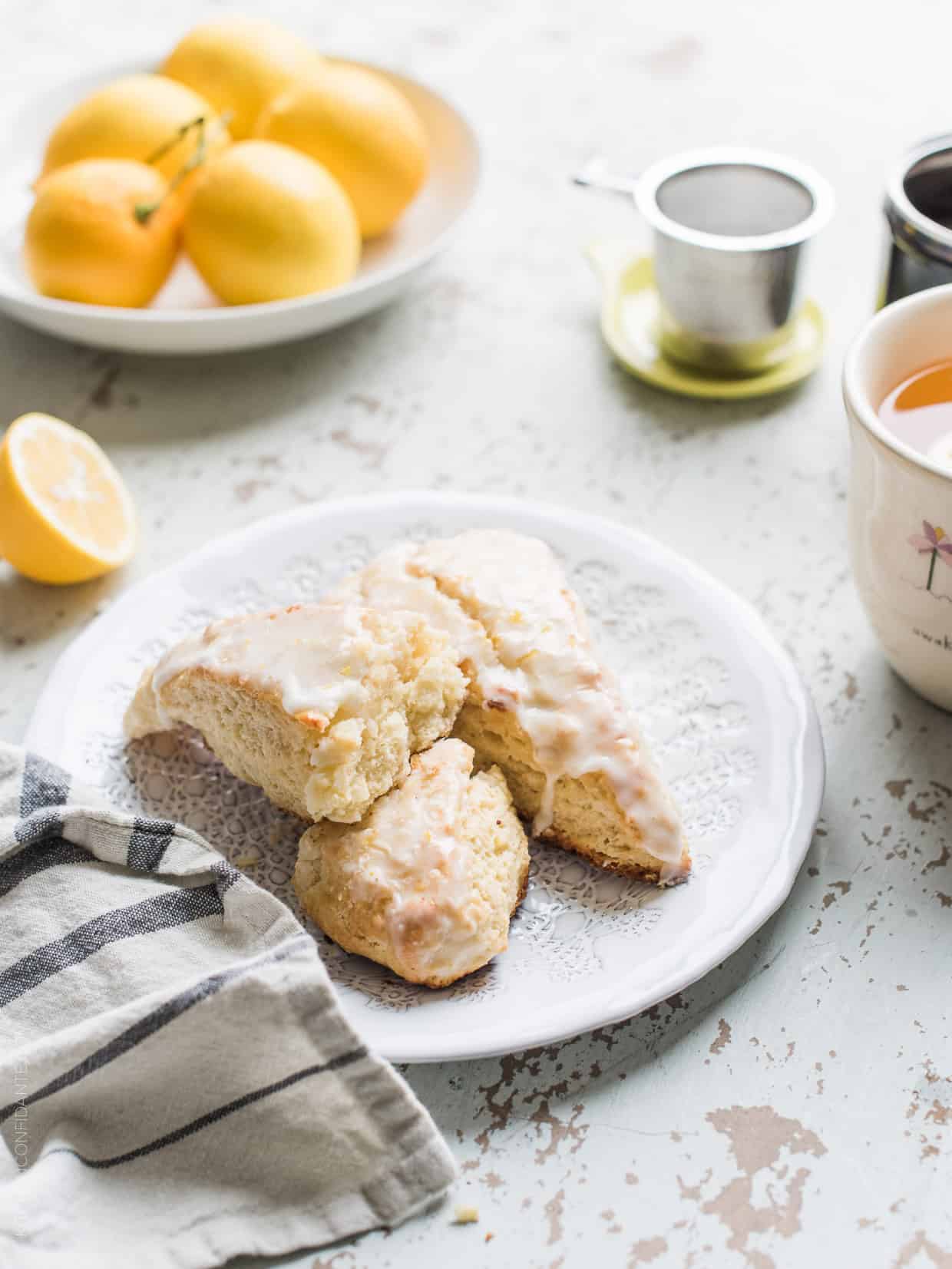 Print Recipe
Ingredients
For the scones:
2 1/2 cups all-purpose flour
1/2 cup granulated sugar
1 tablespoon baking powder
1/4 teaspoon kosher salt
1/2 cup cold butter, cut into small pieces
zest of 1-2 Meyer lemons
2 large eggs
1/2 cup ricotta (whole milk)
2 tablespoons Meyer lemon juice
2 tablespoons buttermilk, cream or half and half
2 teaspoons turbinado sugar
For the glaze:
1 cup powdered sugar, divided
2 tablespoons Meyer lemon juice
zest of 1 Meyer lemon
Instructions
In a large bowl, whisk together the flour, sugar, baking powder and salt. Using a pastry cutter, cut the butter into the flour mixture, until you have coarse crumbs. This can also be done with two knives or a food processor. Stir in the lemon zest, using more or less to taste.
Whisk the eggs lightly and combine with the ricotta and Meyer lemon juice, mixing until smooth. Add to the flour mixture and stir until just moist. The dough will be fairly shaggy.
On a lightly floured surface, turn the sticky dough out and knead lightly until the dough comes together; form the dough into a rectangle about 3/4 inch thick. Use a knife to cut the dough into 6 large scones, or using a 3-inch biscuit or cookie cutter to make about 8 scones. Place the scones on a baking sheet lined with parchment or a silicone mat, and lightly brush with buttermilk, cream or half and half. Sprinkle with the turbinado sugar.
Place the scones in the freezer for 30 minutes. Meanwhile, preheat the oven to 400 degrees F.
Once the scones are chilled, bake for 20 minutes, or until golden.
To make the glaze, start by combining lemon juice with 1/2 cup of powdered sugar in a small bowl. Whisk until smooth, then add the remaining powdered sugar in small increments, whisking until smooth each time.
Once the scones are cool enough to handle, glaze  the scones by dipping the tops into the glaze, letting the excess drip off before placing on a cooling rack. Sprinkle the tops with a little lemon zest. Enjoy immediately.