Simple Sundays | Thai-Style Shrimp Curry
Simple Sundays | Thai-Style Shrimp Curry
I've been counting down. One day, 19 hours, and 41 minutes from now, and my children begin the First Day of School. This song has been playing in my head.
But as much as I joke, and as much as I will appreciate having more hours for my work, the reality is, once school begins, it will be a whole new busy. Afternoons will be tight for time, and the challenge to get dinners prepared quickly and efficiently will return.
Last week, I found myself pressed for time and staring at a bare bones refrigerator. All I had left was a bag of frozen shrimp in the freezer, and then I realized, that bag of shrimp was a God-send. What else would cook in two minutes? I scanned the pantry and realized, I can whip up a curry…in a hurry.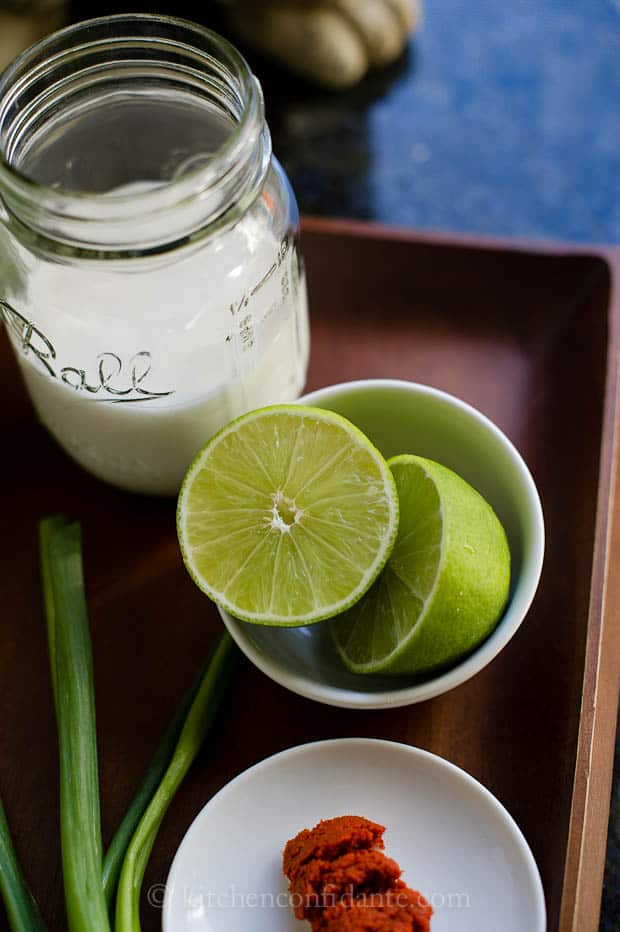 This Thai-Style Shrimp Curry is just the type of dish I crave as we enter autumn. Warm days give way to cooler evenings, and the red curry paste provides just enough heat to comfort the belly. And with school just around the corner, it's the kind of dinner that I can make in no time.
Print Recipe
Ingredients
2 tsp canola oil
6 scallions, finely sliced (reserve 1/4 cup for garnish)
2 tsp red curry paste
2 cups clam broth
1 cup unsweetened light coconut milk
1/2 tsp salt
2 lbs shrimp, peeled and deveined
4 cups chopped Chinese spinach greens
1/2 cup coarsely chopped fresh cilantro, plus extra for garnish
juice of 1/2 lime
fish sauce or salt, to taste
Freshly ground black pepper
rice or noodles for serving
Instructions
In a medium sauce pan, heat the oil over medium heat. Add the scallions and cook briefly, until it turns a bright green. Stir in the curry paste and cook, for about 30 seconds. Add the clam broth, coconut milk, and salt, bring to a boil, and simmer about 5 minutes.
Add the shrimp to the sauce pan, along with Chinese spinach, cover and cook for 2 minutes. Stir in the cilantro, lime juice, and season to taste with fish sauce and pepper.
Serve immediately with rice or rice noodles, garnishing with additional scallions and cilantro.
Adapted from Thai-Style Halibut with Coconut-Curry Broth, From The Food You Crave: Luscious Recipes for a Healthy Life, by Ellie Krieger.