Sweet & Smoky Spanish Beef Burgers With Pickled Saffron Pears
Sweet & Smoky Spanish Beef Burgers With Pickled Saffron Pears
Scenes from the Sutter Home Build a Better Burger 25th Annual Cookoff
If I asked you to close your eyes and imagine the perfect location for a dream cookout surrounded by your closest friends, where would that be? A secluded beach, perhaps? A rooftop garden in the city? A garden in Italy? A sun-washed terrace in wine country? Well, a cookout amidst vineyards was a dream come true for me, where creative burgers were paired with wine as the sun set over the wineries of St. Helena.
Is this real life? Yes, and what made it even more fun was that I had the delicious job of serving as one of the judges at the Sutter Home Build a Better Burger's 25th Annual Cook-Off. It was a tough job, and I was happy to do it.
This is the longest running burger contest where cooks across the country send in their most creative and delicious recipes, competing for a hefty grand prize of $25,000 – this is serious! The recipes from five finalists were prepared by the kitchens at Trinchero Family Estates, to be enjoyed by a party of the contest sponsors, and of course, by the judges. I joined Head Judge and Culinary Director of the cook-off, James Houghton, the Executive Chef for Trencher Family Estates, along with Chef Lars Kronmark, Senior Chef-Instructor at the Culinary Institute of America at Greystone, Frank Gambonini, a fifth generation dairyman of Gamlake Dairy and Board Member of the California Beef Council, and Dr. Sharon Ufberg, a freelance journalist, author and radio host.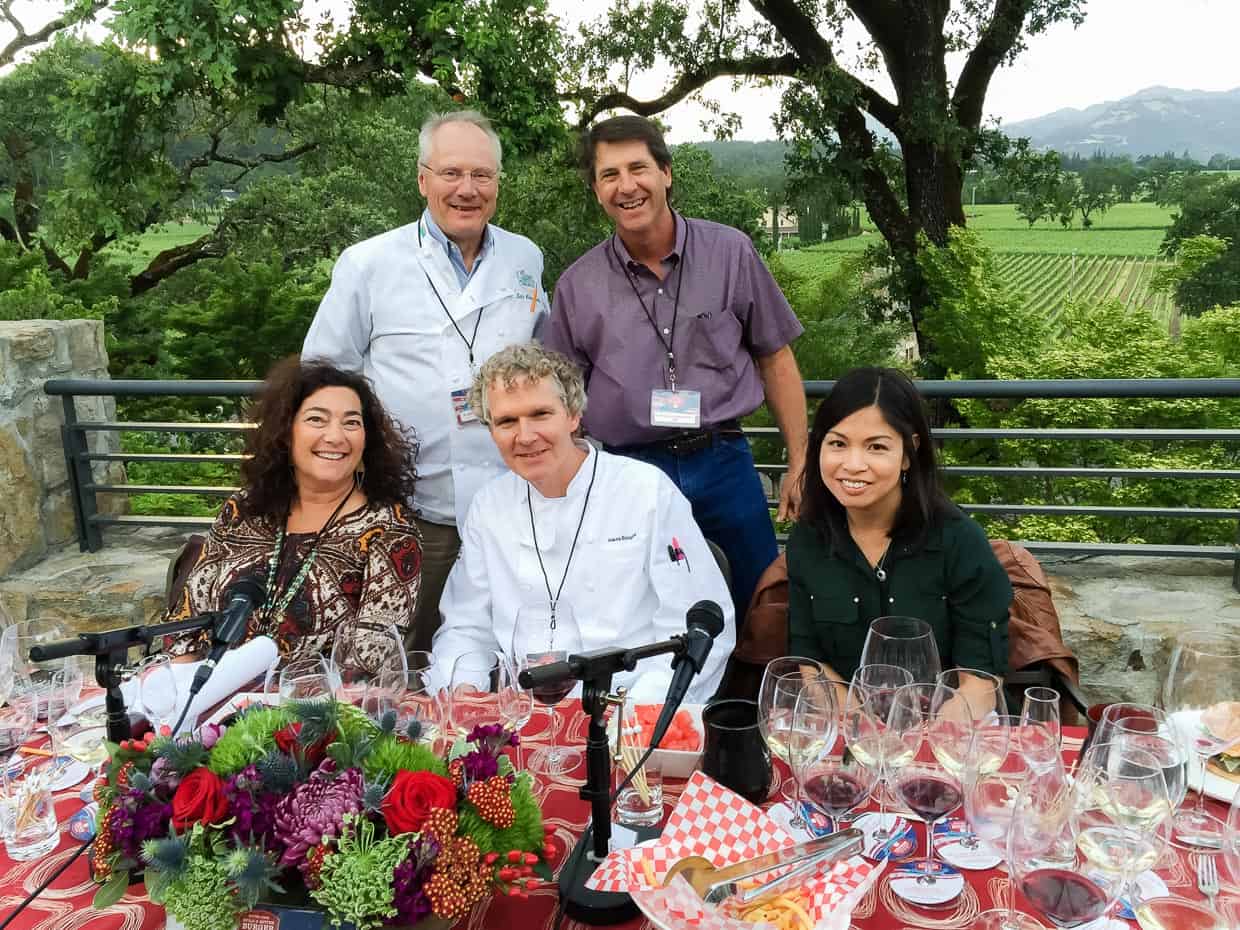 We judged the burgers based on taste, creativity, ease of preparation and availability of ingredients, and I will admit, I was so excited to see the burgers come to life after reading their recipes weeks before the competition. They all sounded so creative: there were Take Me to the Islands Jamaican Jerk and Rum Burgers, Garam Masala Lamb Burgers with Dates and Bacon Lardons, Salty, Sweet and a Little Heat Pineapple Pork Burgers, The Bratty Patty, and Sweet and Smoky Spanish Beef Burgers with Pickled Saffron Pears. How were they going to actually taste?
There's no doubt these were burgers created by passionate cooks, and I loved the stories behind the inspiration of each one. Some lived up to their names more than others, some absolutely surprised (dates and pineapples do work with burgers!), and some absolutely wowed. I found myself torn between a few of the burgers, but in the end, there was one that won my heart, and in a nearly unanimous decision, my favorite burger was crowned the winner: Sweet and Smoky Spanish Beef Burgers with Pickled Saffron Pears by Phyllis O'Shaughnessy of Naperville, Illinois!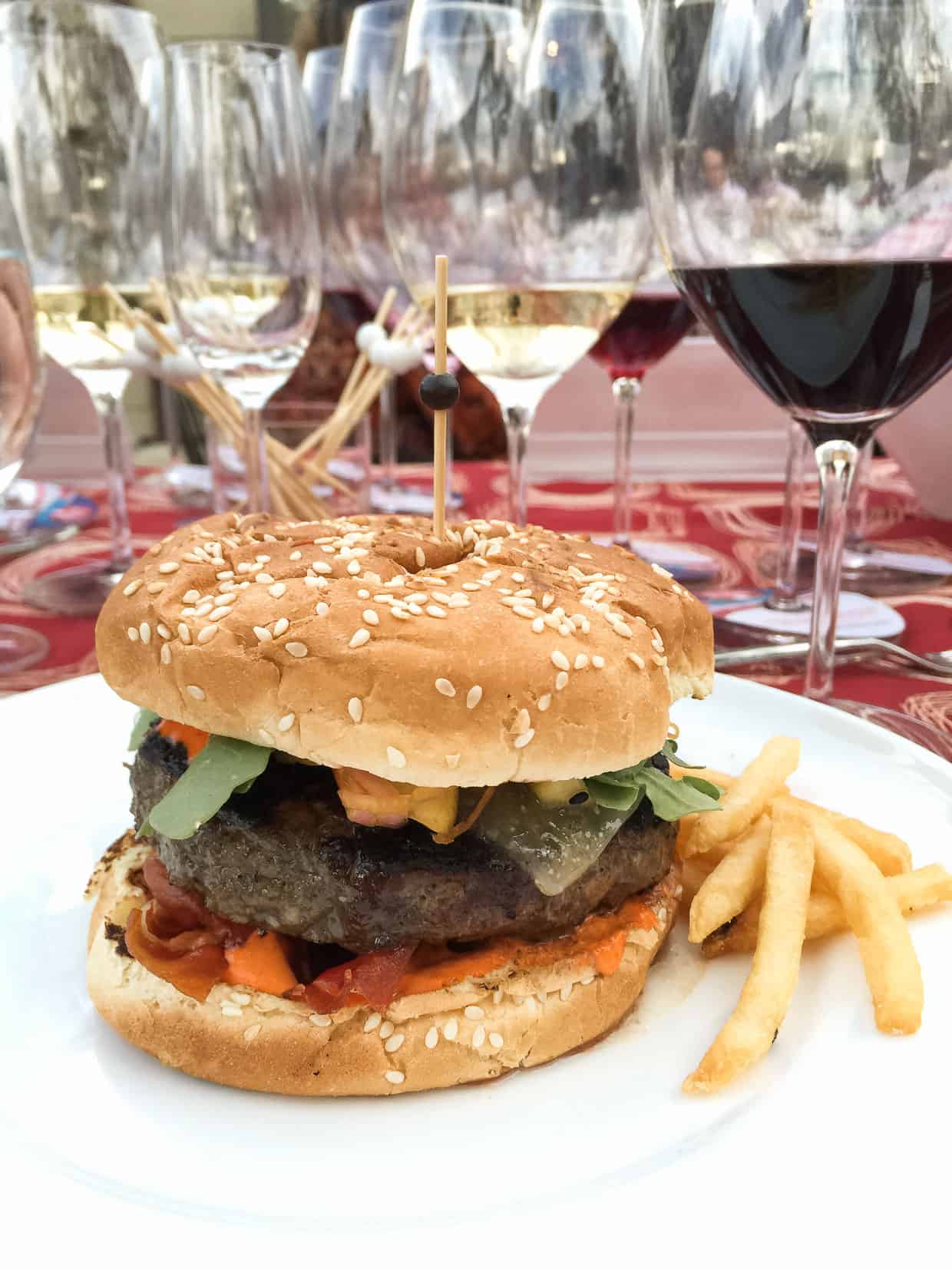 Of all the burgers, this stood out to me as striking the perfect balance of sweet and savory, with a good punch of acid from the pickled pears, and heat from the smoky paprika aioli. The sesame buns were the perfect choice, not too doughy or overwhelming, with just the right amount of squish you want for the gratifying messy factor when you eat a burger. Along with the suggested wine pairing of Zinfandel, and it all WORKED.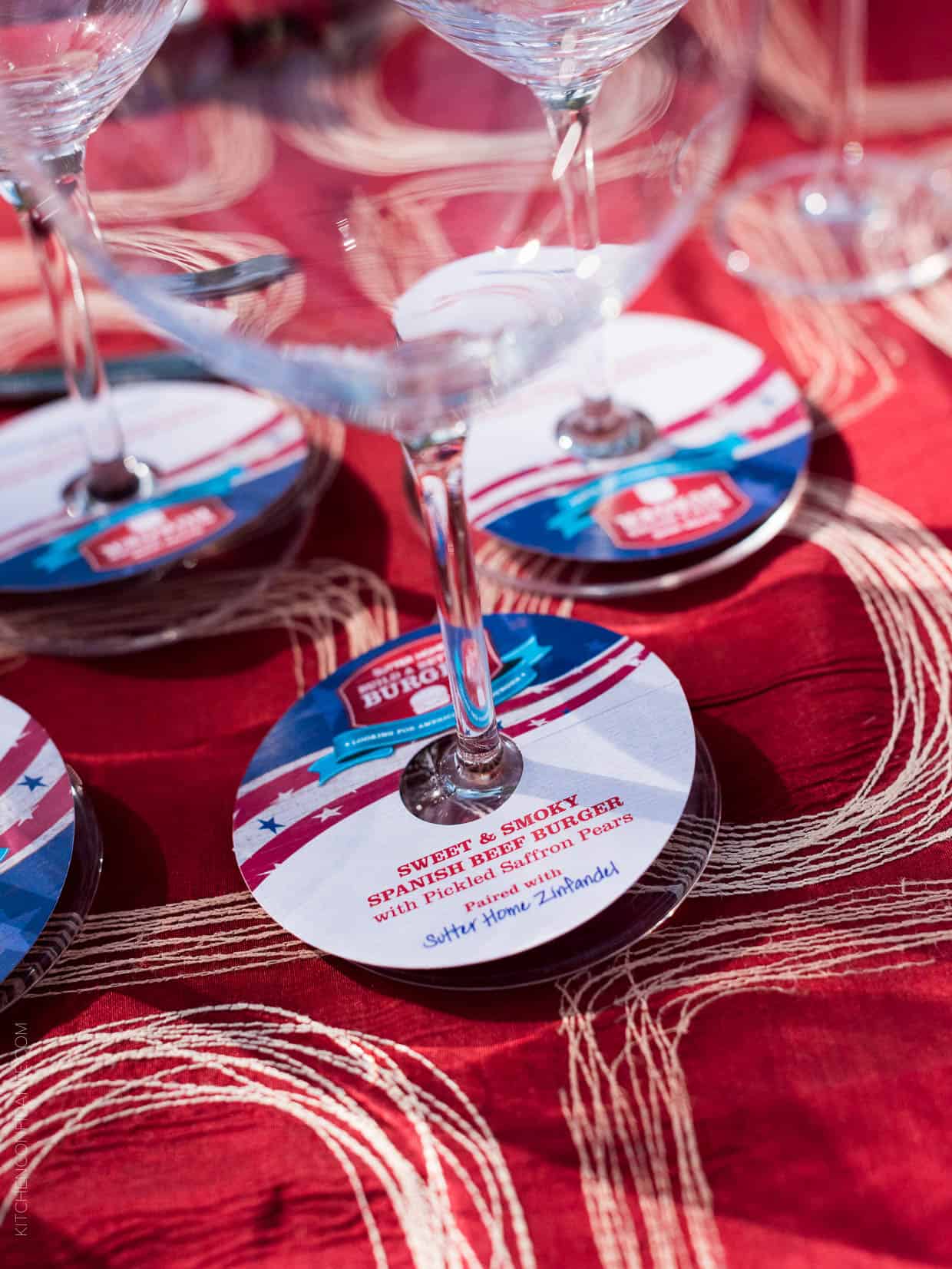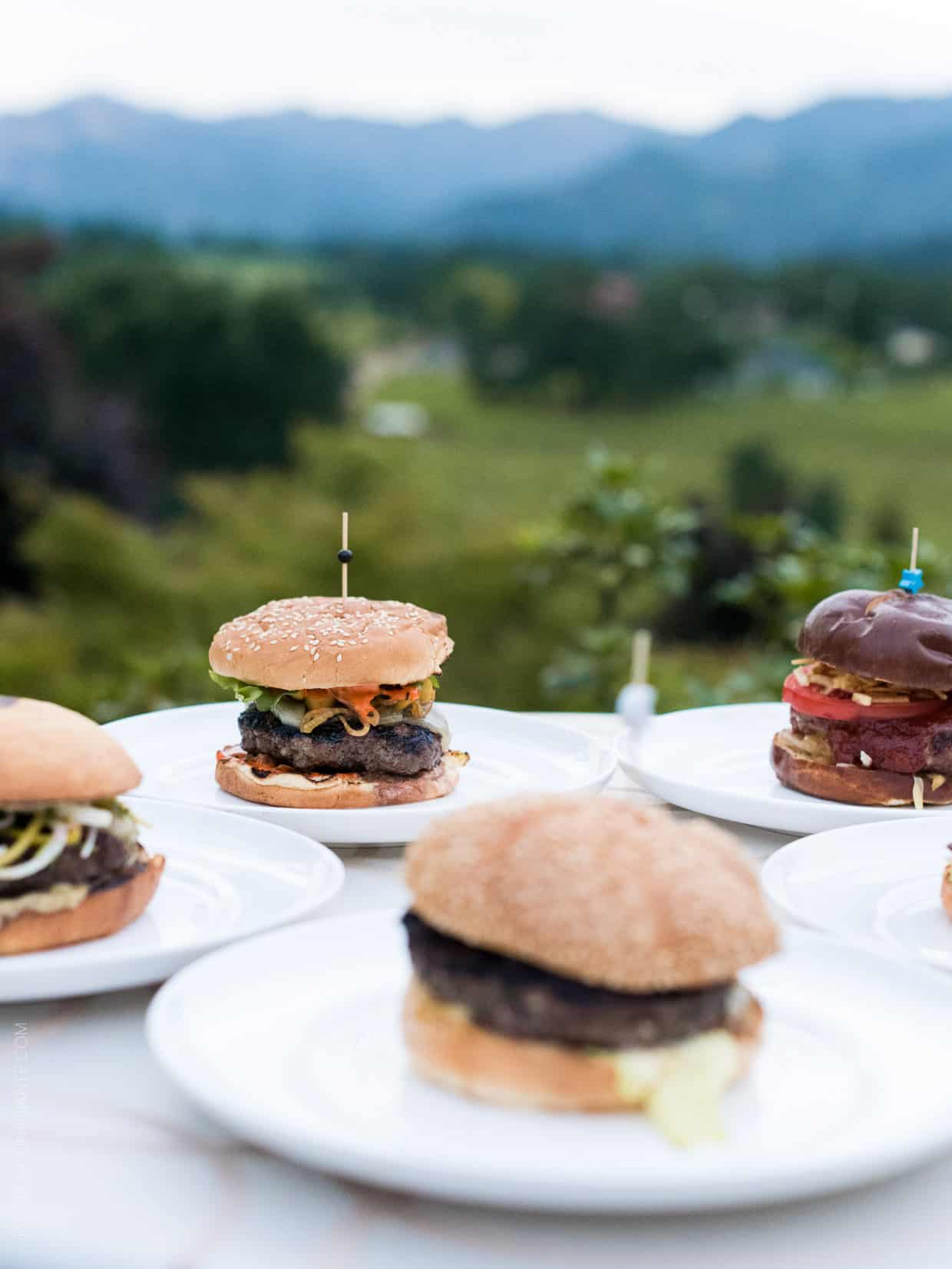 All the burgers were so fun and creative, and it was exciting to learn that the public named Lily Julow's Garam Masala Lamb Burger this year's $5,000 People's Choice Winner. I can't wait to make these burgers at home, for my own perfect bbq with my family — because in the end, when you're with the ones you love, that is the perfect location, right? I am so happy to be able to share Phyllis' recipe with you so that you can transport yourself and your family to Spain with this awesome burger.
Happy grilling!
Disclosure: This post is brought to you in partnership with Sutter Home Winery. Thank you for supporting brands that matter to me; sponsored posts such as this help behind the scenes at Kitchen Confidante. All opinions in this post are, as always, my own.
Sweet & Smoky Spanish Beef Burgers With Pickled Saffron Pears
This recipe for Sweet and Smoky Spanish Beef Burgers with Pickled Saffron Pears was the winning recipe in the 25th Annual Sutter Home Build a Better Burger Cookoff by Phyllis O'Shaughnessy. I love how this juicy, flavorful beef burger is balanced with salty prosciutto, spicy aioli and tangy pickled pears! It's innovative and absolutely delicious! Recipe reprinted courtesy Sutter Home Build a Better Burger.
Print Recipe
Ingredients
PICKLED SAFFRON PEARS
3/4 cup sherry vinegar
1 tablespoon sugar
1/2 teaspoon salt
1/8 teaspoon saffron threads
1 Bosc pear, peeled, cored and small diced
1 large shallot, peeled and thinly sliced
1 teaspoon black sesame seeds
SMOKY PAPRIKA AIOLI
3/4 cup mayonnaise
1/2 cup jarred piquillo peppers or roasted red peppers, drained and patted dry
1 teaspoon hot smoked Spanish paprika
1 clove garlic, crushed
CRISPY PROSCIUTTO
1/2 cup canola oil
6 thin slices prosciutto
PATTIES
2 pounds ground chuck
1/2 cup peeled, shredded Bosc pear
2 garlic cloves, minced
2 teaspoon salt
1 teaspoon freshly ground black pepper
Vegetable oil, for brushing the grill rack
6 1-ounce slices Manchego cheese
6 soft sesame seed buns, split
1 1/2 cups baby arugula
Instructions
Prepare a medium-hot fire in a charcoal grill with a cover, or preheat a gas grill to medium-high.
To make the pickled saffron pears, bring the vinegar, sugar, salt and saffron to a boil in a small heat-proof saucepan over medium heat on the grill. Remove from the heat and let cool for 10 minutes. Put the diced pear and sliced shallots in a small bowl and pour the vinegar mixture over them. Cover and refrigerate for 20 minutes. Drain and stir in the black sesame seeds.
To make the aioli, combine all of the ingredients in a blender and process until smooth. Transfer to a small bowl. Cover and refrigerate.
To make the crispy prosciutto, heat the canola oil in a medium heat-proof skillet on the grill. When the oil is hot enough to make the prosciutto sizzle, add 3 slices to the skillet and cook until crisp. Transfer the prosciutto to paper towels to drain. Repeat with the remaining prosciutto.
To make the patties, combine all of the ingredients in a large bowl and gently but thoroughly mix. Divide into 6 equal portions and form into patties to fit the buns. Brush the grill rack with vegetable oil. Place the patties on the grill rack and cook for 4 to 5 minutes per side for medium. During the last 2 minutes of cooking, top each patty with a cheese slice and place buns, cut side down, on the outer edges of the grill rack to lightly toast.
To assemble the burgers, spread some aioli on the cut sides of the top and bottom buns. Place a prosciutto slice on each bun bottom followed by a cheese-topped patty. Top each patty with some pickled saffron pears and arugula. Add the bun tops and serve.
Recipe courtesy Sutter Home Build a Better Burger.