Swiss Veal and Wild Mushroom Stew
Swiss Veal and Wild Mushroom Stew
Swiss Veal and Wild Mushroom Stew is a must try from Deer Valley Resort's Fireside Dining. This rich, hearty stew recipe is gluten-free, simple to make at home, and so comforting on a winter's night.
After my last post, which may win the award for longest post ever, you may think I have nothing more to say about Deer Valley. But the truth is, I have barely wrung the towel dry, and I could go on for days and days telling you about all the things we ate during our trip.
But I'm going to narrow this down to perhaps the singular dish that stood out to not only me, but to my family — the one dish I couldn't wait to tackle when I came home.
I thought it might be the turkey chili, which I gladly would have eaten every single day, and the one recipe that is considered top secret at Deer Valley kitchens (and for very good reason – it is that good, and now, my gold standard when it comes to turkey chilis). My kids had hoped it was the chocolate chip cookie, or the chocolate snowball, or any of the decadent desserts, and I don't blame them, either. But my husband and I agreed: it was the one dish that was a total surprise when we had our final meal at Fireside Dining.
I had to make the Swiss Veal and Wild Mushroom Stew.
We had spent the day – one of the coldest days that January in Utah – out in the elements: bundled and skiing under crisp, blue skies, it was the first morning where our eyes were blessed with gorgeous views unobscured by snow fall. And after lunch, we geared up for an adrenaline pumping ride on snowmobiles — our two hour tour whisking us through even more amazing views of the Wasatch Mountains, as the sun began to set, casting its golden glow over the snow. With just enough time to change into something more appropriate for dinner, our car drove us up to Empire Canyon lodge, where our barely thawed fingers and toes were greeted by five monstrous, roaring fireplaces.
There was no other place I would rather be than that restaurant that night, dining on favorites from the European alps, surrounded by crackling wood and glowing fireplaces. We were seated in the best seat of the house – right in front of the dripping Swiss raclette cheese, and I was convinced that I would want nothing more than platefuls of cheese, good charcuterie, bread and sips of wine.

But as we thawed and warmed from the cozy fires, it was time to explore the tempting dishes being served from each of the fireplaces. By the time I had tasted the roasted leg of lamb fireplace, the meat spinning, hypnotizing me to come hither, I had wasn't sure if I would make it to the alpine favorites fireplace, with its simmering stews bubbling. But the trooper that I am, I had to taste the Veal and Wild Mushroom Stew, with its blend of crimini, hen of the woods, shiitake, chanterelle and oyster mushrooms, accented with fresh rosemary and lemon, and served with hand-grated, crisp, buttery potato rösti.
My husband had declared himself full, but he couldn't resist a taste from my plate after he saw my eyes grow wide after my first bite. I passed a taste around the table. Guess what? Both he and my daughter went back for more.
This veal and mushroom stew is the kind of comfort you crave on a day when you're done with being cold, each bite delivering deep flavors and a wash of coziness that almost can't be explained. "You have to make this," my husband said as he savored his second serving (or was it his third?!). He didn't have to ask me; I already planned on it.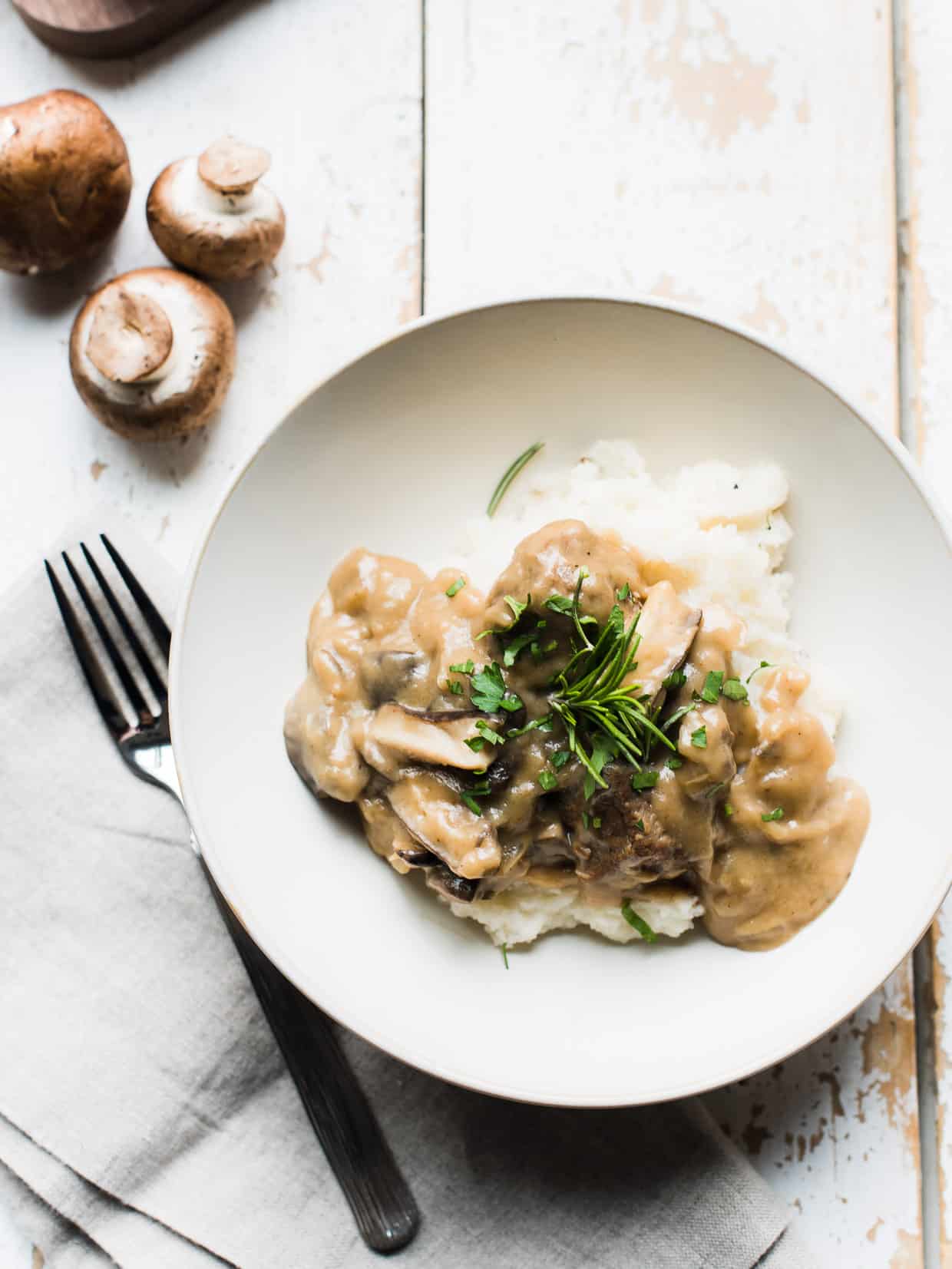 Read more about our tasty adventures in my Deer Valley Family Travel Guide!
Swiss Veal and Wild Mushroom Stew
Swiss Veal and Wild Mushroom Stew is a must try from Deer Valley Resort's Fireside Dining. This rich, hearty stew recipe is simple to make at home, and so comforting on a winter's night. It's also gluten-free! This alpine favorite is served at the restaurant with hand-grated, crisp, buttery potato rösti, but I especially love it with polenta.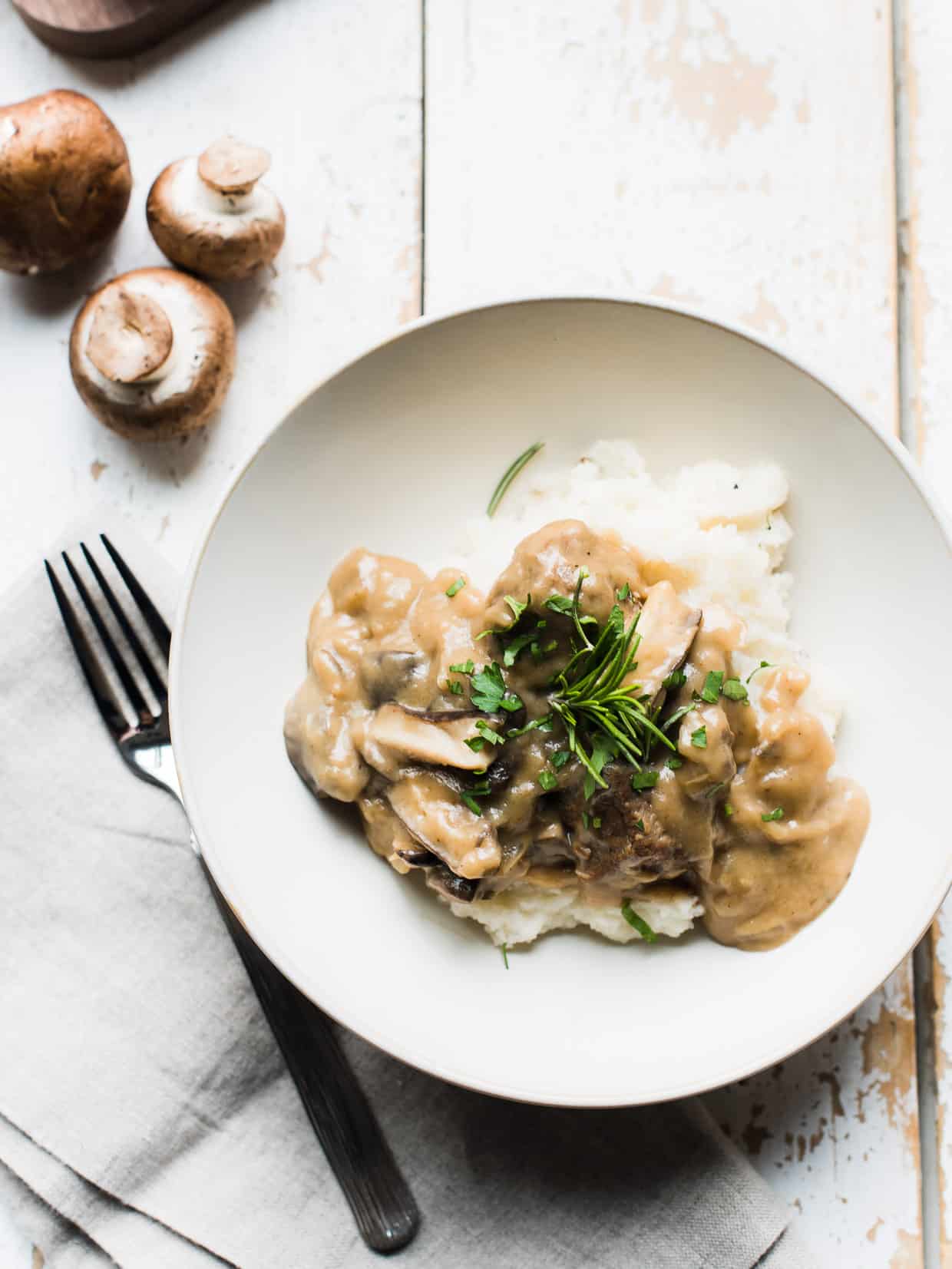 Print Recipe
Ingredients
2 pounds veal for stew (see notes), cut into 1 1/4 inch pieces
Kosher salt, to taste
freshly ground black pepper, to taste
2 tablespoons olive oil
6 tablespoons butter
1 1/2 oz diced shallots (about 2 shallots)
2 cups diced onions (about 1 onion)
1 clove garlic, minced
1/2 cup rice flour (see notes)
3/4 cup white wine
1 sprig thyme
1/2 sprig rosemary
1 bay leaf
1 quart mushroom stock
3 oz Shiitake mushrooms, stems removed, cleaned and sliced
3 oz Crimini mushrooms, stems removed, cleaned and sliced
3 oz Oyster mushrooms, stems removed, cleaned and sliced
1/2 cup heavy cream
2 teaspoons paprika
2 teaspoons fresh lemon juice
2 tablespoons fresh parsley, chopped
Instructions
Pat the veal dry with a paper towel, and season generously with salt and pepper.
In a Dutch oven, insert of a slow cooker, or a similar heavy pot, heat the olive oil over medium-high heat. Working in batches if necessary, brown the veal on all sides, taking care not to overcrowd the pan. This should take about 3 minutes per side. Set aside the seared meat on a plate and lower the heat to low.
Add the butter to the pot. When the butter has melted, add the shallots, onions and garlic, and lightly season with a pinch of salt. Cook until the shallots and onions are wilted and translucent, stirring periodically, about 7 minutes. Return the browned veal to the pot and stir in the rice flour until evenly coated. Add the white wine and cook until the sauce thickens. Add the thyme, rosemary and bay leaf.
Slowly stir in the mushroom stock, about 1 cup at a time, stirring frequently as the sauce will thicken. Once all the mushroom stock has been added, bring the stew to a simmer, lower the heat and cover the pot. Cook until the veal is tender, about 40-50 minutes, stirring periodically.
When the meat is fork tender, add the mushrooms and cook for about 5-10 minutes more, or until the mushrooms are tender. Stir in the heavy cream. Add the paprika, lemon juice, and season to taste with salt and pepper. Garnish with parsley and serve.
Notes
Boneless veal shoulder works well in this recipe. If you prefer, beef for stew can also be used. Chicken would also be a nice substitute.
Any variety of mushrooms work here. The combination of Shiitake, Crimini and oyster mushrooms add a nice flavor, but feel free to use what you can find.
Rice flour makes this gluten-free. All-purpose flour can be substituted.
This recipe would also work nicely in a slowcooker. Follow the recipe until all the mushroom stock has been added, then transfer to a slow cooker to braise for about 3-4 hours on low.
Recipe courtesy Fireside Dining, Deer Valley Resort; I have adapted it for the home kitchen.