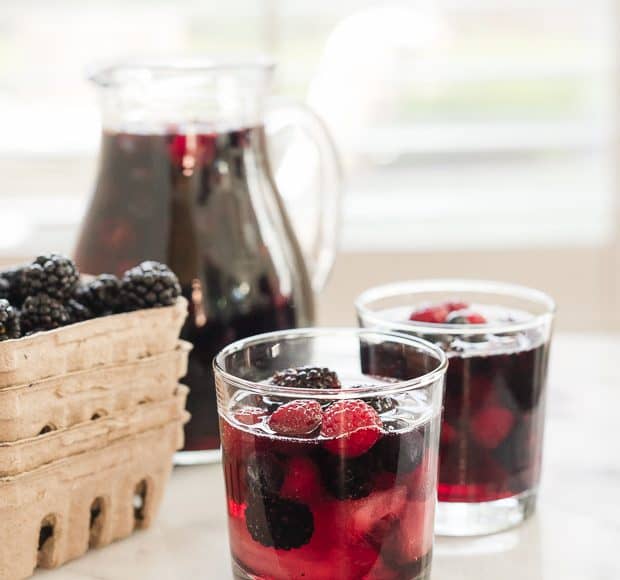 Simple Sundays | Berry Sangria
I've always had this odd fascination with cows. I can't tell you exactly how it began, but there was a time when friends who knew about my bovine obsession would gift me with cow print aprons, salt and pepper shakers, even a cow adopted in…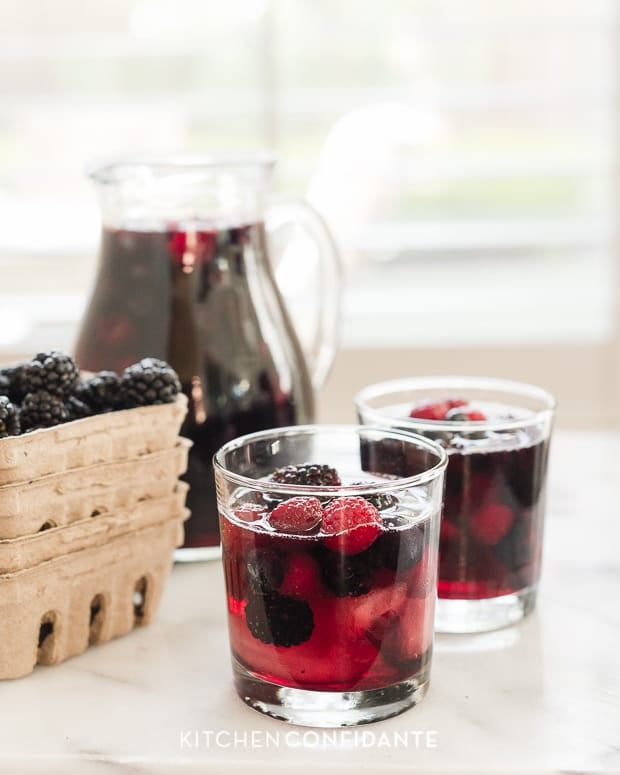 Simple Sundays | Berry Sangria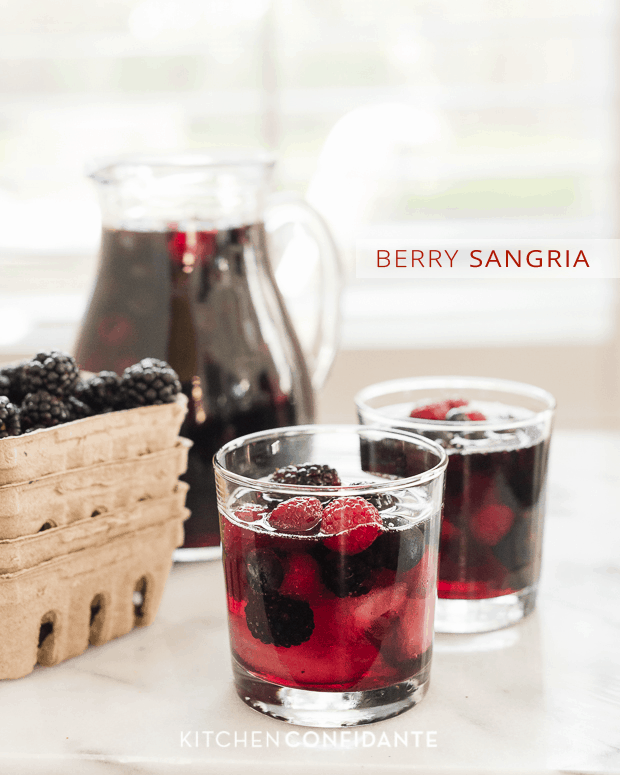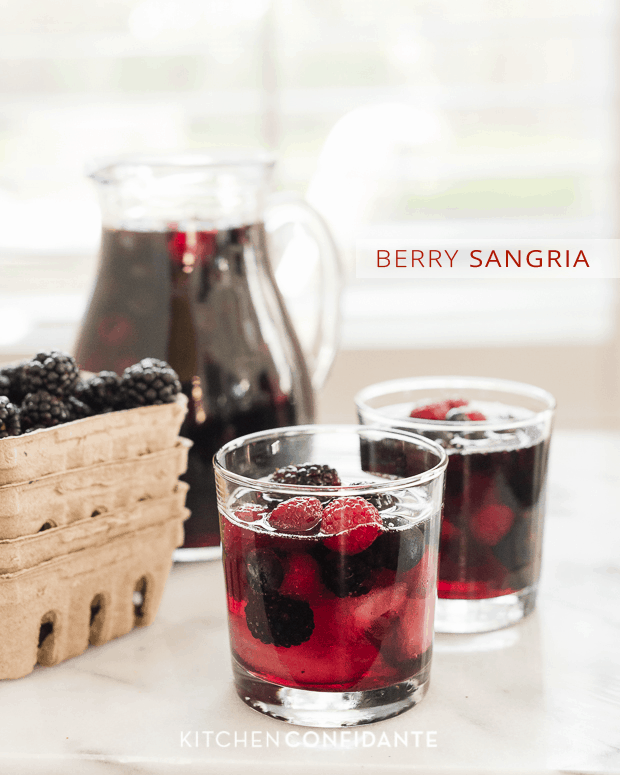 I've always had this odd fascination with cows. I can't tell you exactly how it began, but there was a time when friends who knew about my bovine obsession would gift me with cow print aprons, salt and pepper shakers, even a cow adopted in my name. So perhaps it is fitting that this born and bred city girl now lives in suburbia, surrounded by gorgeous hills dotted with cows. By no means am I living a Pioneer Woman life; there is certainly no wrangling of bulls or leather chaps where I live, but I adore my drives through the winding roads here, and in a strange sort of way, I feel as though the cows I see ambling in the hills are secretly mine.
"Look at the cows!" I cooed to my son in the backseat of the car, as we zipped past one of my favorite drives. We both chuckled, then felt a twinge of pity for our cow friends. The temperatures have been searingly hot, some would say unbearable, and watching the cows is like taking a pulse on the world. On this day, they were gathered in large numbers, seated under an oak tree, peacefully sharing the small patch of shade it meagerly offered.
I wish I could have brought them a pitcher of Berry Sangria.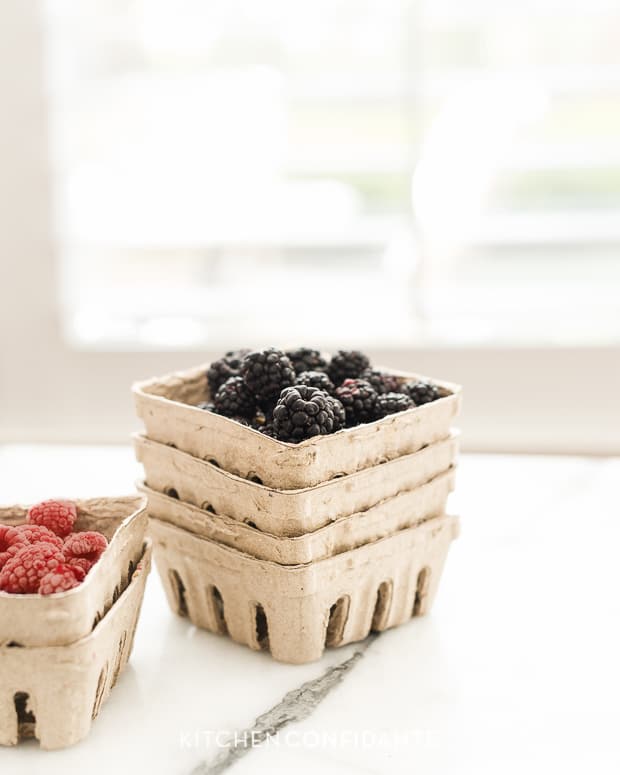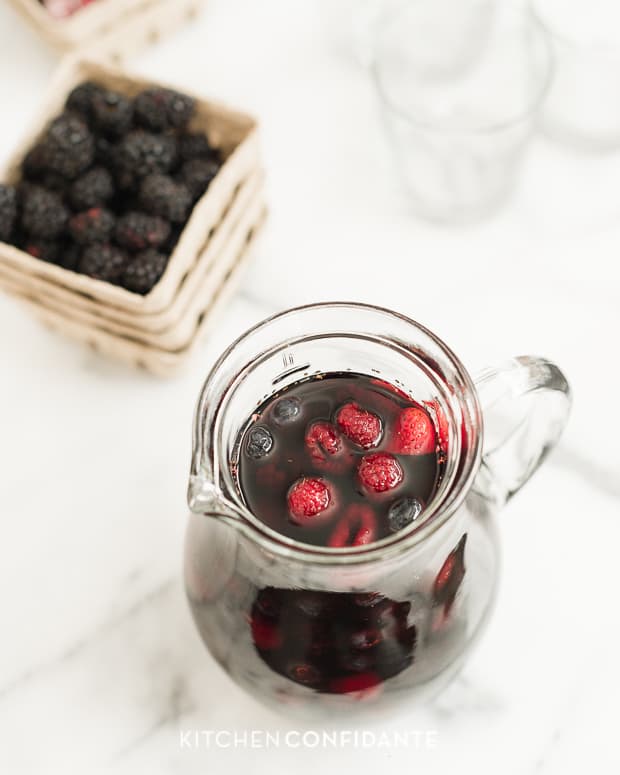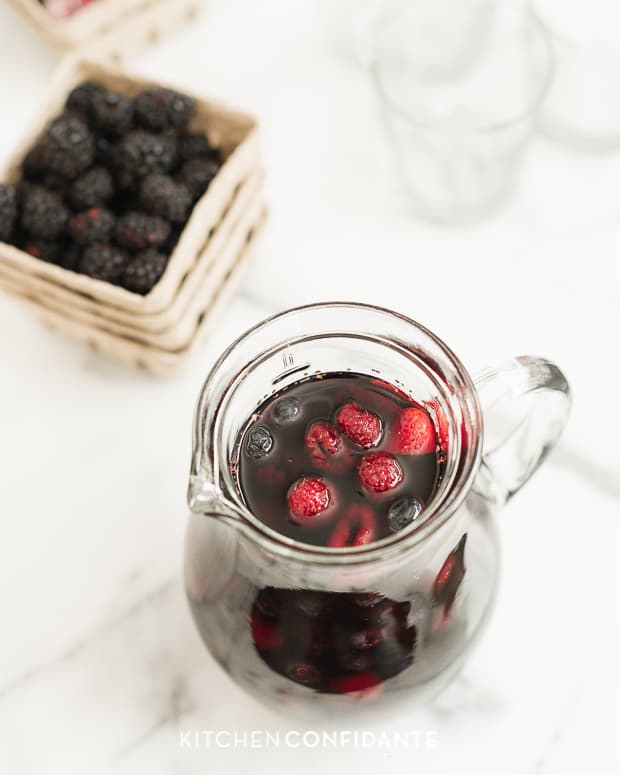 Cows are social creatures, they're no different than you and I. They move along in their world together, they find comfort in one another's company. I imagine they make small talk, "Hot day, eh?" and chat about the weather. As I dream up their conversations with one another, I think of my good neighbors, and how we celebrated the first warm nights of the official start of summer last weekend.
We gathered in our little street, and if there was a large oak tree to set up under, perhaps we would have. Instead, little pop up tables covered with homey tablecloths lined the sidewalk, topped with offerings from each house. Chairs gathered around the fire pit that my husband coaxed to life. The children began to play and get excited at the promise of s'mores. And we brought in the rise of the moon over drinks and bites and good company.
I brought out a pitcher of Berry Sangria, with plump raspberries, juicy blueberries, and sweet blackberries, that had been swimming in a delicious zinfandel spiked with boozy rum. I would alternate sips by fishing out the wine soaked fruit, clearly the best part of any sangria. As I swirled my glass and chatted with our neighbors, I felt contentment.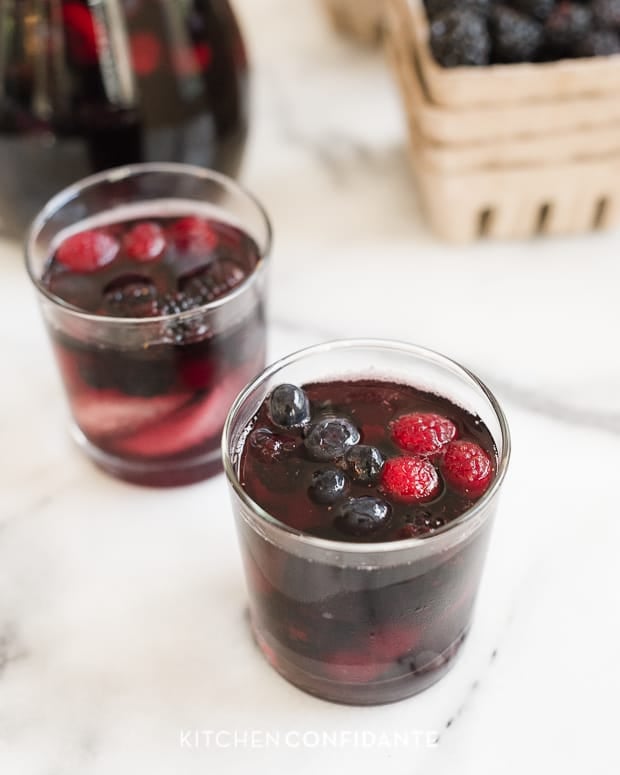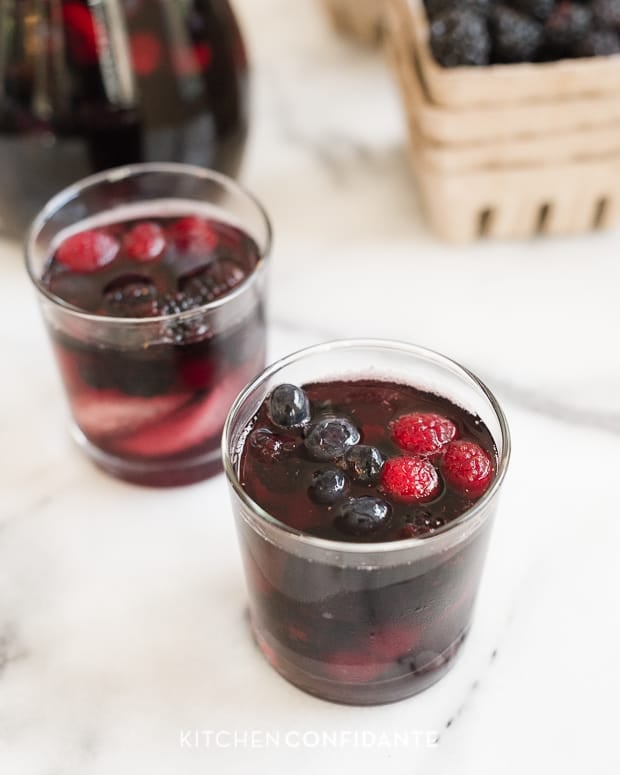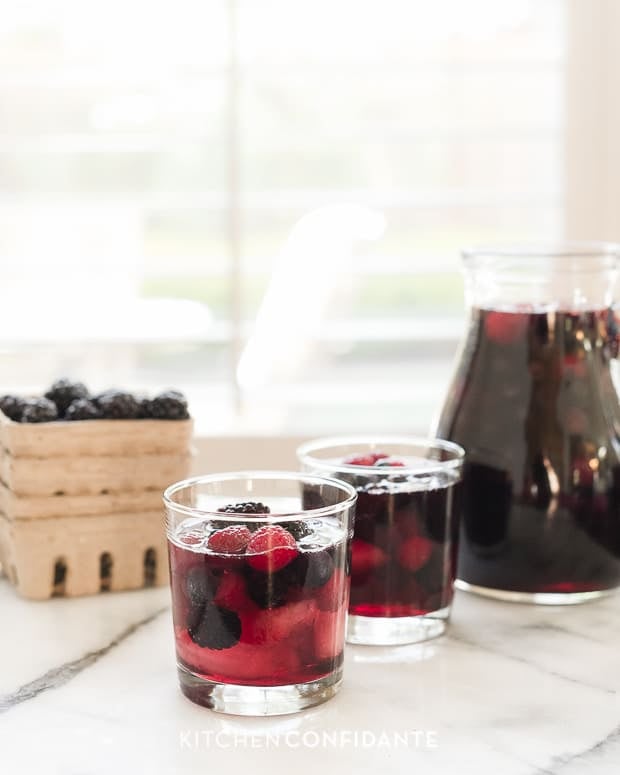 Sangria is a wonderful way to enjoy a summer evening with good friends. I hope you are having a good start to your summer – stay cool – and be in good company.
There's nothing better than a cool glass of sangria on a hot summer day. This is a fantastic way to stretch a bottle of wine for a casual party, and of course, enjoy the best of the summer berries.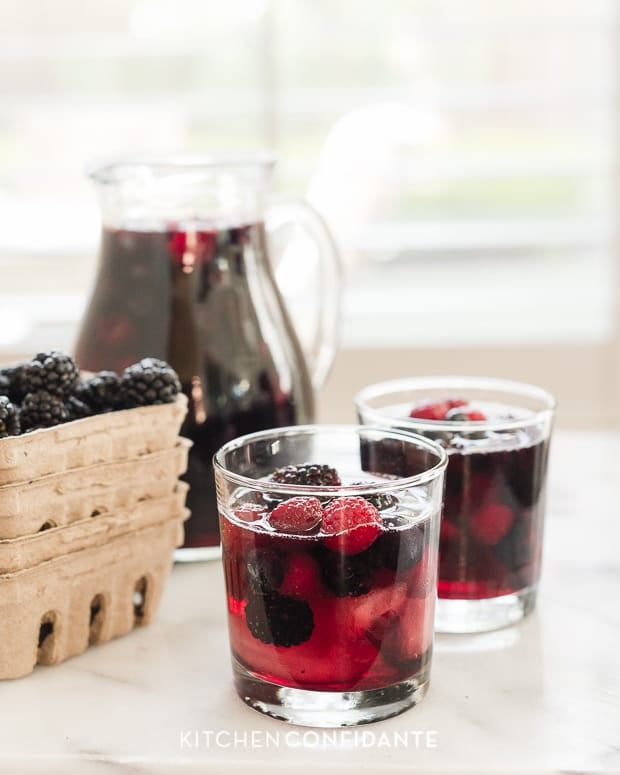 Print Recipe
Ingredients
For the Sangria
1 bottle zinfandel (or your preferred red wine)
1 cup rum (such as Bacardi Puerto Rican Rum)
1 cup simple syrup
1 1/2 cups blackberries
1 1/2 cups blueberries
1 1/2 cups raspberries
sprig of mint, optional
12 oz lime soda
ice (optional)
For the Simple Syrup
1 cup water
1 cup sugar
Instructions
Prepare Simple Syrup: Combine water and sugar in a saucepan and bring to a boil over medium-high heat. Reduce heat to low and simmer until sugar dissolves, about 3-4 minutes. Cool completely.
Prepare Sangria: In a pitcher or glass bowl, combine wine, rum, and fruit. Gently muddle the fruit into the alcohol by pressing and stirring with a large spoon. Stir in the simple syrup (and mint if desired), cover tightly with plastic wrap and refrigerate until chilled, at least 1-2 hours. Before serving, stir in the lime soda. Serve over ice if you wish. Cheers!