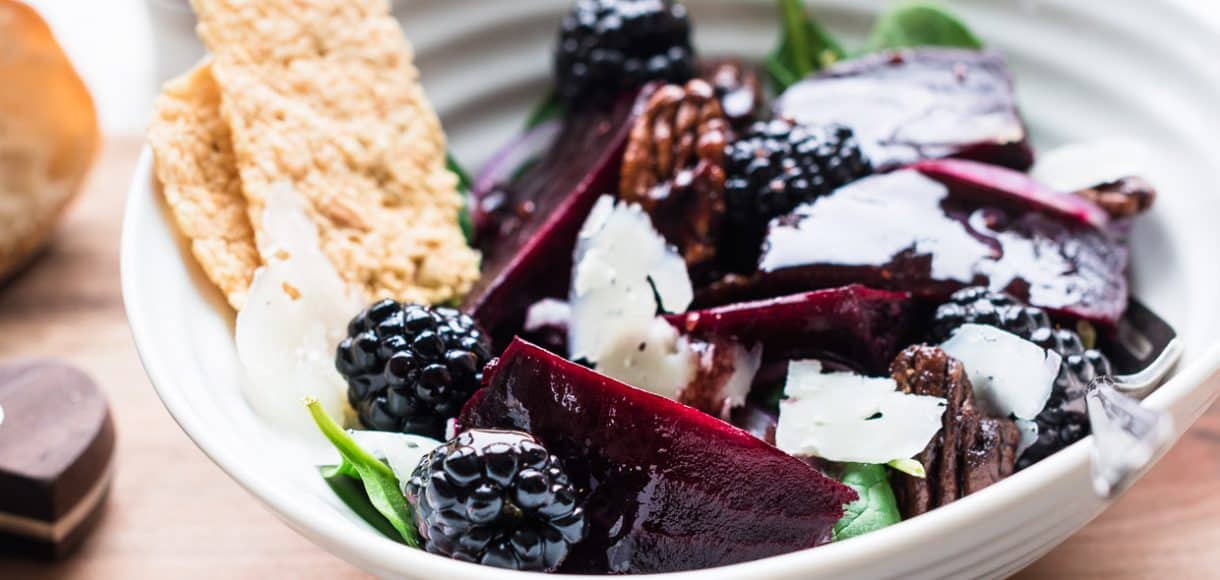 Blackberry Beet Salad with Blackberry Balsamic Dressing
There are certain foods that seem to create divides so magnificent, you would think that the Grand Canyon erupted the moment you mention it. Okra, for example. Mushrooms. Tapioca. Anything that involves that – dare I say it…slimy – texture can really challenge some. For…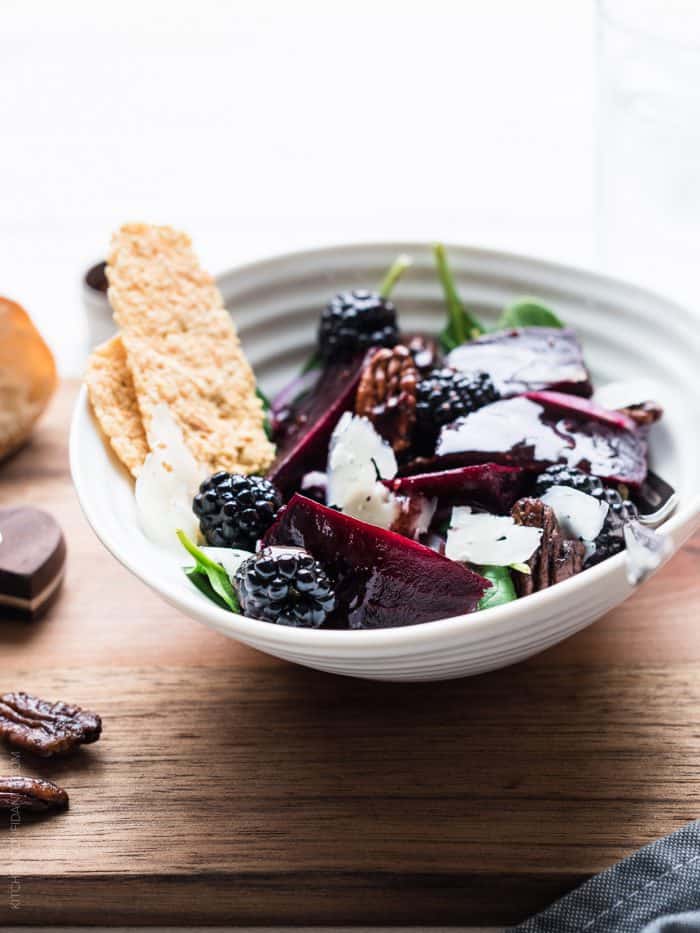 Blackberry Beet Salad with Blackberry Balsamic Dressing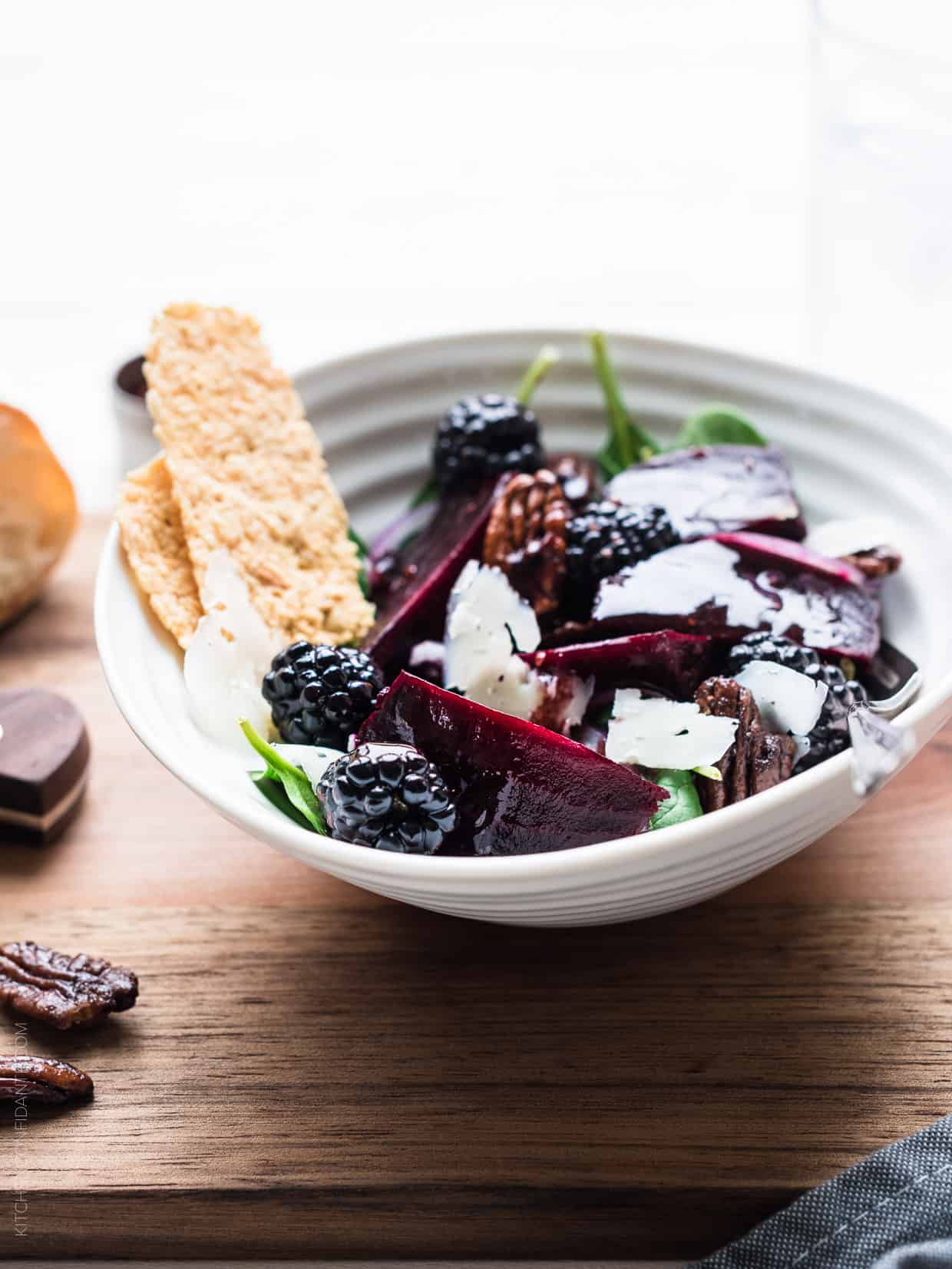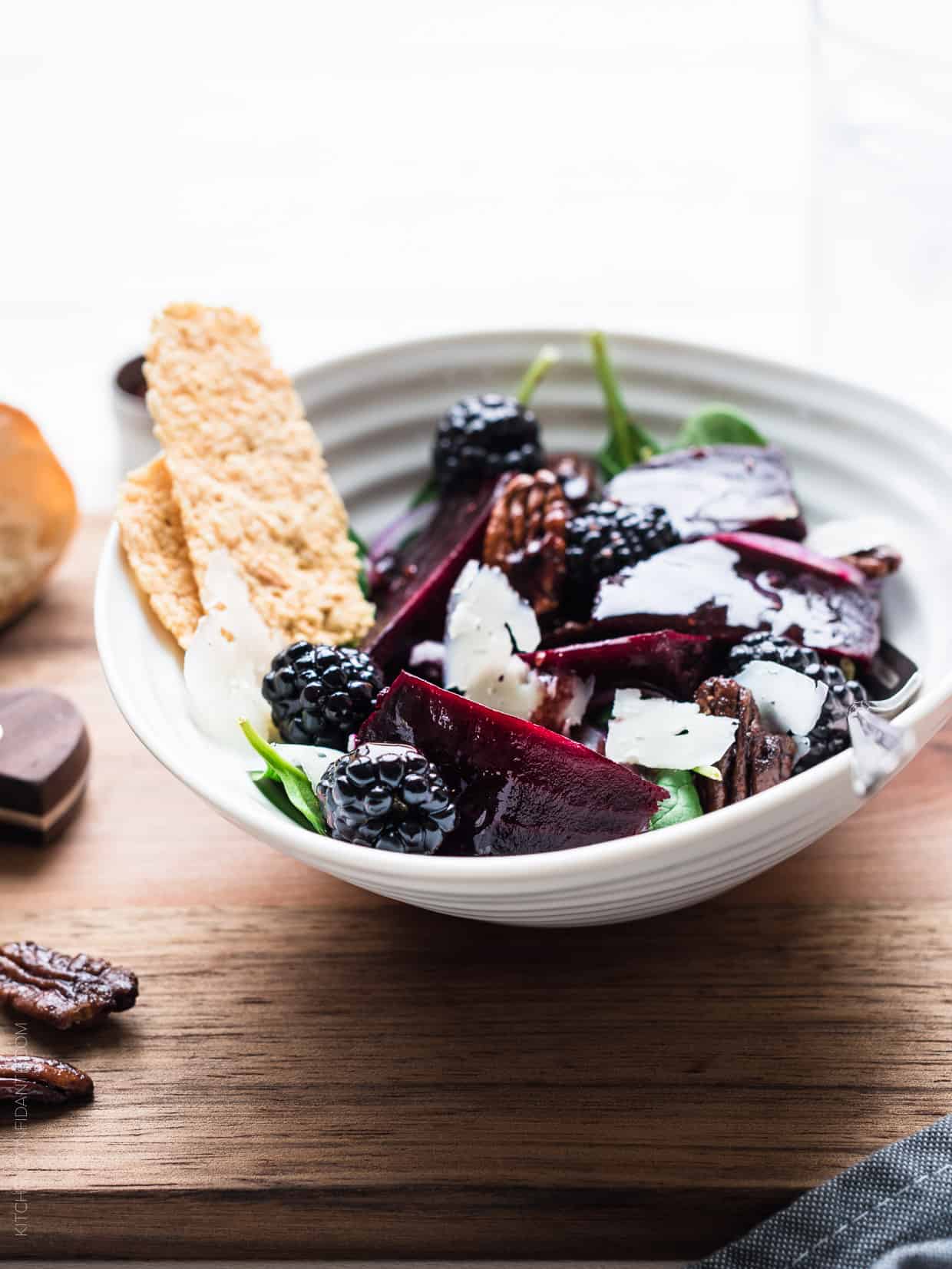 There are certain foods that seem to create divides so magnificent, you would think that the Grand Canyon erupted the moment you mention it. Okra, for example. Mushrooms. Tapioca. Anything that involves that – dare I say it…slimy – texture can really challenge some. For the record, I love all three. Slime and all.
But there is the other end of the spectrum. Foods that are earthy, or in the wine world, even "barn yard" in flavor. Blue cheese, of course. And beets. It's no secret that I love these funky foods, too, and if you are not a beet fan, I hope you don't run away in horror. Because, I do think that this salad could possibly change your mind.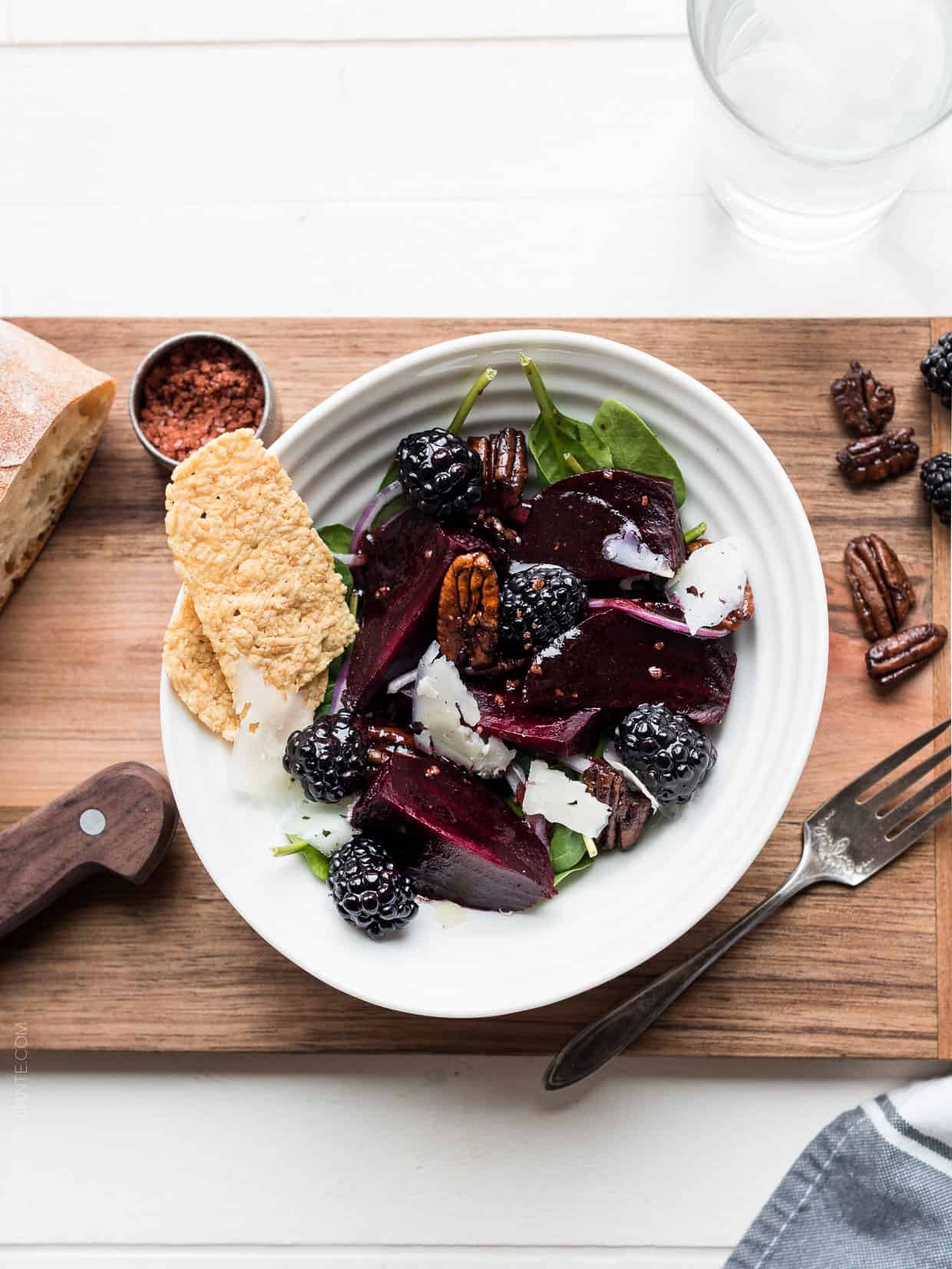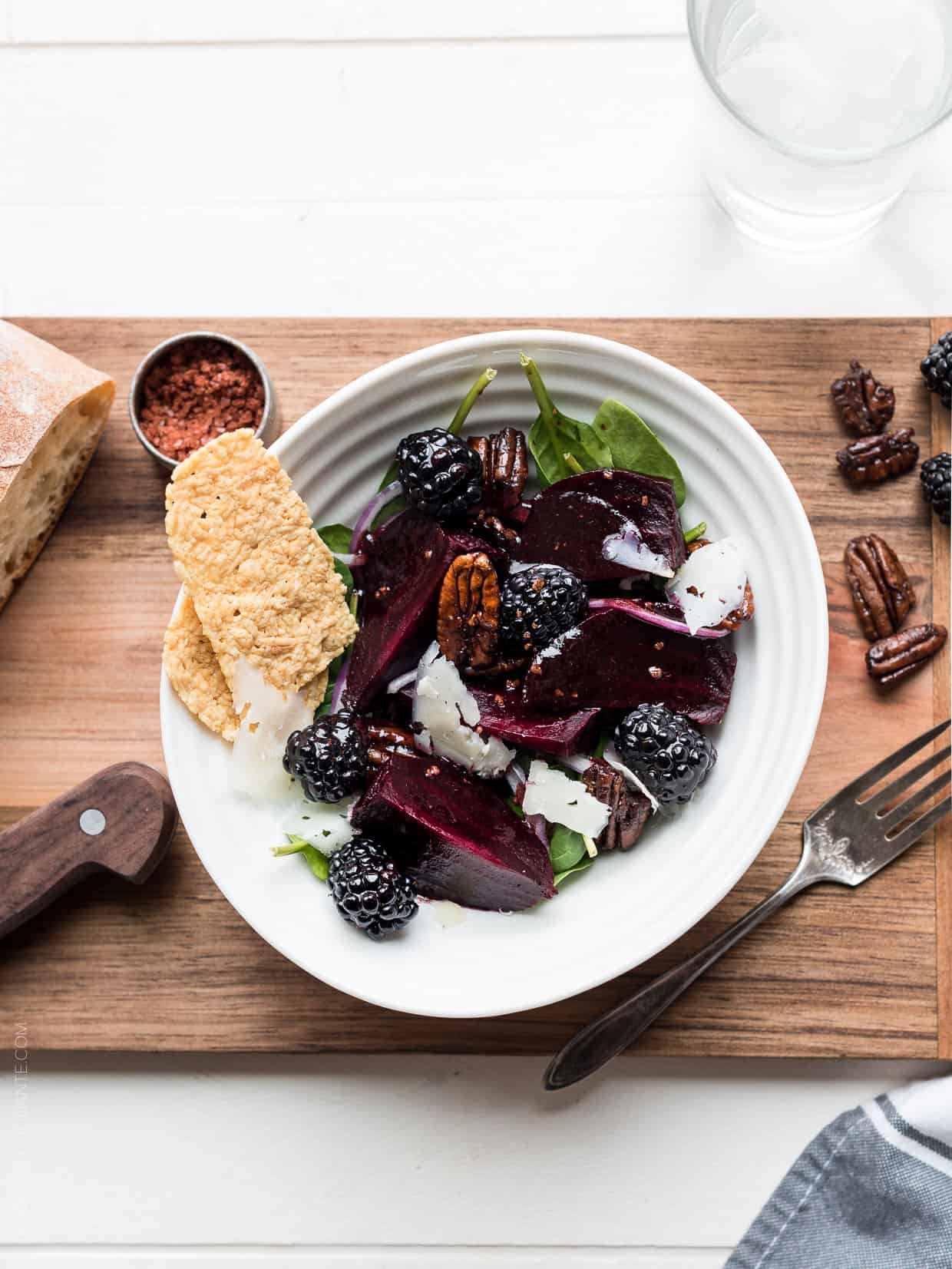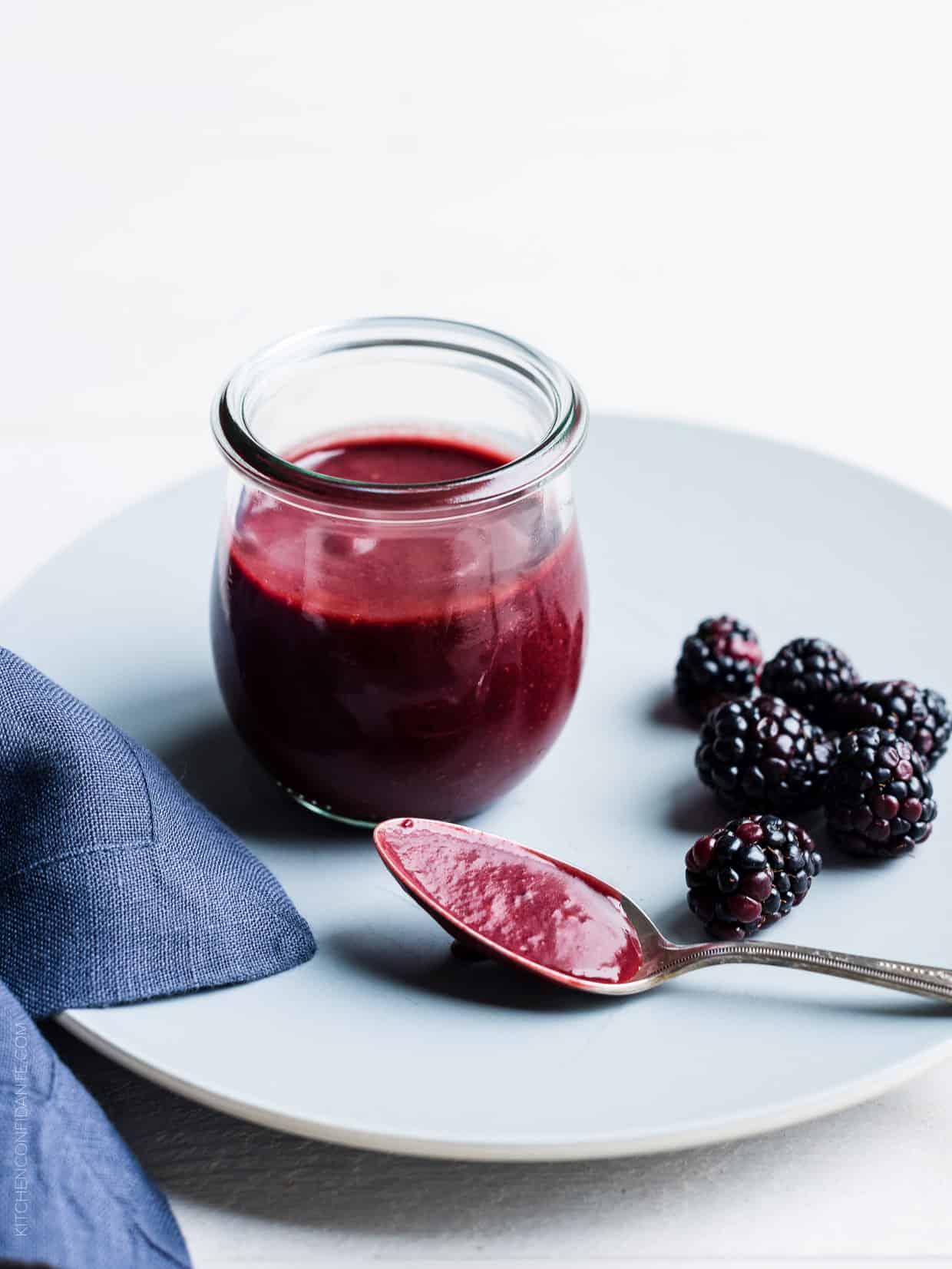 Blackberry Beet Salad with Blackberry Balsamic Dressing pairs earthy beetroot with vibrant blackberries – it's a pairing that is gorgeous, not just visually, but in the way they balance each other so well. The caramelized pecans add some crunch and sweetness, and shavings of manchego cheese bring a little nuttiness that I love. But what really brings it all together is the dressing. Blackberries and balsamic – it's the easiest dressing you can make in seconds in the blender, and when you pour the gorgeous purple over the salad, it becomes silky and delicious with each jewel toned bite.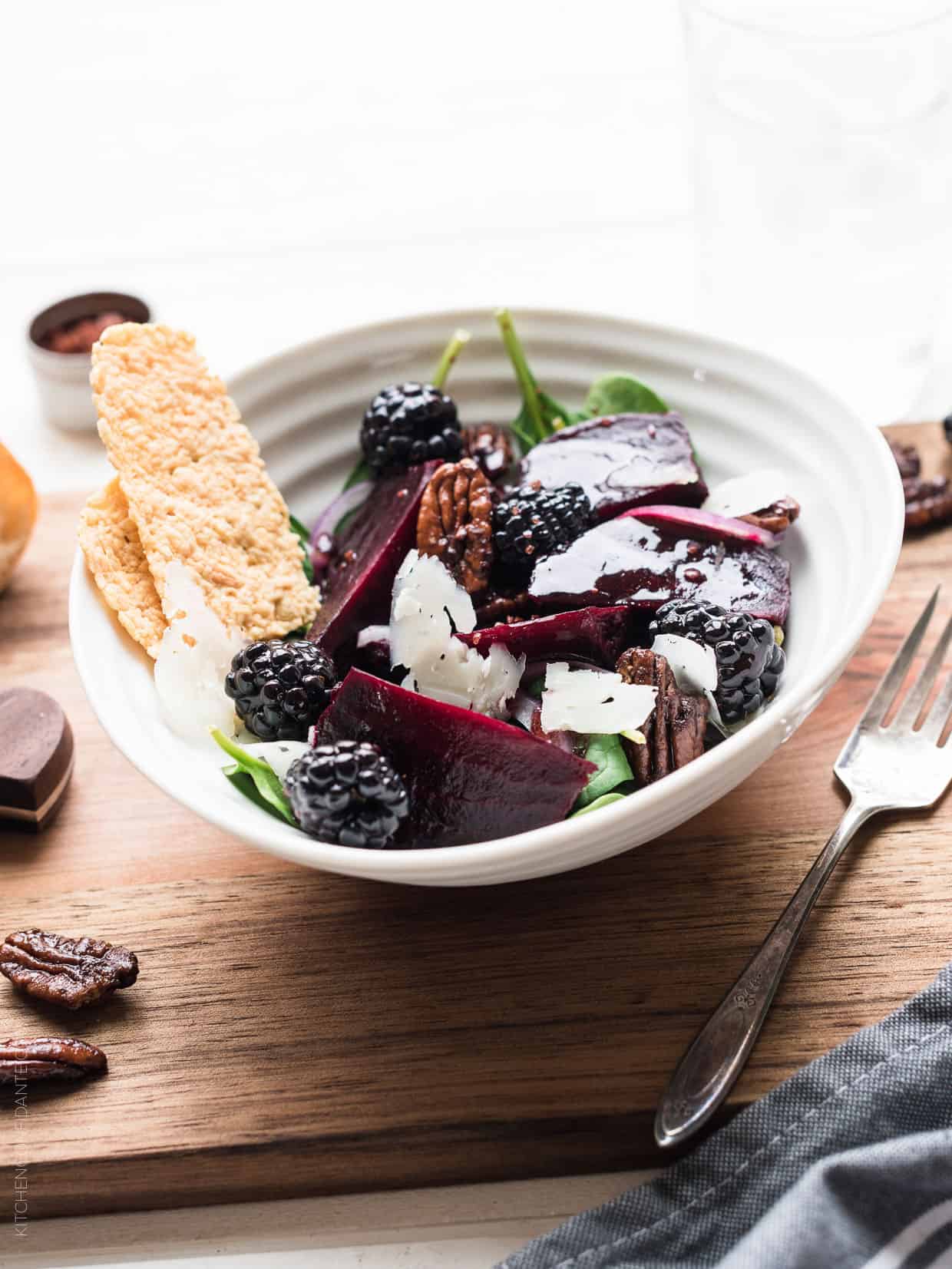 Where do you stand on the great beet divide?
Blackberry Beet Salad with Blackberry Balsamic Dressing
If you love beets, you will love this colorful Blackberry Beet Salad with Blackberry Balsamic Dressing. And if you don't, this just might change your mind.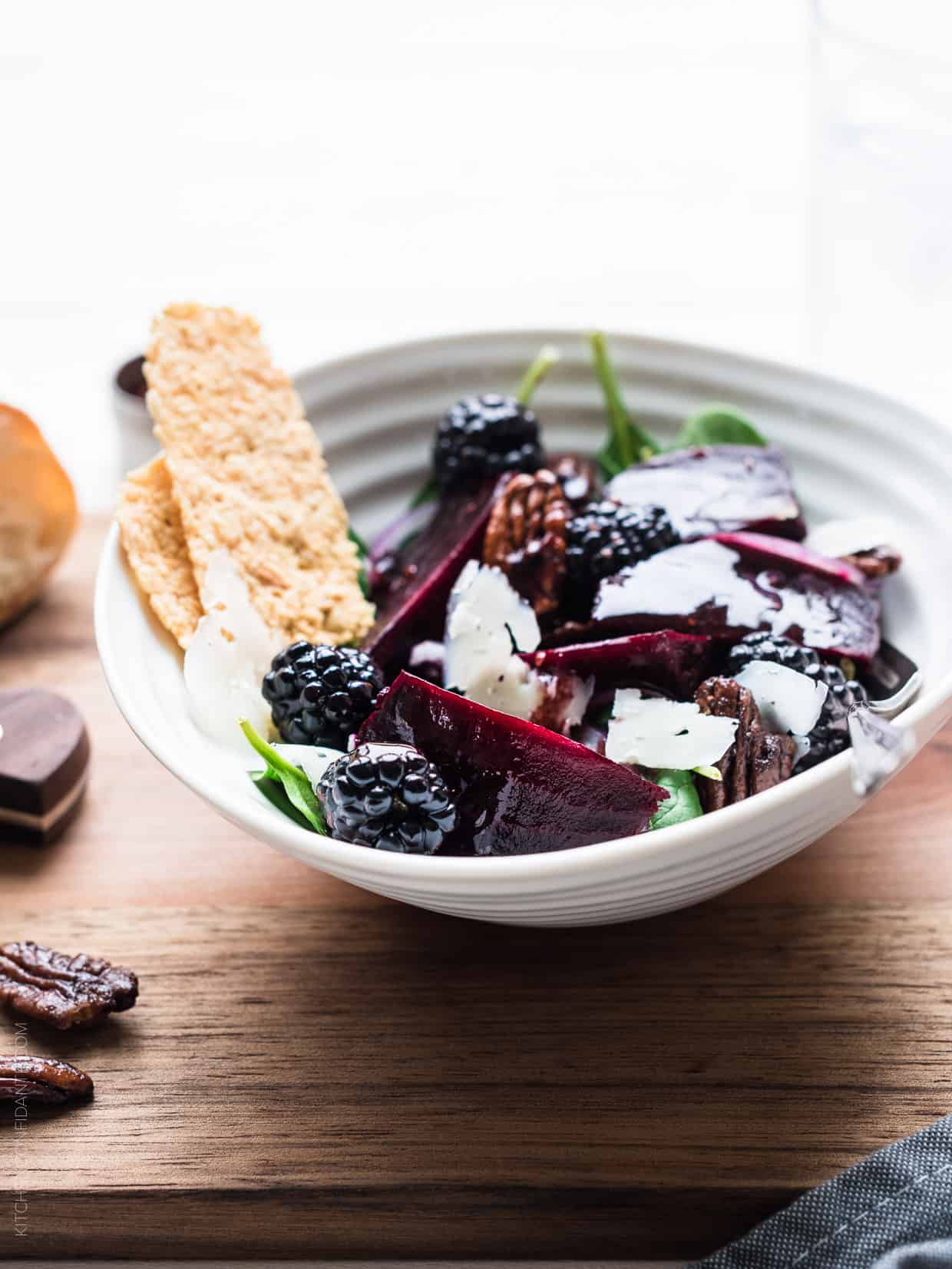 Print Recipe
Ingredients
4 large beets or 8 small beets

12 oz blackberries (2 6 oz packets), divided

1/4 cup balsamic vinegar
2 tablespoons honey
1/2 teaspoon kosher salt
1/3 cup olive oil
4 cups mixed greens (spinach, arugula, etc.)
1 small red onion, thinly sliced
1/2 cup caramelized pecans
sea salt (I used Hawaiian sea salt, but any good sea salt will do)
freshly ground black pepper
shaved manchego cheese
Instructions
Trim the greens and tips of the beets, rinse and place in a microwave safe dish, along with 1/4 cup of water. Lightly cover with plastic wrap, then cook for 10 minutes on high power, or until fork tender. Alternatively, you can of course roast the beets in an oven safe dish tighly covered wtih aluminum foil in a 425°F for 45-60 minutes. However, the microwave is perfect for when you are in a rush.
While the beets cook, make the dressing. In the jar of a blender, place 6 oz of the blackberries along with the balsamic vinegar, honey and salt and blend. With the blender running on low speed, drizzle in the olive oil and blend until it just becomes emulsified, this will take under a minute. Pass the dressing through a sieve to remove the seeds and set aside. You could make the dressing a day in advance, if you wish, keeping it in an airtight container in the refrigerator.
When the beets are tender, remove from the microwave and let it cool before handling. Peel the beets and cut into segments.
Assemble the salad by dividing the greens between four bowls. Top with the beets, remaining blackberries, onion, pecans and season lightly with sea salt and freshly ground black pepper. Drizzle with the dressing and shave some manchego cheese on top. Serve with additional dressing on the side.