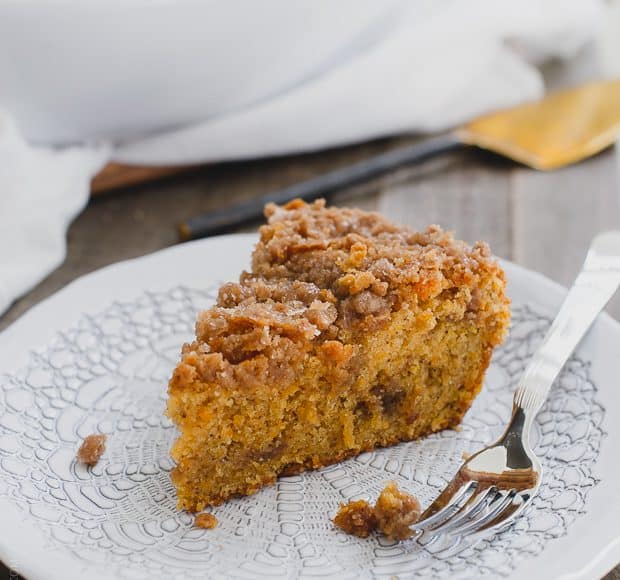 Buttered Rum and Candied Sweet Potato Crumb Cake
I have a special place in my heart for sheet cakes. So when the adorable Jocelyn Delk Adams of GrandbabyCakes.com asked me to join fellow friends in a Cake Walk Blogger Tour to celebrate the release of her new cookbook, Grandbaby Cakes , I knew…
Buttered Rum and Candied Sweet Potato Crumb Cake
I have a special place in my heart for sheet cakes. So when the adorable Jocelyn Delk Adams of GrandbabyCakes.com asked me to join fellow friends in a Cake Walk Blogger Tour to celebrate the release of her new cookbook, Grandbaby Cakes , I knew I wanted to try one of her sheet cakes. To me, they're all about family and heart, just like this cookbook, and this Sweet Potato Buttered Crumb Cake will now be a part of my family, and hopefully yours. (You'll love the giveaway, too!)
When you walk through a bookstore and pick up a cookbook in your hands, it's not very often that you can sense the personality, not to mention the love, of the author in its pages. Few cookbooks seem to share the heart in its pages, but once in a while, this happens.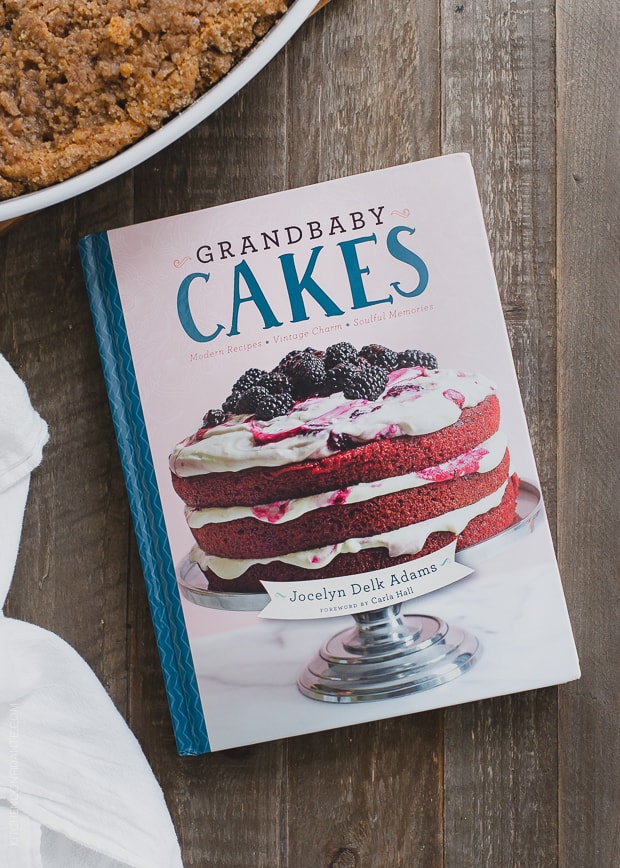 Jocelyn's cookbook was a joy for me to receive, and as I read it from cover to cover, I knew that this was more than just a cookbook, or even a collection of family recipes. Each cake has history, some going back many years, a connection with someone special, a memory in each slice. And already, I feel like I have been adopted by Big Mama, Jocelyn's grandmother and biggest inspiration and teacher, or probably it's the other way around, because I just know that one day, long after I am gone, my children will be making Sweet Potato Buttered Rum Crumb Cake for their own children.
I couldn't wait to share it with you, too – the recipe and the cookbook. But you may be wondering why I picked this cake of all the ones she shares. It's simple. I loved that there was a chapter devoted to the cakes I love most: Sheet Cakes.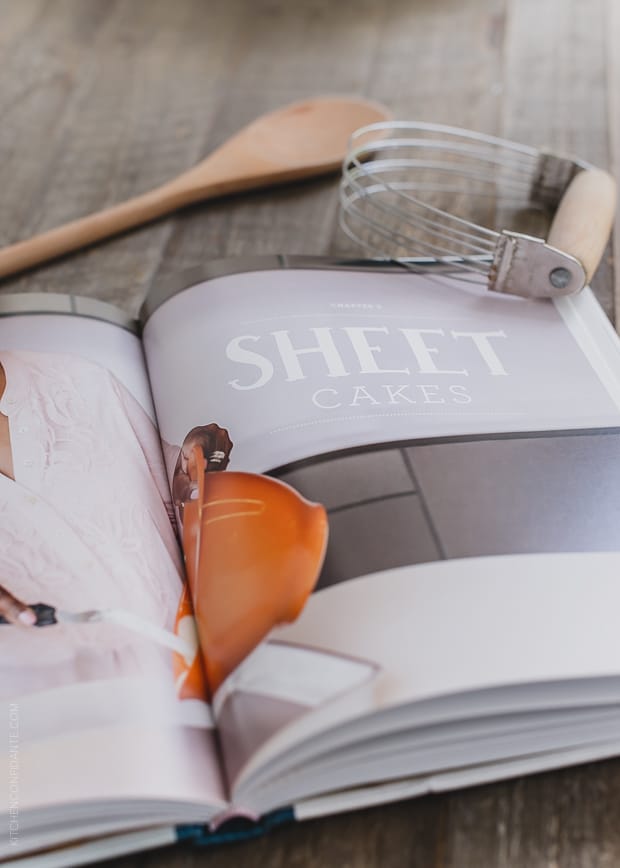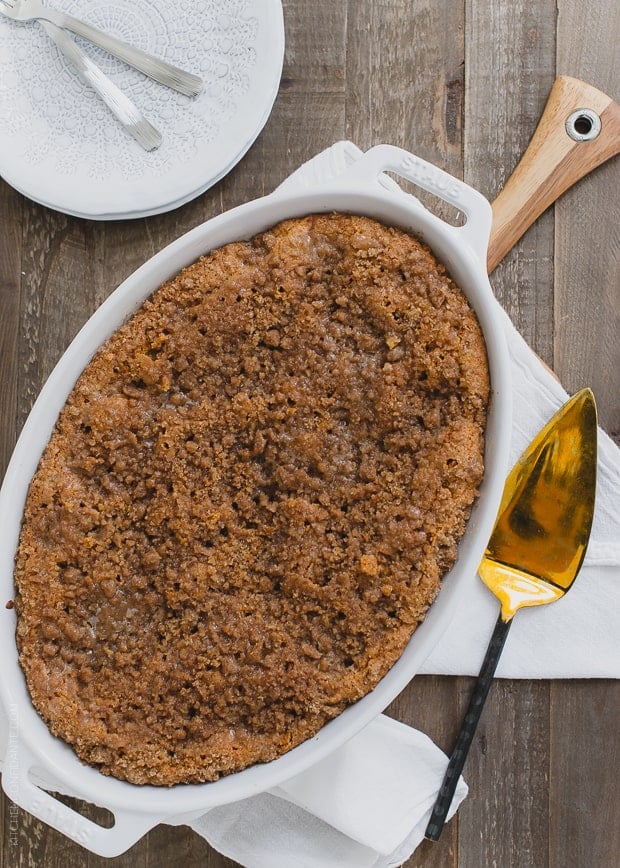 Sheet cakes never win the award for being show stopping. They're the homely cakes, but it's this homestyle quality I love. Humble, not showy — these cakes are about spreading the love, feeding a crowd, and more often than not, these are the cakes that get passed down from generation to generation because they're just so damn good.
One of the first cakes I made for my husband was a sheet cake. That rhubarb cake was a family recipe from a dear friend that quickly became part of my family. My love for sheet cakes aside, I knew I should make this crumb cake because he simply asked me a few weeks ago, "can you make coffee cake?"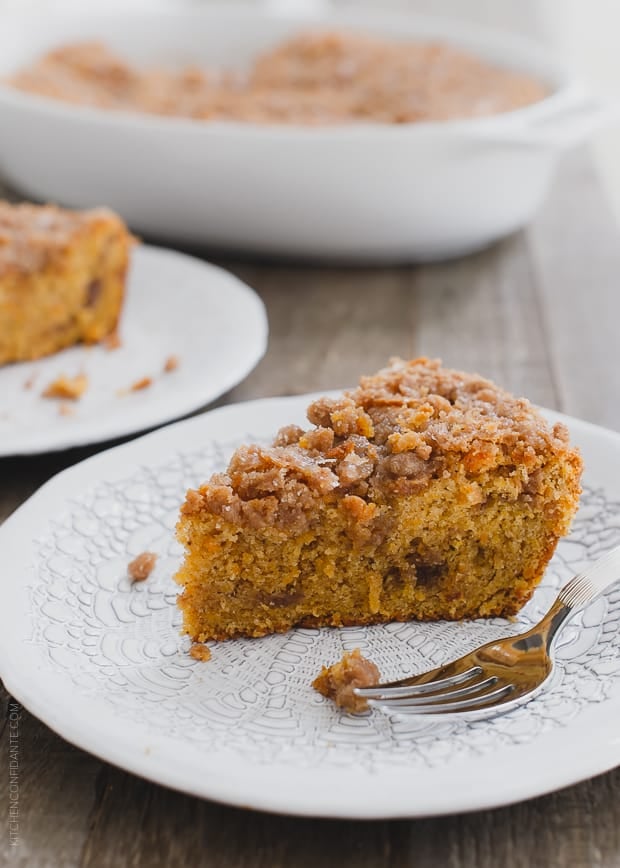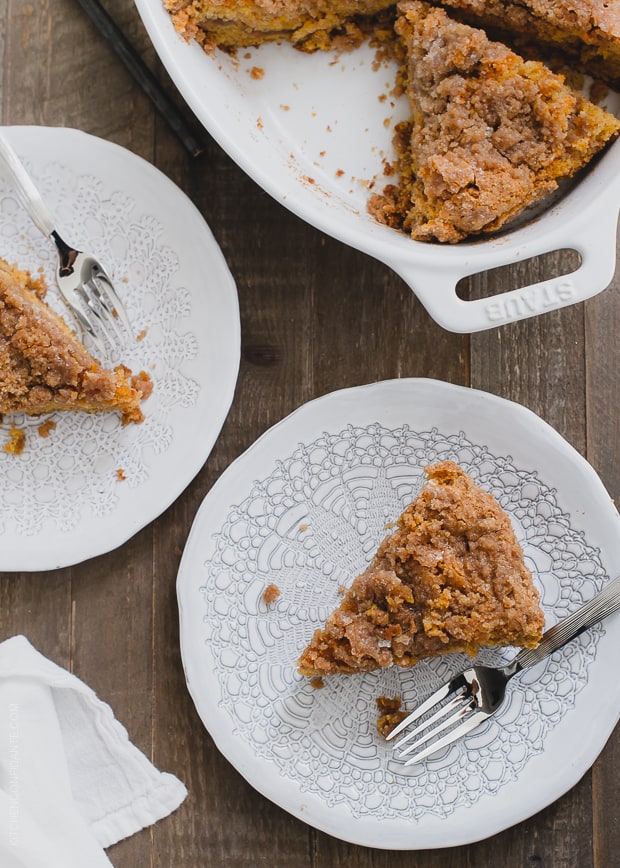 Well now, here was a coffee cake to beat all coffee cakes. A hint of sweet potato and all the autumn-y spices we love, beat into a batter that finds loftiness from whipped egg whites gently folded in, all laced through with a sugary streusel that I imagine Jocelyn just grins as she sprinkles it on top. But what takes it over the top is the buttered rum sauce that gets poured into every nook and cranny of the still-warm cake. It's like pouring hugs and kisses into each slice. I don't think I can explain it any better than that.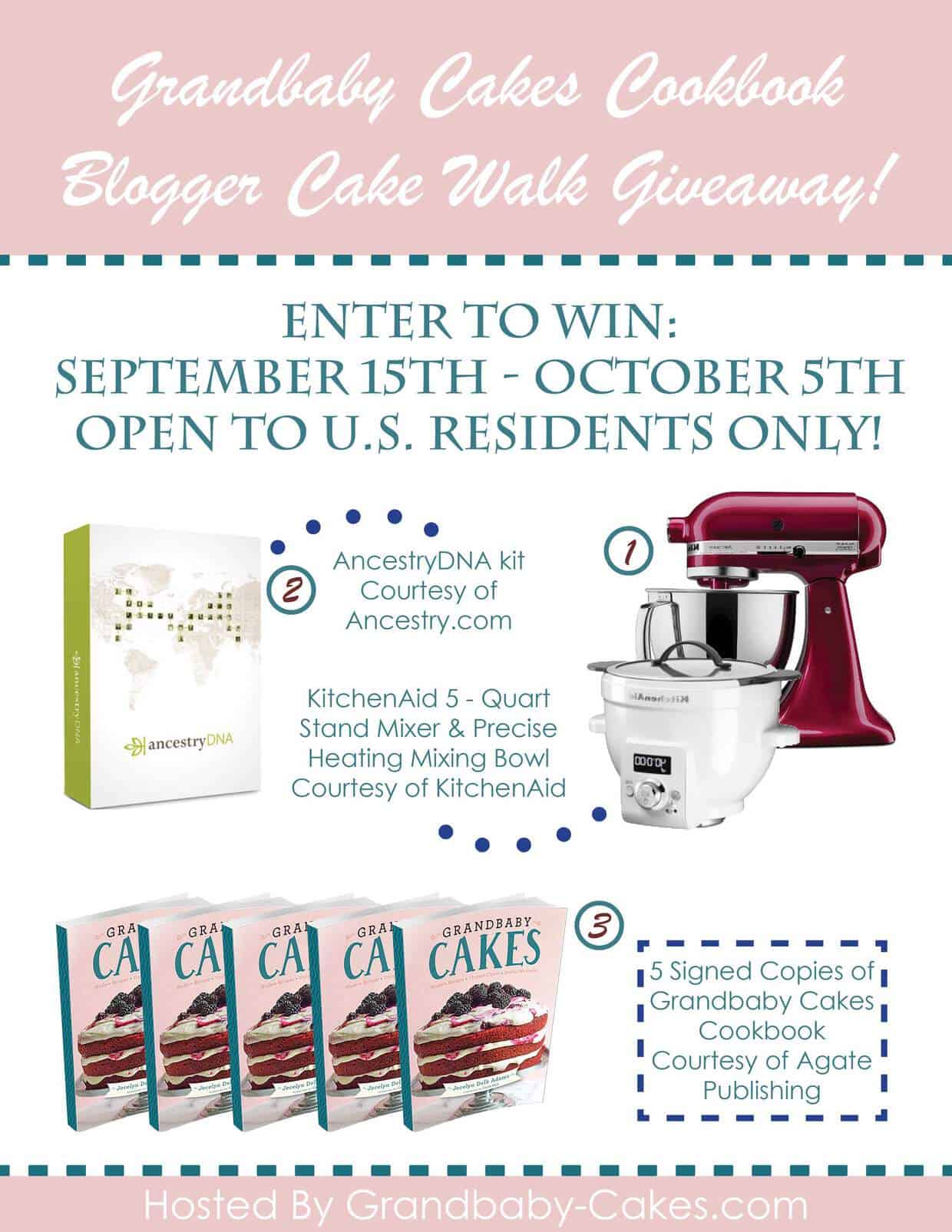 Here are the incredible bloggers participating in the Cake Walk Blogger Tour!
Chocolate, Chocolate and More! – September 15th
Bakers Royale – September 15th
Plain Chicken – September 16th
Real Food by Dad – September 16th
The Kittchen – September 17th
Crazy For Crust – September 17th
Buns In My Oven – September 18th
I Am Baker – September 21st
Blogging Over Thyme – September 21st
Spicy Southern Kitchen – September 22nd
Kitchen Confidante – September 22nd
Broma Bakery – September 23rd
Melissa's Southern Style Kitchen – September 24th
Blahnik Baker – September 24th
Inside BruCrew Life – September 25th
Baking A Moment – September 25th
Life Love and Sugar – September 28th
Shugary Sweets – September 28th
Diethood – September 29th
Afrobella – September 29th
Beyond Frosting – September 30th
Hip Foodie Mom – September 30th
Love & Olive Oil – October 1st
She Wears Many Hats – October 1st
Buttered Rum and Candied Sweet Potato Crumb Cake
This Buttered Rum and Candied Sweet Potato Crumb Cake from the Grandbaby Cakes cookbook by Jocelyn Delk Adams is sure to win your (and your family's) heart! It's the ultimate coffee cake! Recipe reprinted with permission from Jocelyn Delk Adams.
Print Recipe
Ingredients
For the Streusel:
3/4 cup all-purpose flour
3/4 cup granulated sugar
1/2 cup packed light brown sugar
1 tablespoon ground cinnamon
6 tablespoons unsalted butter, melted
For the Cake:
4 large eggs, whites and yolks separated, room temperature
2 cups granulated sugar
1 cup vegetable oil
2 large sweet potatoes, roasted, peeled and mashed (see notes below)
1/3 cup hot water
1 tablespoon vanilla extract
2 cups sifted all-purpose flour
2 1/4 teaspoons baking powder
1/2 teaspoon baking soda
1 teaspoon ground cinnamon
1 teaspoon ground cloves
1 teaspoon salt
1/2 teaspoon ground nutmeg
For the Butter-Rum Sauce:
1/2 cup granulated sugar
4 tablespoons unsalted butter
2 tablespoons rum
2 tablespoons water
Instructions
For the Streusel:
In a medium bowl, whisk together the flour, graunlated sugar, brown sugar and cinnamon. Slowly stir in the melted butter with a fork, letting it coat the dry ingredients until crumbs are formed. Pinch pieces together to form more crumbs. Set aside.
For the Cake:
Preheat the oven to 350°F. Prepare a 9x13 inch baking pan by greasing with butter and lining the bottom with parchment paper, if you wish. You can also use non-stick baking spray.
In the bowl of an electric stand mixer fitted with the whisk attachment, beat the egg whites on high speed until stiff peaks form. Transfer the whipped egg whites to a small bowl and place in the refirgerator.
Clean your stand mixer bowl and whisk attachment. Beat the graunlated sugar and oil on medium-high speed until combined. Add the egg yolks 1 at a time, combining well after each addition and scraping downt he sides and bottom of the bowl as needed. Add the sweet potatoes, hot water and vanilla extract and beat for another 3-4 minutes.
Turn your mixer down to its lowest speed and carefully add the flour, baking powder, cinnamon, cloves, salt, baking soda and nutmeg. Mix the batter until just combined. Be care not to overmid. Remove the egg whites from the refrigerator and gently fold them into the batter.
Pour half of the batter into the prepared baking dish. Cover with half of the streusel. Repeat with the remaining batter and streusel. Bake for about 55 minutes, or until a toothpick inserted into the center of the cake comes out moist but mostly clean.
Let the cake cool in the pan for 10 minutes. Using a toothpick, poke the top of the cake in various locations. Lightly cover the cake with foil or plastic wrap so it does not dry out. While the cake continues to cool, prepare the sauce.
For the Butter-Rum Sauce:
In a medium saucepan over medium heat, bring the granulated sugar, butter, rum and water to a boil. Once it is at a boil, whisk the sauce until it thickens, about 3-5 minutes. When the sauce can thickly coat the back of a spoon, remove from the heat and let cool for 10-15 minutes.
Pour the sauce over the warm cake. Serve at room temperature.
Notes
While you can roast your sweet potatoes in a 400°F oven for 35-55 minutes, I opted to simply use the microwave. Prick the sweet potatoes in several spots with a fork, place it on a microwave safe dish, and, if you have it, use the baked potato button on your microwave or for about 8 minutes on High, turning once, until the sweet potatoes are tender.
Recipe courtesy Grandbaby Cakes by Jocelyn Delk Adams (Agate Publishing, 2015).