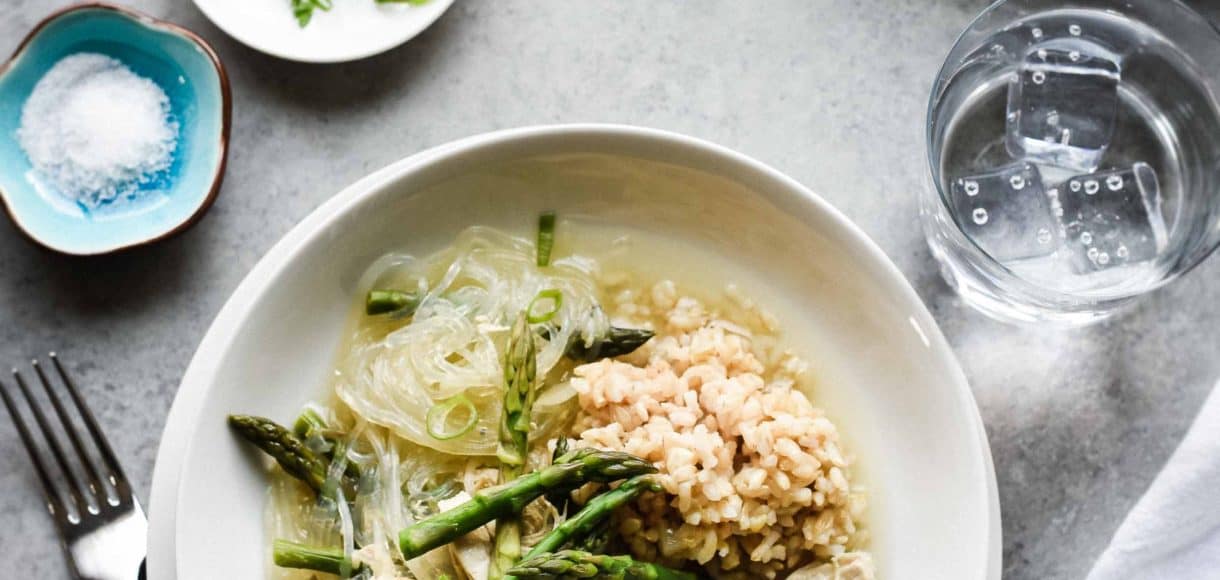 Chicken and Asparagus Sotanghon (Glass Noodle) Soup
On cold winter nights, turn to this comforting Filipino Chicken and Asparagus Sotanghon (Glass Noodle) Soup. It warms you up and nourishes from within. For a tropical country, it seems to me the Philippines has a lot of dishes that are well suited for colder…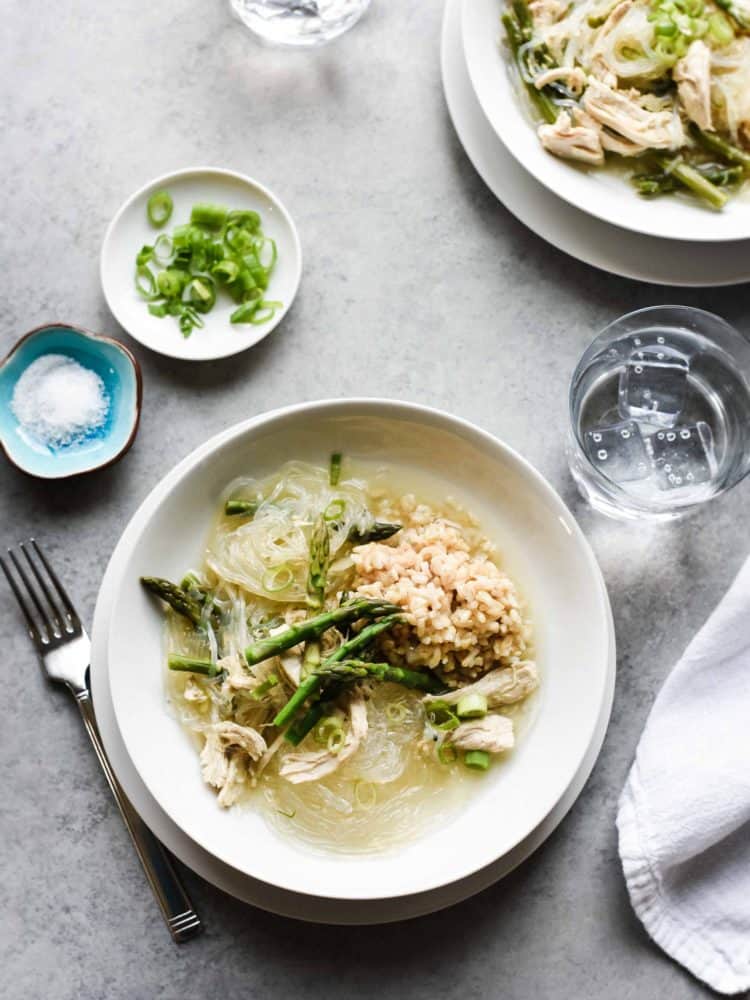 Chicken and Asparagus Sotanghon (Glass Noodle) Soup
On cold winter nights, turn to this comforting Filipino Chicken and Asparagus Sotanghon (Glass Noodle) Soup. It warms you up and nourishes from within.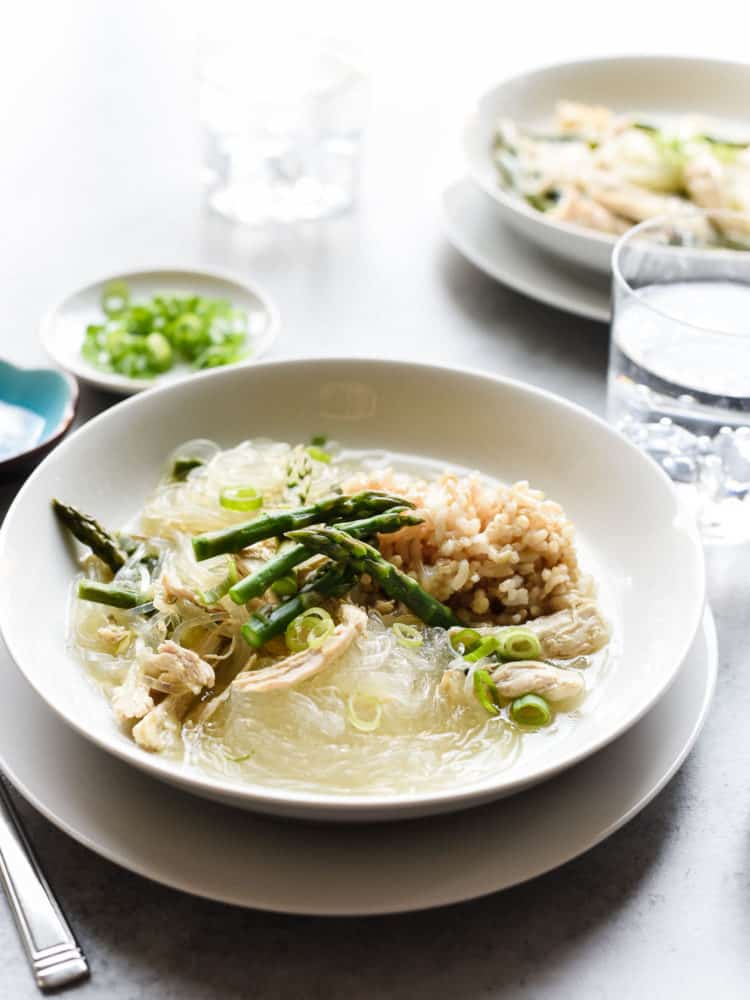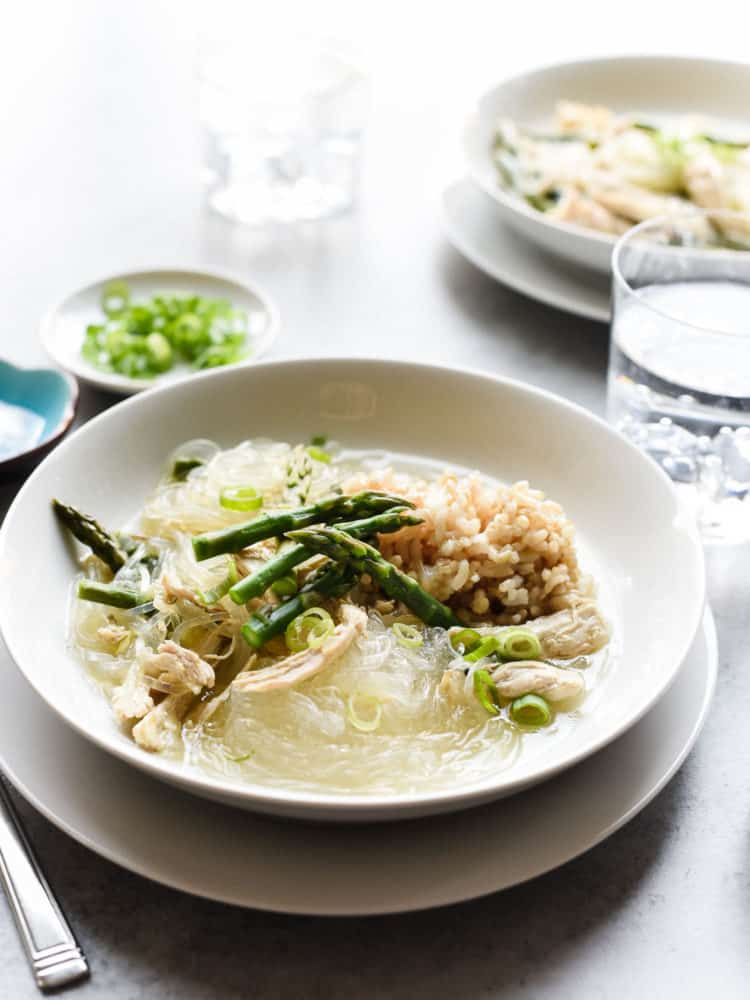 For a tropical country, it seems to me the Philippines has a lot of dishes that are well suited for colder climates. The stews and soups my mother cooked for us nurtured us through many a cold winter when I was growing up in New York. And these were the dishes I cooked most when I moved to the even colder Chicago for graduate school. There was nothing better than cooking up a large vat of soup in my teeny apartment while the wind howled outside and the snow blanketed the pavement. It could be 7 degrees out there and I couldn't care less. As long as I was snug in my little kitchen, steaming up the windows with my cooking, I was happy.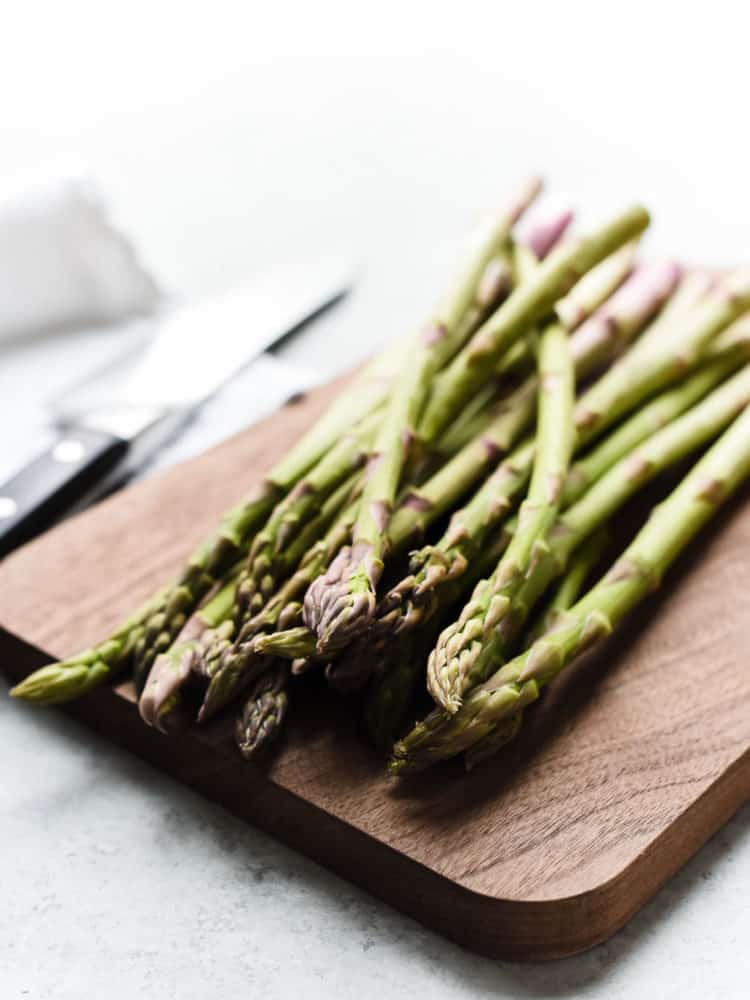 I've mentioned before how my grad school friends and I would gather for Thursday dinners. We all looked forward to those Thursdays, and after some time, we figured out what dishes we loved most from each friend. Robin soon became known for her grandmother's Tater Tot Casserole, Beth for her Stuffed Peppers, and eventually, those were the dishes we begged them to make time and again. Liz had many dishes in her arsenal that we loved, and I've already told you about her Blueberry Crisp and Rhubarb Cake.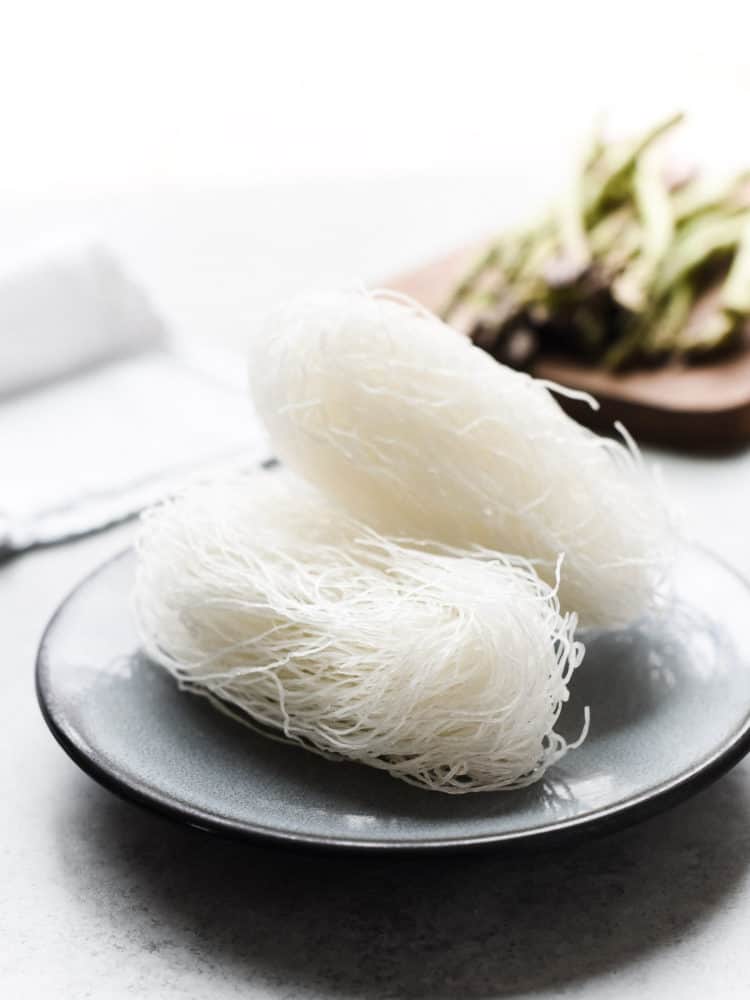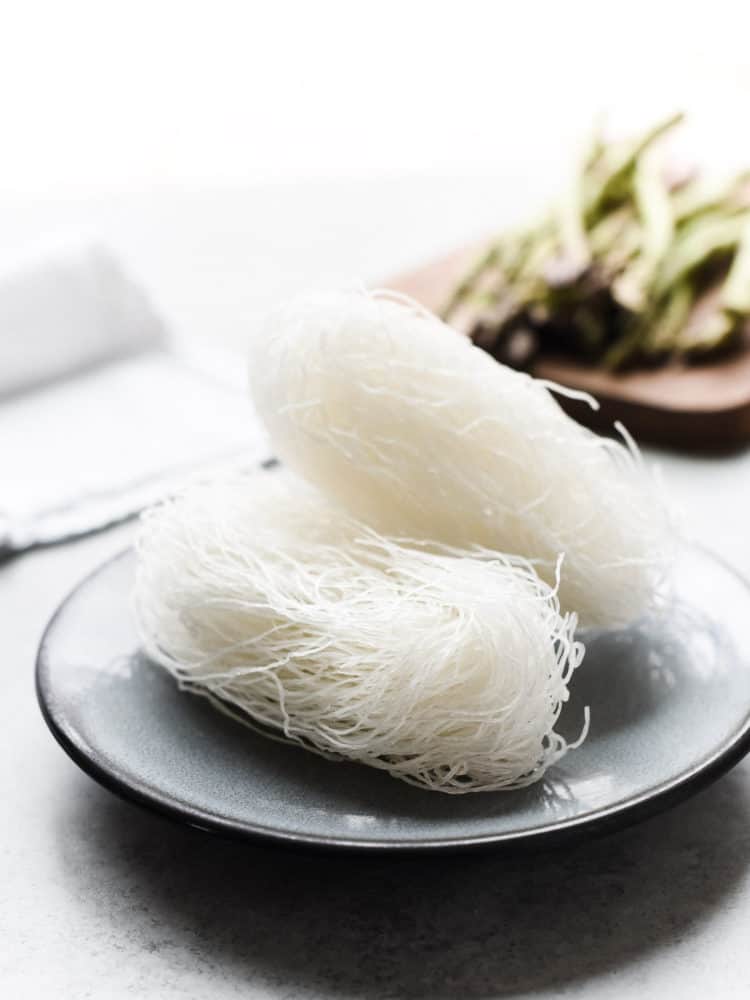 As for me, my most requested dish was one that used Glass Noodles. Also known as Cellophane Noodles or Bean Threads, it is called Sotanghon in the Philippines, and is a beautiful, clear noodle made out of starch, most often mung bean. My Chicken and Asparagus Sotanghon (Glass Noodle) Soup was always comforting on the bitterest of Midwest winter evenings, and our bellies would warm instantly from the hint of ginger in the soup.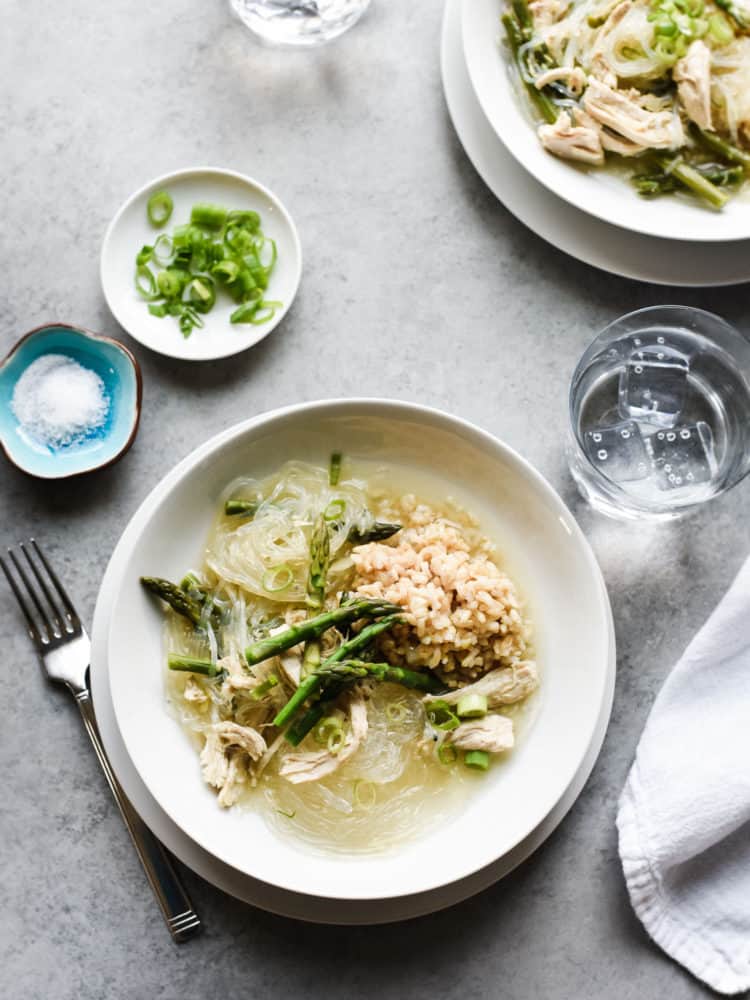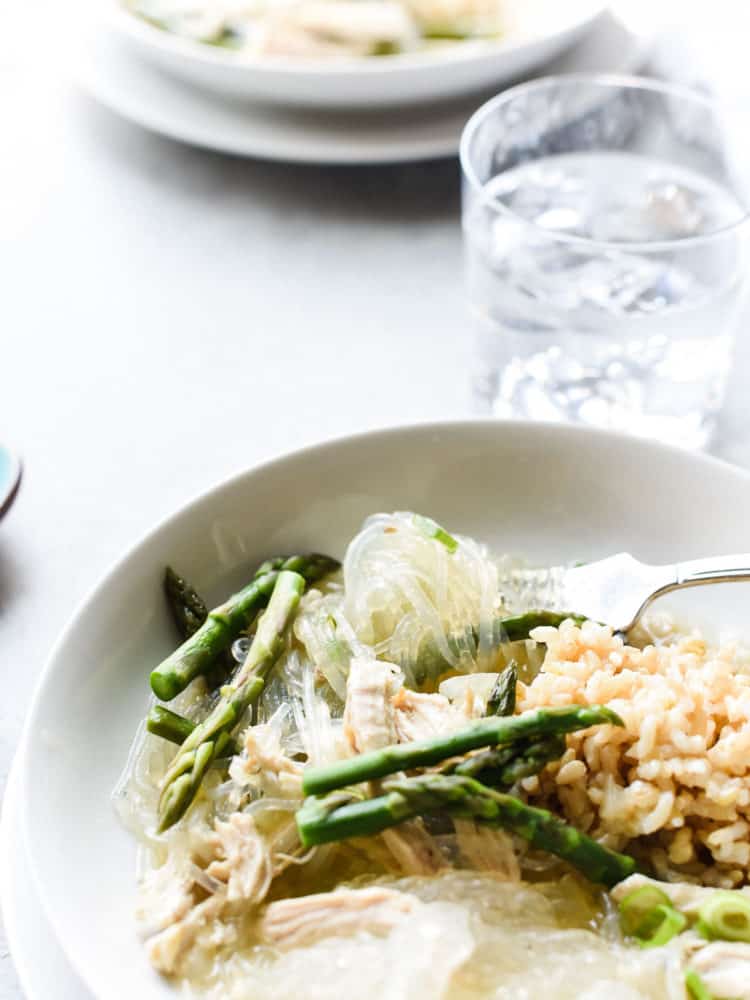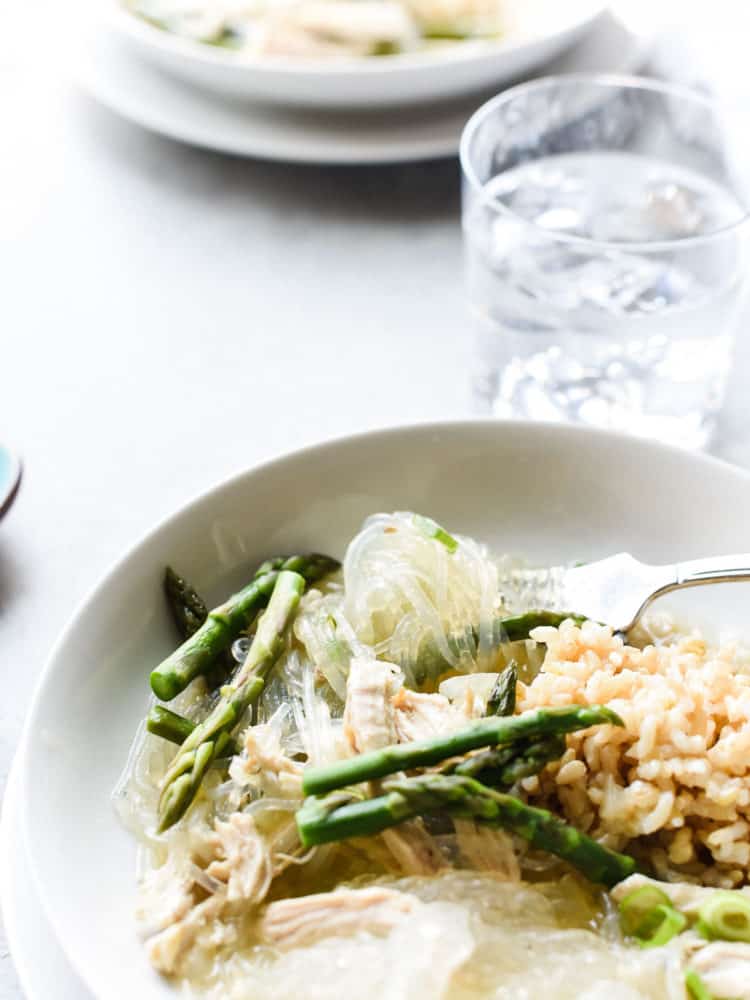 I thought of this dish the other day when I was hosting friends from my mom's club at my home. Our group has a foodie gathering once a month, and it was my turn to host. My theme was Easy Winter Meals, and at first I thought I might go the casserole route. But then I remembered Robin, Beth and Liz and our cozy winter dinners. I remembered ladling the slippery noodles, chicken and broth over plates of steaming rice (because of course, as a Filipino-based dish, it must be eaten with rice), glanced at the frosted lawns out my window, and it was clear that I had to make it again.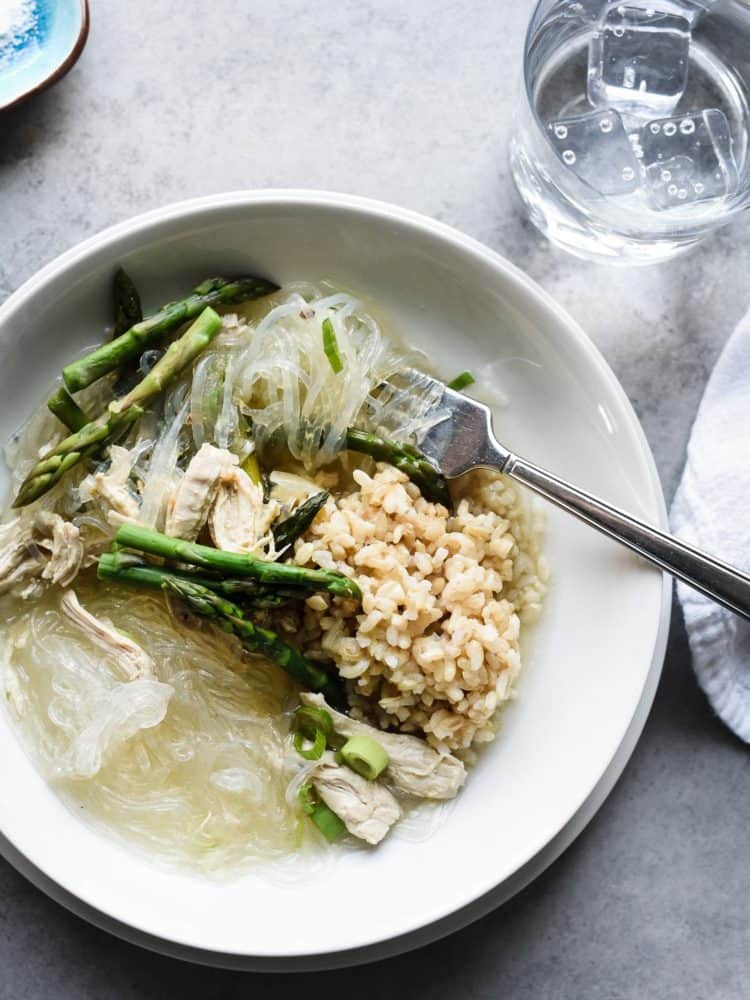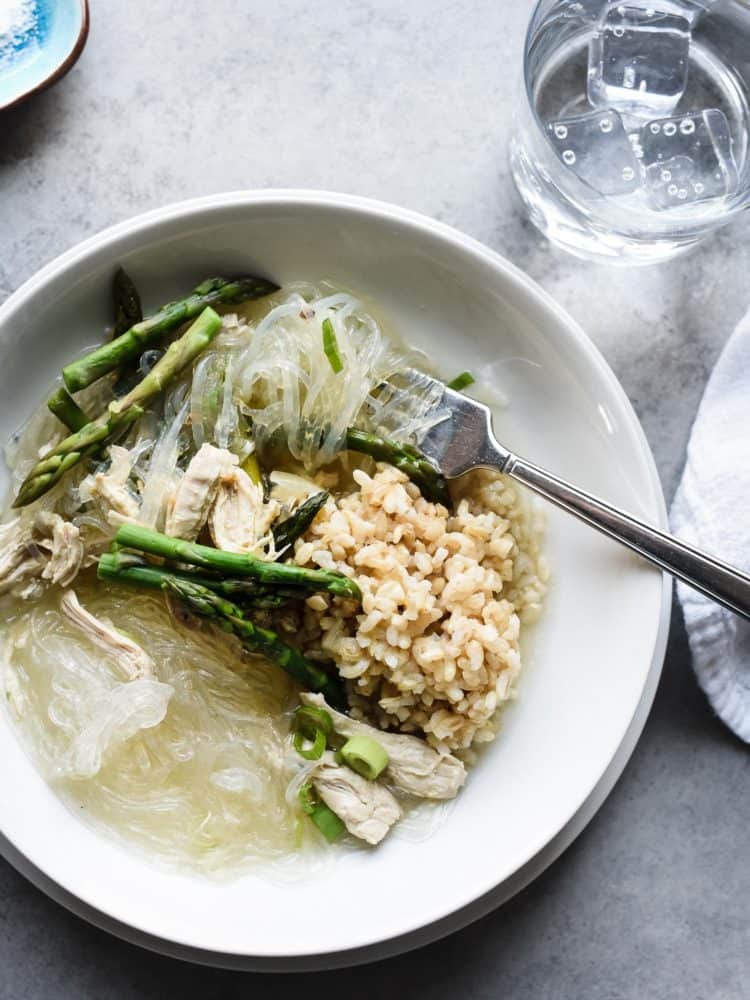 Note: This post first appeared January 14, 2011. The recipe has been updated from the archives with improved kitchen notes and recipe annotation, and updated photographs. I hope you enjoy this favorite from my kitchen.
Recommended Tools & Products
Chicken and Asparagus Sotanghon (Glass Noodle) Soup
On cold winter nights, turn to this comforting Filipino Chicken and Asparagus Sotanghon (Glass Noodle) Soup. It warms you up and nourishes from within.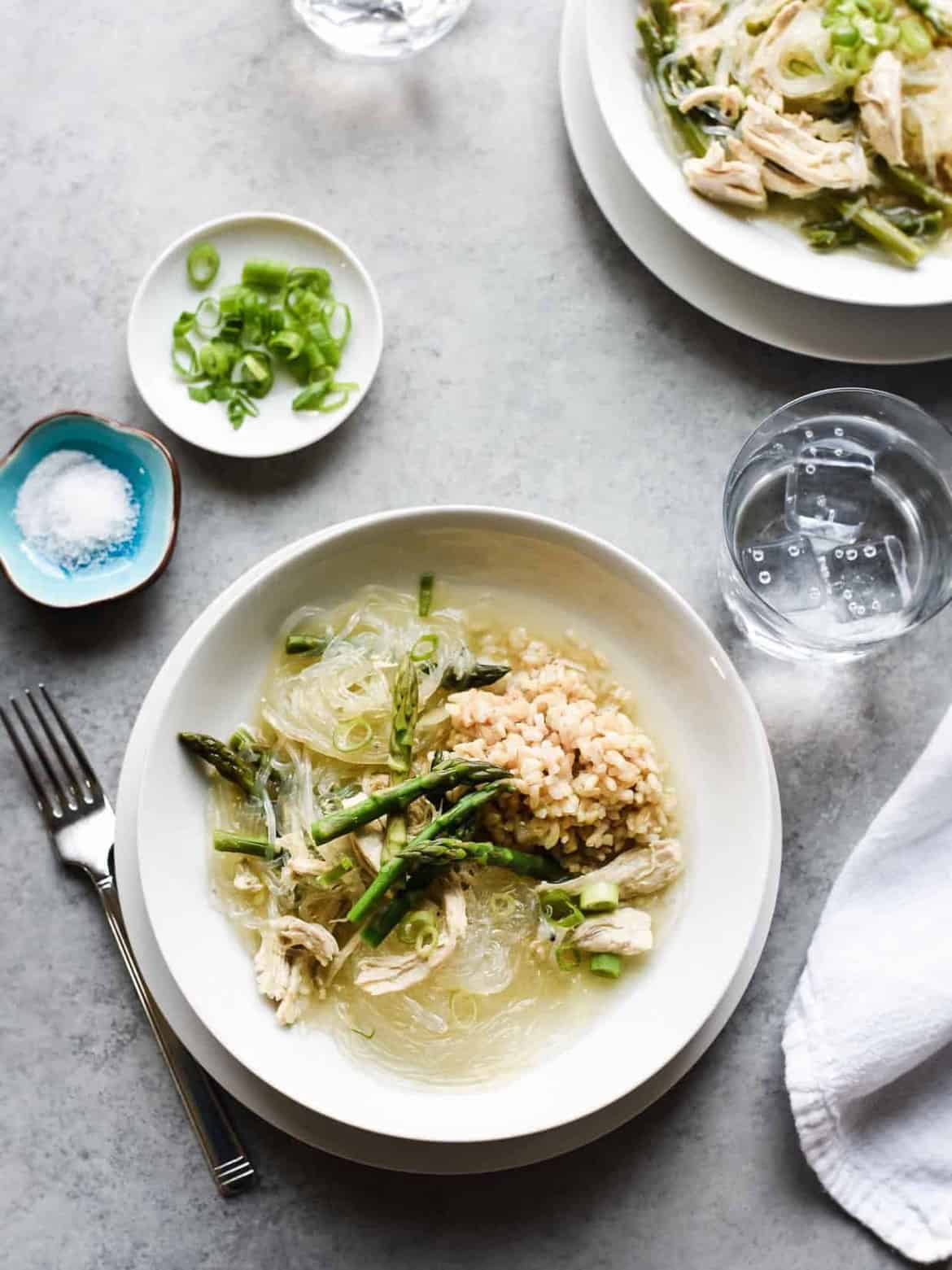 Print Recipe
Ingredients
2 tablespoons canola oil
1 small onion, finely diced
2 1-inch slices ginger
2-3 cloves garlic, minced
2 chicken breasts, bone-in and skin-on (about 2.5 lbs)
2 tablespoons fish sauce, to taste (salt may be substituted)
1 teaspoon freshly ground pepper, to taste
8 cups chicken stock
1 lb asparagus, ends trimmed, sliced in 1 inch pieces
4 oz sotanghon noodles (also known as bean threads, cellophane noodles or glass noodles)
scallions, finely sliced
Instructions
In a Dutch oven or large pot, heat oil over medium-low heat. Sauté the onion, garlic and ginger until onion starts to become transparent, do not allow to brown.
Add chicken to the pot and season with fish sauce and freshly ground black pepper. After 3-4 minutes, turn the chicken over and cover. After another 5 minutes, add chicken stock. Bring to a boil, then lower heat to simmer. Continue to simmer until chicken is very tender and falling off bones, about 30 minutes.
Retrieve chicken, and allow to cool, until you are able to shred the meat. Discard the skin and bones. Return shredded chicken to the soup, adjust seasoning as necessary with salt (or fish sauce) and pepper.
Stir in the asparagus and noodles (see notes below). Cook for about 5 minutes or until asparagus is just fork tender, taking care not to overcook asparagus. Garnish with scallions and freshly ground black pepper before serving over rice.
Notes
At first, it may seem as though the ratio of noodles to soup is wrong, but just be a little patient. The noodles will expand and soak up the brothy goodness.