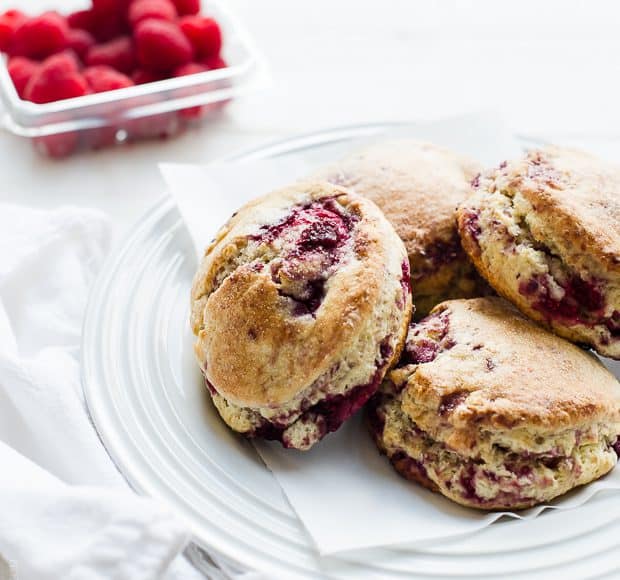 Coconut Raspberry Scones
Coconut Raspberry Scones served with fresh, creamy yogurt is a pairing unlike any other, and perfect for your next tea party! Made with coconut cream, these scones are tender and moist, and bursting with raspberries.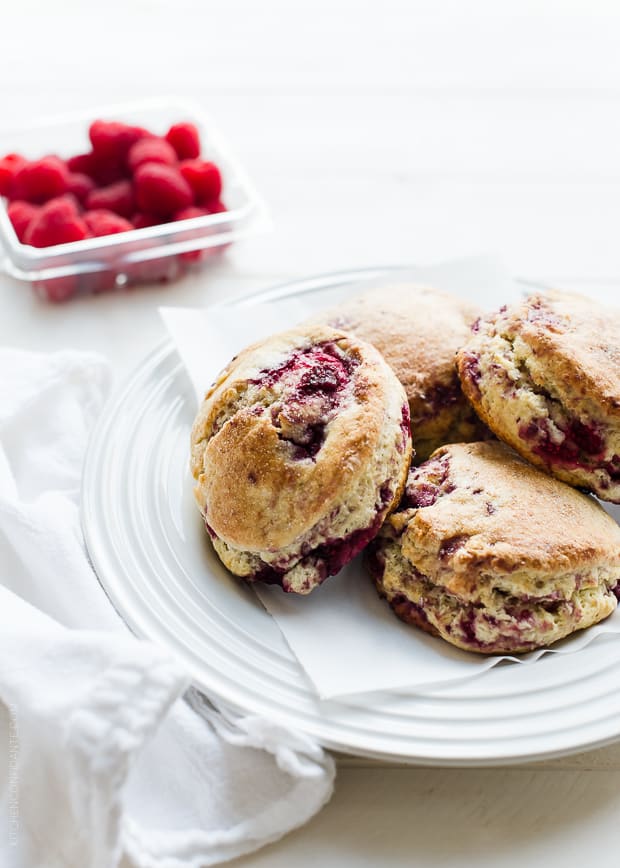 Coconut Raspberry Scones
Some things are better enjoyed together, and this post, brought to you by  noosa® yoghurt and SocialMoms, is all about pairings unlike any other. These Coconut Raspberry Scones were made to be savored with noosa® for the ultimate tea party.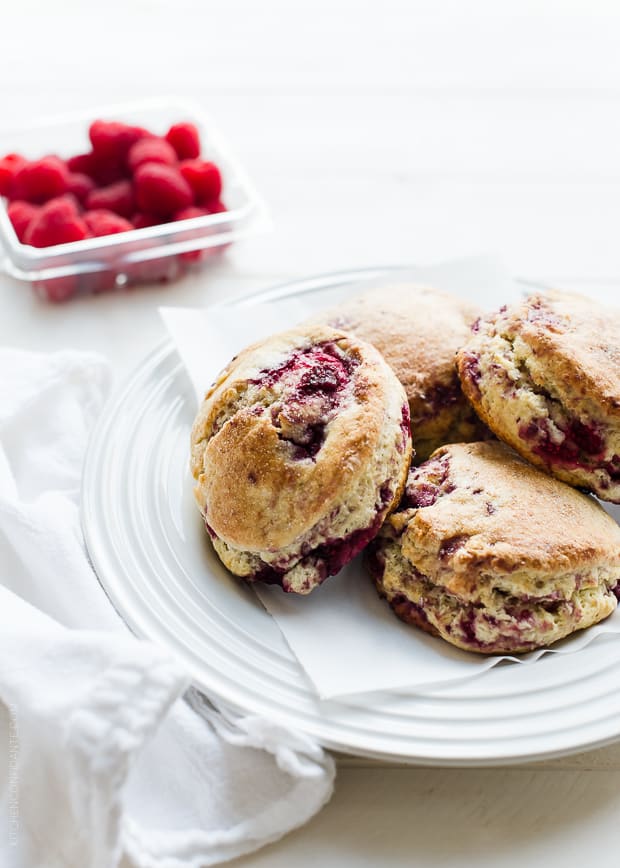 I was strolling through the dairy section when my mother in law was in town several months ago — it was her first morning with us on a two week visit, and our favorite market was the number one stop, to load up on groceries and some of her favorite foods during her stay.
"Oh! Have you tried this yet?" She reached for a circular little package that was new to me. It was yoghurt.
Yoghurt, is to me, a major food group, but this brand I had not tried, so she immediately put several flavors in our cart. "It's so good," she assured me.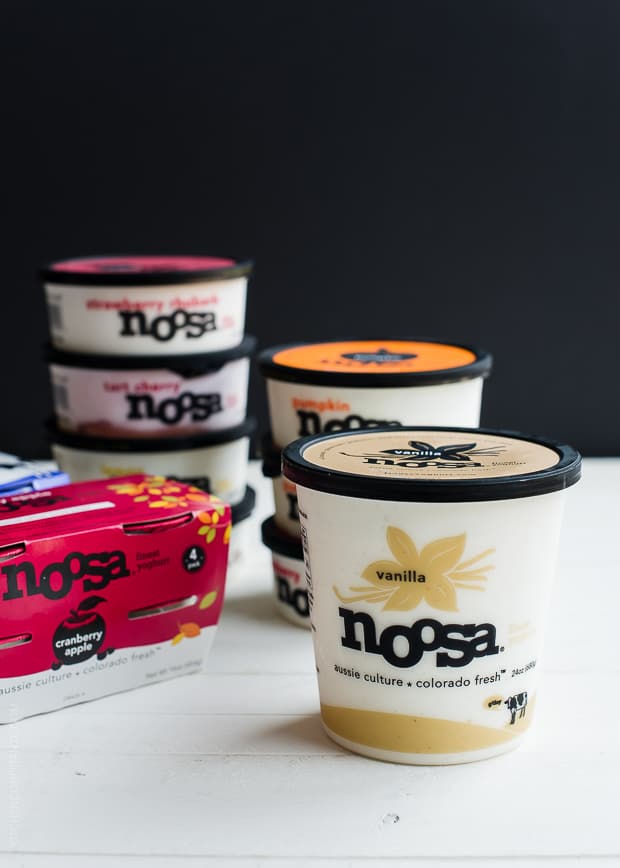 Back at the house, we opened it and my spoon swirled the fruit into the creamy noosa® yoghurt – that first spoonful was velvety and rich, unlike any other yoghurt I had ever tasted before. It had the thickness and richness of a fruit filled dessert, but with the familiar tang of yoghurt. My eyes lit up and I was in love.
These days, whenever I spot it at the store, I think of my mother in law, and I always make sure to have some in the house when she returns for her visits. They've become my little treat, and I wish she were here this week, because I really think she would love opening up our refrigerator to see all the new flavors. Nine of noosa®'s 14 flavors are here for her to savor: tart cherry, blueberry, vanilla, lemon, coconut, raspberry, strawberry rhubarb, and for fall, pumpkin and cranberry apple!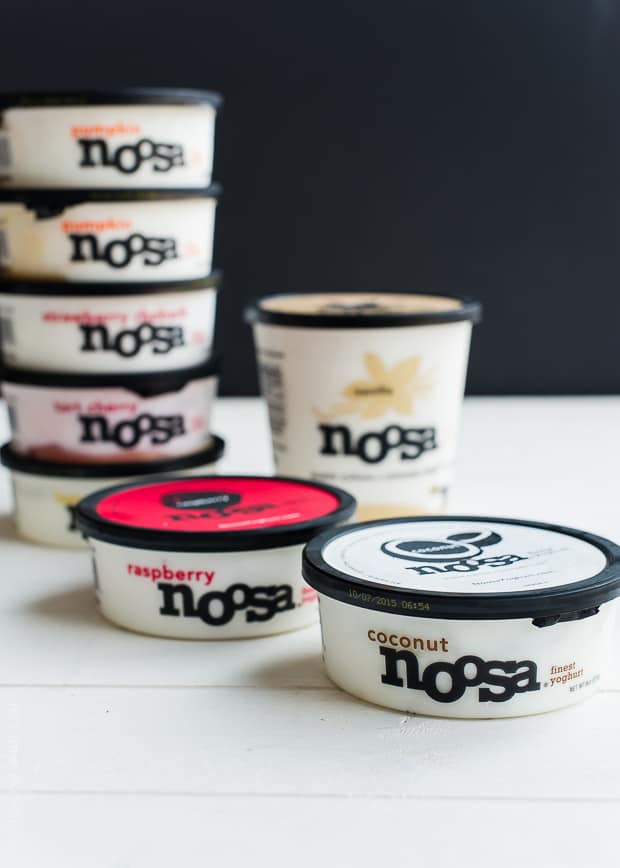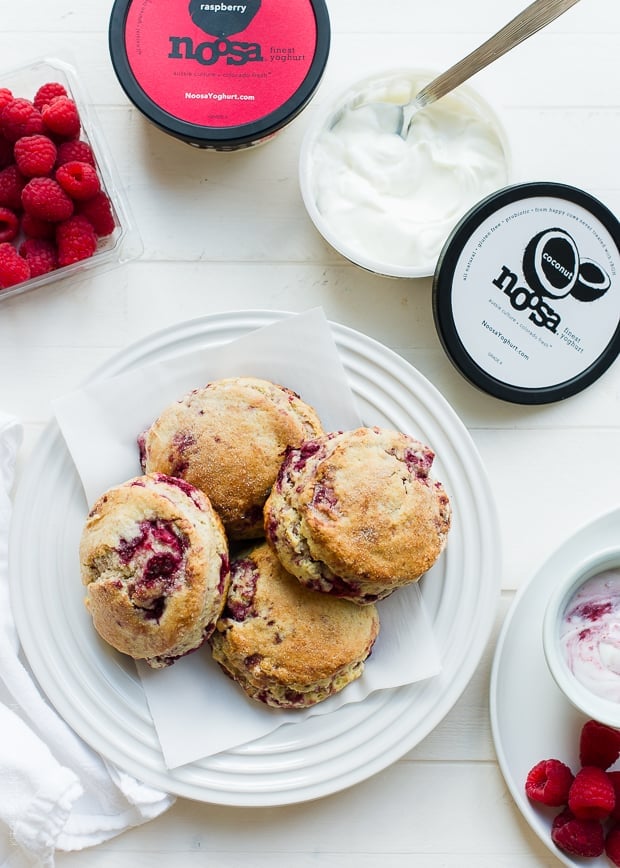 If she were here, we'd pour a cup of tea, and I would make her a fresh batch of Coconut Raspberry Scones, served with bowls of her favorite yogurt. A traditionalist would reach for clotted cream, but these scones pair perfectly with noosa® vanilla, and naturally, noosa® raspberry and noosa® coconut! I made these scones with these flavors and her in mind, and also because I knew my family would fall in love with how coconut cream made for a perfectly tender and moist scone, just the way they like it.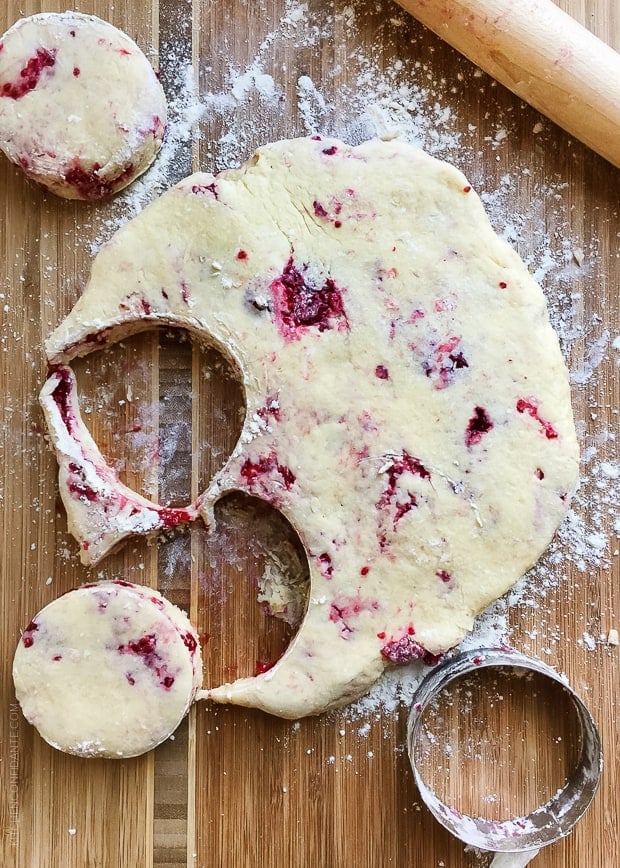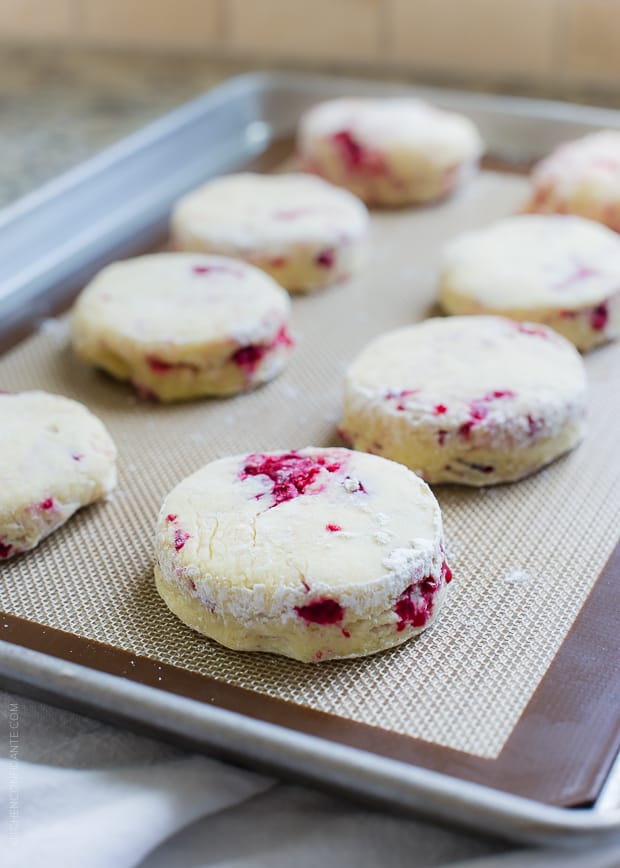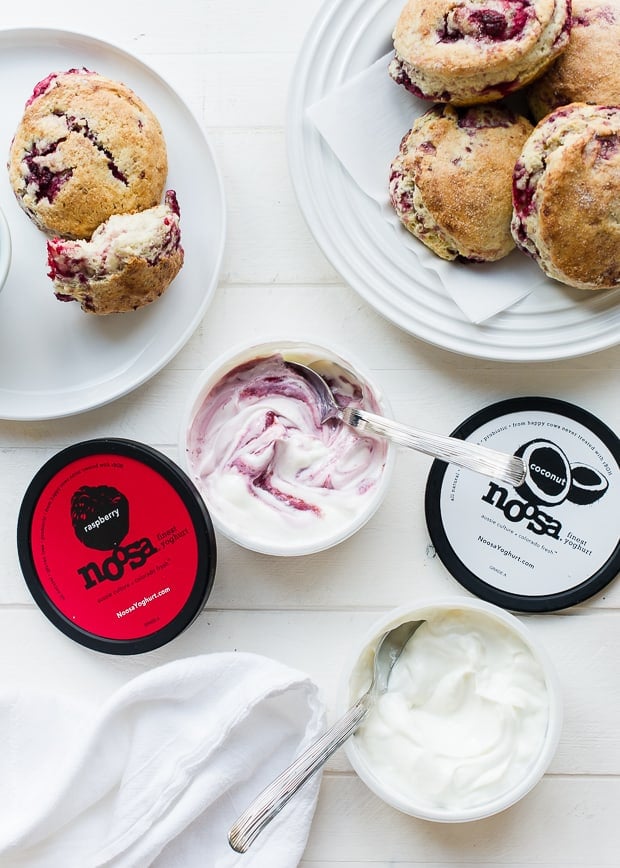 Fluffy scones, tender with every bite, and bursting with coconut and raspberries – they came out of the oven and tempted the kids before I could pull off the oven mitts. We had our very own tea party, and we thought of Grammie with each nibble and spoonful.
She needs to come back soon. And when she does, she'll have a sweet treat in store.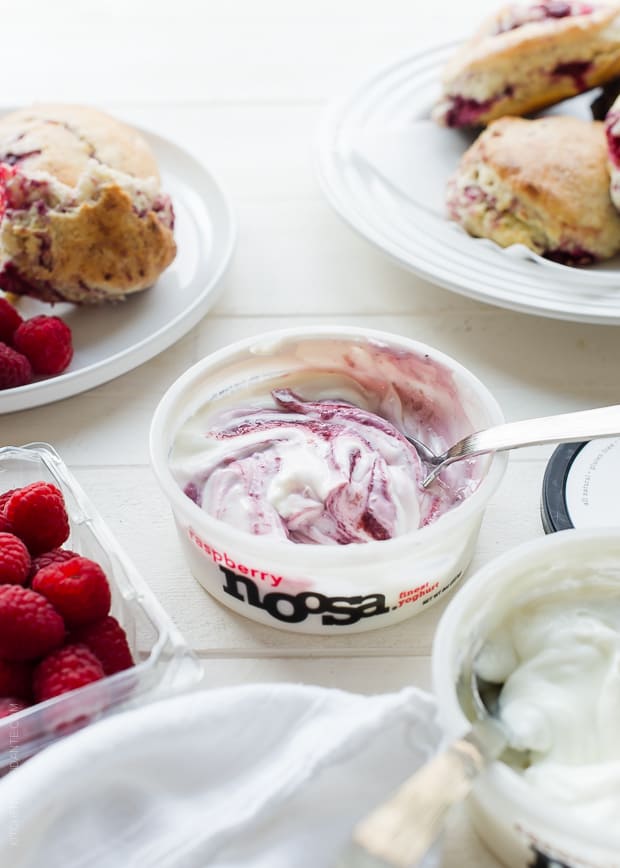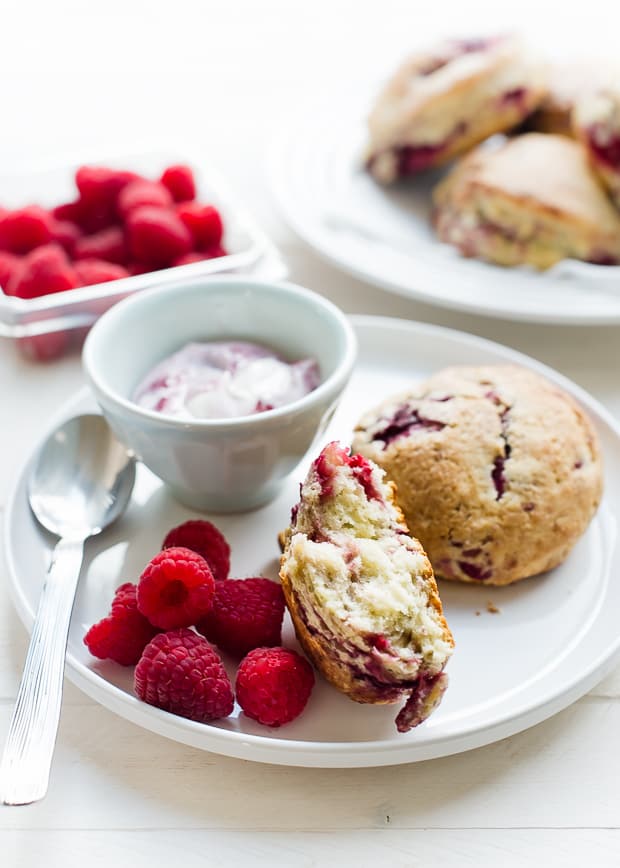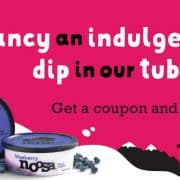 Have you tried noosa® yoghurt? Find noosa® in your area using their handy locator at http://noosayoghurt.com and click here to get a coupon!
If you like this Coconut Raspberry Scones recipe, check out the following:
Cherry Nutella Scones
Meyer Lemon Ricotta Scones
Lemon Raspberry Cake
Raspberry, Coconut, Cardamom Panna Cotta
Coconut Raspberry Scones
These Coconut Raspberry Scones are perfect for your next tea party! Made with coconut cream, these scones are tender and moist, and bursting with raspberries. Get the recipe today and be prepared for your next tea party or brunch.
Ingredients
2 1/2

cups

all-purpose flour

1/2

cup

granulated sugar

1

tablespoon

baking powder

1/4

teaspoon

kosher salt

1/2

cup

cold butter

cut into small pieces

2

large eggs

3/4

cup

coconut cream

see notes below, plus 2 tablespoons for brushing the scones

1

cup

raspberries

frozen works well here

1/2

cup

shredded unsweetened coconut

2

teaspoons

sugar

1/2

teaspoon

ground cinnamon
Instructions
In a large bowl, whisk together the flour, sugar, baking powder and salt. Using a pastry cutter, cut the butter into the flour mixture, until you have course crumbs. This can also be done with two knives or a food processor.

Whisk the eggs lightly and combine with the coconut cream. Add to the flour mixture and stir until just moist.

Add the raspberries and coconut to the dough, then mix lightly. The dough will be sticky.

On a well floured surface, turn the sticky dough out and knead very lightly until the raspberries are incorporated into the dough and the dough is shaped into a disk. Be as gentle as possible, especially if using fresh raspberries, to prevent the berries from squishing too much into the dough. If the dough feels too sticky, lightly add more flour as you shape the dough. Roll the dough 3/4 inch thick. Using a floured biscuit cutter or cookie cutter, cut out 3-inch rounds. You should have about 8 scones. Place the scones on a baking sheet lined with parchment or a silicone mat, and lightly brush with coconut cream. Stir together the sugar and cinnamon and sprinkle over the scones.

Place the scones in the freezer for 30 minutes. Meanwhile, preheat the oven to 400 degrees F.

Once the scones are chilled, bake for 20 minutes, or until golden. Enjoy while warm.
Notes
Note on coconut cream: Coconut cream is produced in a similar fashion to coconut milk, that is, by cooking a combination of shredded coconut with coconut water. However, coconut cream has less water and is thicker in consistency. You can find coconut cream at Trader Joe's, Whole Foods, or at your local grocery in the Asian food aisle.
This is not to be confused with cream of coconut, which is coconut cream that has been sweetened, and is used in things like pina coladas.
See also this article for more on the difference between coconut milk, cream & cream of coconut.
Note on raspberries: Whether you use fresh or frozen raspberries, take care in adding them to the dough – use a light hand to prevent the berries from breaking down too much. Frozen works well to avoid this; I would keep them frozen until absolutely ready to add to the dough so they don't melt and get mushy.
Make ahead tips: You can make the scones in advance, and after the initial freezing, place in a freezer bag to store until you are ready to bake. When you are ready to bake, place the frozen scones on your lined baking sheet; there is no need to defrost, but you may have to bake an extra minute or two.
Adapted from Cheddar-Dill Scones, The Barefoot Contessa Cookbook by Ina Garten. Freezing dough for ultimate rise acquired from King Arthur Flour.
Nutrition
Calories:
434
kcal
|
Carbohydrates:
48
g
|
Protein:
6
g
|
Fat:
24
g
|
Saturated Fat:
17
g
|
Cholesterol:
71
mg
|
Sodium:
195
mg
|
Potassium:
335
mg
|
Fiber:
3
g
|
Sugar:
14
g
|
Vitamin A:
415
IU
|
Vitamin C:
4.5
mg
|
Calcium:
88
mg
|
Iron:
2.9
mg
Disclosure: This post was made possible by noosa® yoghurt. Thank you for supporting brands that matter to me and help behind the scenes at Kitchen Confidante. All opinions in this post are, as always, my own.