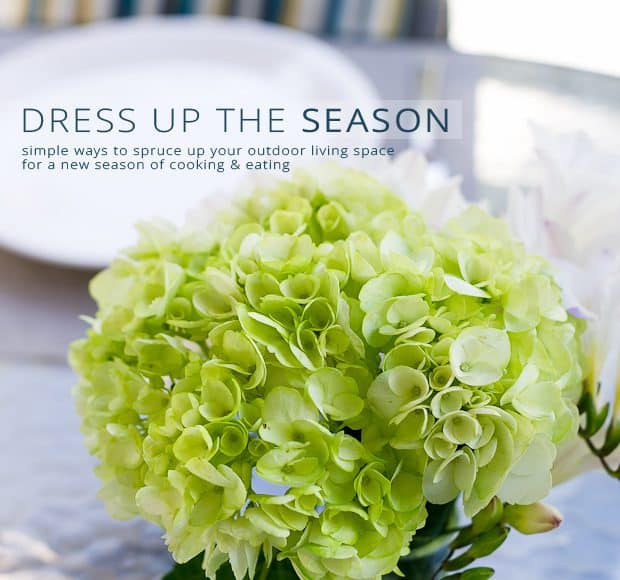 Dress Up The Season for Outdoor Living
I heard a familiar noise the other afternoon, one I had not heard in several months. A cacophony rose overhead, a distantly familiar honking: the geese had returned. After a long and cold, albeit dry, winter, I welcomed them home with a happy heart. We…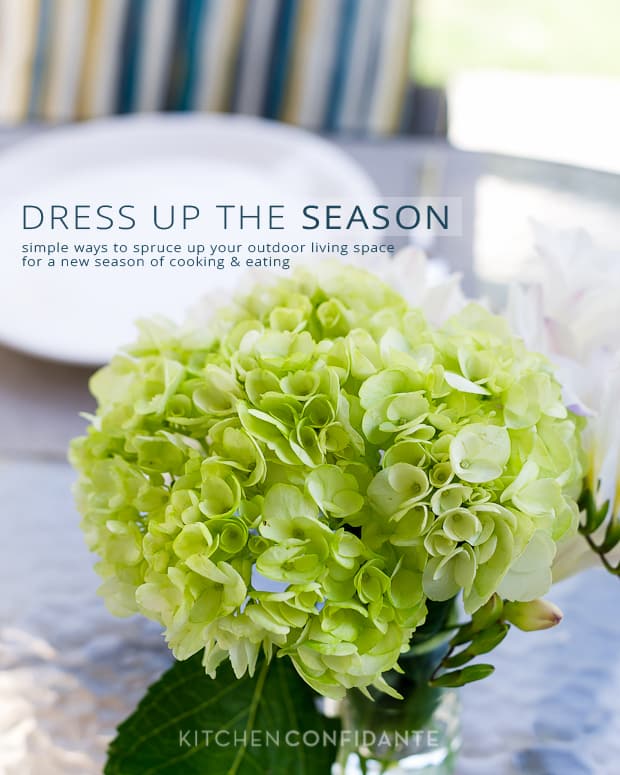 Dress Up The Season for Outdoor Living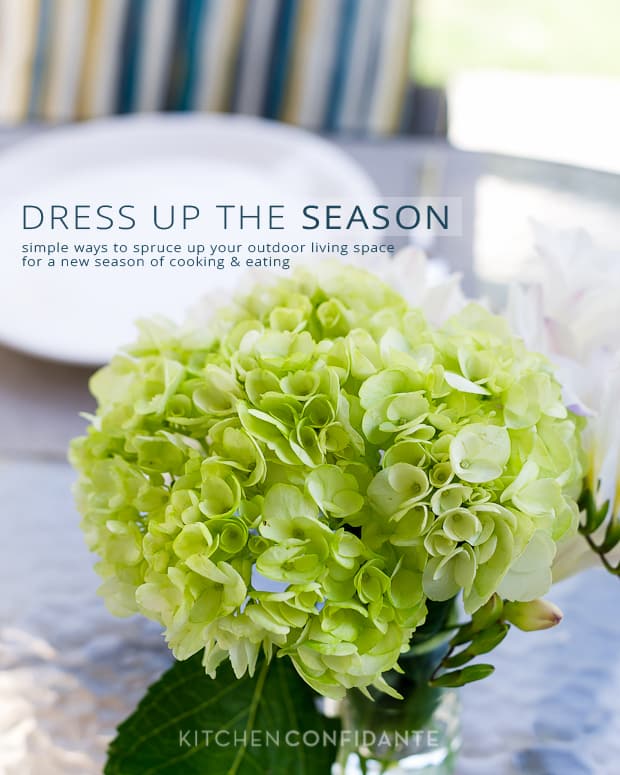 I heard a familiar noise the other afternoon, one I had not heard in several months. A cacophony rose overhead, a distantly familiar honking: the geese had returned.
After a long and cold, albeit dry, winter, I welcomed them home with a happy heart. We have enjoyed a nice little stretch of early spring here, with sunny skies, beautiful green hills, and trees in full blossom. I have opened up the windows and ushered in the breeze. The thought of being holed up indoors is no longer charming and cozy; I want to be outdoors, to be grilling again, enjoying dinner on the patio.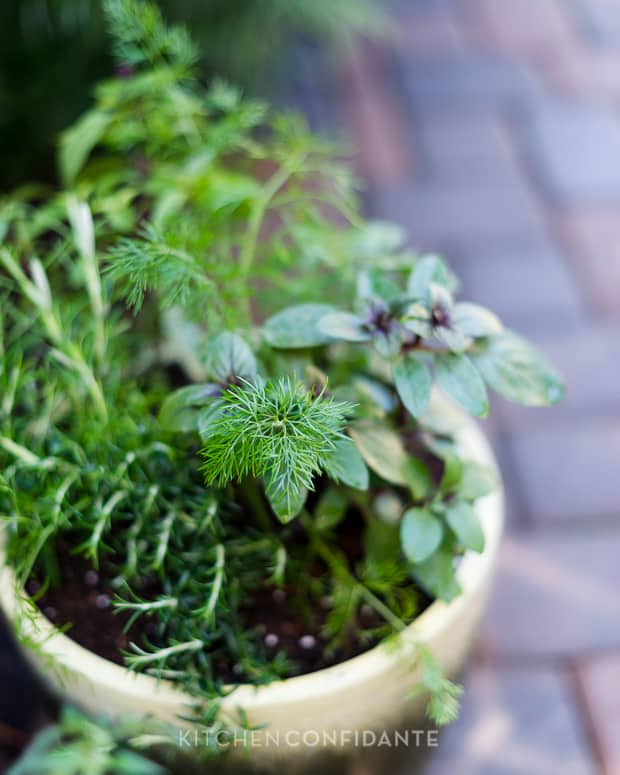 It's been a few weeks since we completed our little renovation indoors, and we have turned our attention to another part of our home that is very important to us now that the sun is playing nice: our outdoor living space. As much time as we spend outside, our outdoor living area becomes a true extension of the home. Partnering with Target to explore their Threshold line came at a perfect time. After a season of neglect, it was time to hose down the furniture and freshen things up.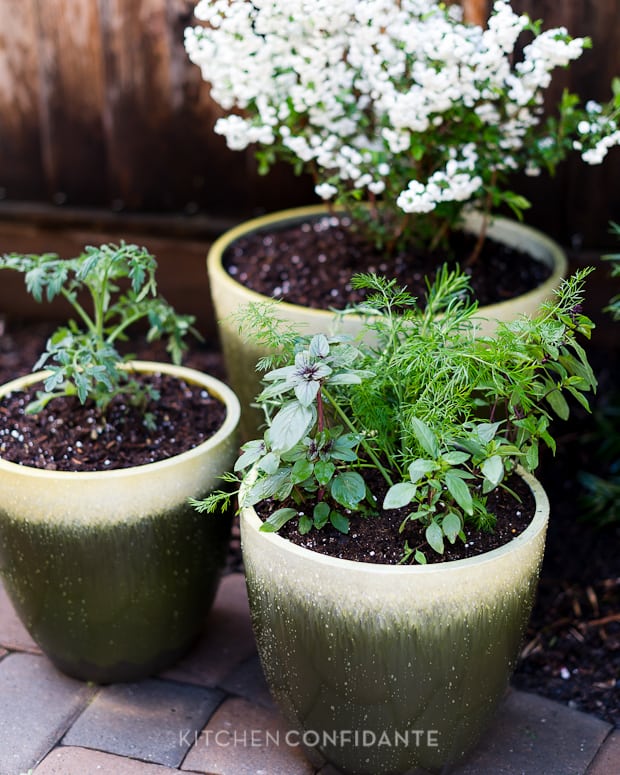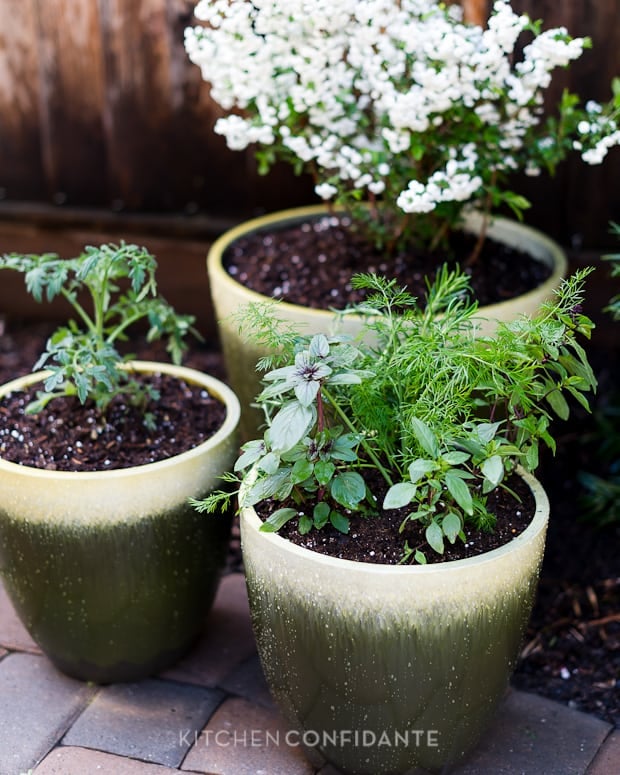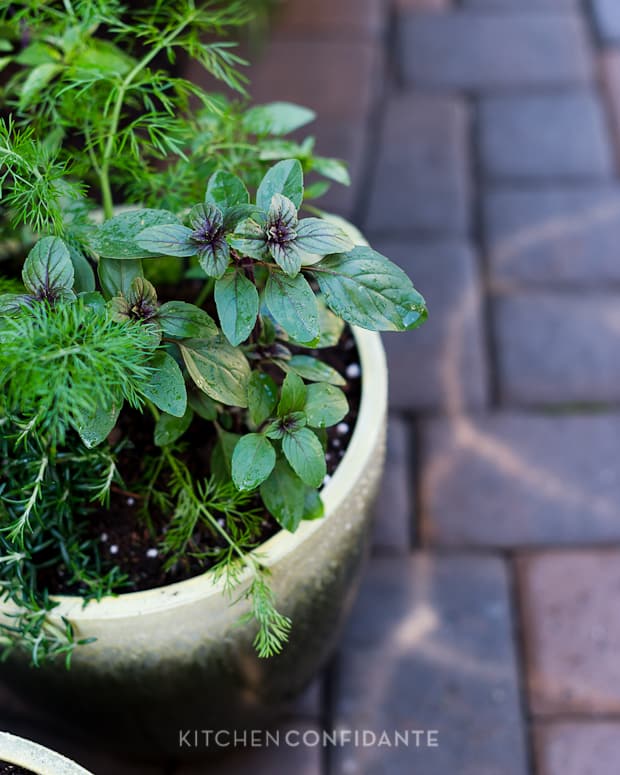 First on my shopping agenda: container gardening. I was on the hunt for planters that not only would coordinate with the existing pottery we have in our garden, but could accommodate plants, both ornamental and edible. This trio of glazed planters was just right. The colors echoed other planters we have, and I was able to start this year's herb garden. Tucked into some fresh soil are several varieties of basil, rosemary, and fennel. In the other planter, I nestled an heirloom tomato plant, and in the largest one, a showy white specimen, which brings a much needed pop of brightness to this corner of the patio. I love knowing that I can step outside and snip the herbs I need, and in a few months, some hefty tomatoes, too.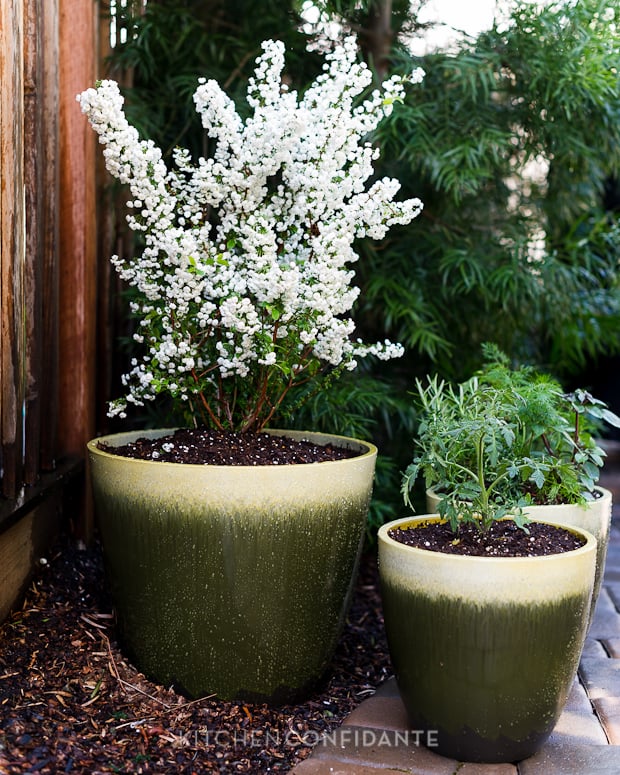 One added (and unexpected) bonus: they're fairly lightweight. If we need or want to rearrange the planters as the sun's pattern changes over the course of the summer, we don't need to pull any muscles.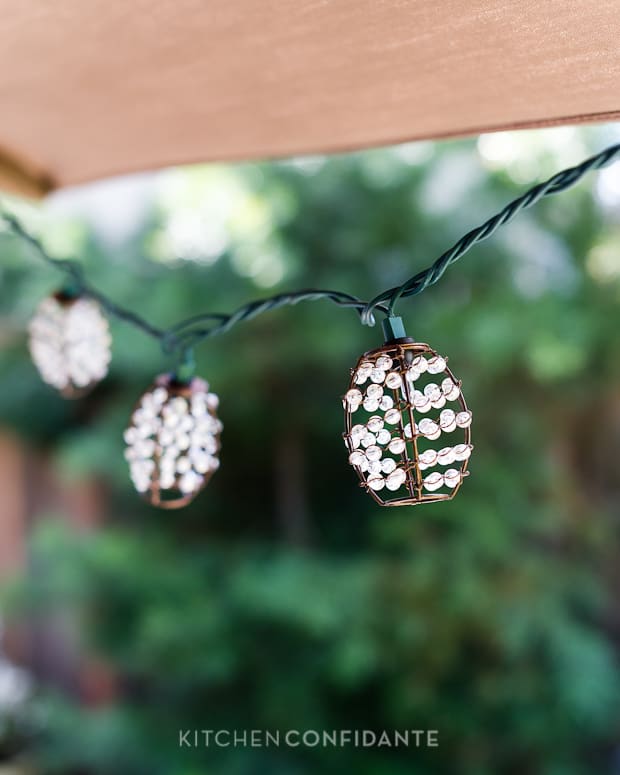 I anticipate lingering over a glass of wine outside as we head into summer. So I immediately gravitated towards this string of beaded outdoor lights! Hanging from the patio umbrella, they immediately added some charm.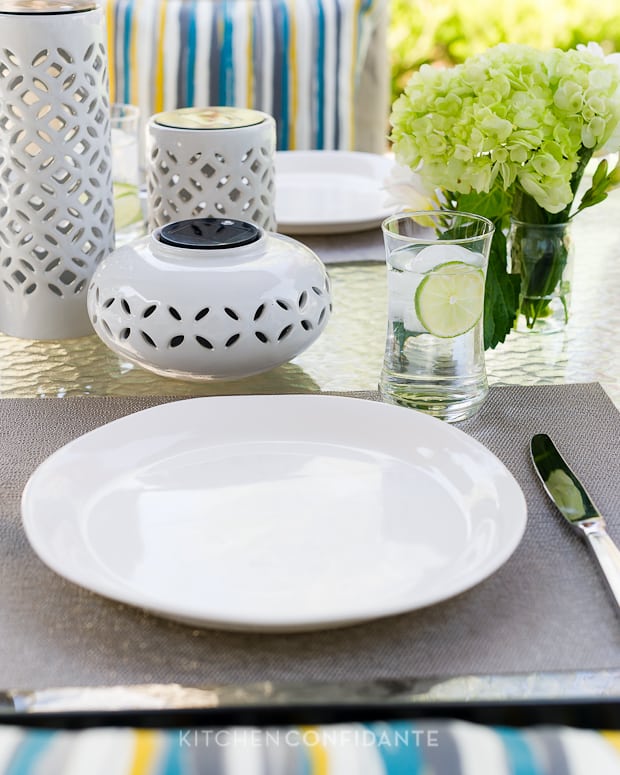 And now, the tabletop. Our patio table is topped with glass, which is great because it can be hosed down and easily cleaned. But I need to warm things up a bit with decorations.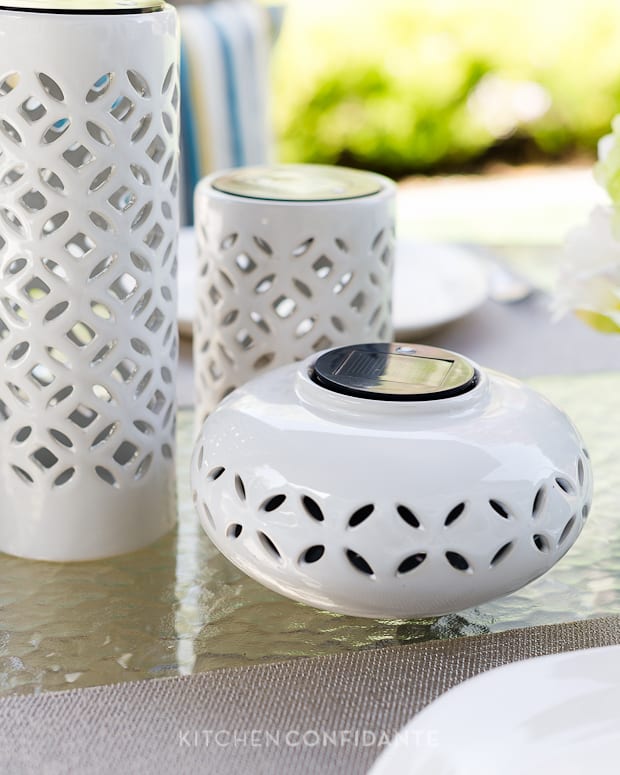 The first thing to catch my eye were these solar lanterns. By day, the ceramic vessels remind me of a Moroccan cut out pattern, one that I fell in love with while on a recent vacation. The style is elegant and understated. The lanterns, being ceramic, will be easy to clean. And by night, they cast a lovely glow over the table.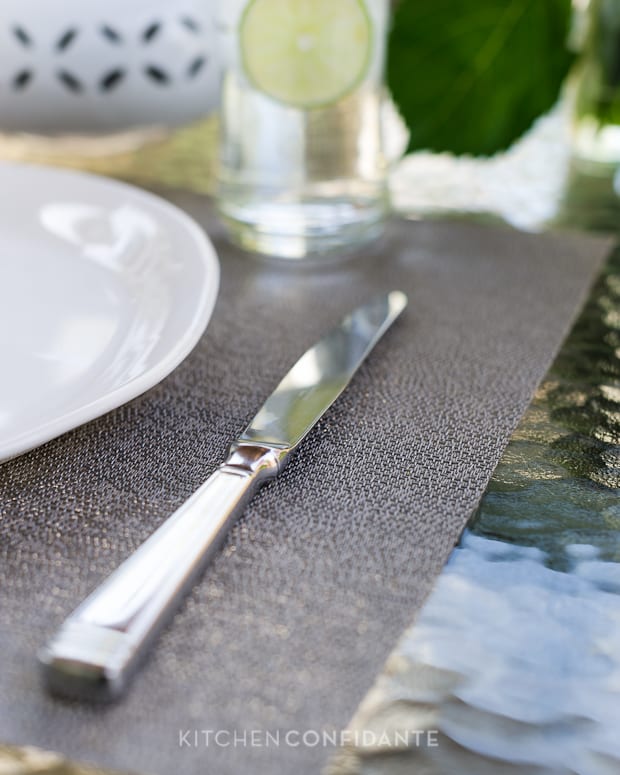 Our old placemats were feeling outdated, and I wanted something that would be easy to clean, but would be warm and sophisticated. These vinyl placemats were perfect.
Lastly, whenever I am looking for a quick way to give a room a new look, I turn to pillows. It's such a simple way to introduce color and pattern to a space, without having to break the budget. I love the pattern on these outdoor pillows: it's modern and fresh, and coordinates well with the whites and greys on the table.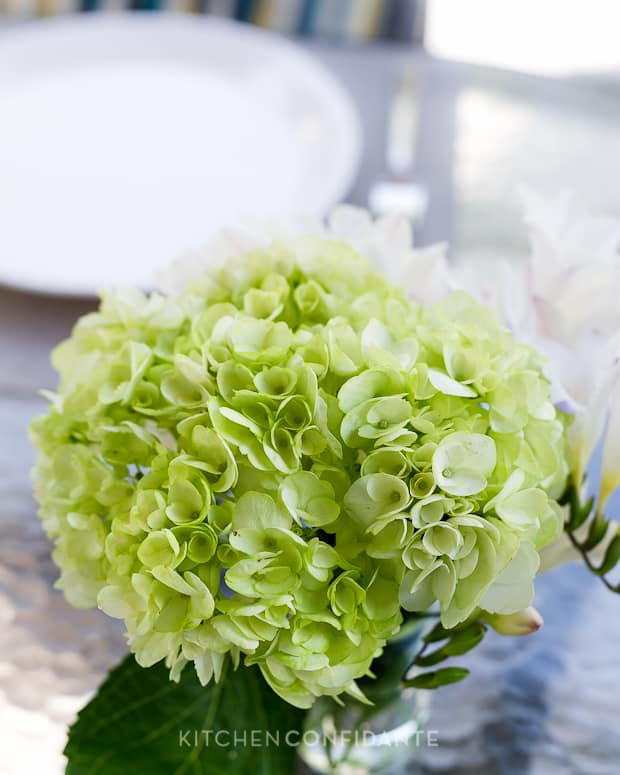 I hope you enjoyed this little peek into our freshened up space! How about you? Are you ready for spring? What are some ways you like to dress up the season?
It's the right mix of classic and modern. An effortless elegance. Beautiful, yet affordable.
Designed for a lifetime of housewarmings. It's everything you'll love about your home.
Disclosure: Compensation was provided by Target via Glam Media. The opinions expressed herein are those of the author and are not indicative of the opinions or positions of Target.
Sponsored posts such as these help support the work behind the scenes on Kitchen Confidante. Thank you so much for your visits and making my blog part of your day. As always, all opinions are my own.