Eggplant Rollatini with Pancetta and Spinach
Is it possible to be a closet vegetarian…who loves pancetta? I've noticed a shift in my eating. The balance on the scales is weighing heavier on the vegetables, and lighter on the meats. Perhaps it is the change in season and the excitement I feel…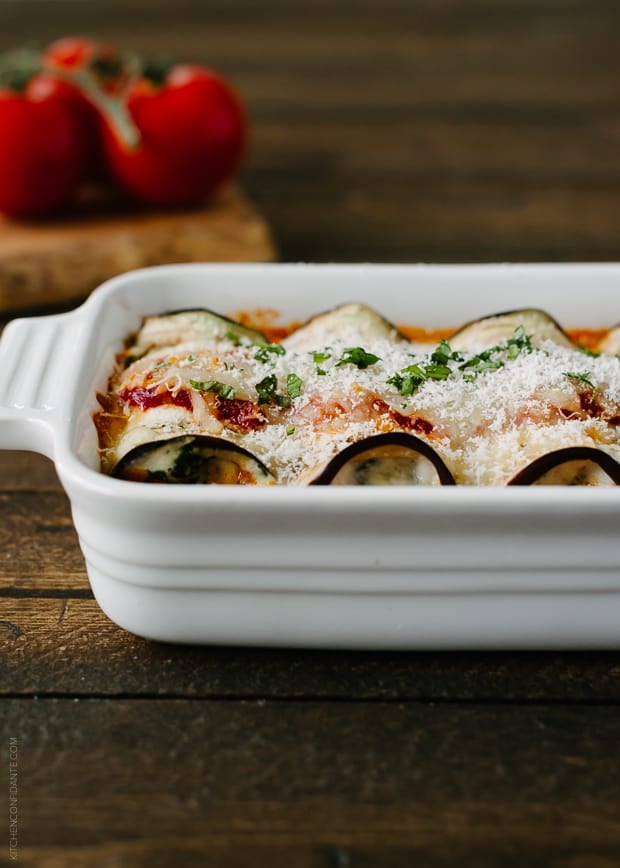 Eggplant Rollatini with Pancetta and Spinach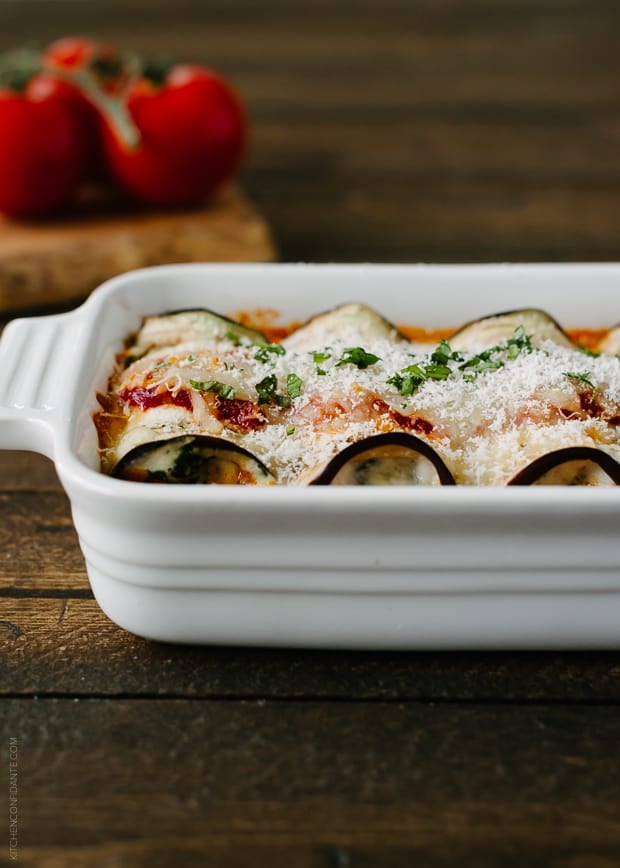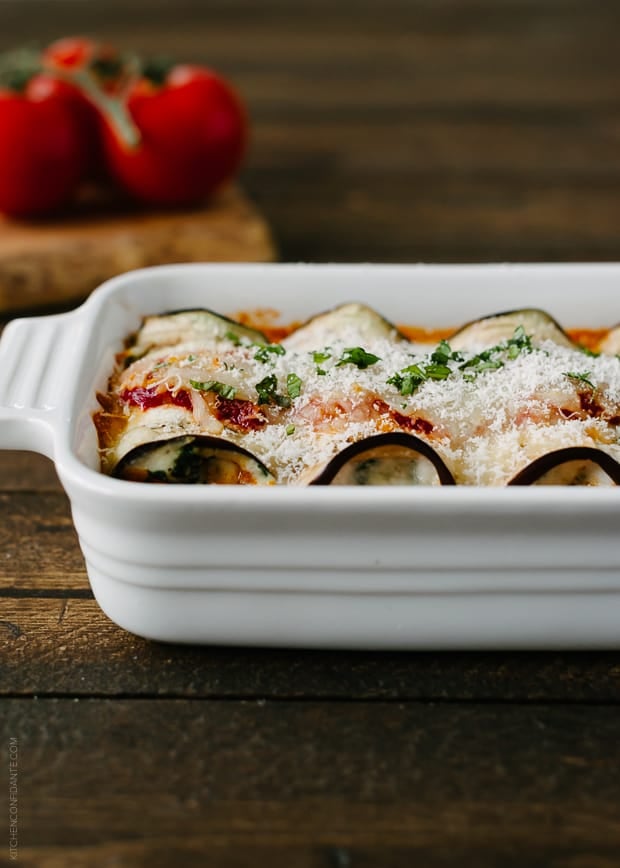 Is it possible to be a closet vegetarian…who loves pancetta?
I've noticed a shift in my eating. The balance on the scales is weighing heavier on the vegetables, and lighter on the meats. Perhaps it is the change in season and the excitement I feel when I think of all the goodies that will be flooding the farmer's markets soon. I find myself at the butcher counter with slightly less enthusiasm than usual these days. But don't get me wrong, I do crave a good steak still. And all manner of charcuterie. That is an undying love, for sure.

But there is definitely a change in my every day cravings – I want more vegetables, I seek more color.
I thought it would be fun to share meals that highlight colorful vegetables in a collection of Satisfying Sunday Dinners Where Vegetables Shine on Foodie: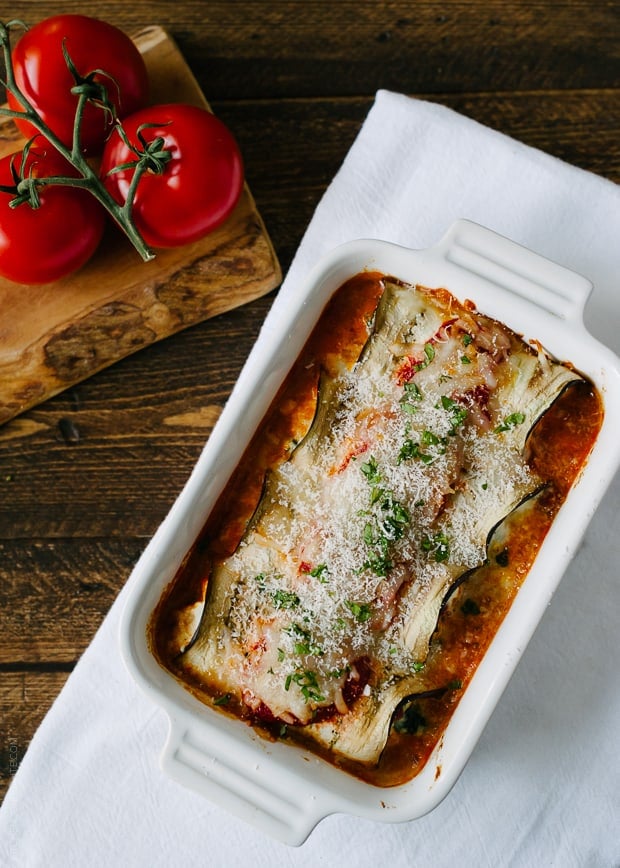 This Eggplant Rollatini with Pancetta and Spinach was made on a day when nothing at the butcher called my name, when all I wanted was something comforting yet light. Thinly sliced eggplant rolled to hold ricotta cheese peppered with crispy pancetta and freshly wilted spinach, and baked in a bath of marinara sauce — this to me was everything I wanted in a meal. It was cheesy and satisfying, but it didn't sink to the bottom of my stomach.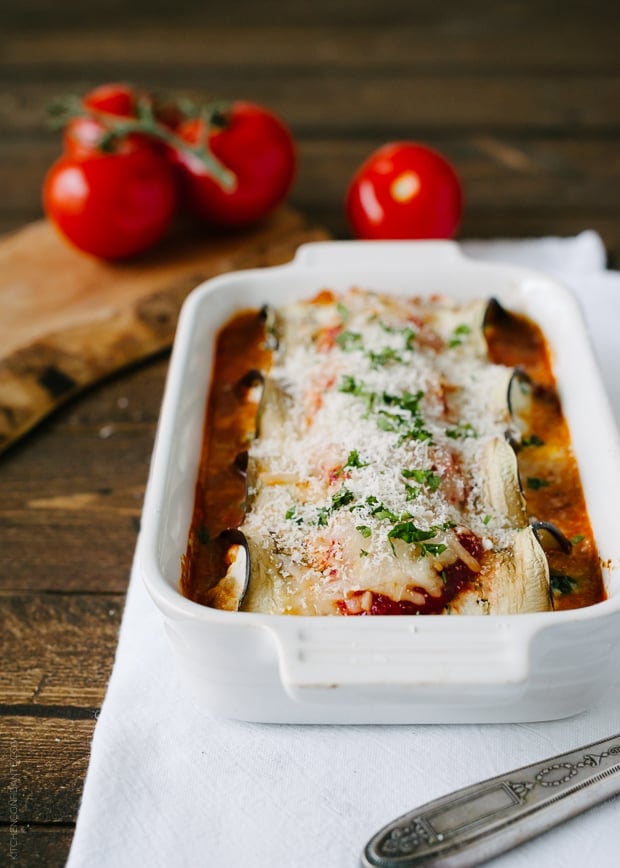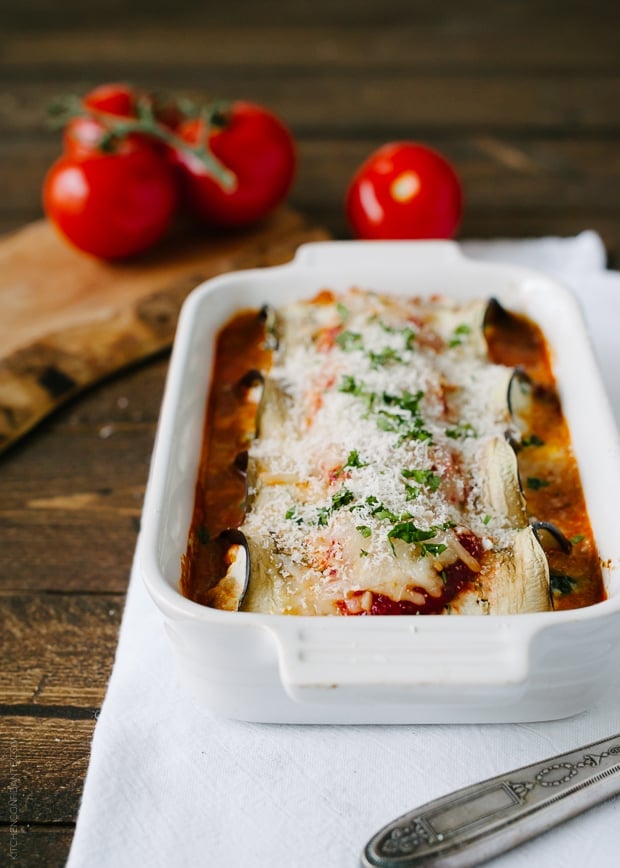 Tell me, what are you craving most for dinner these days? Are veggies part of them? I'd love to know!
Disclosure: This was a sponsored opportunity with Foodie.com. Sponsored posts such as these help support the work behind the scenes on Kitchen Confidante. Thank you so much for your visits and making my blog part of your day. As always, all opinions are my own.

Eggplant Rollatini with Pancetta and Spinach
I just love how eggplant creates a perfect vessel for the cheesy filling within. Simple enough for a weeknight, and a nice break from heavy lasagnas.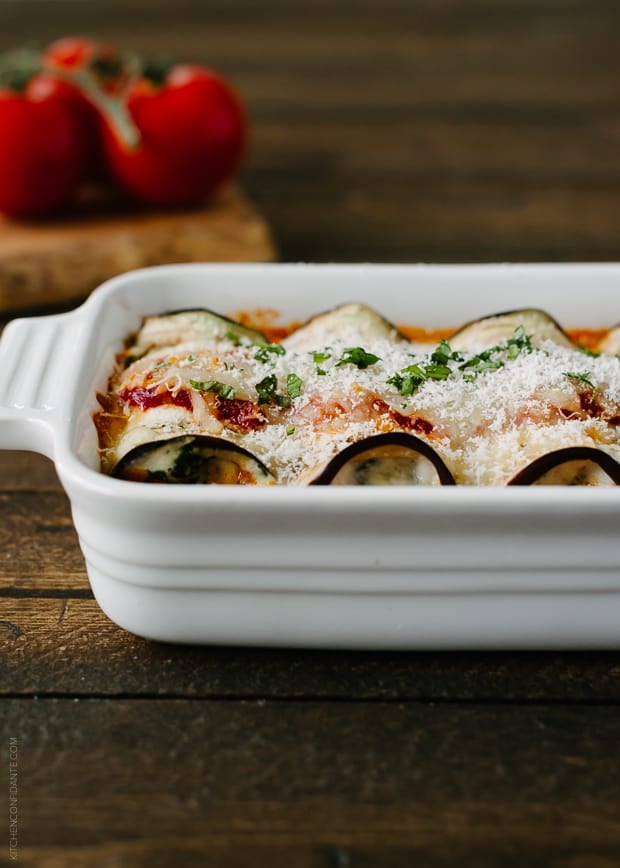 Print Recipe
Ingredients
1 large eggplant
1 tablespoon olive oil
6 ounces pancetta, finely chopped
10 ounces fresh baby spinach
Freshly ground black pepper
1 (15-ounce) container whole milk ricotta
1 egg, lightly beaten
1 cup grated parmesan cheese, plus more for garnish
1/2 teaspoon freshly ground black pepper
1 1/2 cup marinara sauce
1/2 cup mozzarella cheese, shred
2 tablespoons fresh basil, chopped fine
Instructions
Preheat the oven to 375°F.
Using a microplane or a sharp knife, carefully slice the eggplant in thin slices lengthwise, about 1/4 inch thick.
Bring a medium pot of salted water to a boil and blanche the eggplant until just tender, about 4 minutes. Drain completely and set aside. If you wish, you can skip this step, however, it really does help to make the eggplant tender, as well as with any possible bitterness.
In a deep sided sauté pan, heat the olive oil over medium heat. Cook the pancetta until brown and crispy, stirring periodically. Add the spinach, and let it cook until wilted, seasoning with a little pepper. Transfer the pancetta and spinach into a medium bowl. Add the ricotta, egg, parmesan cheese, and season with a little more pepper, if desired.
Pour 1 cup of marinara sauce into baking dish. Create the rollatini by spreading about 2 tablespoons of filling on each slice of eggplant, starting at the narrower end, and rolling. Place the rolls seam side down in the prepared baking dish. Continue until the baking dish is filled. Drizzle a little more marinara sauce on top of the eggplant, and sprinkle top with mozzarella cheese. Place in the oven and bake for about 20 minutes, or until the top of the dish is golden brown and the sauce is bubbling. Remove from the oven, garnish with parmesan cheese and basil. Serve immediately.