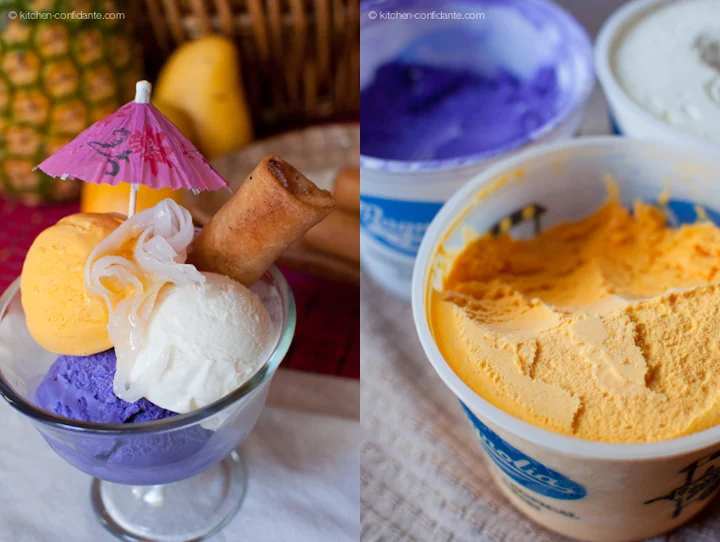 Electrolux #splits: Banana Turon Split
It's summer. It's hot. I have a craving. I deserve a treat. All valid causes for ice cream. But today, my version of a banana split actually is for a good cause. Foodbuzz is supporting Electrolux and Kelly Ripa in their effort to increase awareness of…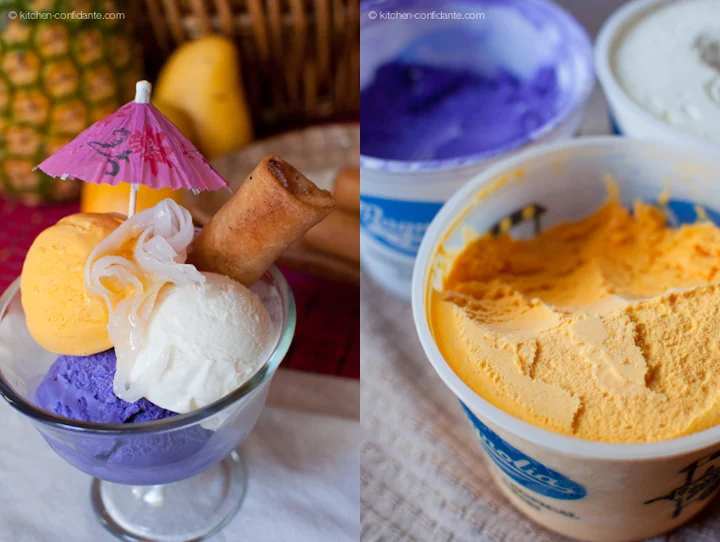 Electrolux #splits: Banana Turon Split
It's summer. It's hot. I have a craving. I deserve a treat.
All valid causes for ice cream.
But today, my version of a banana split actually is for a good cause.
Foodbuzz is supporting Electrolux and Kelly Ripa in their effort to increase awareness of and raise money for the Ovarian Cancer Research Fund (OCRF) by sponsoring a posting challenge and Top 9 Takeover. For every Featured Publisher that creates and writes a post on a Banana Split, Foodbuzz will donate $50 to the OCRF, and they will be considered for a special Top 9 Takeover on Monday, July 19th. You too can help out by building your own virtual Banana Splits for a Cause at Kelly Confidential.
On a personal level, I just had to make a Banana Split for a Cause. Both my parents had cancer; one survived, one did not. I lost an aunt to ovarian cancer. This post is for them.
So, I know what you're thinking. Where's the banana? Oh, it's in there. And it's split!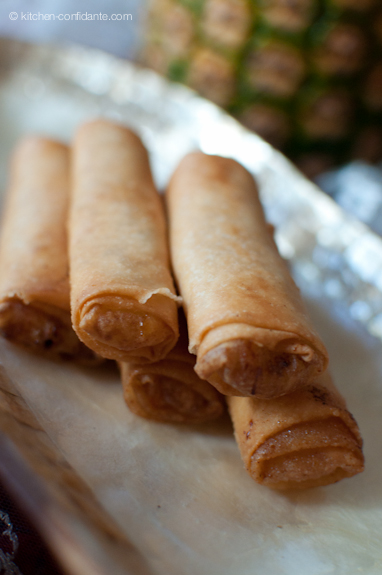 When I thought about this challenge, I couldn't help but call to mind all the tropical flavors of classic Philippine desserts. One of these is the Turon, a fantastic cross between a strudel and an egg roll, filled with sugar sweet ripe plantains and jackfruit. Not to be confused with the Spanish Turrón or Italian torrone, this is a different delicacy altogether, often sold by street vendors for an afternoon merienda (snack), or in my family's case, as a dessert at gatherings. Although traditionally made with plantains, it can also be made with bananas, and this is exactly what I did today, since the plantains I bought for this split took maddeningly long to ripen. I will give you instructions on how to prepare Turon later in this post.
As for the rest of this shockingly colorful Banana Turon Split, I couldn't resist using Magnolia Ice Cream, a treat that used to required a plane ride to Manila. These days, it can be found in your local Asian market, and I love its light and creamy texture, as well as its tropical flavors. I chose Coconut, Mango, and the purple Ube, or Taro flavors and topped it with ribbons of macapuno, a Philippine variety of coconut. The crunchy, caramelized bananas and jackfruit, creamy coconut and ube, and the sweet tang of mango served up giant spoonfuls of nostalgia…that did not require a plane ticket.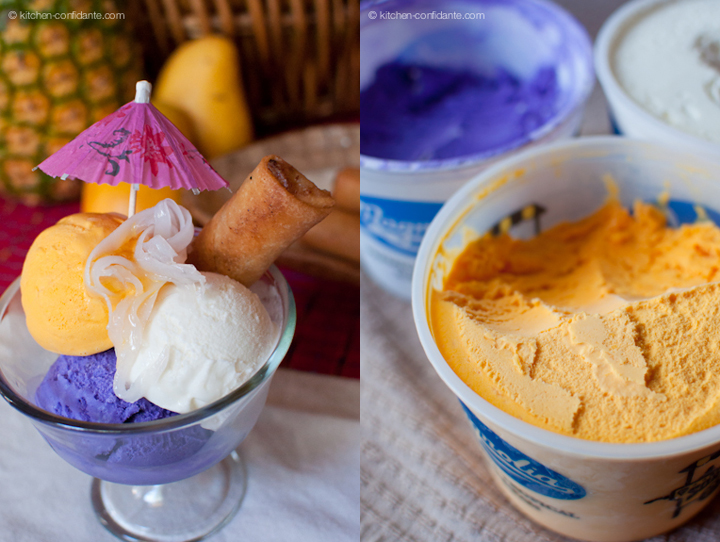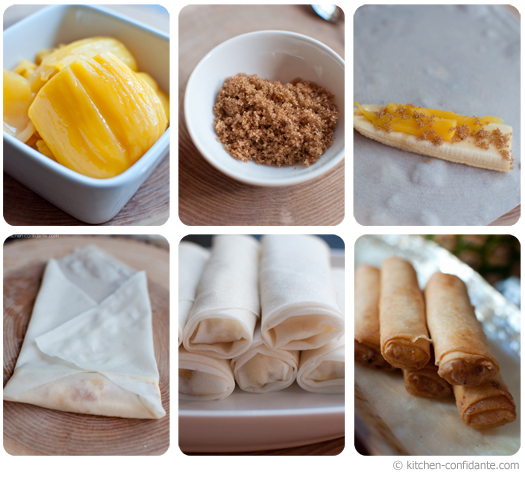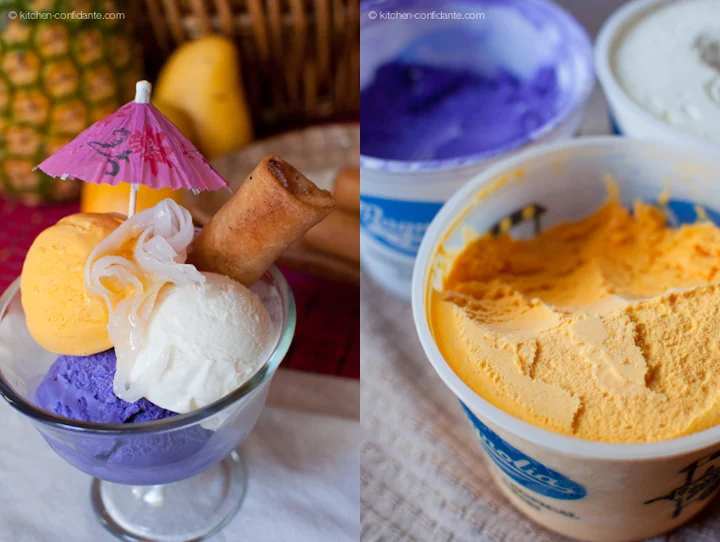 Print Recipe
Ingredients
6 medium bananas or 3 very ripe plantains*
1 can/jar Drained Jackfruit**
⅛ teaspoon brown sugar (for each turon)
egg roll or lumpia wrappers
Instructions
Cut banana in half, and split lengthwise (if too thick, consider cutting each half into three pieces). If using plantains, cut in half, then cut each half into 3 slices . Place on top of lumpia wrapper and top with 2 or 3 thin strips of jackfruit (to cover length of banana). Sprinkle ⅛ teaspoon of sugar over top of fruit. Roll into shape of eggroll, seal edge with a dab of water. Fry in canola oil until golden brown on each side.