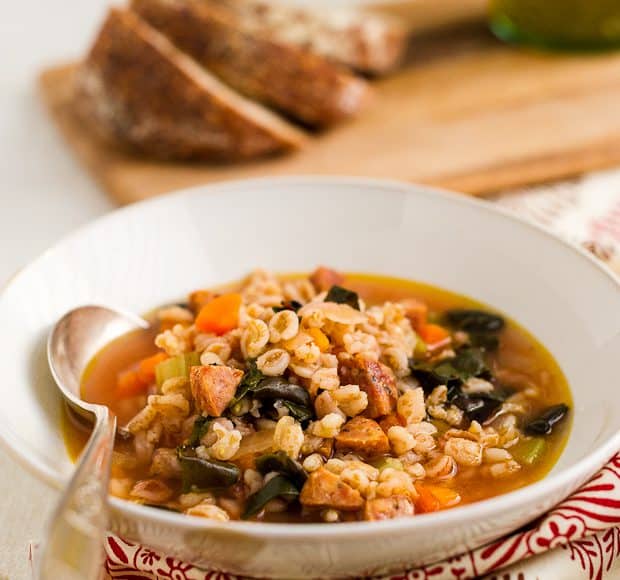 Farro Soup with Red Chard and Sausage
I'm a Gemini. What's your sign? I'm not asking for the sake of doltish smalltalk, or worse, to tell you a story involving a ridiculous pick-up line. It's just that every time I pack for a trip, I find myself thinking, "I'm such a Gemini."…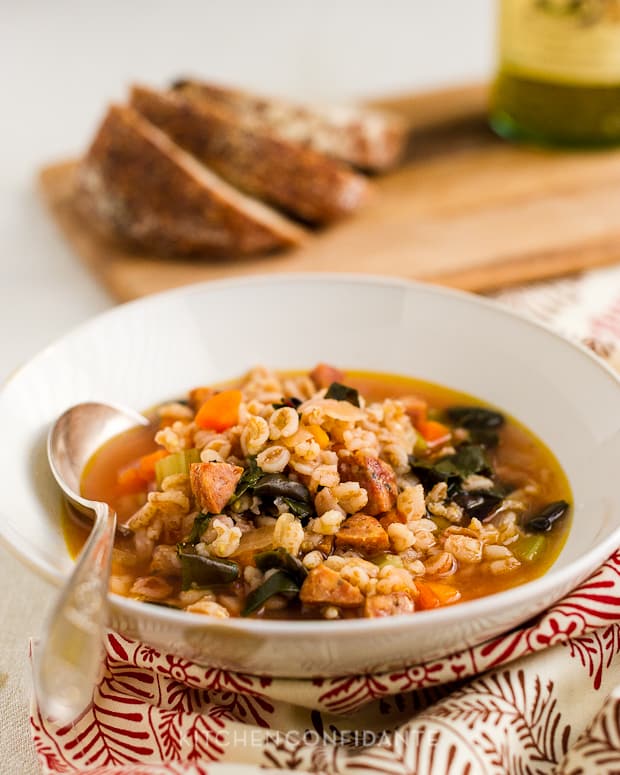 Farro Soup with Red Chard and Sausage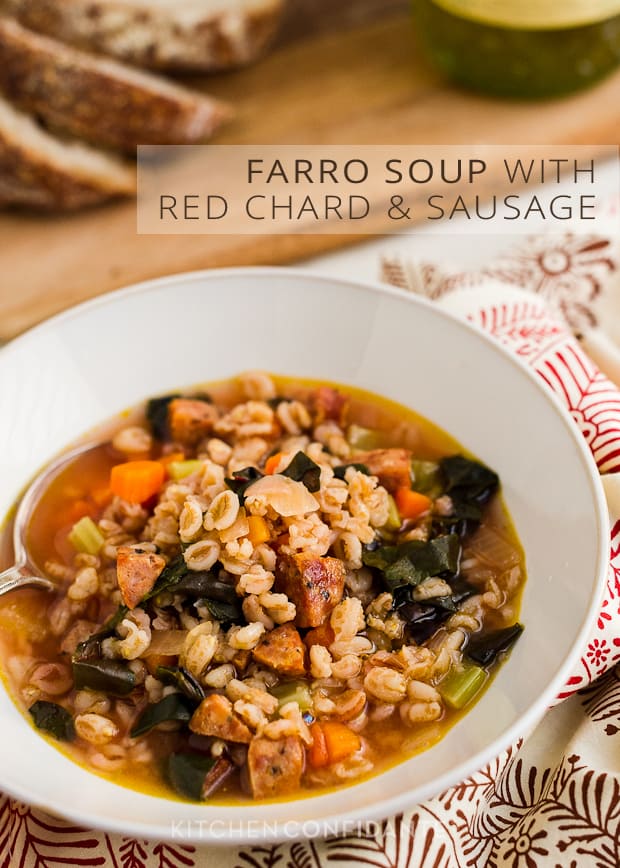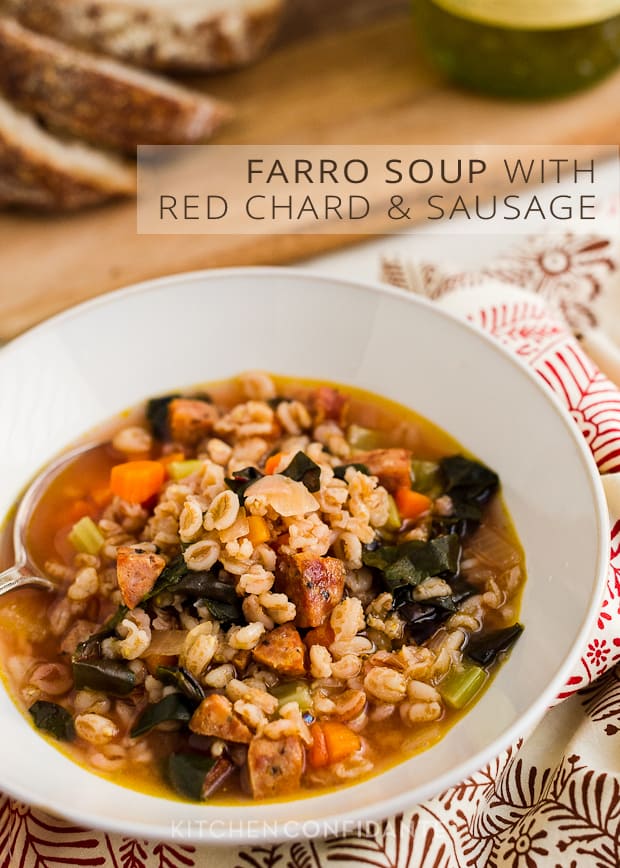 I'm a Gemini. What's your sign?
I'm not asking for the sake of doltish smalltalk, or worse, to tell you a story involving a ridiculous pick-up line. It's just that every time I pack for a trip, I find myself thinking, "I'm such a Gemini."
My love for travel runs through my blood like you wouldn't believe; my parents instilled this in me at a young age, when airline travel still had a degree of romance and sophistication and isn't the cattle herd we endure today. If given the choice between a fabulous piece of jewelry and a vacation, I will always choose the vacation.
But the packing? Oh, it pains me.
It wasn't always this way, but lately, I find that the packing is almost torture. Do I bring this outfit or that? But what if…? I might need…this pair of shoes (never mind I've already packed four others). Those decisions can take hours. Which means my tendency is to bring the whole closet with me.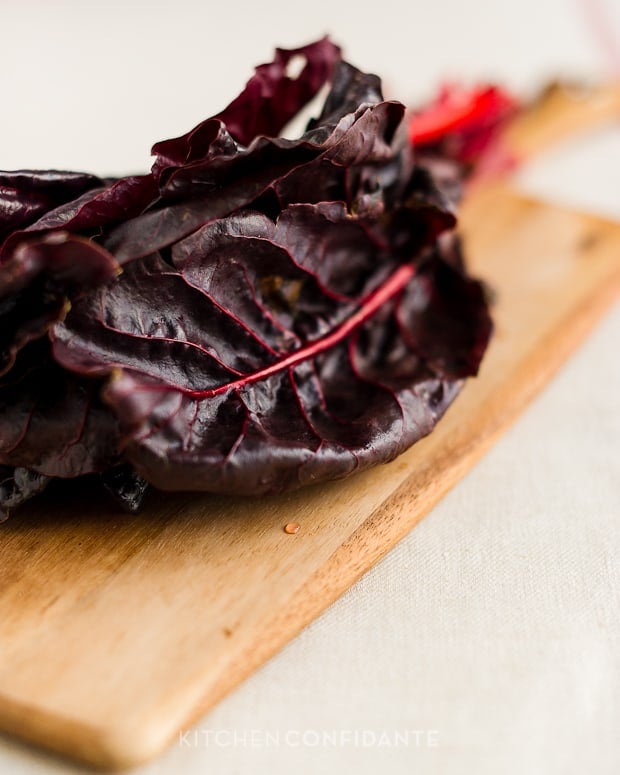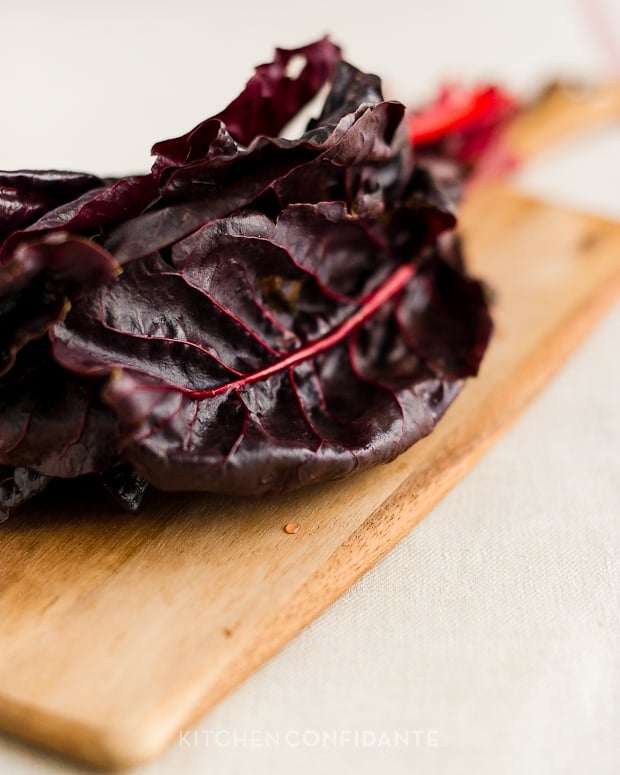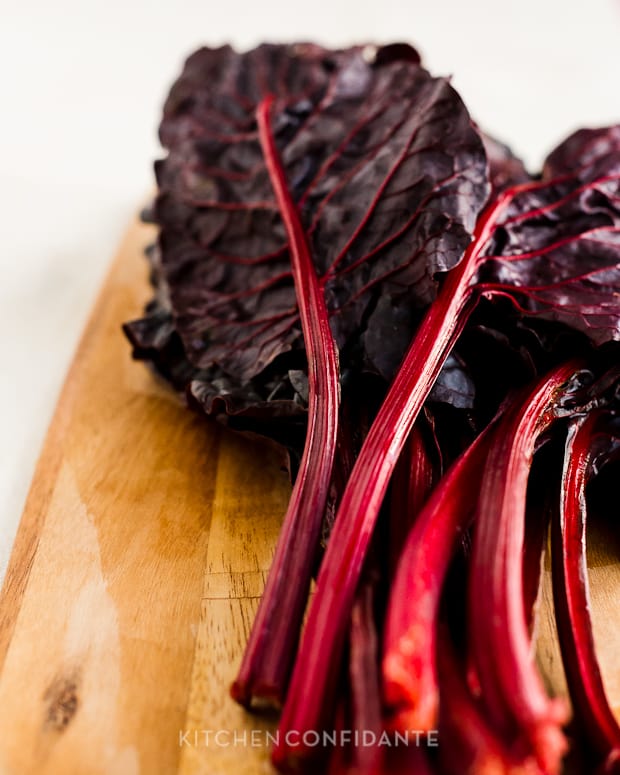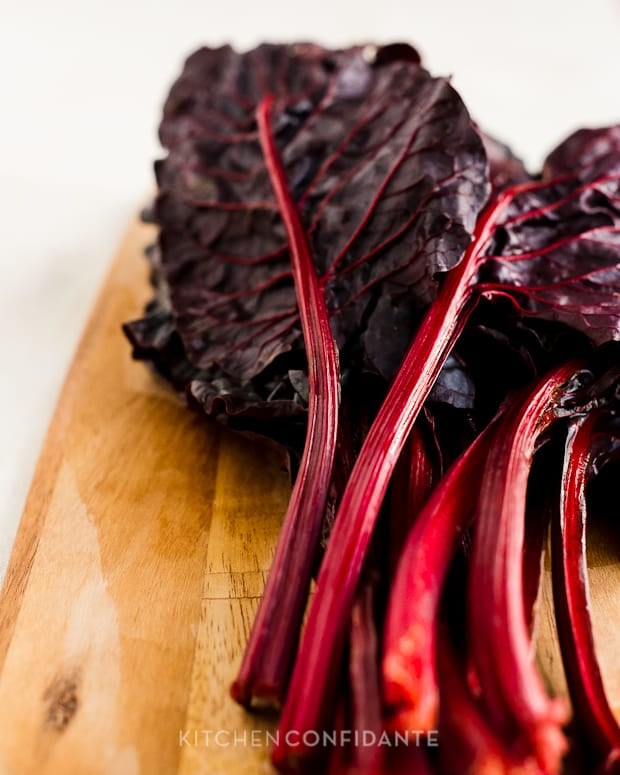 I'm headed to Salt Lake City tomorrow. I had hopes to attend this year's Altitude Summit, only to find that it was sold out, and was thrilled when my generous friends at Wayfair and Joss & Main gave me an opportunity to do so. As I packed today, I started to feel that familiar angst, and then I challenged myself.
Pack like you cook.
When I cook, there are no hesitations, no dissertations on what items to include in the pot. I am decisive and succinct. As I packed tonight, I was excited to find that I did much better than usual. I fit everything I need for the conference in a small bag. It is zipped up now, and I am ready to meet new friends. I'm ready to learn. I'm ready to soak it all in.
(I just have to remember not to ask anyone their sign.)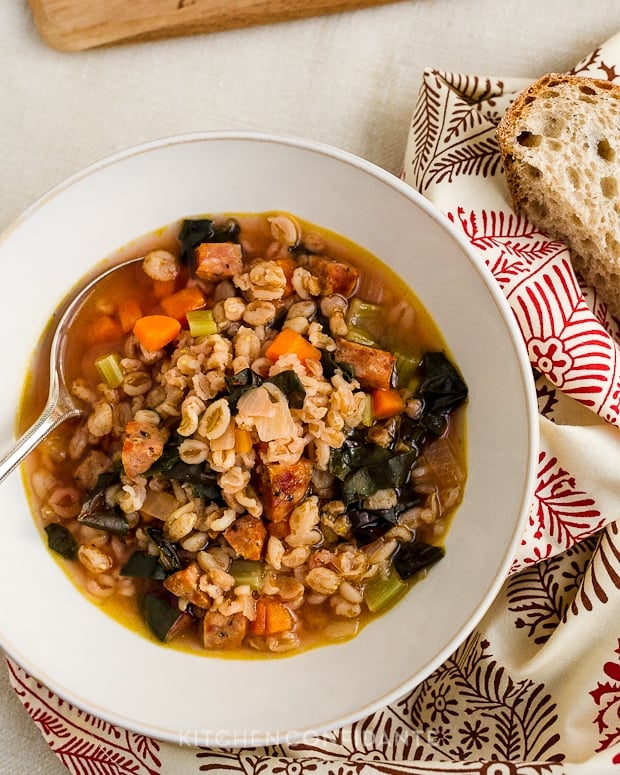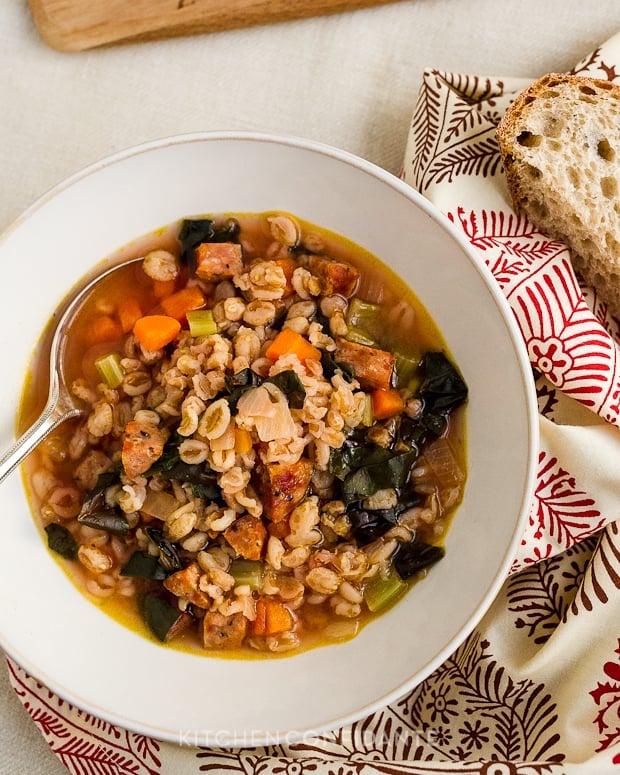 When I saw the gorgeous red chard in the market, I just had to have a bunch. The frigid evenings make me crave wholesome soups, and I was eager to throw the crimson leaves into a pot with one of my new favorite grains. Farro has become a little obsession for me – it's texture and chewiness, the slight nuttiness to the grain – it's something I can't stop eating. This Farro Soup with Red Chard and Sausage is bright and comforting, and perfect for this time of year.
And I didn't have to think twice.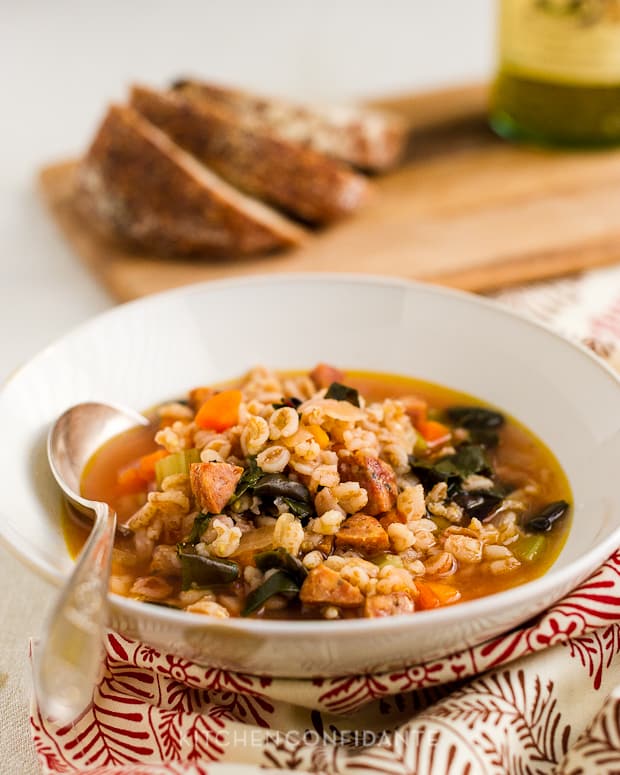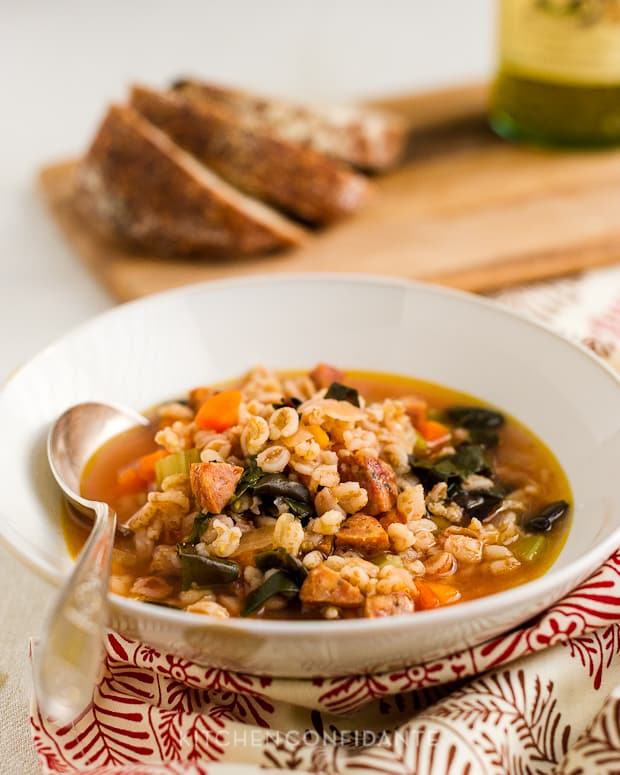 (Will you be at Alt this year? If so, I hope to meet you! If you see a girl wearing the same boots two days in a row, that's -sigh- me.)
Farro Soup with Red Chard and Sausage
I can't get enough soup in the winter time, and this, to me, is hearty enough to get me through the cold weather, and full of all the wholesome things I love. The red chard bleeds its red tint into the soup and gives such an earthy balance to the farro.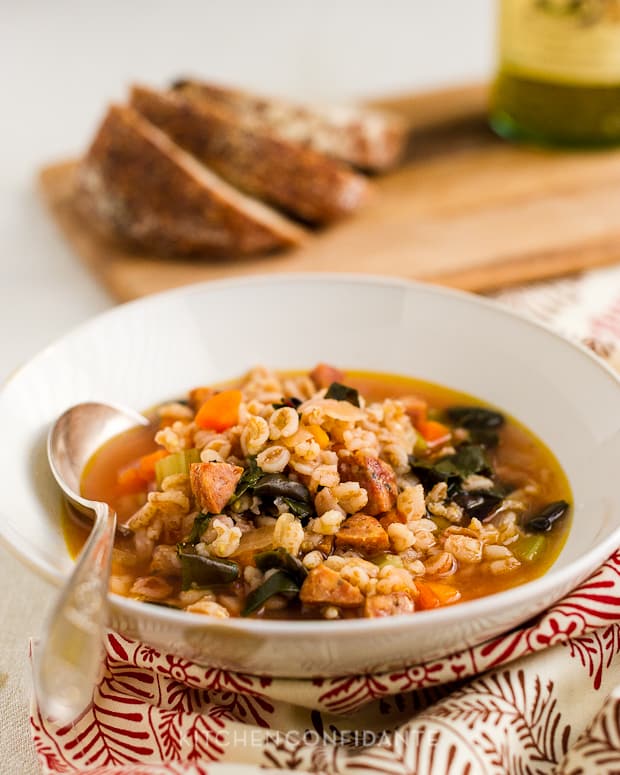 Print Recipe
Ingredients
2 tablespoons extra virgin olive oil, plus more for serving
1 cup diced onions
1 1/2 cups diced carrots
1 1/2 cups diced celery
4 stalks red chard, sliced
1 1/4 cups farro
8 cups chicken stock
kosher salt, to taste
freshly ground black paper, to taste
2 links sausage, such as smoked Polish sausage
1 teaspoon Sherry vinegar
Instructions
In a large Dutch oven or heavy pot over medium-low heat, heat the olive oil. Add the onions, carrots and celery, seasoning lightly with salt and pepper. Cook until the onions are translucent, then stir in the chard and farro. When the chard begins to wilt, pour in the chicken stock and bring to a boil. Lower heat to a simmer, and let it cook for about 20 minutes, or until the farro has puffed up and expanded. Season to taste with salt and pepper. Stir in the sausage and the Sherry vinegar and adjust seasoning once more if necessary.
Serve hot, with a drizzle of fresh olive oil and crusty baked bread.