Guacamole | Simple {Super Bowl} Sunday
You won't be able to resist double dipping into this guacamole! Try this simple and flavor-packed recipe! Super Bowl Sunday. For me, these three words conjures up three little letters: D. V. R. Yes, I know, this is blasphemy for some, but really, football has…
Guacamole | Simple {Super Bowl} Sunday
You won't be able to resist double dipping into this guacamole! Try this simple and flavor-packed recipe!
Super Bowl Sunday. For me, these three words conjures up three little letters: D. V. R.
Yes, I know, this is blasphemy for some, but really, football has never been my thing. I've tried, really, I have. My older cousin, whom I consider the big brother I never had, has tried. When I was in high school and he was in college, he wrote – back when letter writing was still practiced – a five page tutorial on the game. It included rules, regulations, even diagrams – so that when I watched my next football game, I would "get it."
Don't tell him I never really finished reading the football letter. I just couldn't get through it.
But! I love game day food and of course, the commercials. I would definitely record the game just so I could fast-forward all the punts and passes to view the commercials. Have you seen the preview for this little gem? A word of warning: if you have a pup in the house, you may want to put on some headphones so you don't freak him/her out. Or, maybe not. I get a kick out of playing this commercial and seeing my bulldog Wilbur go crazy.
In case you are looking for a killer guacamole recipe for today's game, I've got just the one for you. Living in the land of avocados, we couldn't help but fall in love with guacamole, and this is our go-to snack, game day or any day!
You won't be able to resist double dipping into this guacamole! Try this simple and flavor-packed recipe!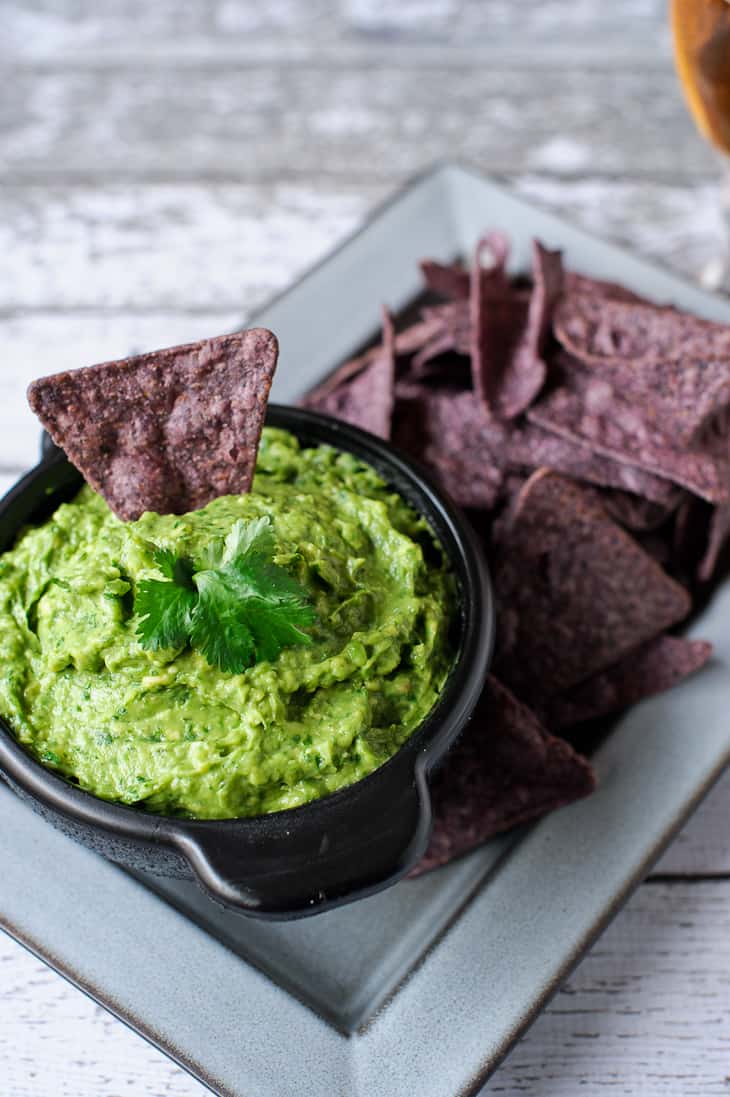 Print Recipe
Ingredients
2 cloves garlic, peeled
1 jalapeno pepper*, sliced in 1 inch pieces
1 1/2 cups fresh cilantro leaves
2 avocados, pits removed
1 tablespoon distilled white vinegar
1/4 teaspoon kosher salt
freshly ground black pepper, to taste
tortilla chips to serve
Instructions
In the bowl of a food processor, mince the cloves of garlic. Add the jalapeno and mince.
Add the cilantro and pulse about 10-15 times. Spoon in the creamy avocado, vinegar, salt and pepper and pulse so that the guacamole is creamy but still with some chunks for texture. Adjust the seasoning if necessary with more salt and pepper. Serve with your favorite tortilla chips.
Notes
Jalapeno peppers can vary in heat, so be sure to taste as you go. You may wish to add another pepper for added heat. In general, I include the pith and the seeds, but if you would like a less spicy guacamole, be sure to remove them from the peppers.