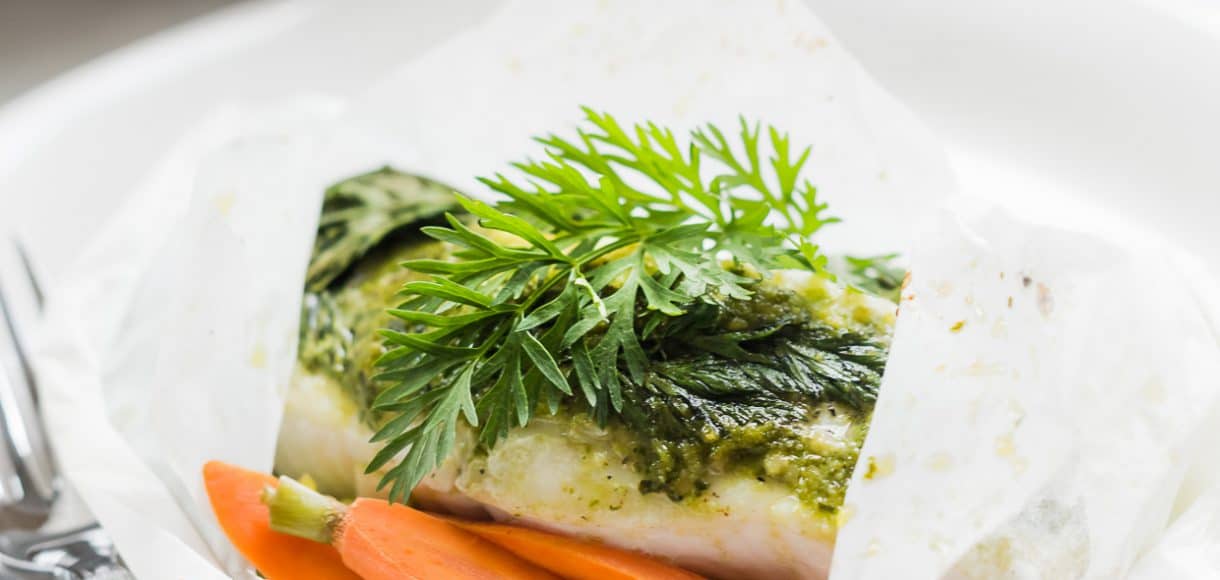 Halibut en Papillote with Carrot Top Pesto
Don't let those carrot tops go to waste! This Halibut en Papillote with Carrot Top Pesto is a delicious way to enjoy them, with minimal effort and clean up! There's a little bird that has nested in one of the Italian cypress trees that flanks…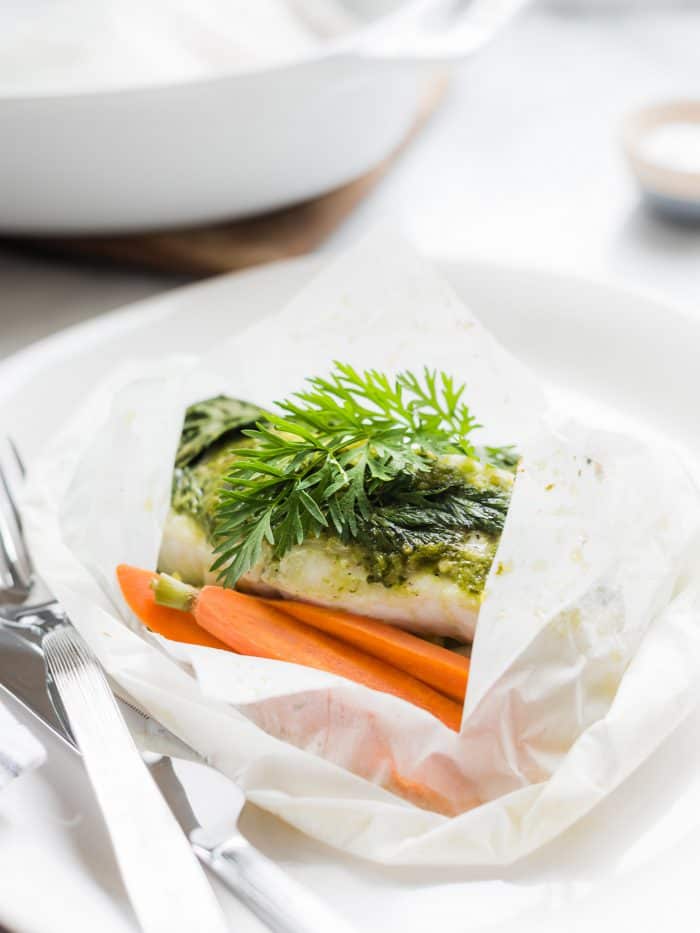 Halibut en Papillote with Carrot Top Pesto
Don't let those carrot tops go to waste! This Halibut en Papillote with Carrot Top Pesto is a delicious way to enjoy them, with minimal effort and clean up!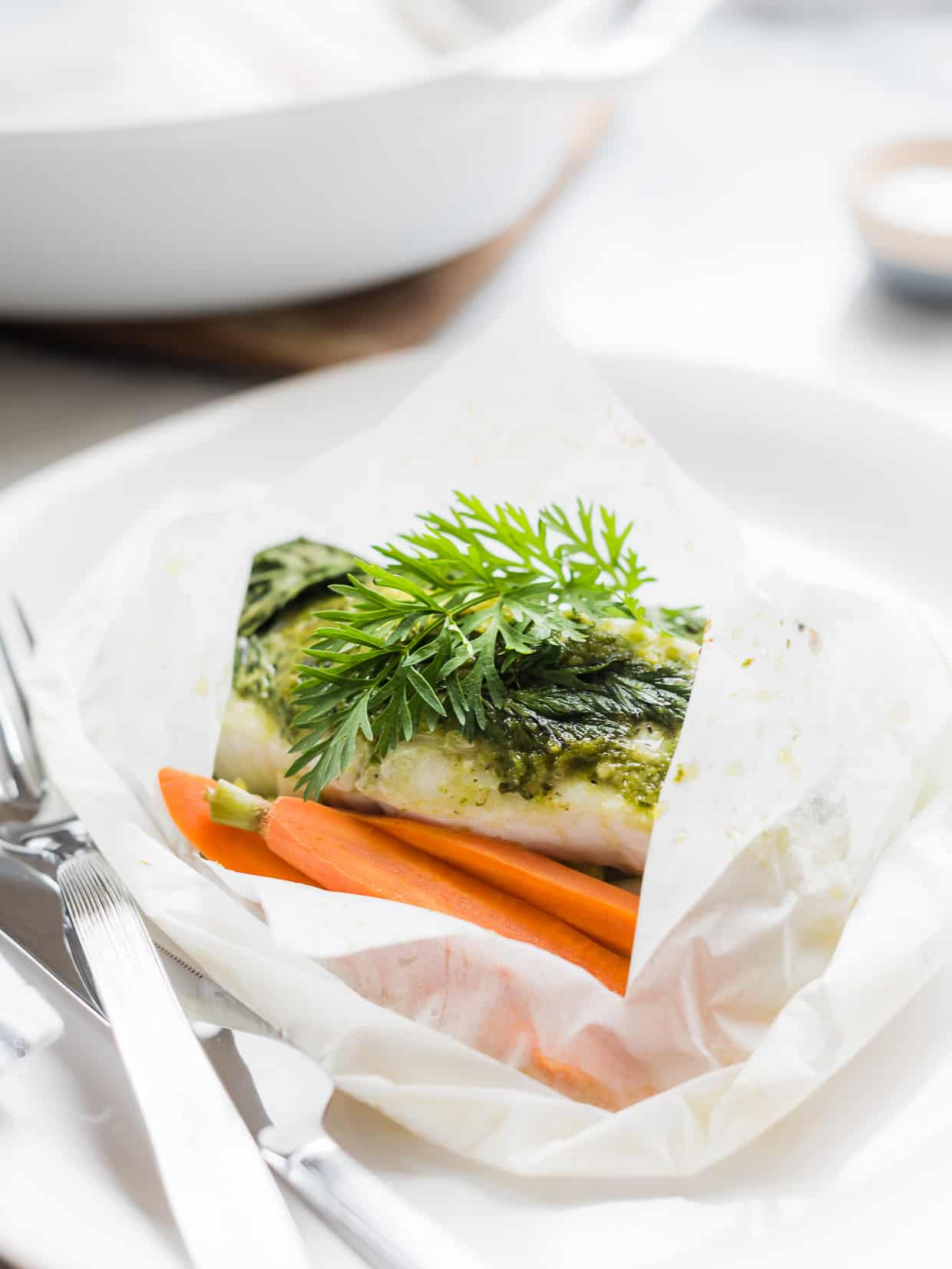 There's a little bird that has nested in one of the Italian cypress trees that flanks one side of our driveway. She's built the most perfect little home, a wonder in itself, and to my amazement, she is perched at my children's eye level. Needless to say, they are delighted, and you can't help but carefully peek every time you pass the little tree, to see if she is there.
But pretty soon, she will have company. She has been laying eggs! Tiny little eggs – which my kids compare to those speckled Easter robin's egg candies. When she flies away, I carefully sneak a peek, and she has been laying one egg a day. So far, there are five little eggs, and I wonder how much more she will lay? I joke that we have enough for a little baby omelet, organic and locally sourced. But do not worry, the eggs are safe.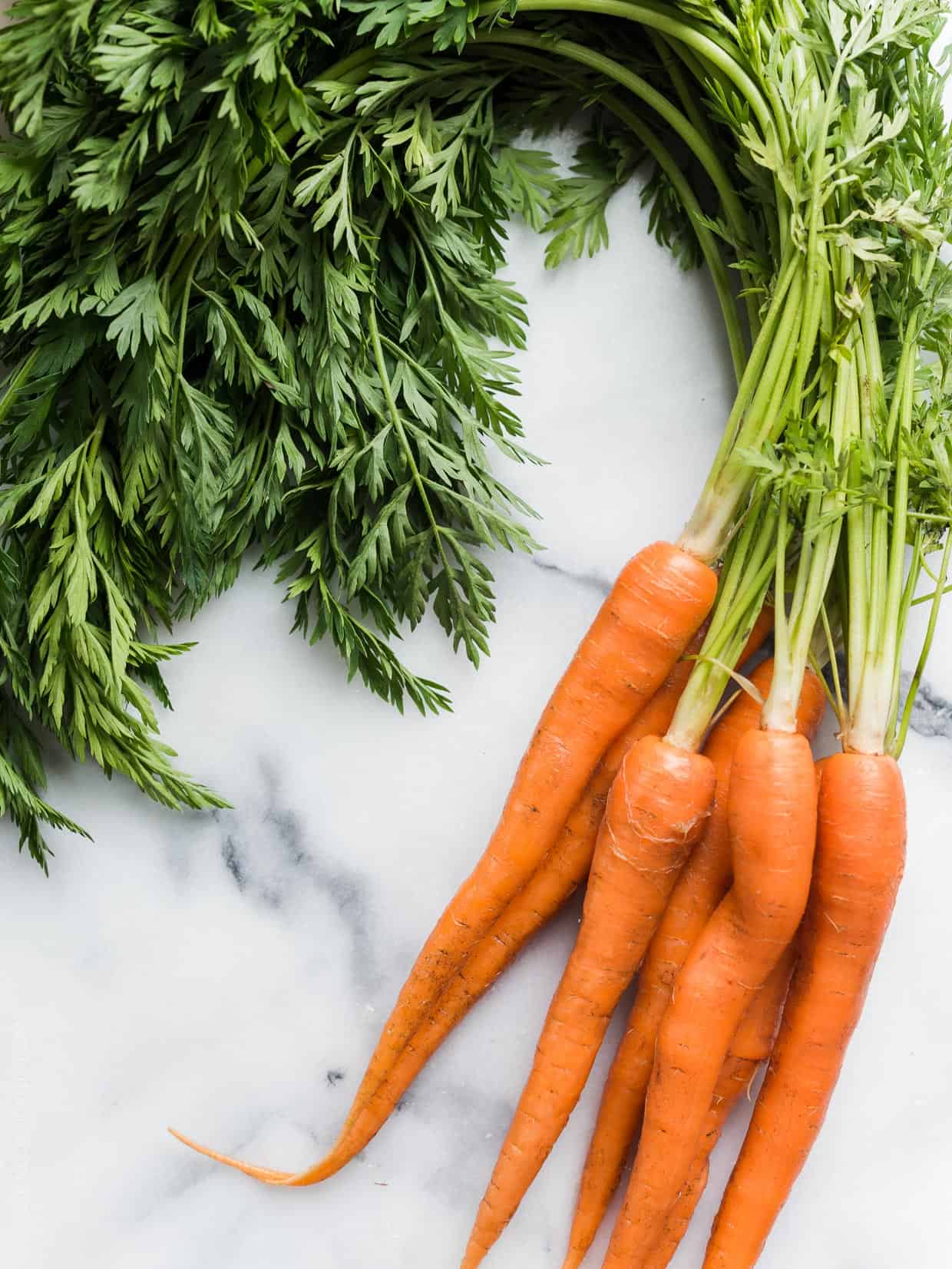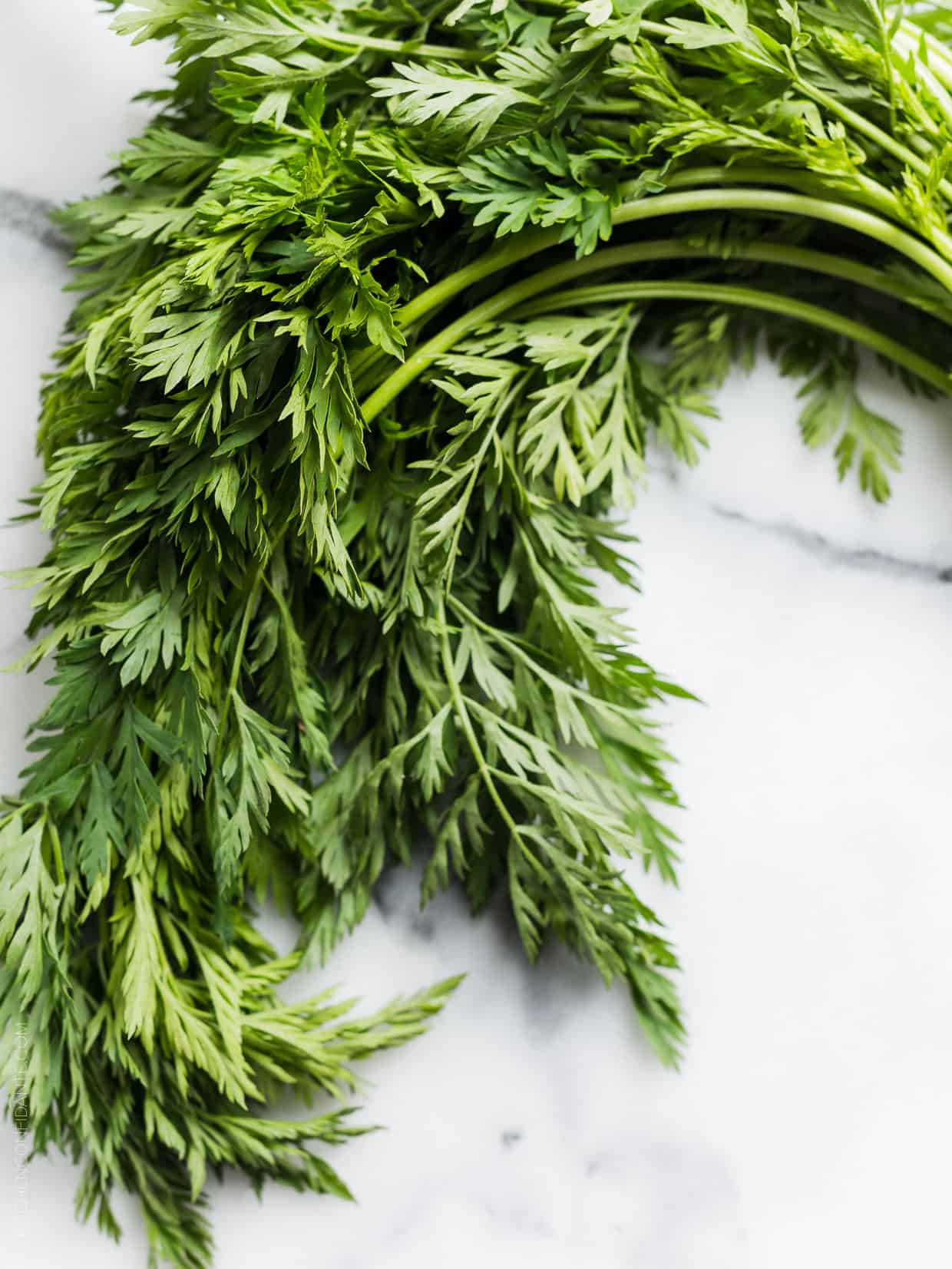 She's not the only bird that has taken residence in our yard. There's another nest in a tree across the way, as well as a bird that has made a home in our arbor. They've all been very busy, and when they fly about, I really sense that spring is in the air.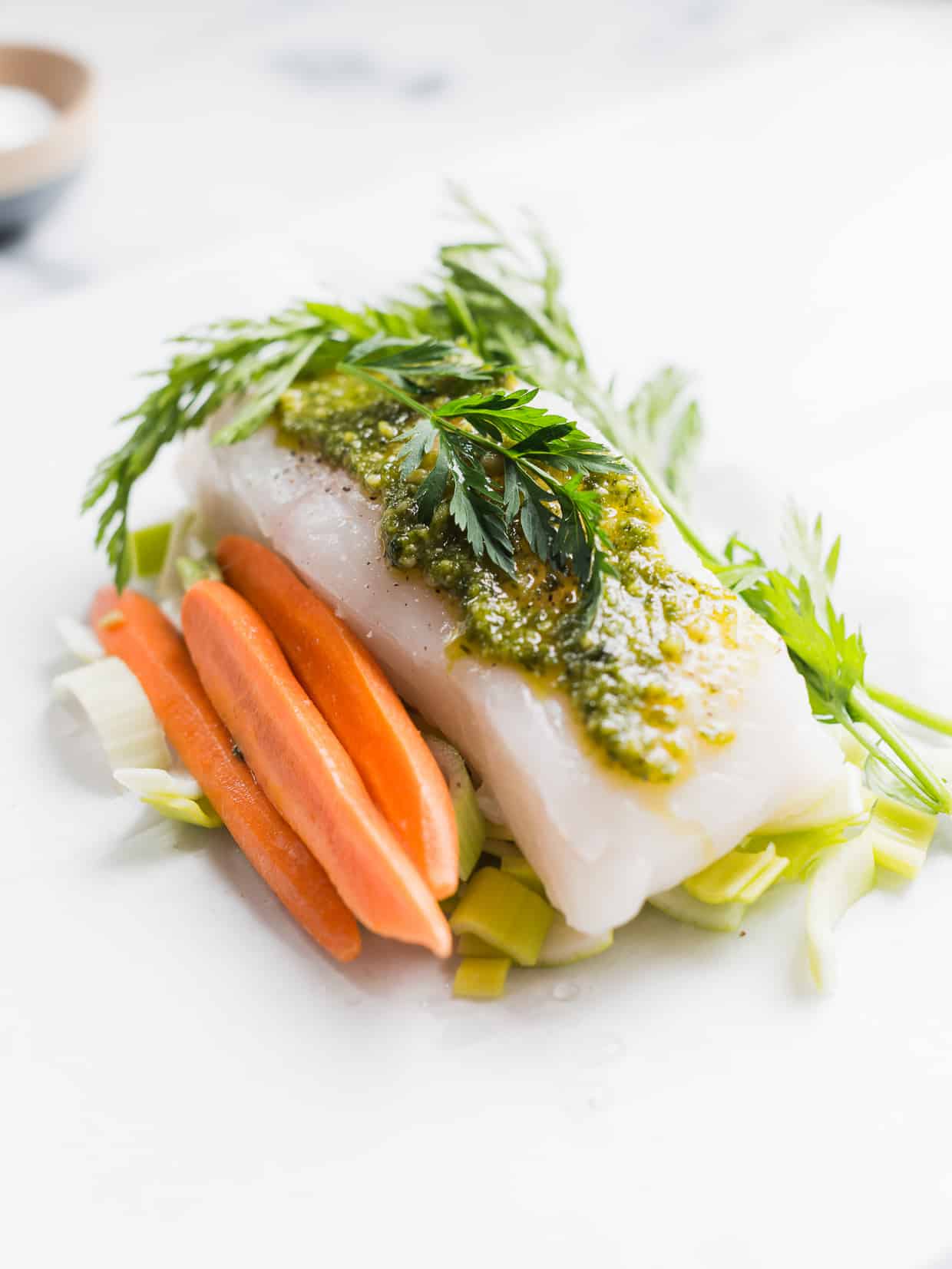 With these beautiful days and new life around us, it's time to eat lighter. The halibut is simply perfect this time of year – so fresh and plentiful – and I've returned to one of my favorite ways of preparing it: en papillote. Baked in parchment, it's the simplest way to keep things light and healthy – and perhaps the best part is how serving it in en papillote means easier clean up, too.
I've been holding on to my carrot tops as I am realizing more and more that they're more delicious eaten than thrown into the compost bin. By now you may have heard that carrot top pesto is a thing – and it's a great way to use up your carrot tops if you don't have little bunnies to feed. I used some in this simple recipe for Halibut en Papillote with Carrot Top Pesto, and it infused the fish with a delicate flavor that is perfect for this time of year.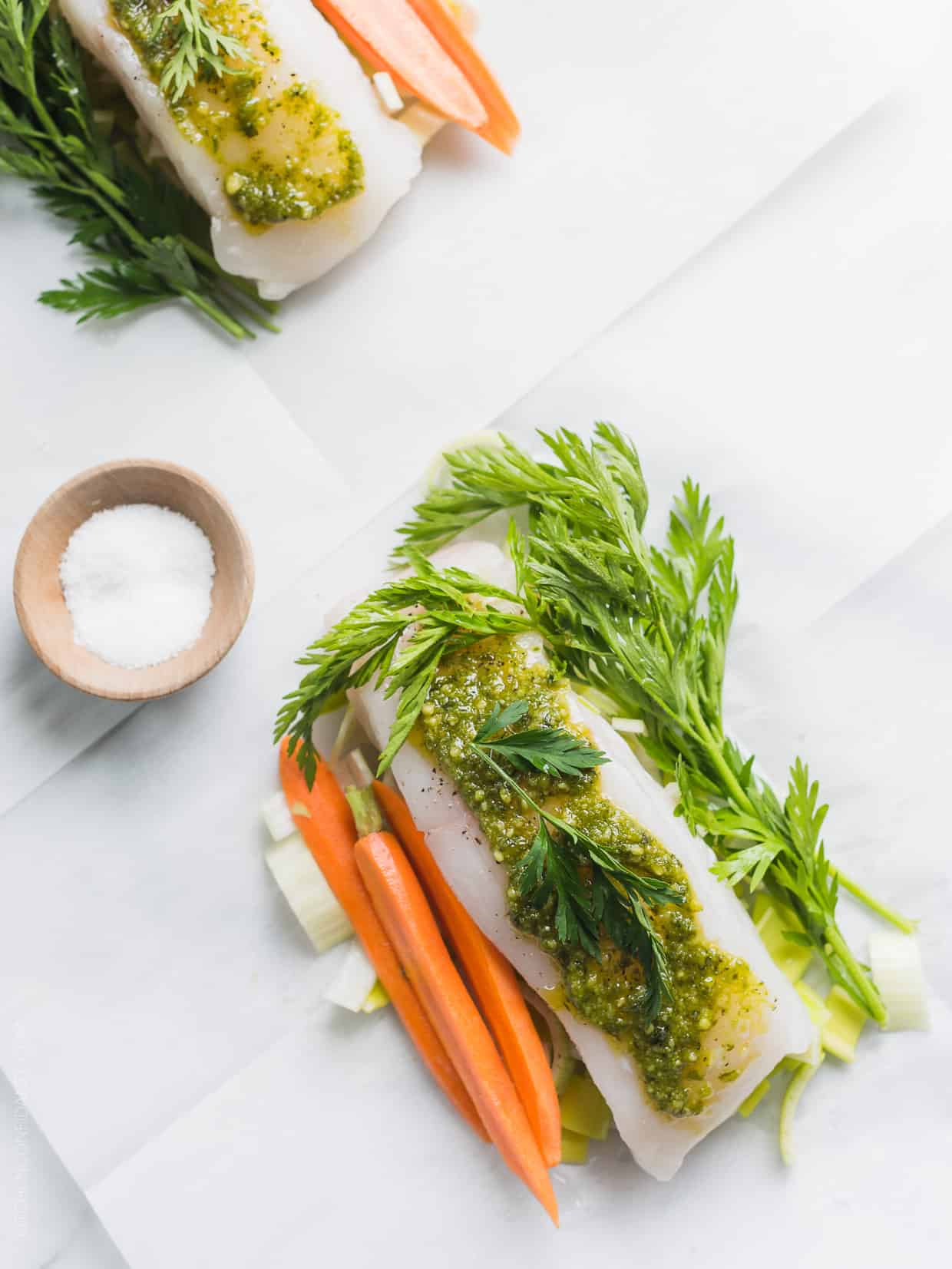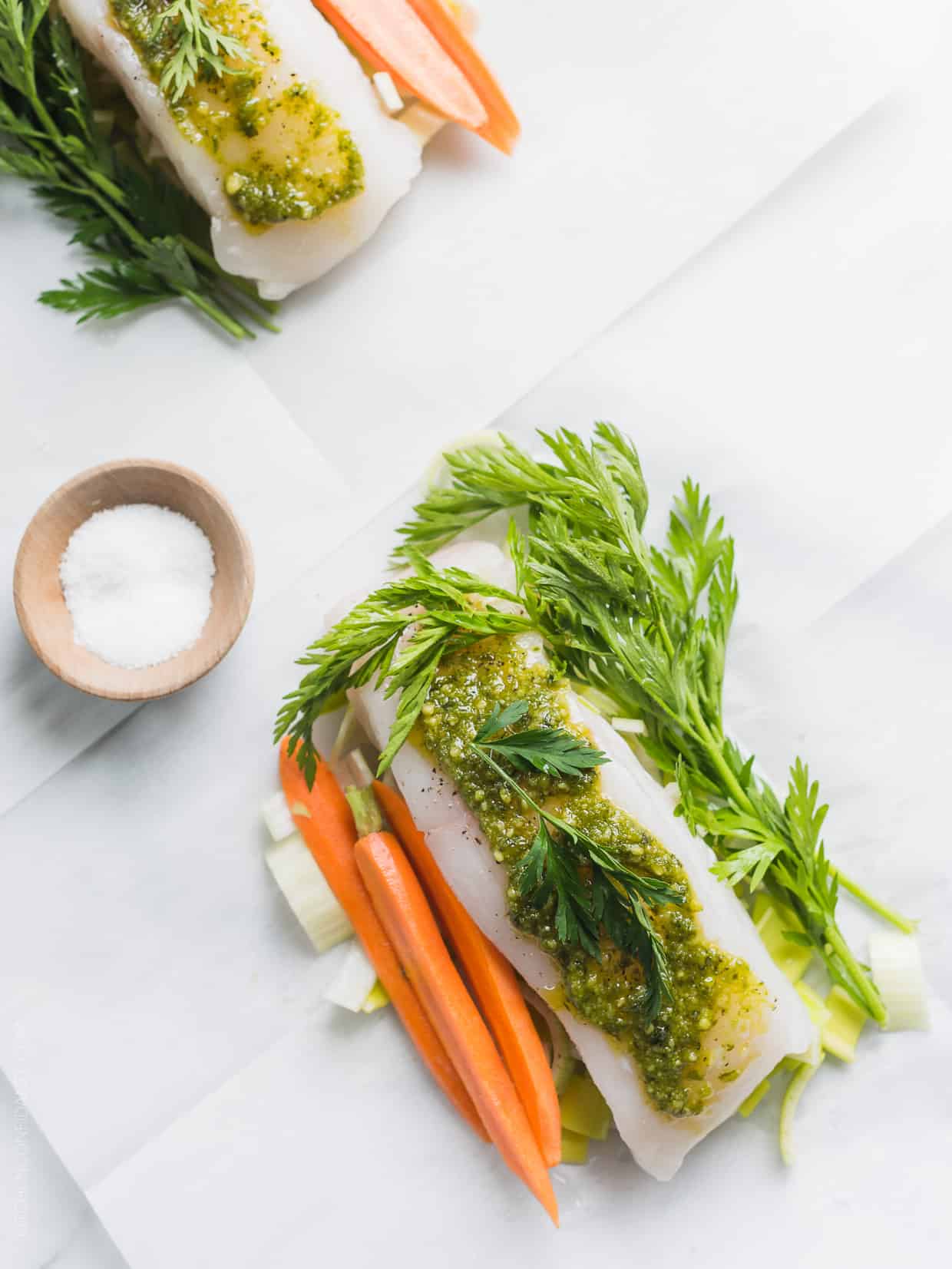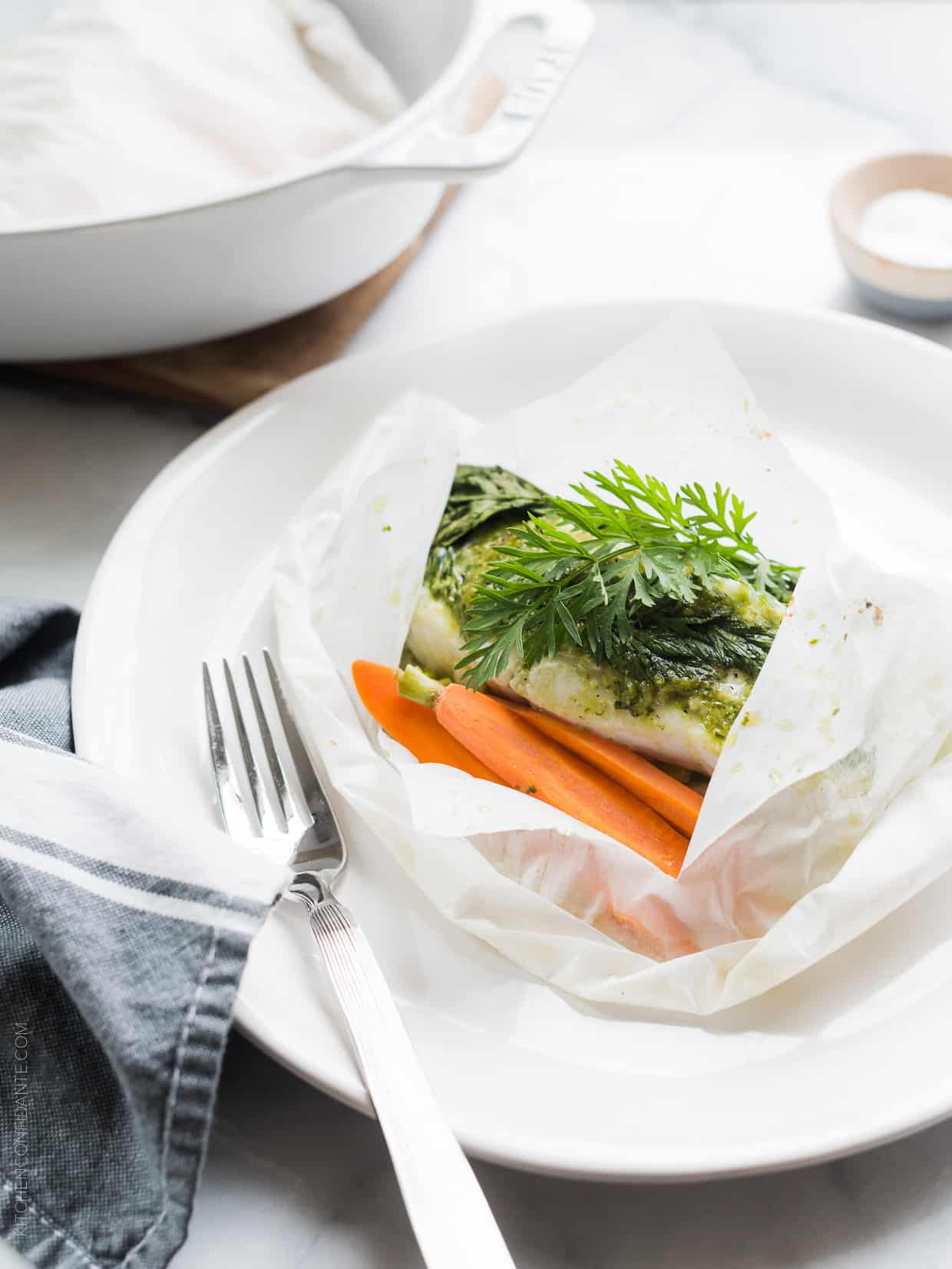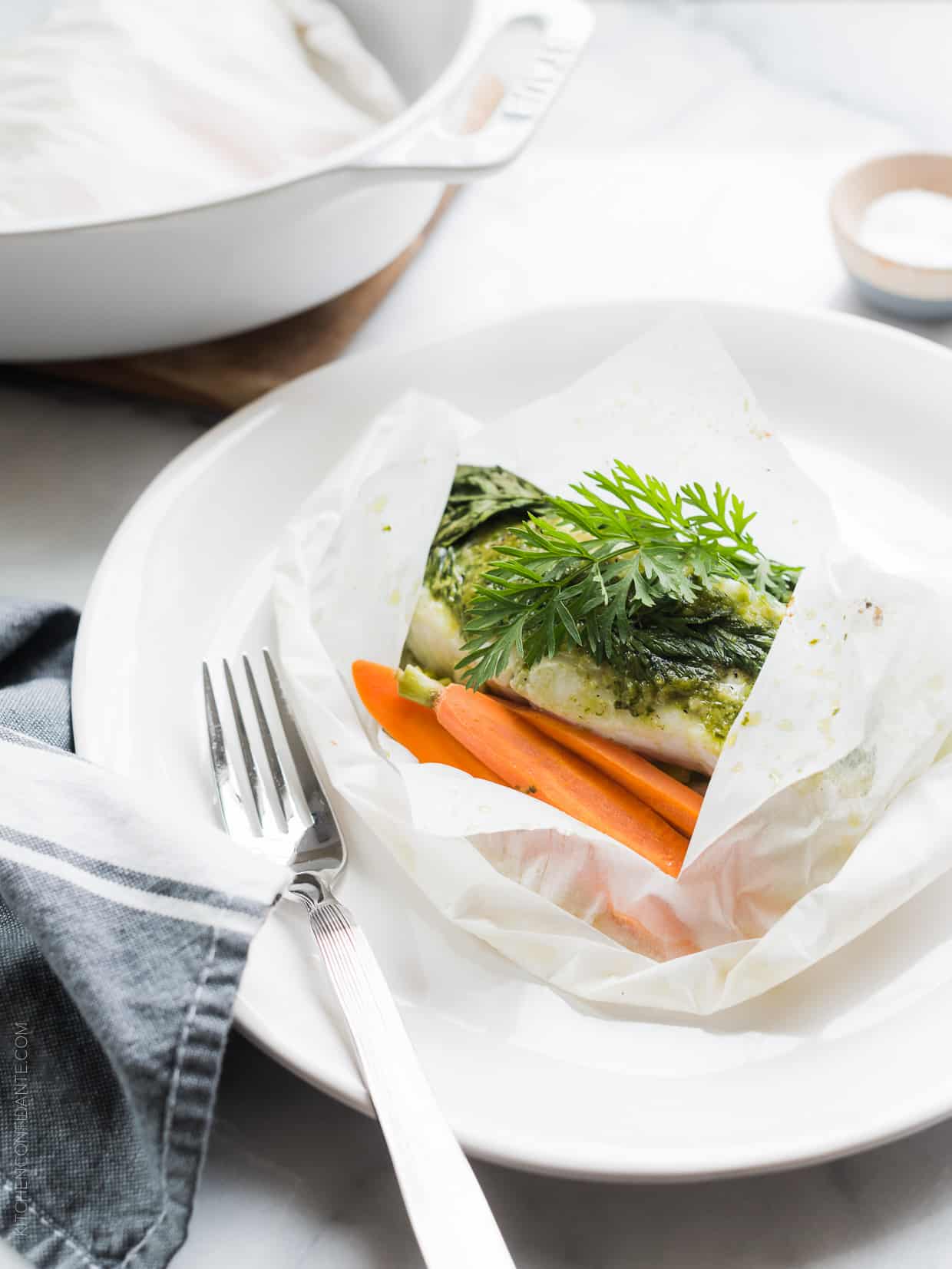 Have you tried carrot top pesto? It goes well beyond fish – try it in soups, on chicken, roasted vegetables, and more.
Halibut en Papillote with Carrot Top Pesto
Don't let those carrot tops go to waste! This Halibut en Papillote with Carrot Top Pesto is a delicious way to enjoy them, with minimal effort and clean up!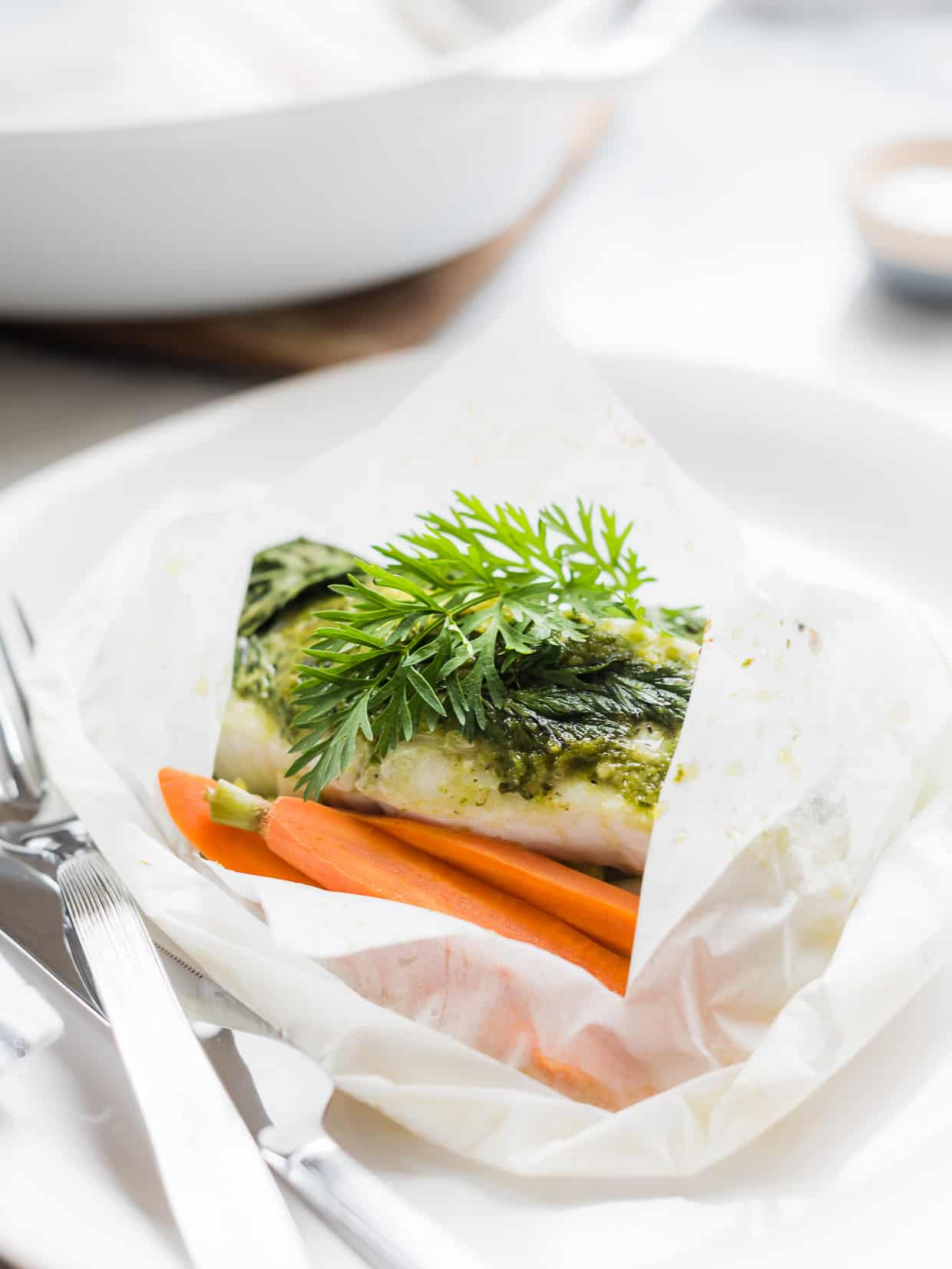 Print Recipe
Ingredients
2 cups carrot tops, rinsed and dried
1 cup fresh basil
2 cloves garlic
1/4 cup toasted almonds
1/4 cup toasted pine nuts
1/2 cup parmesan cheese
kosher salt
freshly ground black pepper
1/3 cup olive oil
2 small leek, sliced once lengthwise, the cross cut in 1/2 inch pieces
1 lb halibut, divided into 2 fillets
1-2 carrots, sliced
1 tablespoon white wine (or substitute chicken broth)
salt and pepper to taste
Instructions
Reserve a few springs of carrot tops for the papillote.
Place the remaining carrots tops, basil, garlic, almond, pine nuts, parmesan cheese, salt and pepper in the bowl of a food processor, and process until smooth. With the food processor running, add the remaining olive oil slowly, until it is well blended. If you desire more creaminess, you may need to use a little more olive oil. Season to taste with salt and pepper.
Preheat the oven to 400°F.
Swirl and soak the sliced leeks in a bowl of cool water, and let it sit to release any soil. Remove the leeks that have floated to the top and drain on some paper towels. Set aside.
Season halibut on both sides with salt and pepper.
Take two pieces of parchment paper, about 12×16 inches.  Fold in half along the longer side.  Place the leeks along the fold, then lay the fillets on top.  Arrange the carrots and the reserved carrot tops along the sides of the fish.  Spread about two tablespoons of the pesto on each fillet. Drizzle with wine or broth.
Fold the parchment paper, creating tight seams and making sure the ends are secure.  Place in a baking dish or pan and put in the oven.  Bake for 15-20 minutes.  Simply serve the fish in their packets, served with extra pesto, if you wish.