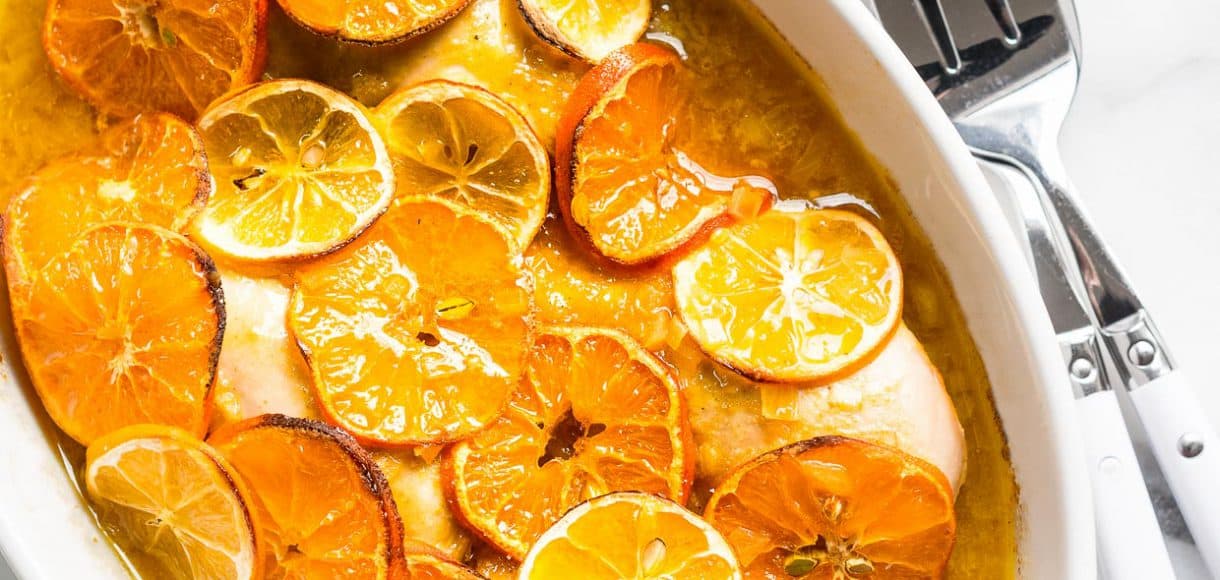 Honey Mustard Citrus Chicken with Mango Chutney
I remember the red velvet seats, the stage with its rows of brilliant brass, curvy violins, and the cacophony from tuning being oddly pleasant, despite the dissonance. I remember little Bobby K. sitting to my right, excitedly confide in a whisper, "The French horn is…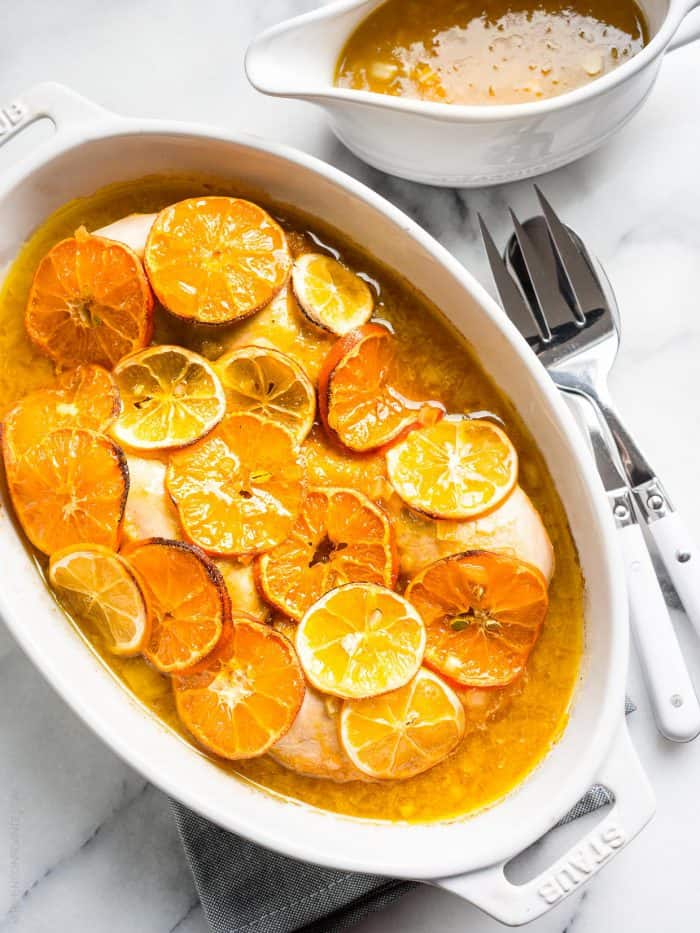 Honey Mustard Citrus Chicken with Mango Chutney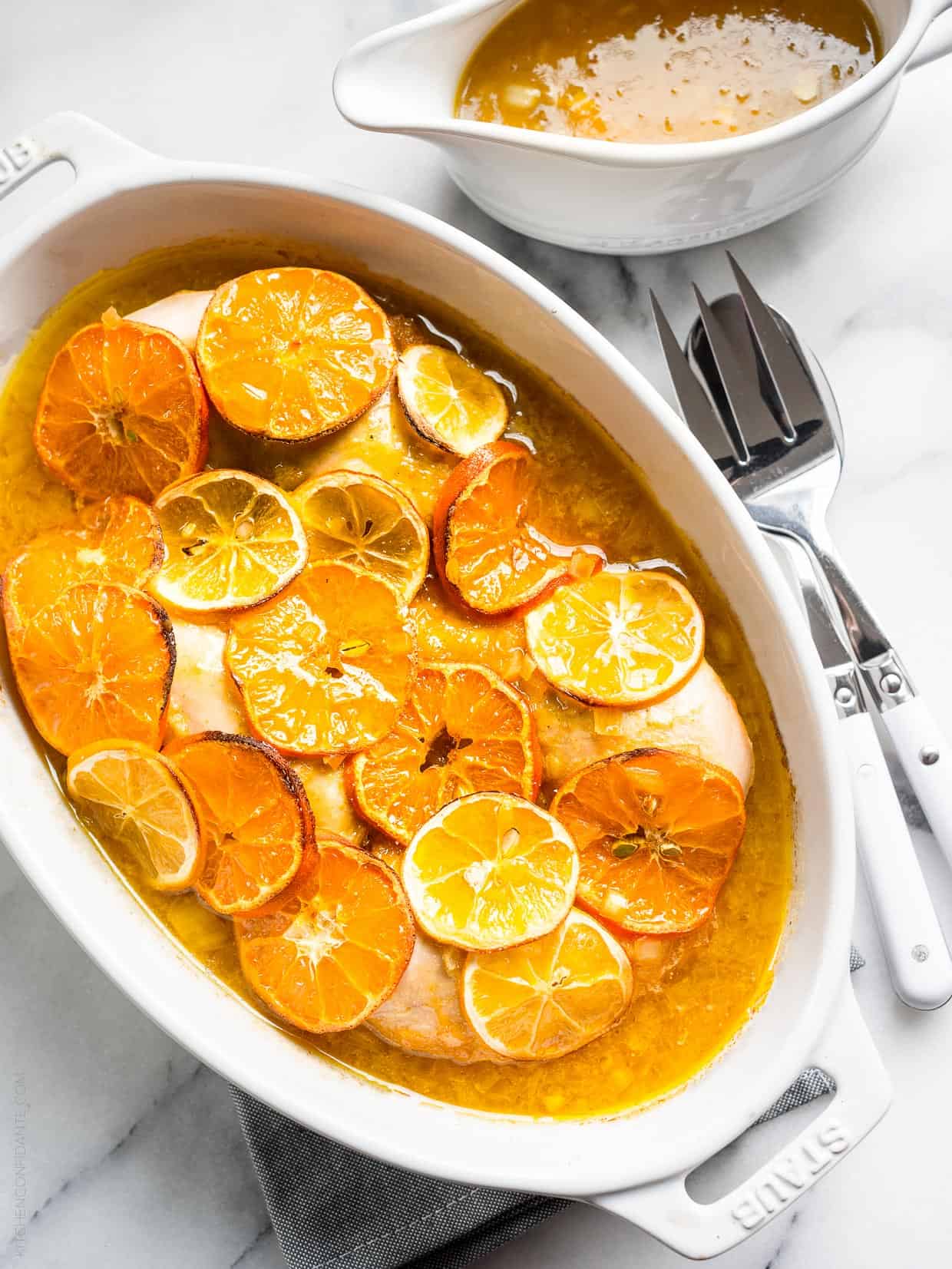 I remember the red velvet seats, the stage with its rows of brilliant brass, curvy violins, and the cacophony from tuning being oddly pleasant, despite the dissonance. I remember little Bobby K. sitting to my right, excitedly confide in a whisper, "The French horn is my favorite!" I searched the stage and found them, and remember listening for their sweet sound that day.
You never forget your first trip to the symphony, and my first memory was our elementary school field trip to Avery Fisher Hall. The bravado, the sorrow, the joy — the magic of the performance made me feel it all.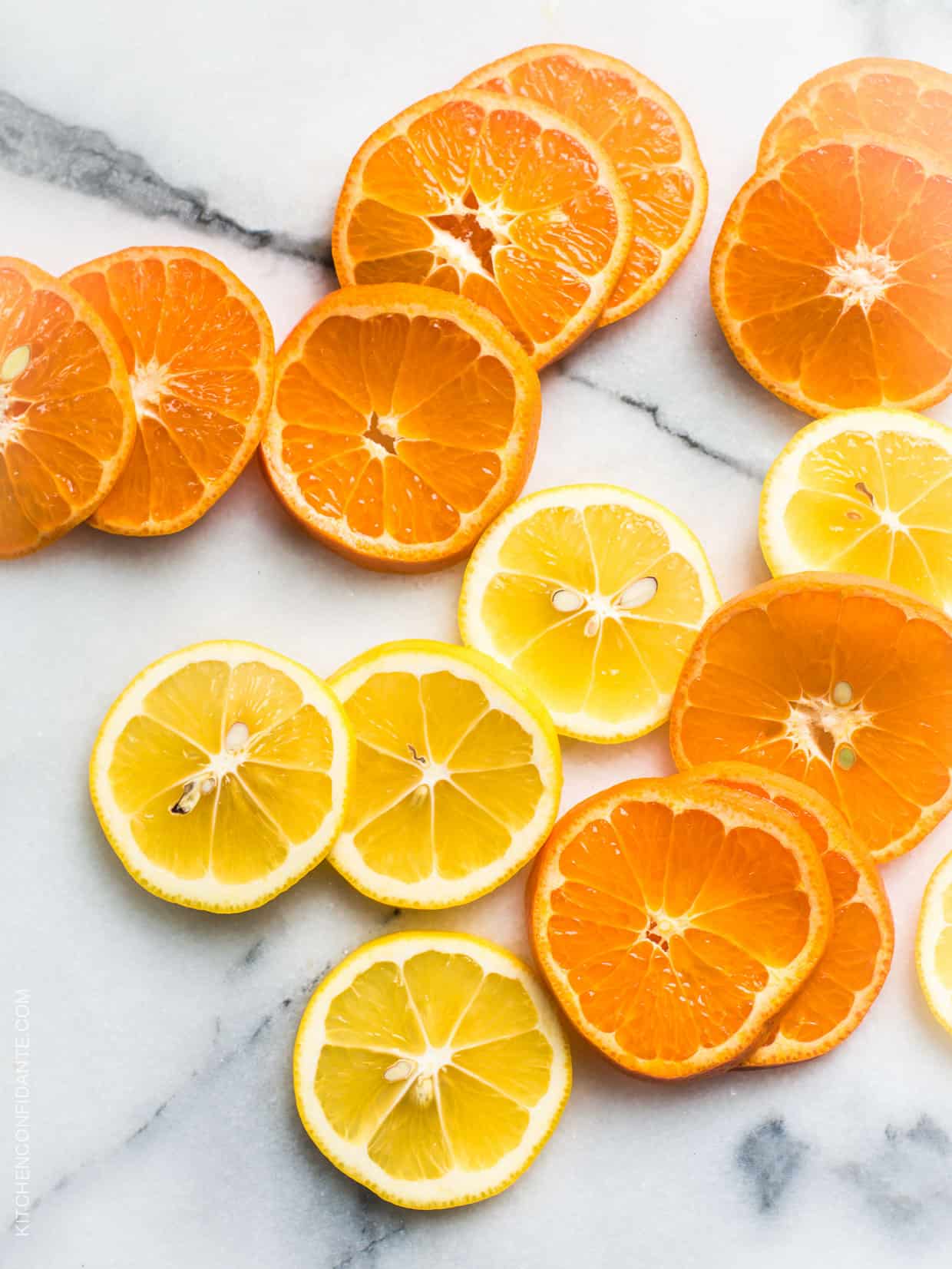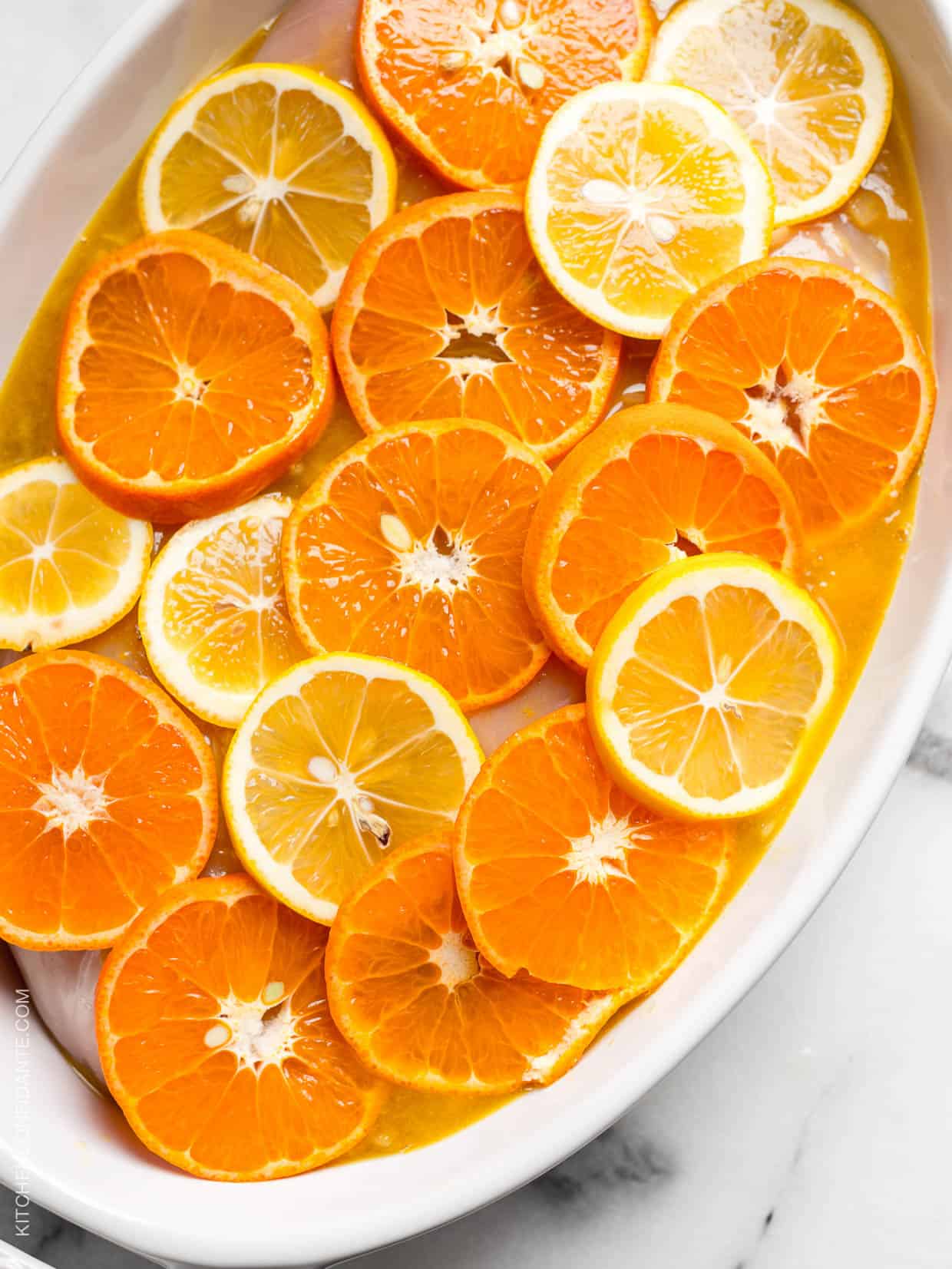 This Saturday, we sat in velvet seats, surrounded by families, and with the wave of the conductor's hand, remembered how the power of music could move your heart to ache and to soar with each note. My husband and I were secretly pleased that our little guy had chosen to research the San Francisco Symphony for his SF History report – our family field trip was not just a reason to introduce our children to the beauty of a live performance, but for us to feel that rush you can only get when you are in the same room where you can be lulled to movement in your heart.
It's nice to be reminded of beautiful things.
Not too long ago, I was feeling a little pressed for time when I was reminded of another beautiful thing. Honey mustard chicken – that classic that still pleases a crowd, or in my case, my family. It's the kind of dish that works itself out without too much fuss, in the oven, and with a touch of winter citrus, it brings a bit of sunshine to the dinner table. We're in the homestretch of winter, after all, so why not turn to citrus – they're the French horns of the winter orchestra, don't you agree?
Eat Seasonal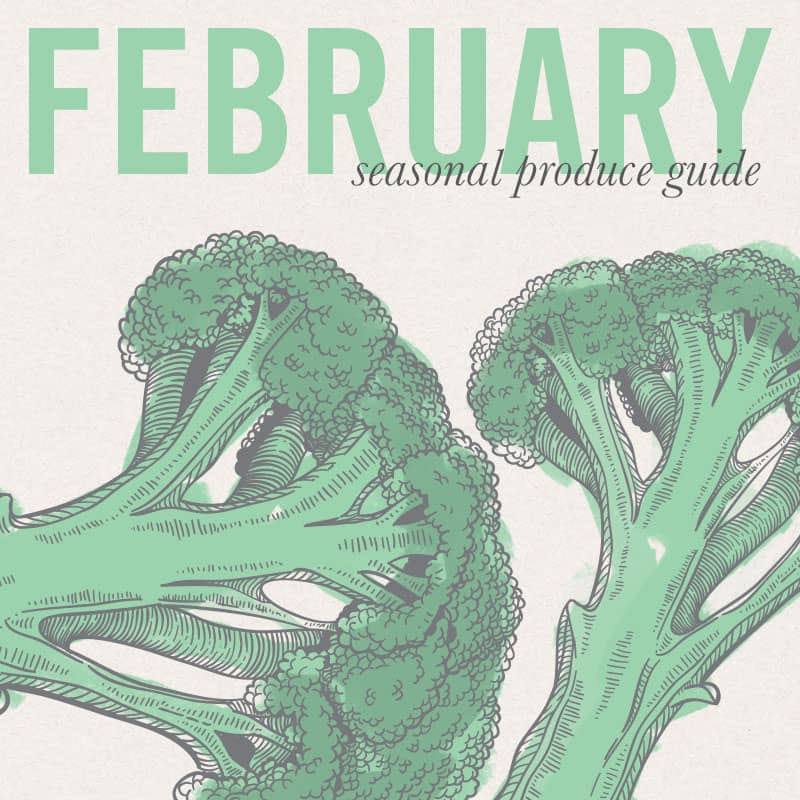 This month's delicious Eat Seasonal roundup, organized by Becky of Vintage Mixer, is all about bright winter recipes. Join us and our friends as we share dishes that embrace eating seasonal! Check out the February Seasonal Produce Guide and these recipes for more #EatSeasonal inspiration.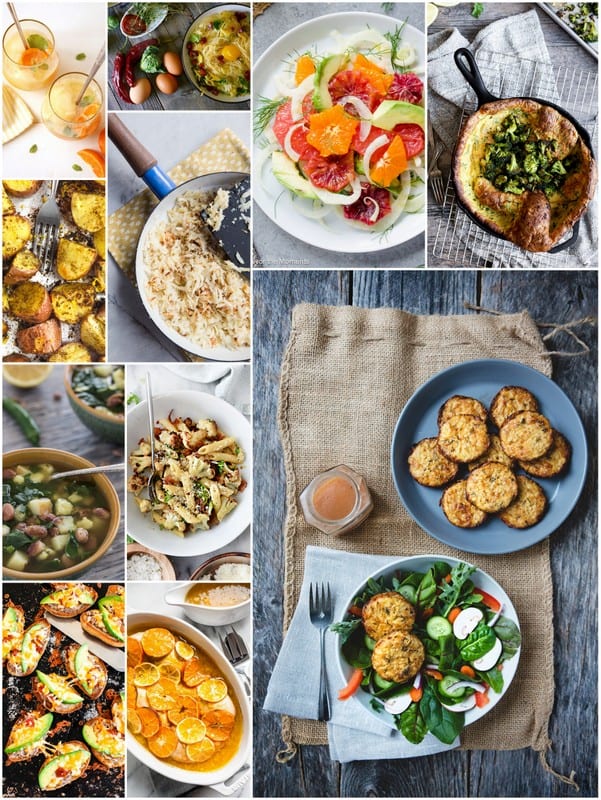 Tangerine Sorbet Champagne Floats by Completely Delicious
Chorizo & Brussels Sprouts Pasta Carbonara by Suitcase Foodist
Citrus, Fennel, and Avocado Salad by Flavor the Moments
Savory Dutch Baby with Roasted Broccoli by Floating Kitchen
Roasted Red Potatoes with Zahatar and Lemon by Project Domestication
Parsnip Hash Browns by Vintage Mixer
Greens and Potato Soup with Hominy and Pinto Beans by Letty's Kitchen
Penne Pasta with Cauliflower and Pancetta by Foodie Crush
Rosemary Cheddar Cauliflower Cakes by Food for My Family
Creamed Brussel Sprout Tater Tot Casserole by Climbing Grier Mountain
Mexican Molletes (avocado, bean & cheese melts) by Simple Bites
Honey Mustard Citrus Chicken with Mango Chutney
This recipe for Honey Mustard Citrus Chicken with Mango Chutney will bake your chicken in sunshine. It's the simplest (and brightest) weeknight meal.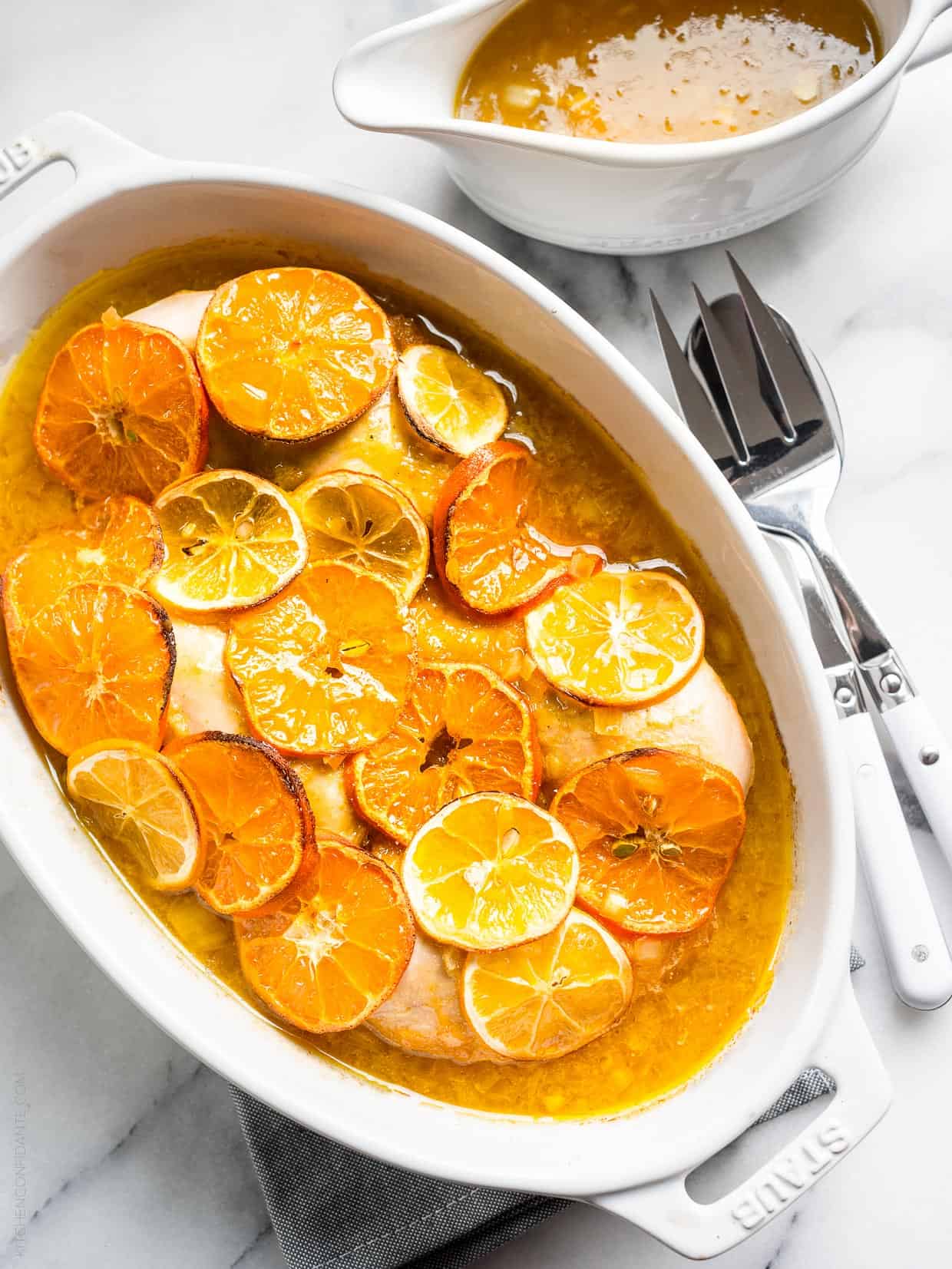 Print Recipe
Ingredients
1/2 cup (1 stick) butter
1 medium onion, finely chopped
2 cloves garlic, minced
1 cup honey
1/2 cup stone ground or traditional Dijon mustard
1/4 cup orange juice
1 tablespoon curry powder
1/4 cup mango chutney
1 tablespoon kosher salt, plus a touch more for seasoning chicken
4-6 chicken thighs or breasts, skin removed
1 clementine or tangerine, sliced in 1/8 inch rounds
1 lemon, sliced in 1/8 inch rounds
Instructions
Preheat oven to 350°F.
In a small saucepan, melt butter over medium heat. Add onion and garlic and saute until transparent. Add honey, mustard, orange juice, curry powder, mango chutney and salt.
Place chicken thighs in an oven safe baking dish, sprinkle with a touch of salt, and pour the honey mustard sauce over the top until it is coated. Set aside any leftover sauce. Top with citrus layers. Bake in the oven for about 45 minutes, or until the chicken reached an internal temperature of 165°F. Serve with reserved sauce.