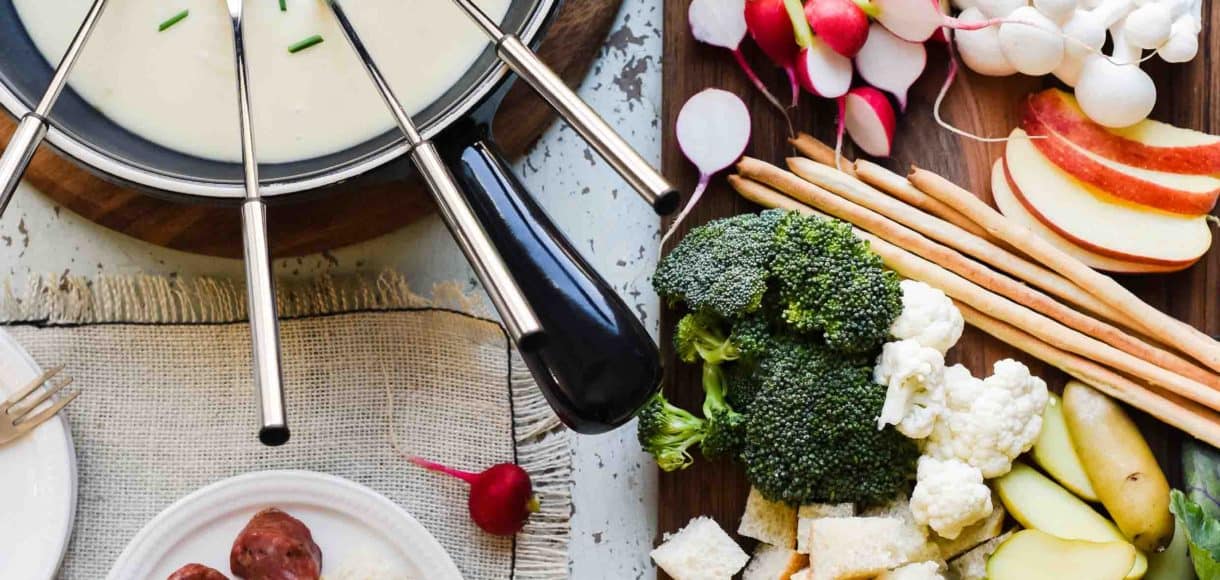 How to Host a Fondue Party
Put the fun in fondue with one of the easiest and most entertaining forms of hosting! Here are some tips to take a dip (literally and figuratively!) in how to host a fondue party. This post is brought to you in partnership with Emmi USA.…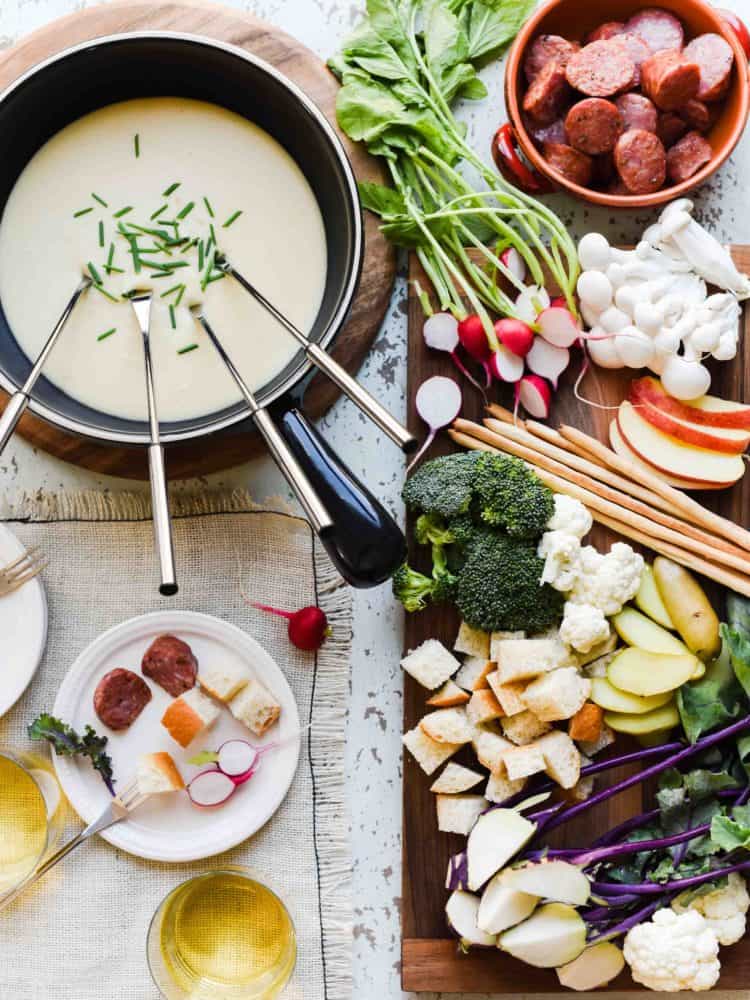 How to Host a Fondue Party
Put the fun in fondue with one of the easiest and most entertaining forms of hosting! Here are some tips to take a dip (literally and figuratively!) in how to host a fondue party. This post is brought to you in partnership with Emmi USA.
"Are you guys around this weekend? Want to come over?"
This is how most of our gatherings take shape these days — a bit last minute, mostly impromptu, and not exactly planned. But you know what? They're so much more fun, and by now, you know that for me, all I need is platter of cheese and all the accompanying nibbles, a glass of wine, and friends. Instant party!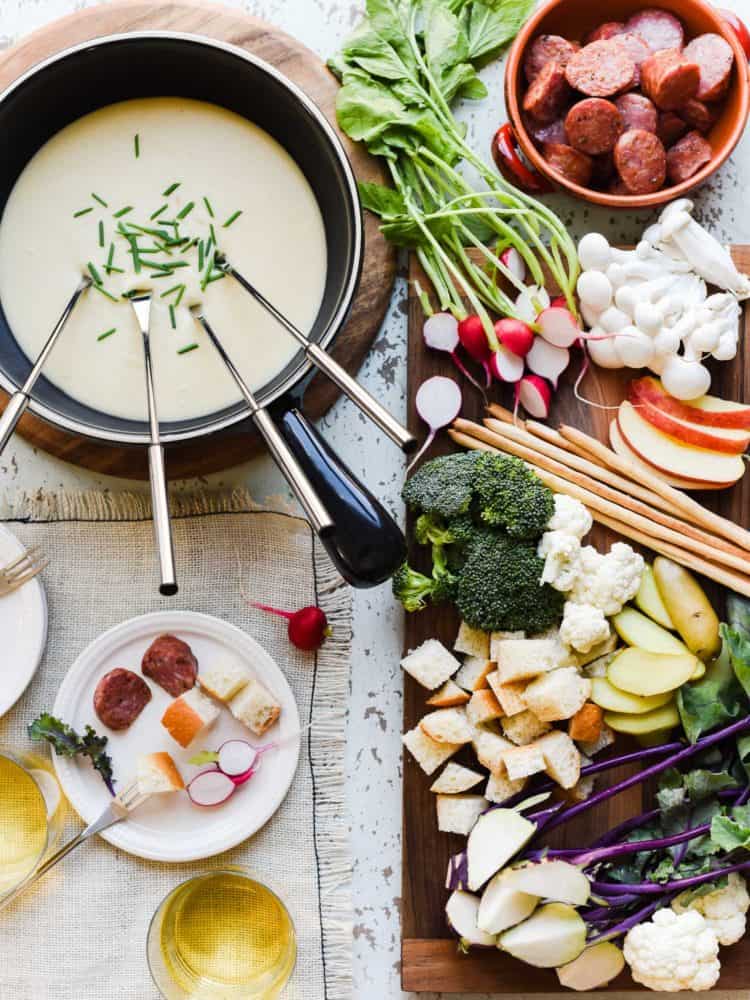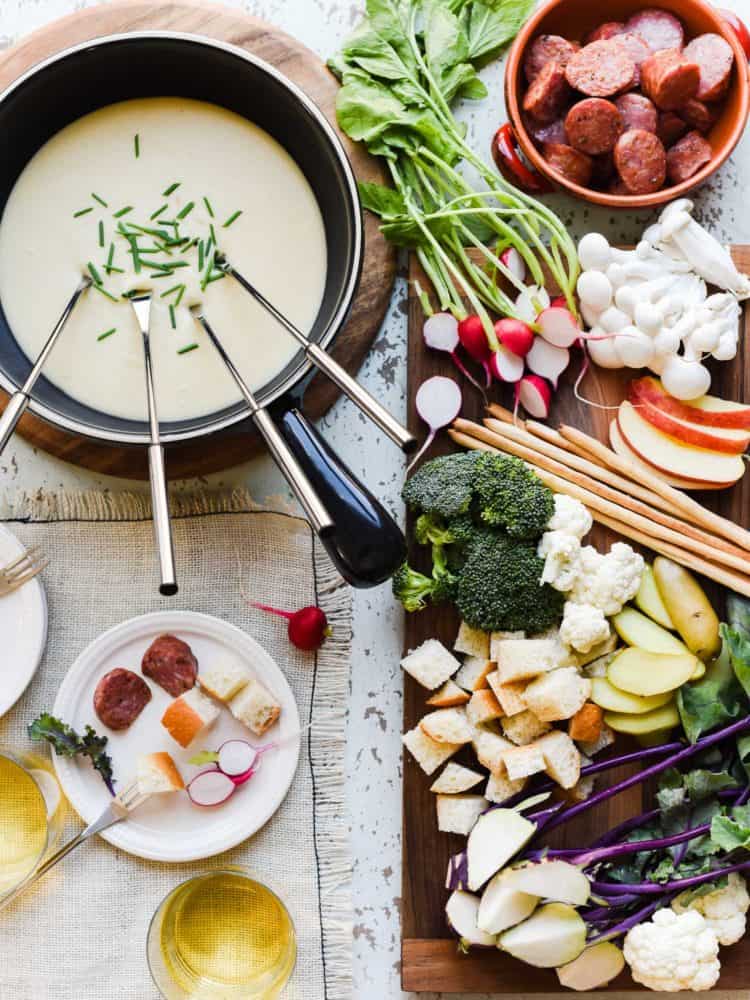 Cheese and charcuterie boards are our go-to, but you know what's better than an assortment of delicious cheeses? Melted cheese!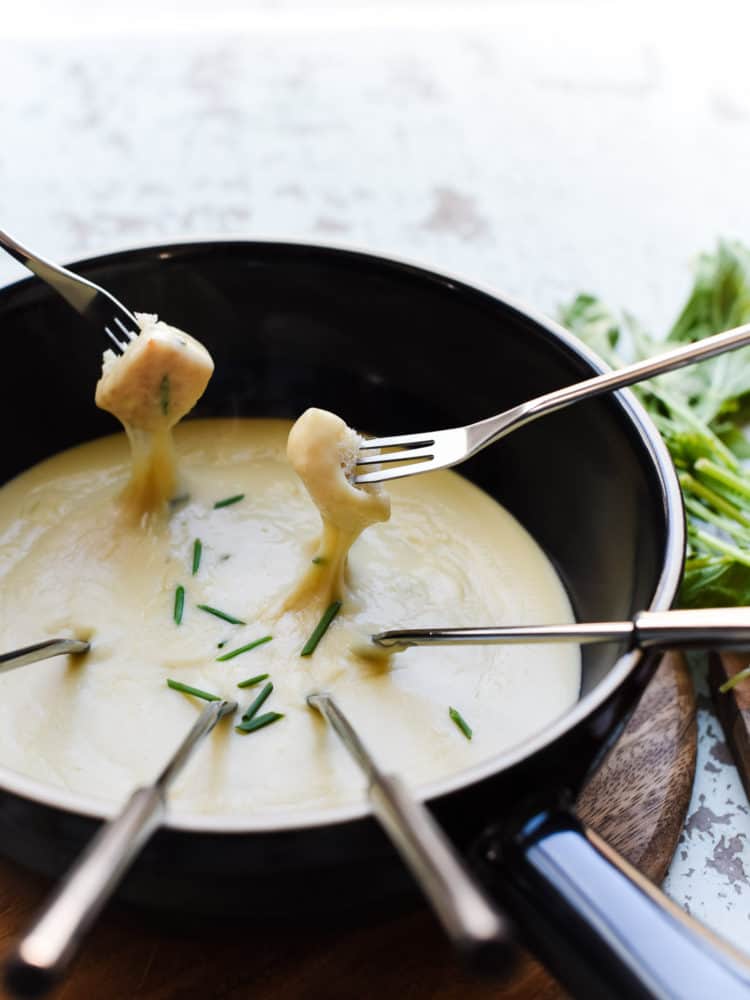 And since today is National Cheese Fondue Day – oh yes, there is such a heavenly day – I couldn't resist diving into a pot of melted cheese and share with you just how fun it is to host a fondue party. Whether you melt the cheese on the grill and enjoy the fondue outdoors or make it a cozy evening with friends by the fireplace on a chilly night — there is nothing simpler or more fun than fondue!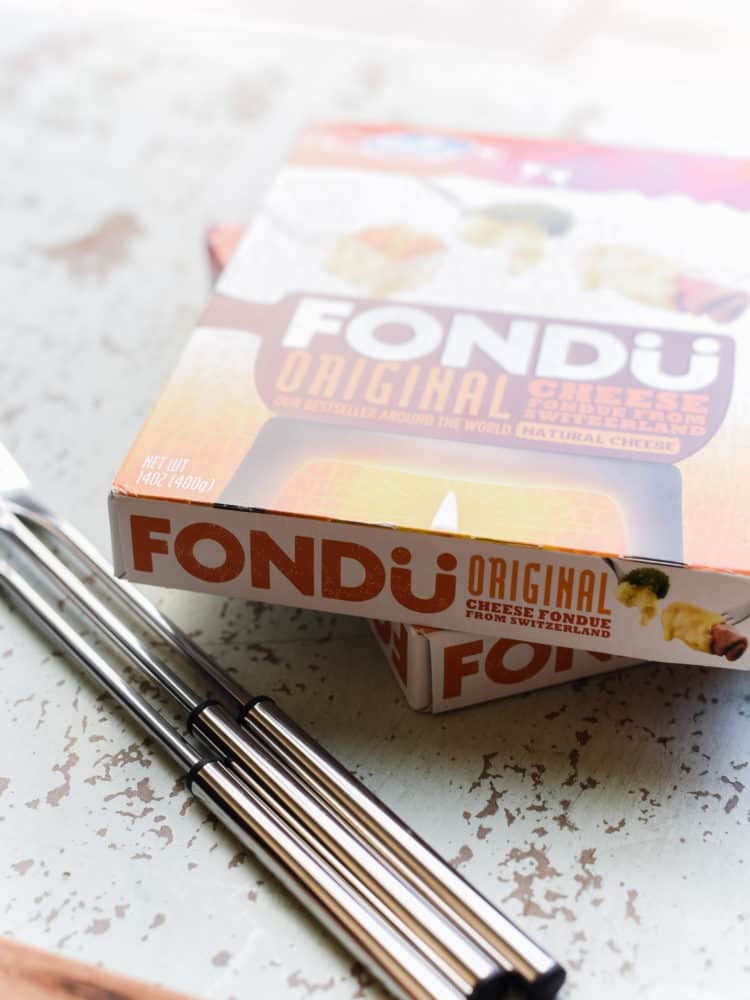 To make things even easier, I turned to fondue from Emmi USA — they have an assortment of ready to eat fondue that are sure to make everyone happy! From their classic, original Fondu (which I used here), to their All-in-One Fondu, you can get dipping in no time!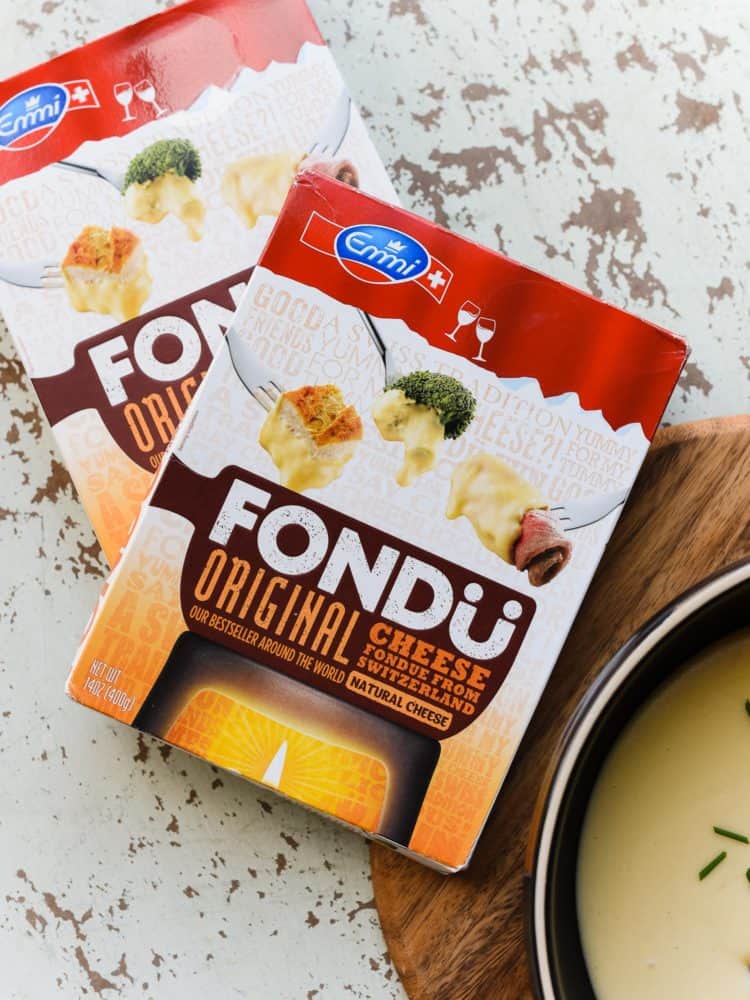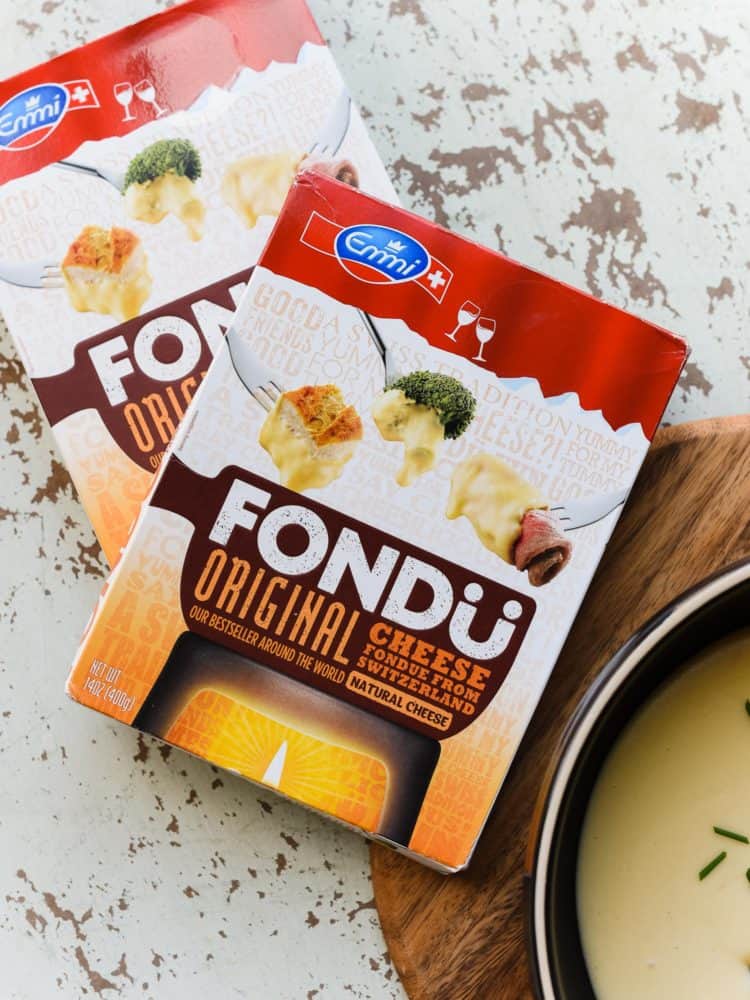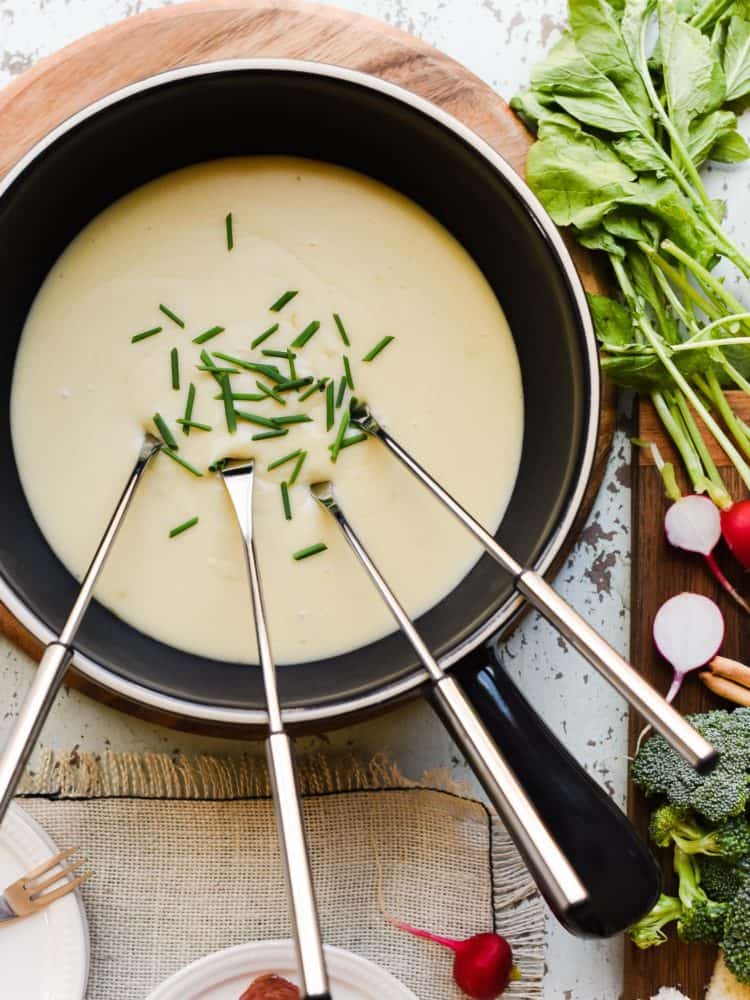 Tips for Hosting a Fondue Party
Start with cheese! Everyone loves cheese, right? Classic flavors include Swiss with a touch of wine, blends of Emmentaler and Gruyere, or the ready to eat Fondu from Emmi USA make it easy. Also, feel free to experiment with your own favorite cheeses! My kids like to blend some of their favorites, so it's nice to have an assortment of melted cheeses to dip into!
You can stick with a cheese appetizer, but also consider dipping meats and vegetables into broth or hot oil for a main course, hot pot style!
Dessert is more fun with fondue! Who doesn't love melted chocolate? From pretzel sticks to fresh fruit, cubes of angel cake to dried fruit — dip your way right to the end of the party.
Color code your fondue forks and keep track of everyone's forks! Some fondue forks come with color coding, but if you're like me and don't have it built in, simply use colorful mini rubber bands and wrap it around the handle.
Use foods with natural handles. Leave those stems on the radishes and baby carrots – they're like built in handles! Same thing with long breadsticks!
Prep in advance and keep vegetables crisp by keeping them in a bowl of ice water. This works whether you are serving the vegetables fresh or par-boiled.
Keep the cheese warm. If you have a fondue set, opt for a gel burner – I find it to be less messy than liquid. But if you don't, do not fret! Keep the fondue pot in a pan of hot water instead.
You can reheat leftover cheese. Simply reheat over low heat on the stove, stirring frequently.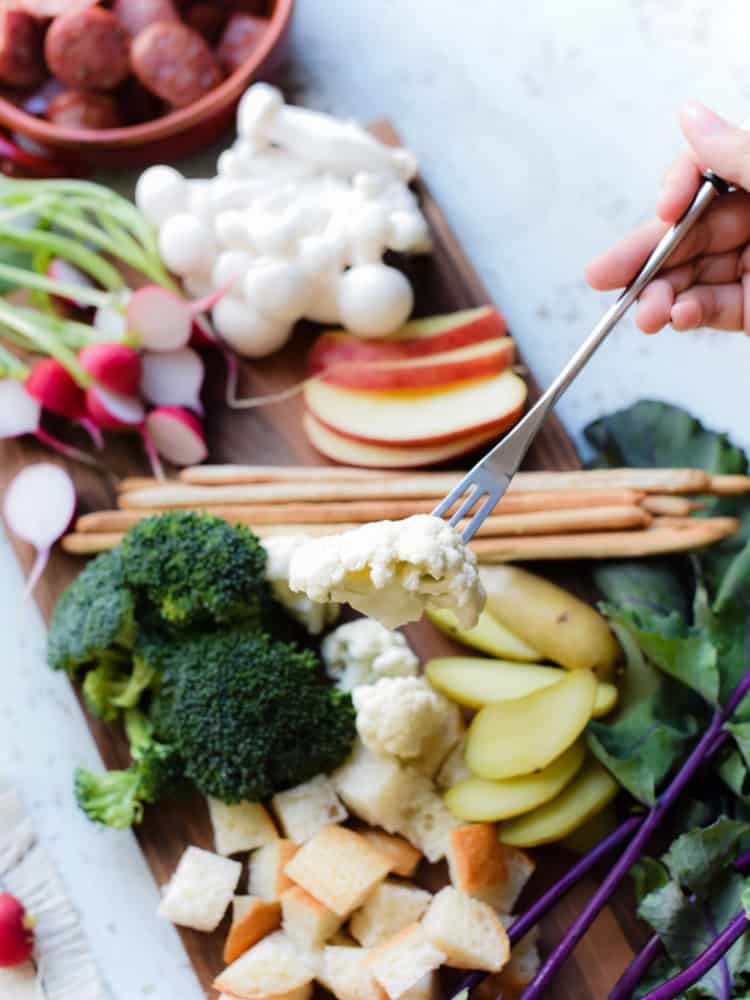 Fondue Party Dips
Cheese: Cubes of baguette, bread sticks, sausage, cubes of cooked steak, ham, turkey, boiled potatoes or sweet potatoes, mushrooms, blanched broccoli and cauliflower, sliced apples and pears, radishes, asparagus, and winter squash.
Broth or hot oil: cubes of steak, shrimp, chicken, firm tofu, mushroom, boiled potatoes.
Chocolate: cubes of pound cake, angel cake, madeleines, dried fruit, fresh fruit (you have to try pineapple!), marshmallows, pretzels.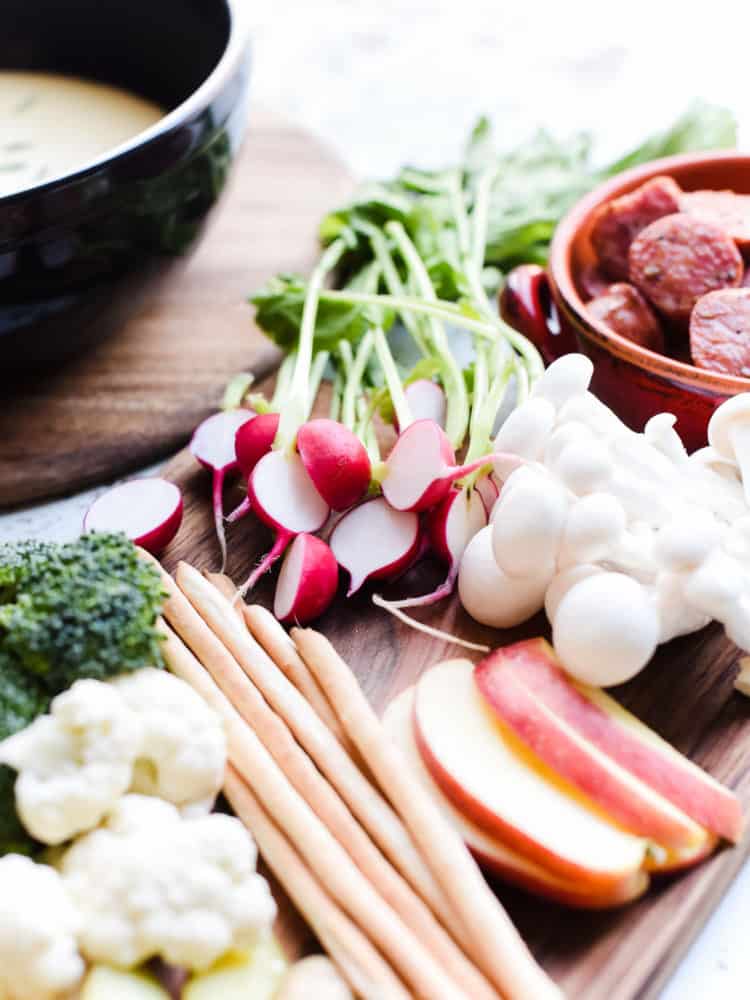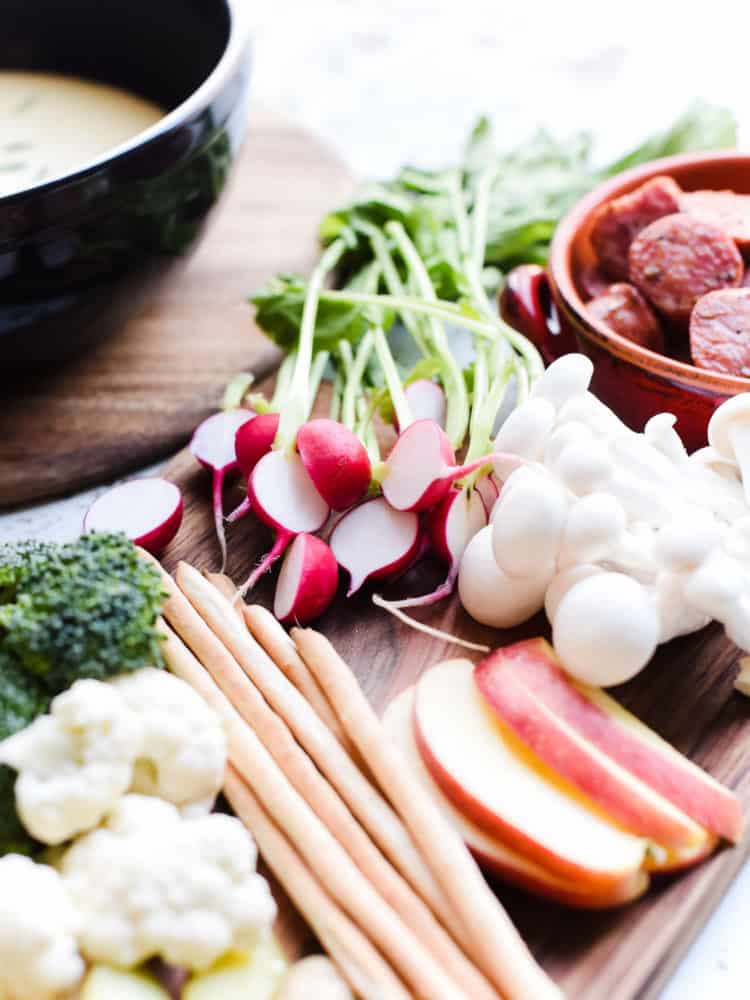 Fondue Party Sips
Wine – because cheese and wine were made for each other! I especially love riesling, pinot noir or prosecco!
Beer – such a pale ale or an IPA.
What are your favorite tips for hosting a fondue party? Please share the dipping fun!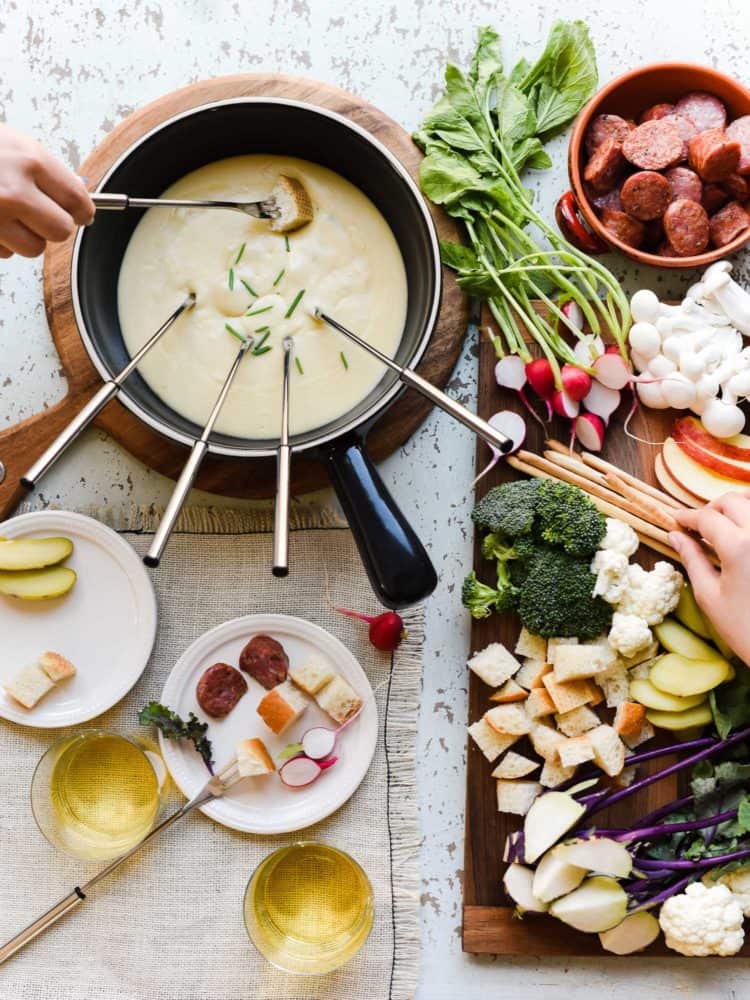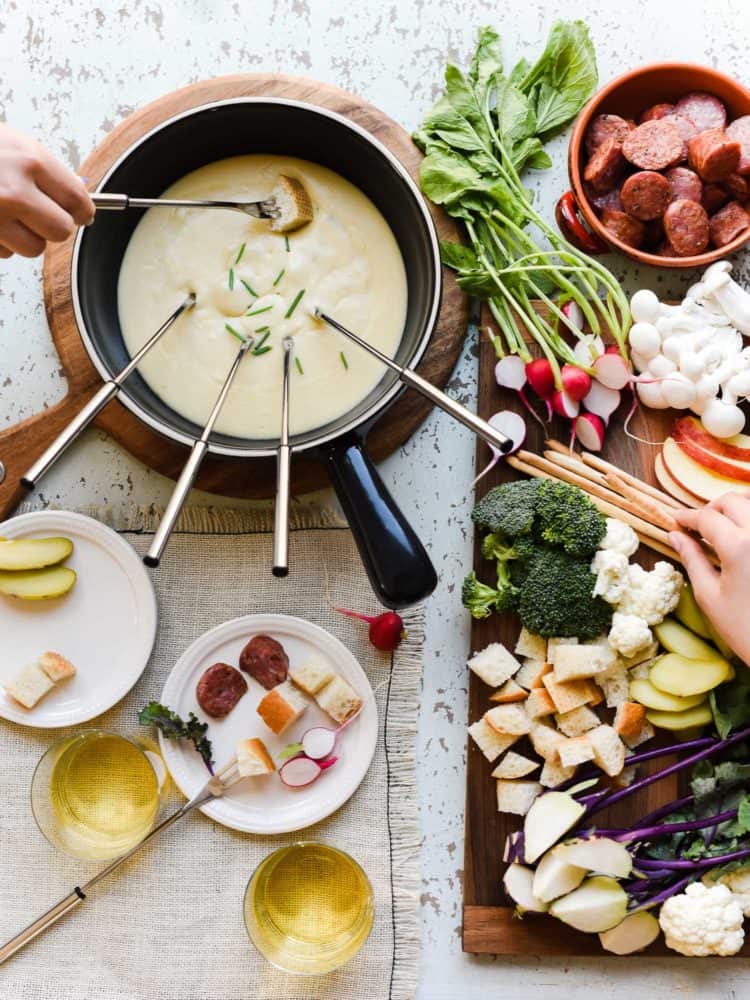 Disclosure: This post is brought to you in partnership with Emmi USA. Thank you for supporting brands that matter to me; sponsored posts such as this help behind the scenes at Kitchen Confidante. All opinions in this post are, as always, my own.