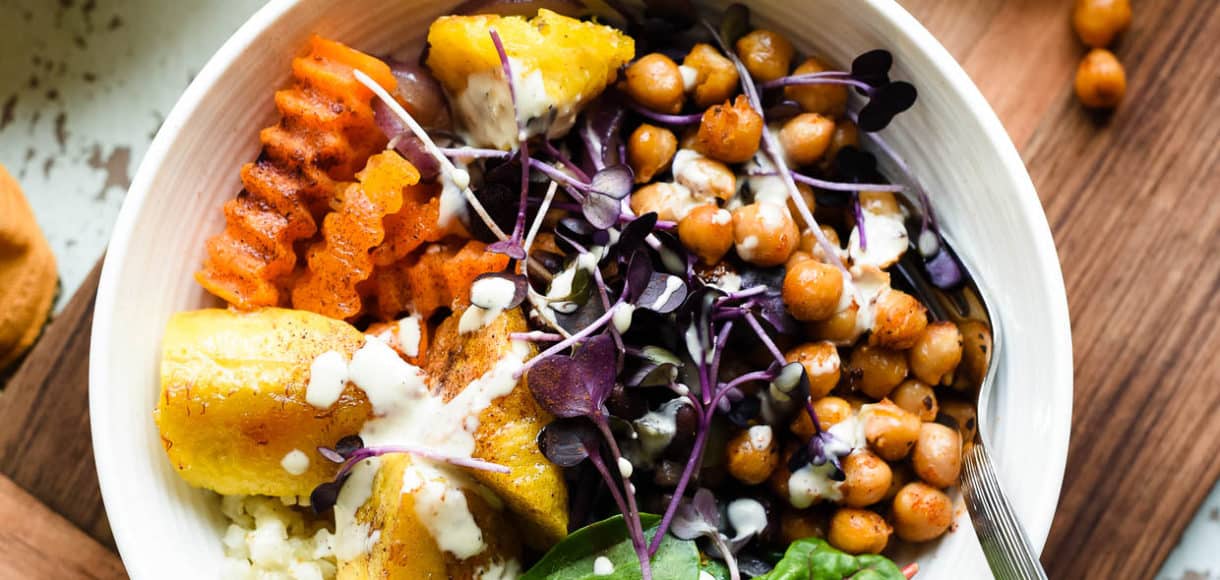 Plantain Buddha Bowl | Simple Sundays
Whether you are detoxing from the weekend or eating healthy all week, this hearty and healthy Plantain Buddha Bowl is full of nutrient rich foods that satisfy and nourish with protein and fiber rich plantains, chickpeas and greens. After a particularly indulgent weekend, one that…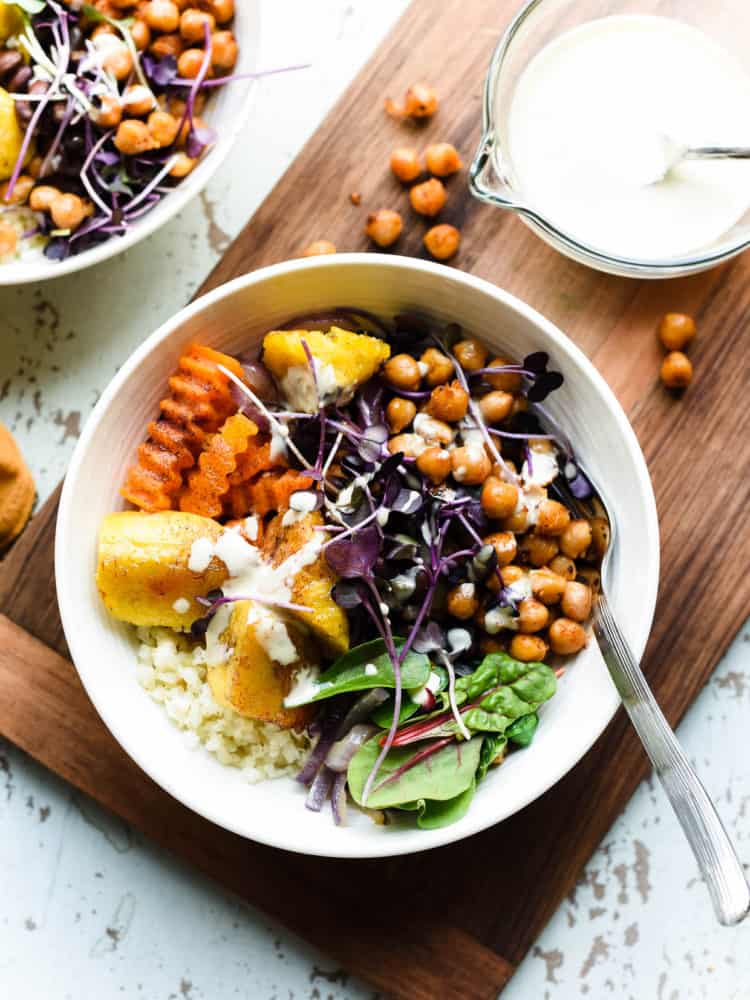 Plantain Buddha Bowl | Simple Sundays
Whether you are detoxing from the weekend or eating healthy all week, this hearty and healthy Plantain Buddha Bowl is full of nutrient rich foods that satisfy and nourish with protein and fiber rich plantains, chickpeas and greens.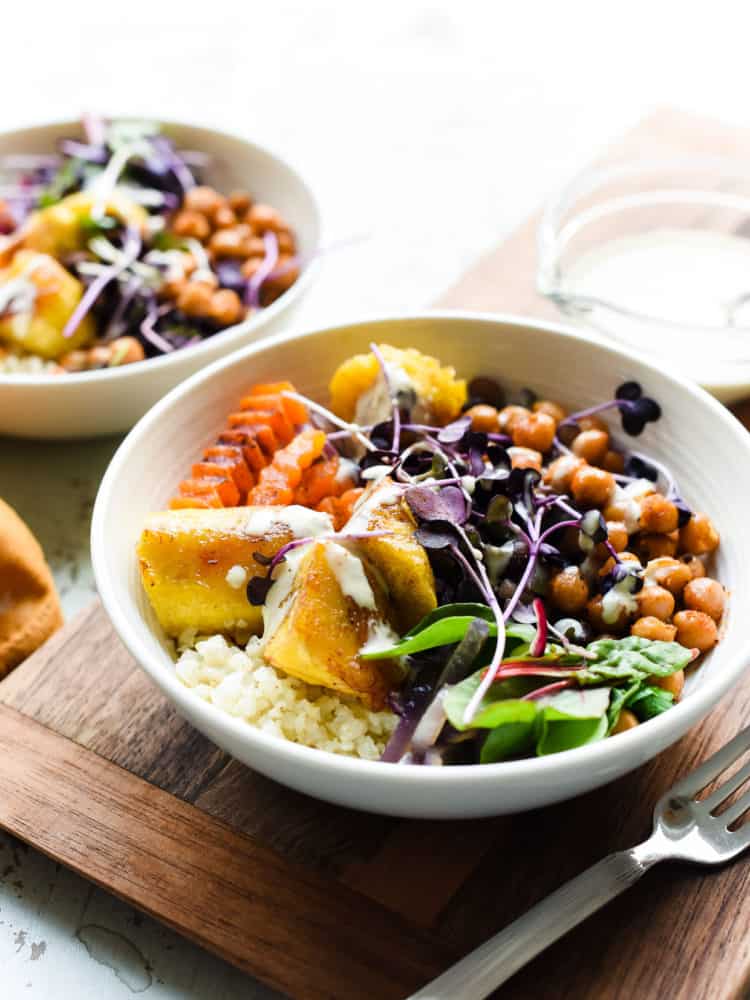 After a particularly indulgent weekend, one that included lots of wine, more than a handful of freshly baked cookies, and several slices of pizza, by the time I said farewell to Sunday, I wanted nothing more than veggies for several days straight.
Mondays are detox days, am I right? The truth is, all week long I try to eat as wholesomely as I can, moonlighting as a part-time vegan, at least at lunch time. I still make my go-to veggie wraps for lunch nearly every day (so predictable, I know), just because it's my fave, and it's easy.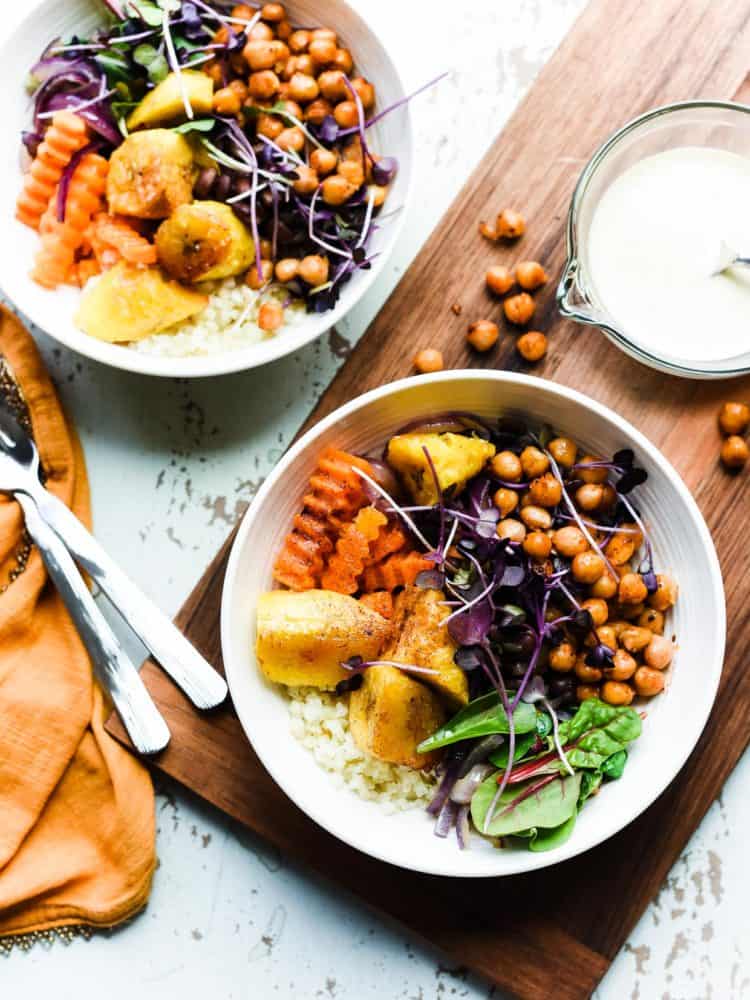 But for those days when I want something a little more hearty, with a little bit of hot-meets-cold in the form of roasted mixed with fresh vegetables, I've been turning more and more to buddha or power bowls.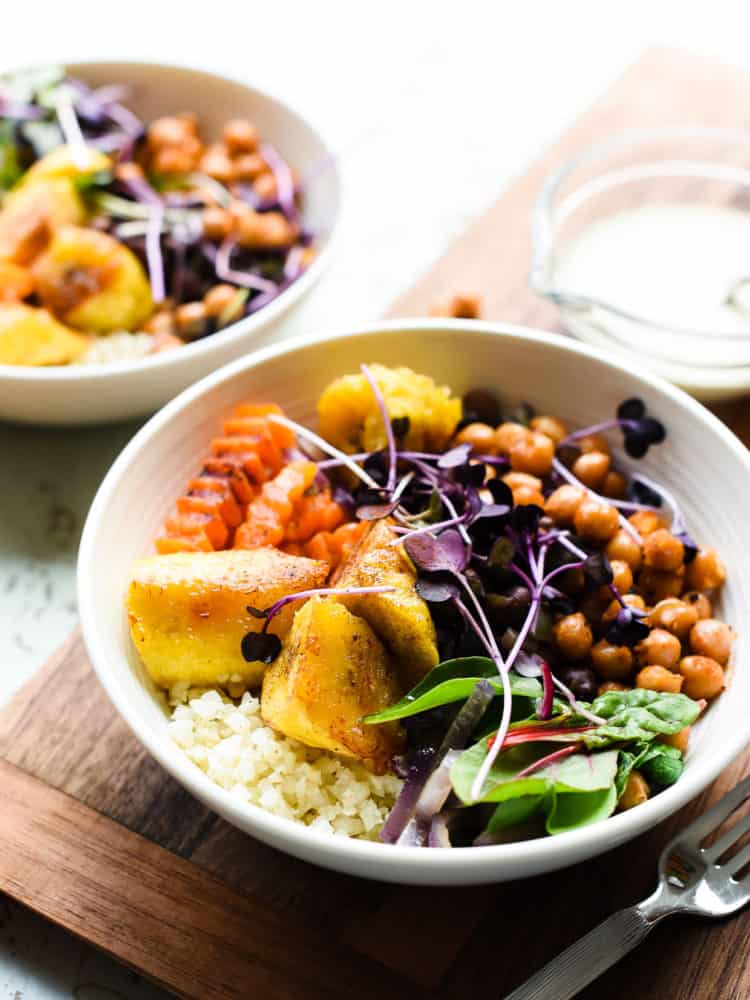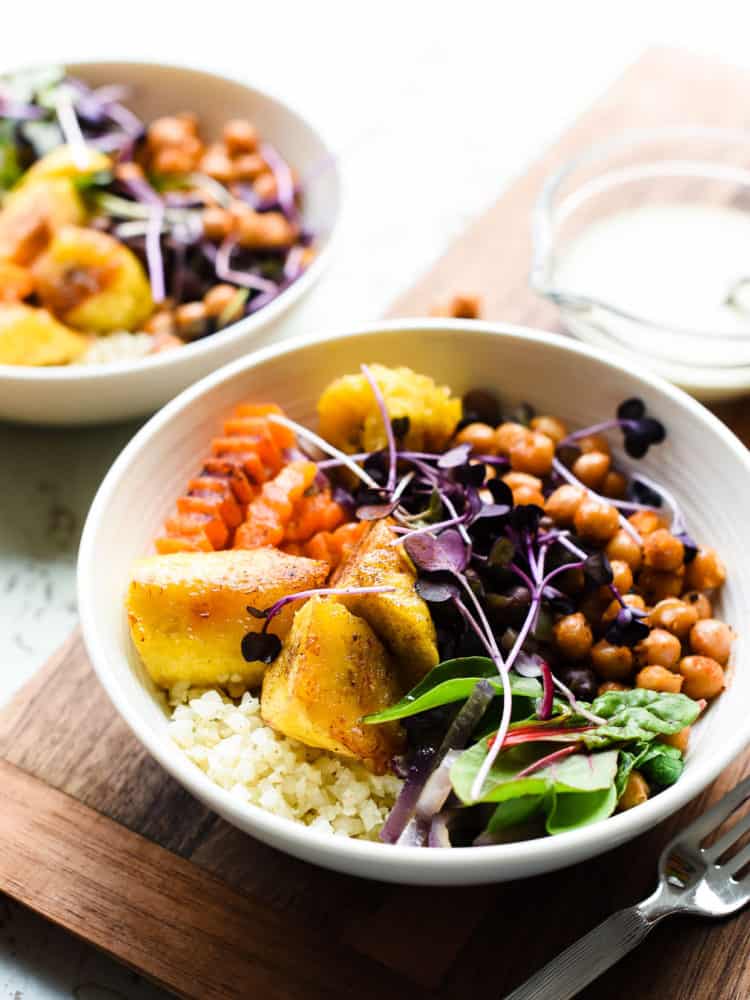 This week, my inner craving for a tropical holiday kept tugging on my sleeve. I've been devouring papayas and pineapple, coconut water and plantains. For me, plantains conjure up memories of the sweet plantains my mom would fry up after school – I would snack on them as I tackled 4th grade vocabulary, and I could always tell by the taste and texture if my mom was feeling impatient and couldn't wait for the plantains to fully ripen.
At its best, she waited until the plantains were utterly ripe and fully speckled black, yielding super sweet plantains that didn't need a sprinkling of sugar whatsoever. Those were sublime.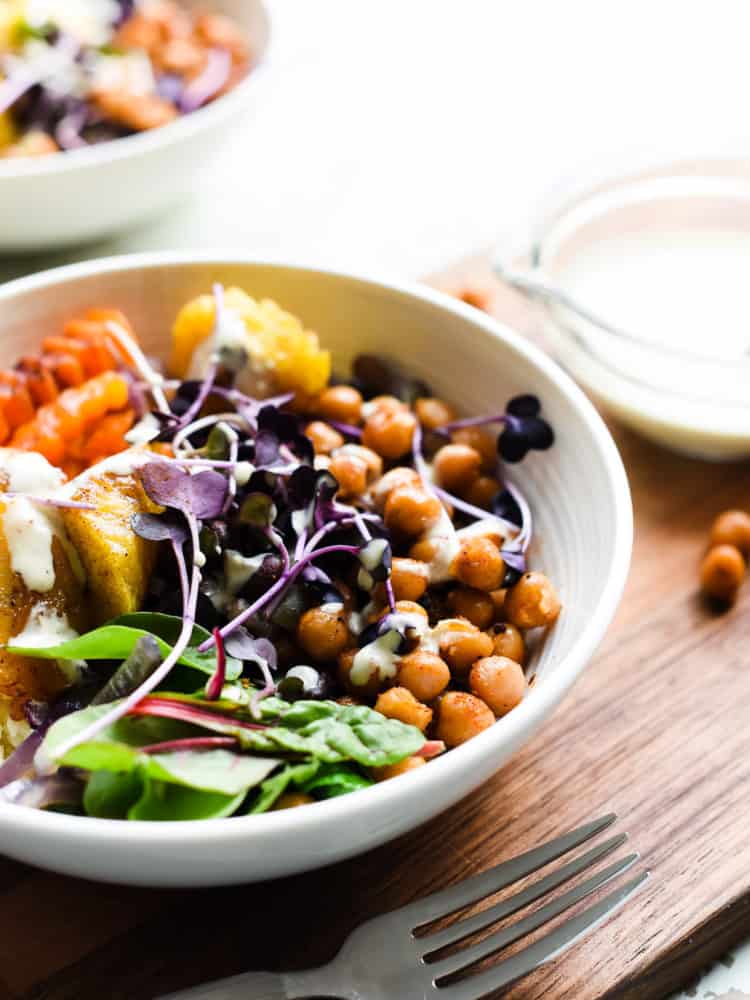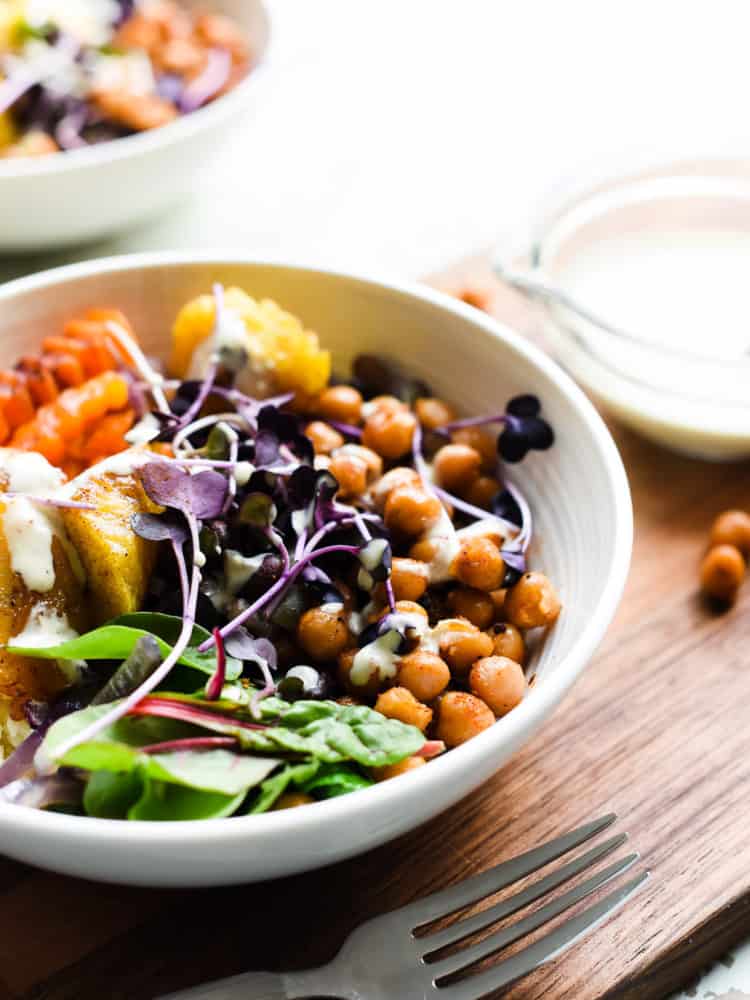 Rather than frying, I decided to roast larger chunks of appropriately ripened plantains in the oven with a sprinkling of brown sugar and cinnamon, along with some sweet potatoes. Mixed in with spiced chickpeas, cauliflower rice and fresh greens, I just loved the sweet and savory flavors in this bowl of power-packed, nutritious foods — this plantain buddha bowl leaves me satisfied for hours. With bowls of wholesomeness this good, it's easy to eat my veggies…at least until the next weekend of indulgence!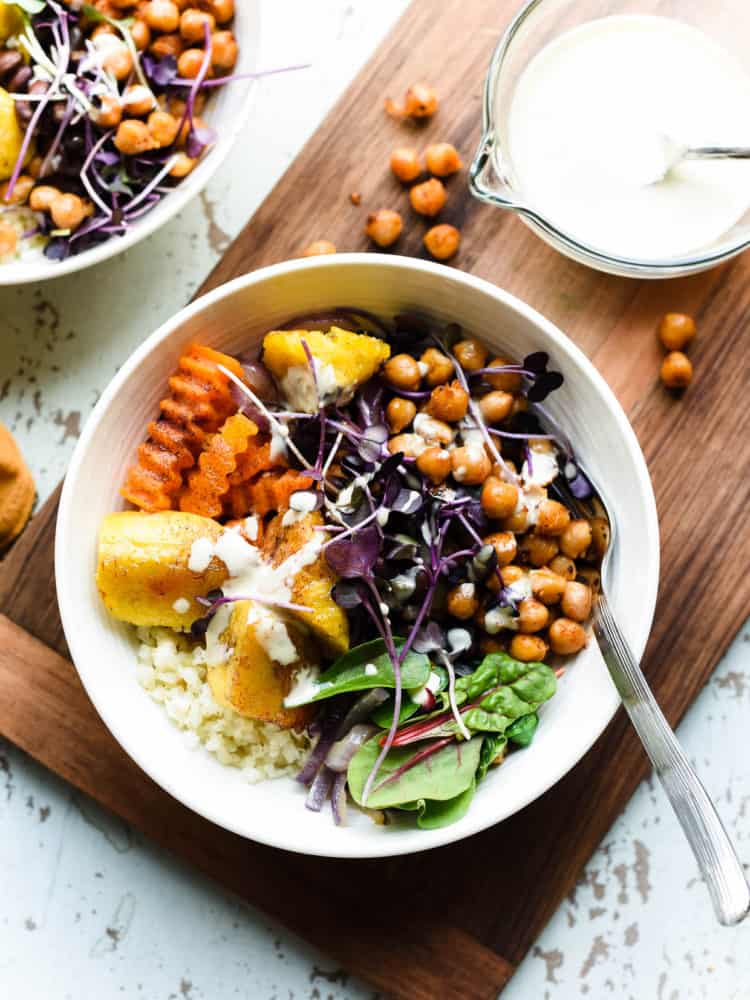 Disclosure: There may be affiliate links in this post
Hearty and healthy, a Plantain Buddha Bowl is full of nutrient rich foods that will keep you satisfied and nourished thanks to protein and fiber rich plantains, chickpeas, sweet potatoes and greens.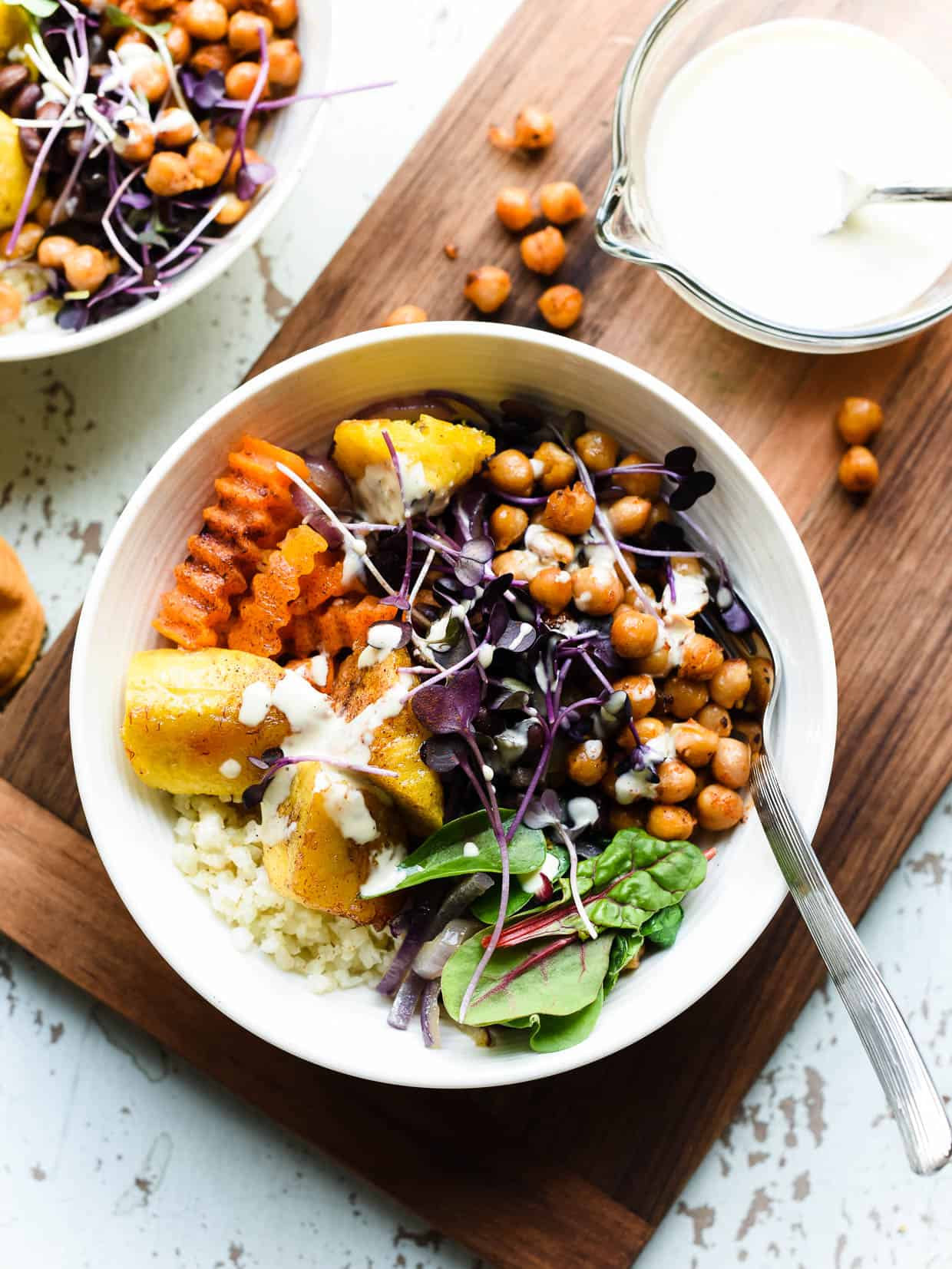 Print Recipe
Ingredients
1 very ripe plantain, sliced in 2 inch pieces
1/2 cup chopped sweet potatoes
1/2 cup sliced red onion
2 tablespoons olive oil, divided
2 teaspoons brown sugar, divided
1 teaspoon cinnamon
Kosher salt
Freshly ground black pepper
1 1/2 cups chickpeas
1/2 teaspoon chili powder
1 cup riced cauliflower
4 oz mixed greens
1/4 cup tahini sauce
1 teaspoon apple cider vinegar
Instructions
Preheat the oven to 400°F.
Place the sliced plantains, sweet potatoes and onion on a baking sheet and toss with 1/2 tablespoon of olive oil, brown sugar, cinnamon, salt and pepper. Spread it out in an even layer and roast for about 20 minutes, turning the vegetables about half way through.
Meanwhile, in a small bowl, toss the chickpeas in the chili powder, remaining brown sugar, and a little salt and pepper. Heat a skillet over medium high heat, add 1 tablespoon olive oil, and cook the chickpeas, stirring occasionally, until brown, about 5 minutes. Set aside.
Add remaining olive oil to the pan and toast the riced cauliflower for about 3 minutes.
To make the dressing, whisk together tahini sauce with the vinegar and season lightly with salt and pepper.
To serve, divide the plantains, sweet potatoes, onion, chickpeas and cauliflower between 2 bowls. Top with the chickpeas and greens. Drizzle with tahini dressing. Serve with additional dressing on the side.