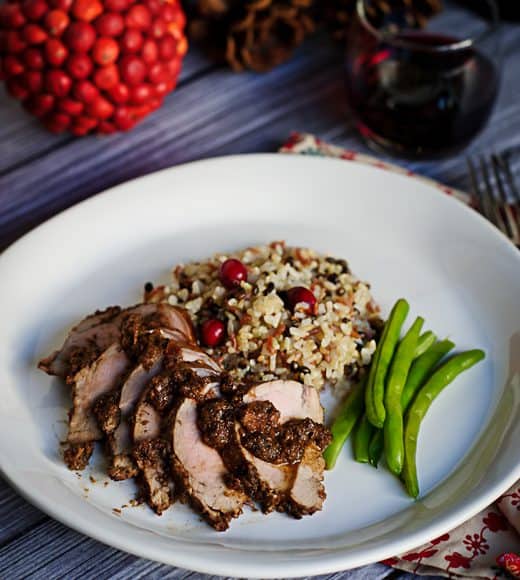 Pork Tenderloin with Cranberry Wine Sauce
An unexpected visitor arrived on Monday morning. He must have arrived in the dark of night, undetected by all of us, even the dog. The only clue we had to his presence was a book left on the kitchen table. My children stumbled down to…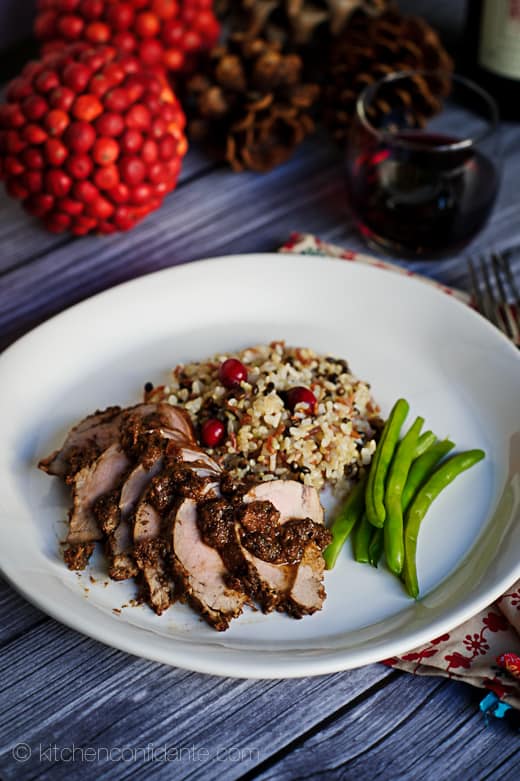 Pork Tenderloin with Cranberry Wine Sauce

An unexpected visitor arrived on Monday morning. He must have arrived in the dark of night, undetected by all of us, even the dog. The only clue we had to his presence was a book left on the kitchen table.
My children stumbled down to breakfast and their sleepy eyes grew wide. Mommy! An elf! We have an elf on the shelf! We have to find him! Snowflake, as he was named, has never been to our house before. And yet, there he was, on the mantel, making himself comfortable amongst the branches of garland.
His presence has stimulated many questions, as you can imagine. Why doesn't he blink? This puzzled my son the most, until I explained that Snowflake has probably been instructed to be perfectly still when he and his sister are around. But my son thought he could outsmart him. That first afternoon, I found him doing quick double takes over his shoulder. Did you catch him? Did he blink? I asked.
Yes, my son nodded confidently, with a satisfied smirk.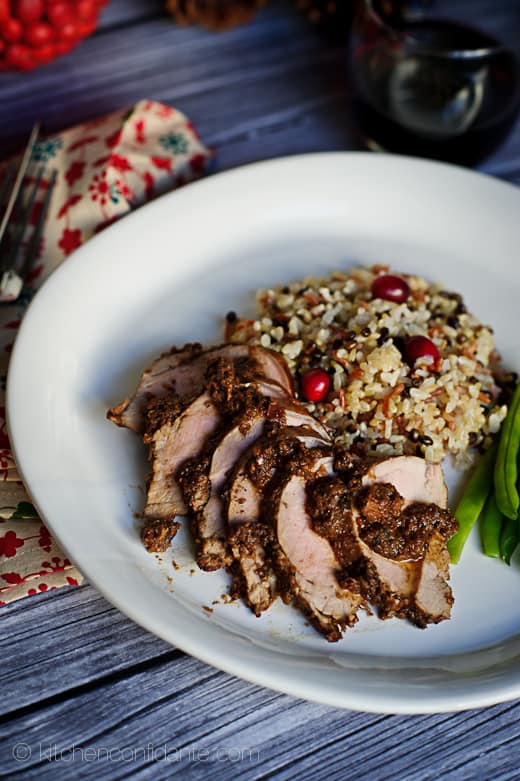 Perhaps he's right. As I was cooking that afternoon, it was a little odd knowing that there was, indeed, an elf watching carefully. Did he spy the cranberries that I blitzed into a paste with garlic and jalapeño? Could he see the deep color it imparted on the pork tenderloin browning in the pan? And smell the inky Pinot Noir deglazing the rich tidbits as it bubbled in the oven?
If so, I wouldn't be surprised if he told the big guy himself when he returned to the North Pole that evening. He probably even snuck a bite.
Pork Tenderloin with Cranberry Wine Sauce
This dish came about as I was trying to use up some of fresh cranberries - simple enough for a weeknight meal, this roast pork tenderloin has enough gusto to be a serious dinner party main course. The cranberries' natural tartness lends a nice acidity to the pork, which is rounded out by a little heat from jalapeno and an earthy sauce from a good glug of pinot noir.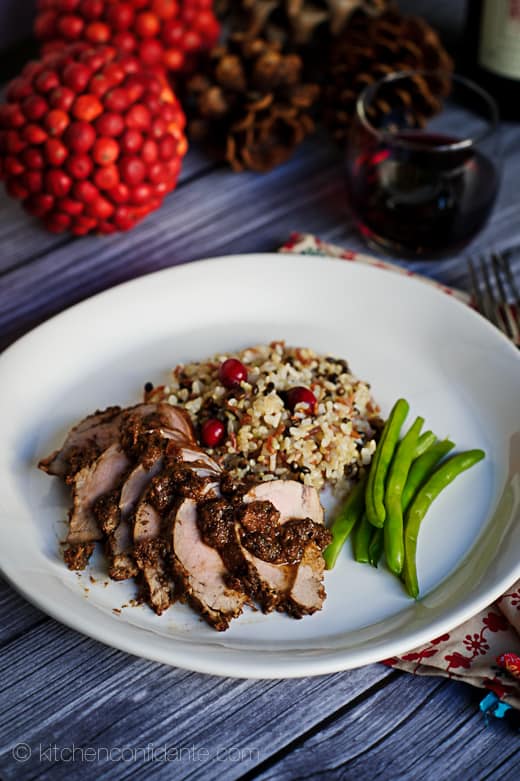 Print Recipe
Ingredients
6 garlic cloves
1 jalapeño, seeded
1 cup fresh cranberries
2 scallions
2 teaspoons soy sauce
2 tablespoons white balsamic vinegar
2 1/2 teaspoons coarse salt
1/2 teaspoon freshly ground pepper
3 tablespoons olive oil
2 pork tenderloins (about 1¼ pounds each)
2 tablespoons canola oil
1 cup red wine, such as a pinot noir
Instructions
Preheat the oven to 400°F.
In the bowl of a food processor, place the garlic and jalapeño, and puree to a fine mince. Add the cranberries and scallions and mince again. Add the soy sauce, balsamic vinegar, salt, pepper and olive oil, and blend to a paste. Slather the pork tenderloins with the cranberry paste and if you have time, allow to marinate for some time (up to overnight in the refrigerator.)
Heat canola oil in a large, heavy saute pan over medium-high heat.  Working in batches if necessary, add pork, and brown all over, about 4 minutes. Pour the red wine and any remaining marinade into the pan and use a wooden spoon to scrape up any browned bits at the bottom of the pan.
Transfer pan to oven. Roast pork uncovered, turning occasionally, until the internal temperature is 160 degrees, about 20 minutes. Transfer pork to a cutting board, and try to let it rest 10 minutes before slicing. Serve with the remaining pan sauce.