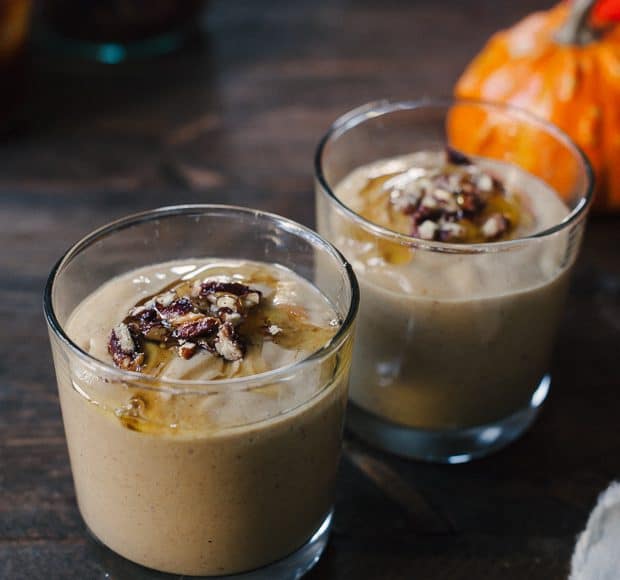 Pumpkin Butter Smoothie
I looked at the forecast this morning. 90 degrees! In October! Where is fall? My jeans want to know. My boots are tapping on their boxes, begging to come out. Even my jackets are looking a little forlorn, sagging at the shoulders on the hangers.…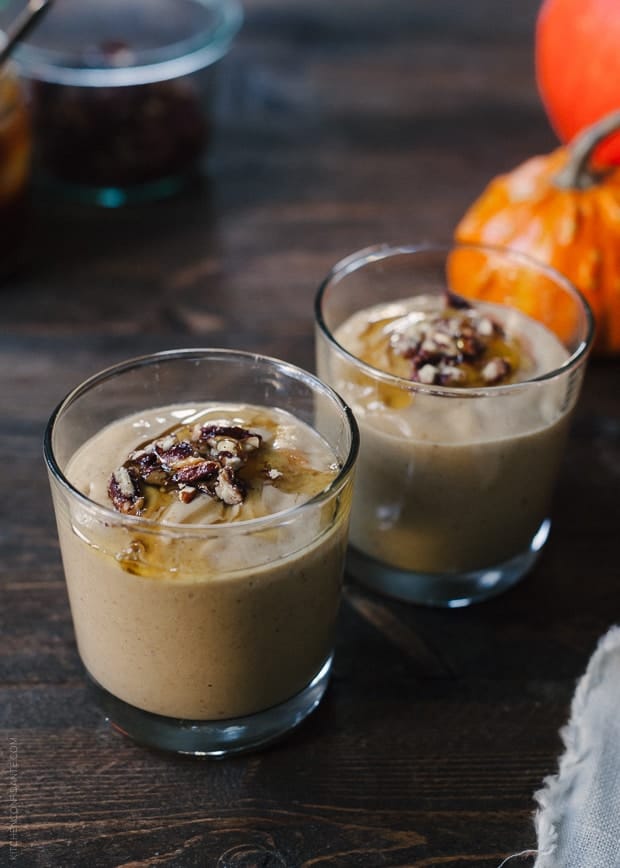 Pumpkin Butter Smoothie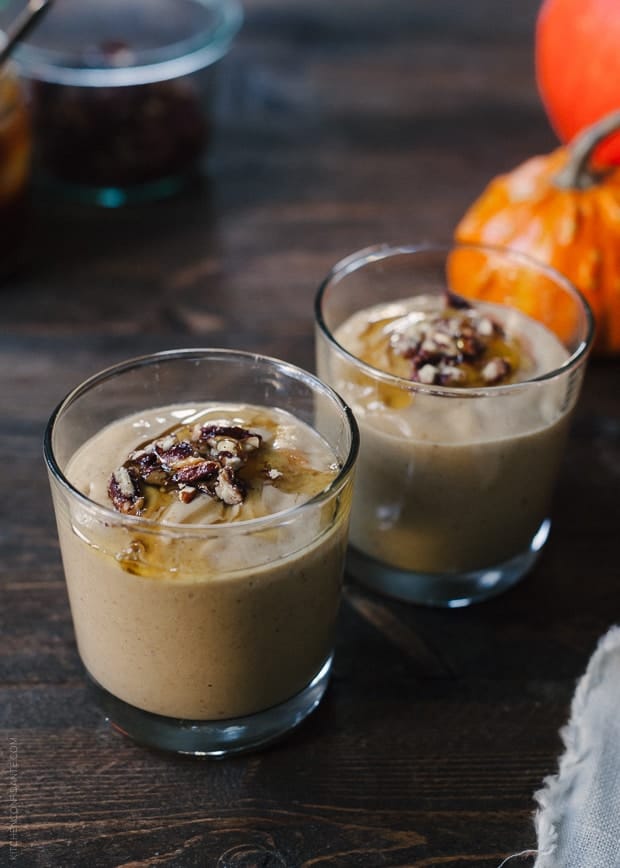 I looked at the forecast this morning.
90 degrees! In October!
Where is fall? My jeans want to know. My boots are tapping on their boxes, begging to come out. Even my jackets are looking a little forlorn, sagging at the shoulders on the hangers.
It looks like we have another warm spell upon us in my part of the world, but that doesn't mean we can't enjoy autumn inspired flavors. Just when I thought I've figured out every possible way to enjoy pumpkin butter, I found one more. And it's perfect for a day like today.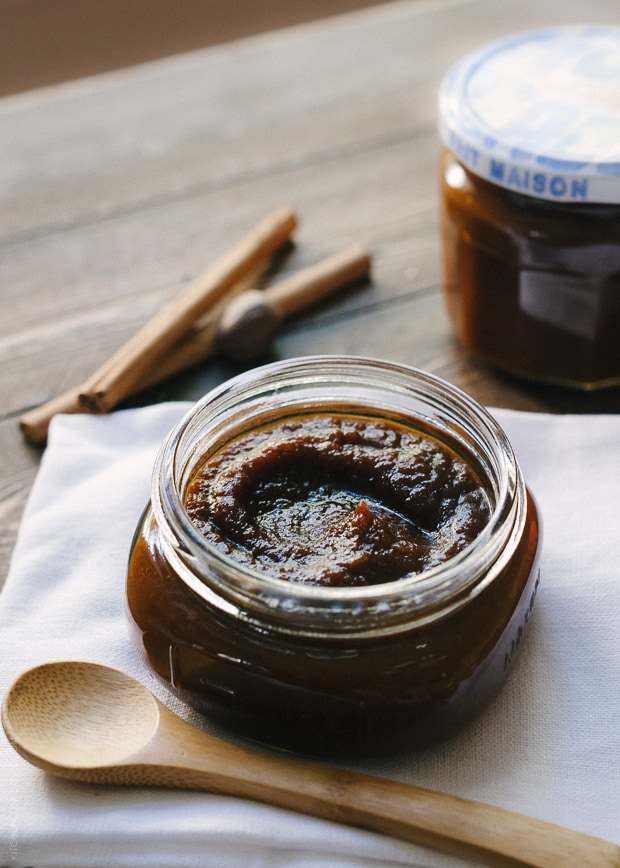 Pumpkin Butter Smoothies! Yes, that's right – blend it into a cool and creamy and very autumny (That is a word, right? Well, it should be.) smoothie. I did add sprouted pumpkin seeds for extra protein, so that makes it a little more healthy, right? The truth is, it tastes more like dessert. Drizzled with honey and sprinkled with crushed candied pecans, it's like pumpkin pie in a cup.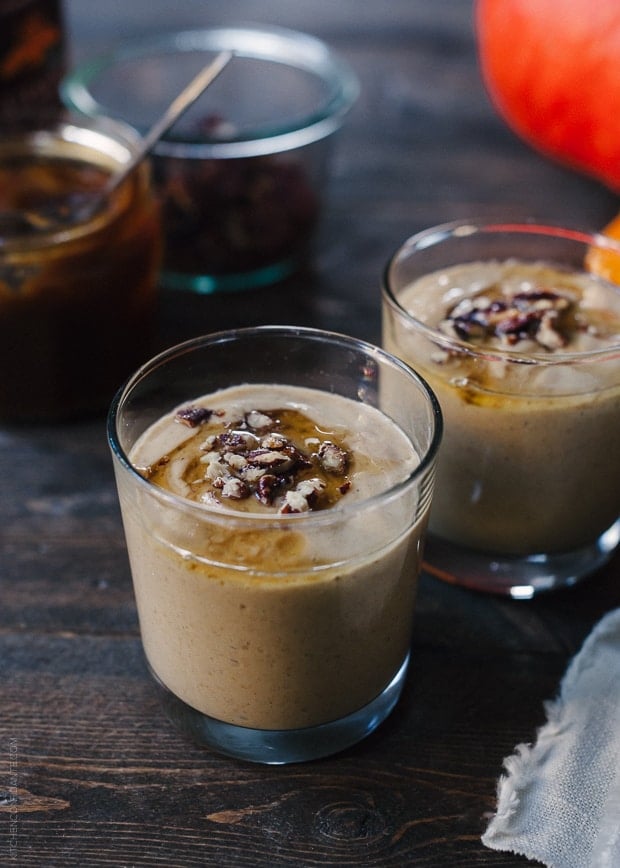 Eat Seasonal
Join my friends and I who embrace eating seasonally! The autumn flavors are in full force – thank you, October! Just look at all this #eatseasonal inspiration: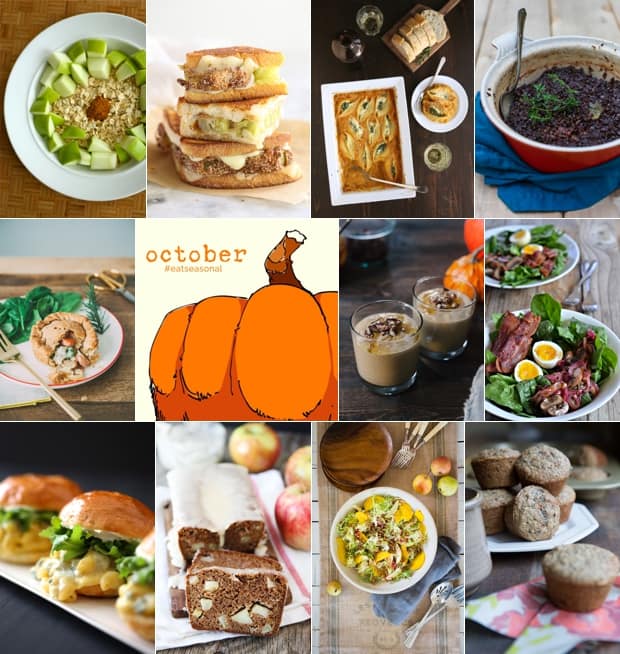 Get the delicious recipes:
Beet Braised Lentils with Thyme and Apples by Simple Bites
Butternut Squash Mac & Cheese Sliders with Gorgonzola & Arugula by Climbing Grier Mountain
Kale and Ricotta Stuffed Shells with Butternut Squash Sauce by Completely Delicious
Warm Spinach Salad with Mushroom-Bacon Vinaigrette by Mountain Mama Cooks
Apple Bread with Brown Butter Glaze by Two Peas and Their Pod
Mini Chicken Pot Pies by My Name is Yeh
Fall Frisee Salad by Cafe Johnsonia
Microwave Apple Cinnamon Oatmeal by Project Domestication
Fried Green Tomatoes Grilled Cheese Sandwich by Foodie Crush
Carrot and Date Bran Muffins by Vintage Mixer
Check out the October produce guide on The Vintage Mixer. Thank you so much, Becky, for organizing such a delicious round up of recipes!
Pumpkin butter adds a taste of fall into this delicious smoothie!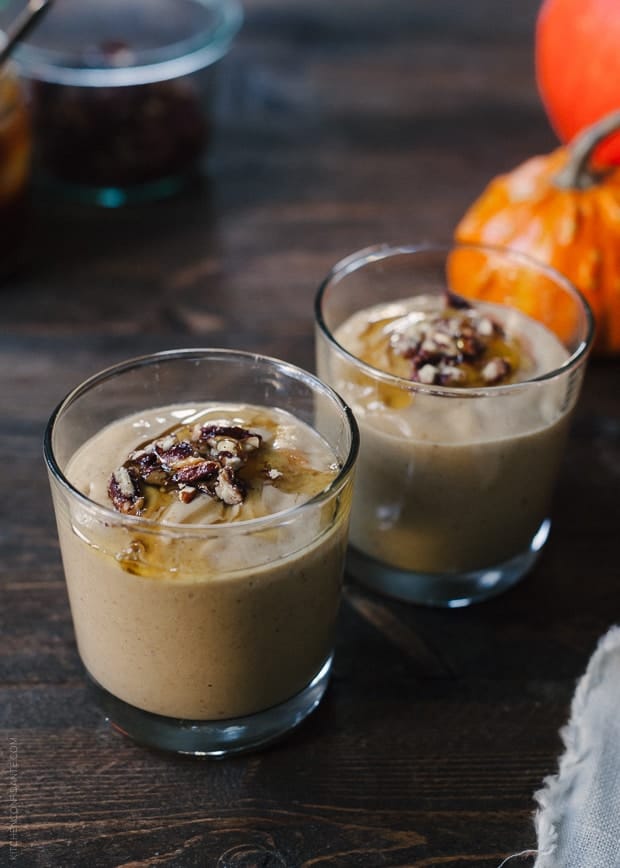 Print Recipe
Ingredients
6 oz nonfat Greek yogurt
1/2 cup vanilla soy or almond milk
1/3 cup pumpkin butter
1/2 frozen banana
2 tablespoons pumpkin seeds
1 tablespoon honey, divided
candied pecans for serving
Instructions
Place the Greek yogurt, soy/almond milk, pumpkin butter, frozen banana, pumpkin seeds and 1/2 tablespoon honey into a blender. Blend until smooth and creamy. Pour into glasses, and garnish with remaining honey and crushed candied pecans. Enjoy immediately.