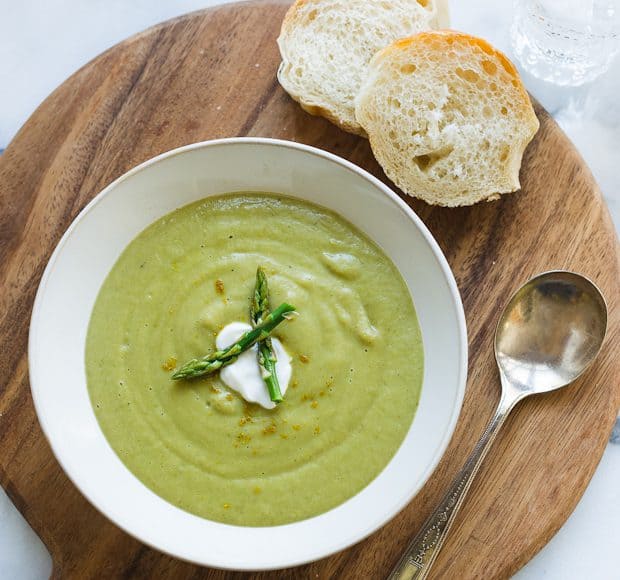 Roasted Asparagus and Sweet Potato Soup
This post originally began with a snarky sentence about Mother Nature coping with mood swings. But a moment of distraction gave way to a glance at social media. My heart sank at the news I discovered. All of a sudden, my annoyance with the fluctuation…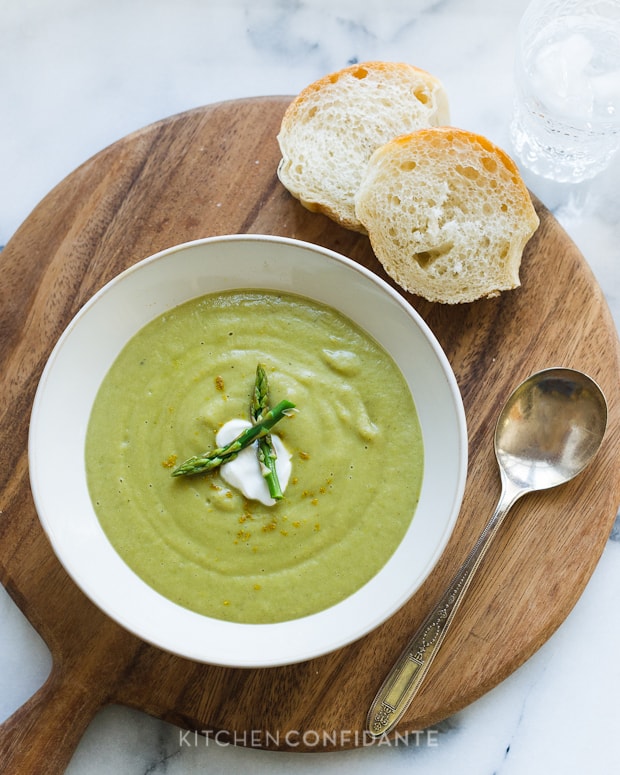 Roasted Asparagus and Sweet Potato Soup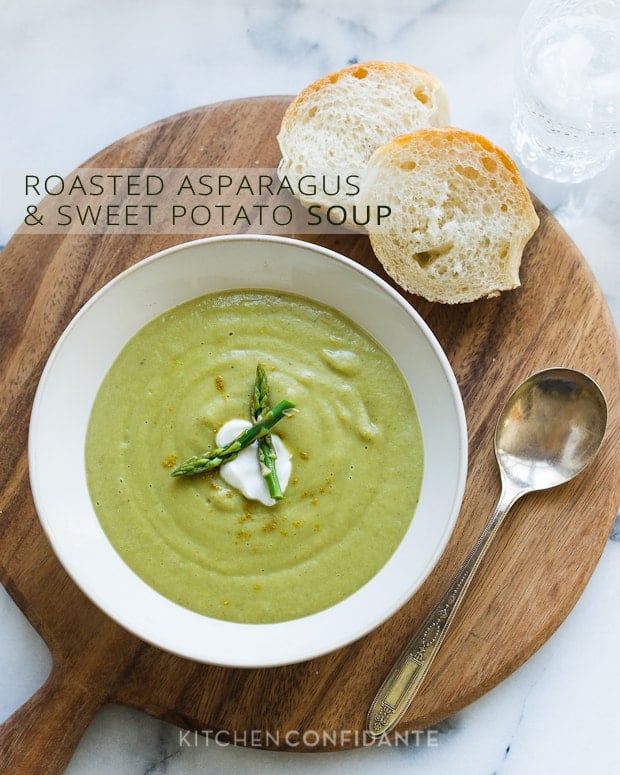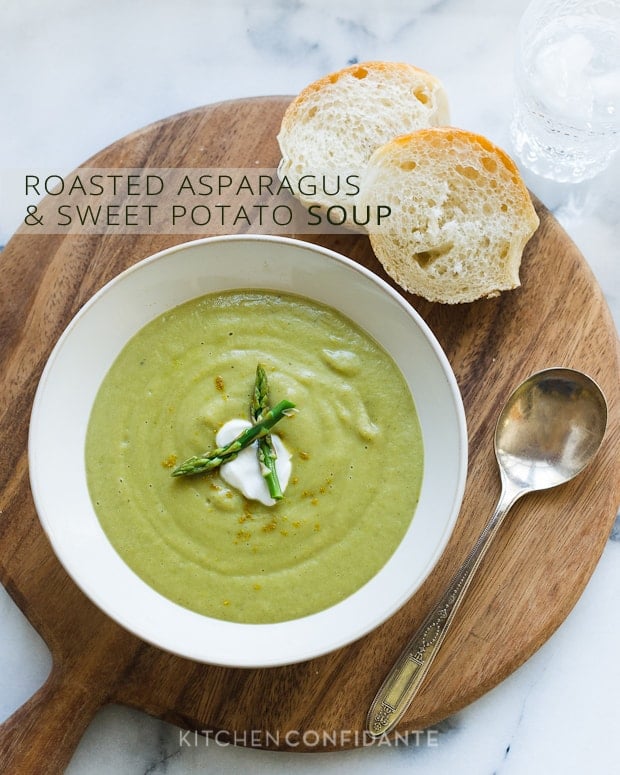 This post originally began with a snarky sentence about Mother Nature coping with mood swings. But a moment of distraction gave way to a glance at social media. My heart sank at the news I discovered. All of a sudden, my annoyance with the fluctuation in weather became insignificant.
I find myself at a loss to understand these moments, which are all too frequent. What drives someone to cause harm? What motivates them to hurt innocent people? Children? To destroy lives? I feel for the runners who traveled to Boston, each of whom had their reason to run. For some, it is personal, part of their human fiber to race. Some runners have a personal crusade. And some have a cause. I feel for them, and for their families and friends. I feel for their innocence. I wish I could bring them comfort.
This is a bowl of Roasted Asparagus and Sweet Potato Soup. It is healthy. It is nourishing. It fills your belly. It is what I have to offer today. Because my words certainly don't feel adequate enough.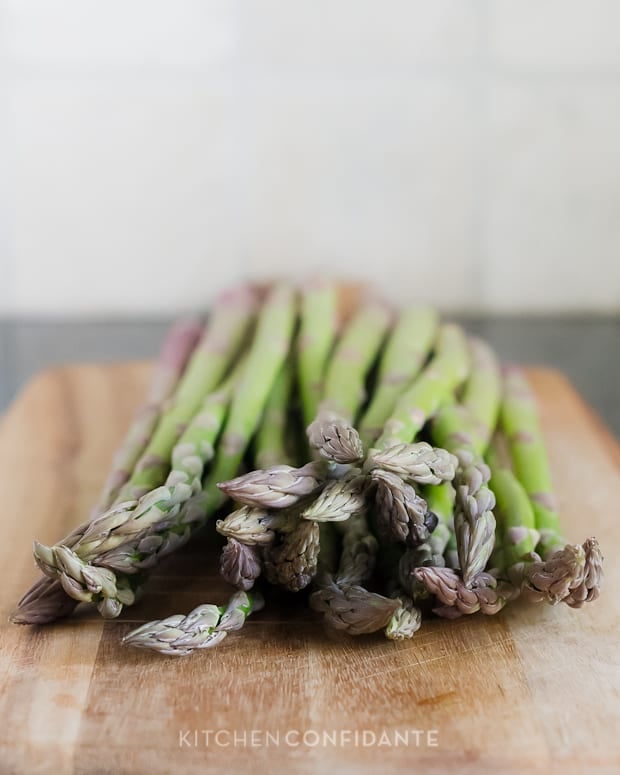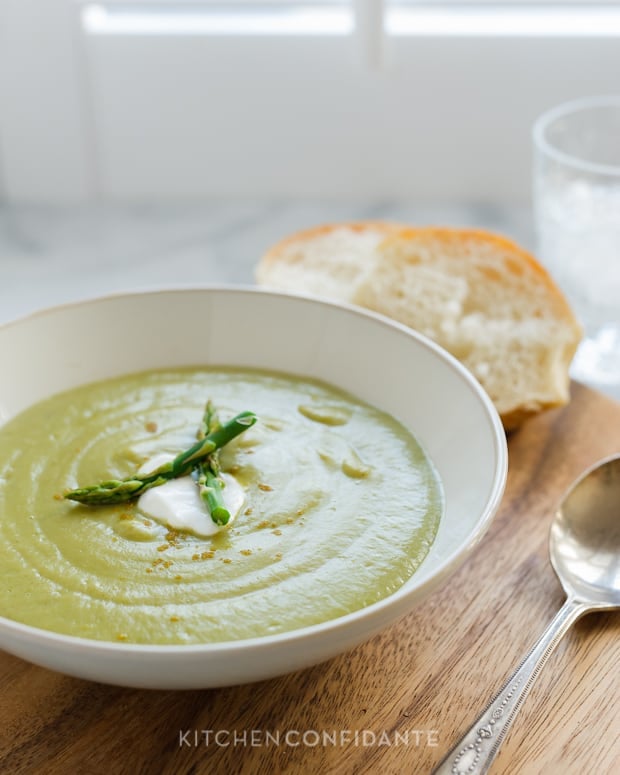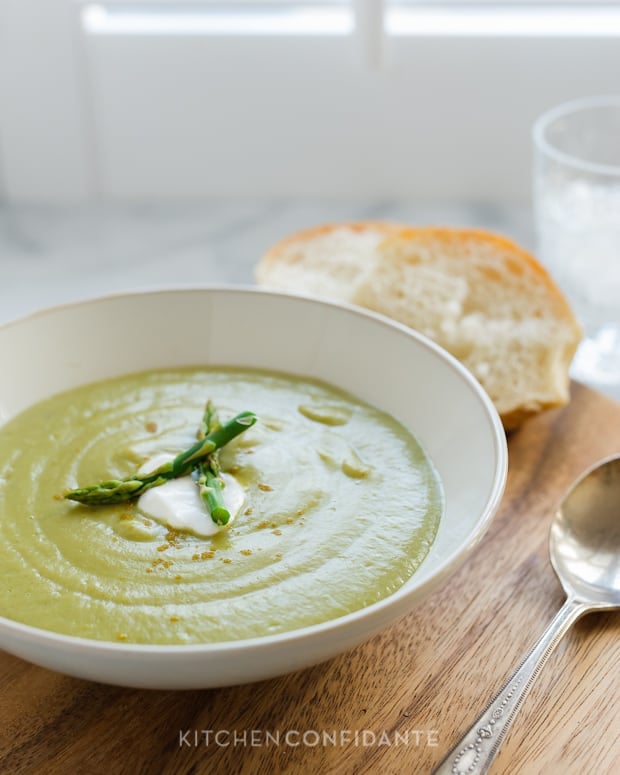 Roasted Asparagus and Sweet Potato Soup
Roasting the vegetables brings an extra rich flavor to the soup. If you do not have a sweet potato on hand, a regular russet potato will work just as nicely.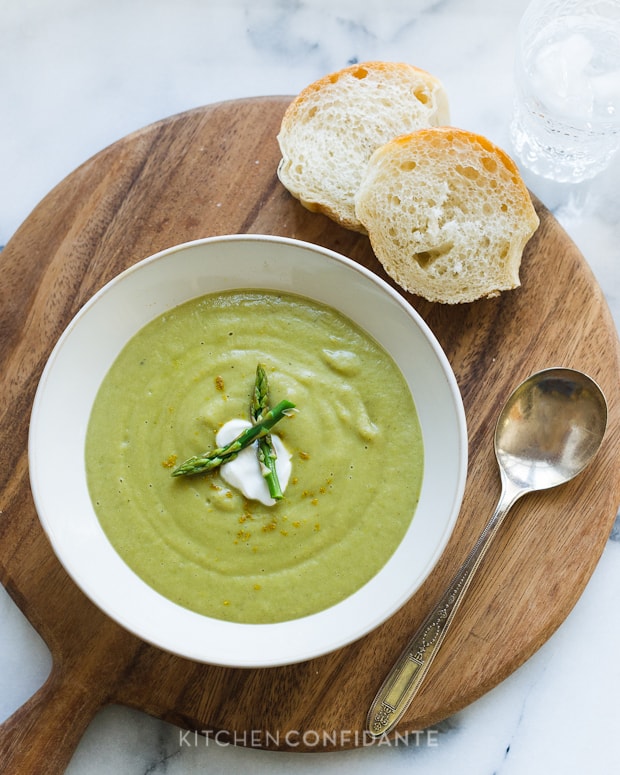 Print Recipe
Ingredients
1 pound asparagus, stalks sliced into 1 inch pieces
1 sweet potato, cut in 2 inch chunks (a regular potato will work too)
3 cloves garlic
1/4 cup extra virgin olive oil
Kosher salt, to taste
Freshly ground black pepper, to taste
2 tablespoons butter
1 leek, trimmed, cleaned and sliced
3 cups low sodium chicken broth
1/2 teaspoon curry powder
Creme fraiche, for garnish
Instructions
Preheat the oven to 350 degrees. Toss the asparagus, sweet potato and garlic cloves in olive oil and spread it out on a baking sheet lined with foil. Season with salt and pepper. Roast in the oven for about 20 minutes, or until the asparagus and sweet potatoes are just fork tender. Remove from oven and reserve asparagus tips. Peel the skin from the sweet potatoes and garlic cloves and discard.
In a large saucepan, melt the butter over medium low heat and add the leeks and the roasted garlic. Cook until the leeks are transparent. Add the asparagus stalks and sweet potatoes, along with the chicken broth and curry powder. Bring to a low boil, then place in a blender, working in batches if necessary. Blend the soup and return the puree to the saucepan and reheat the soup, adding the reserved asparagus tips. Season to taste with salt and pepper. Serve immediately, garnished with creme fraiche, if desired.