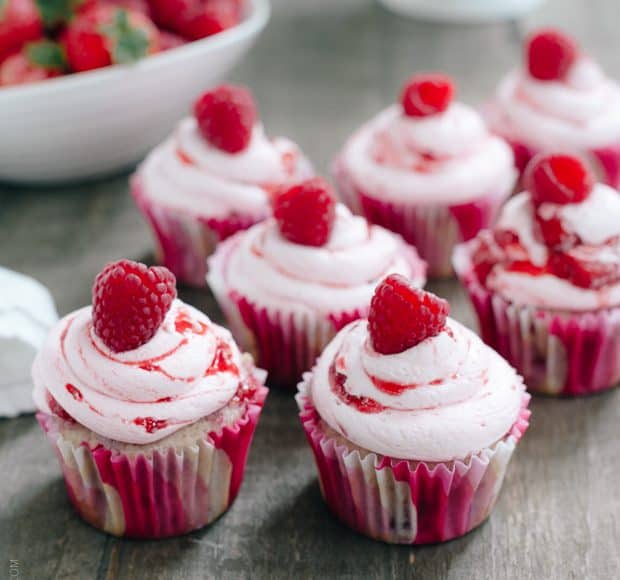 Roasted Berry Cupcakes + A KitchenAid Stand Mixer Giveaway
"Mom, what day is it today?" I would ask her this question every morning when I was a little girl, back when the days of the week all blurred into one, when I was too young to have to care about the difference between a…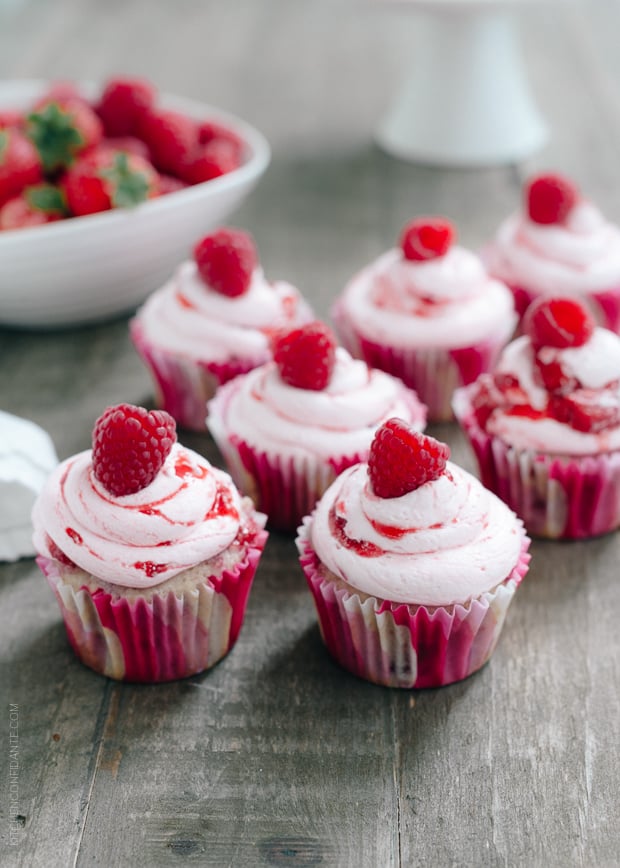 Roasted Berry Cupcakes + A KitchenAid Stand Mixer Giveaway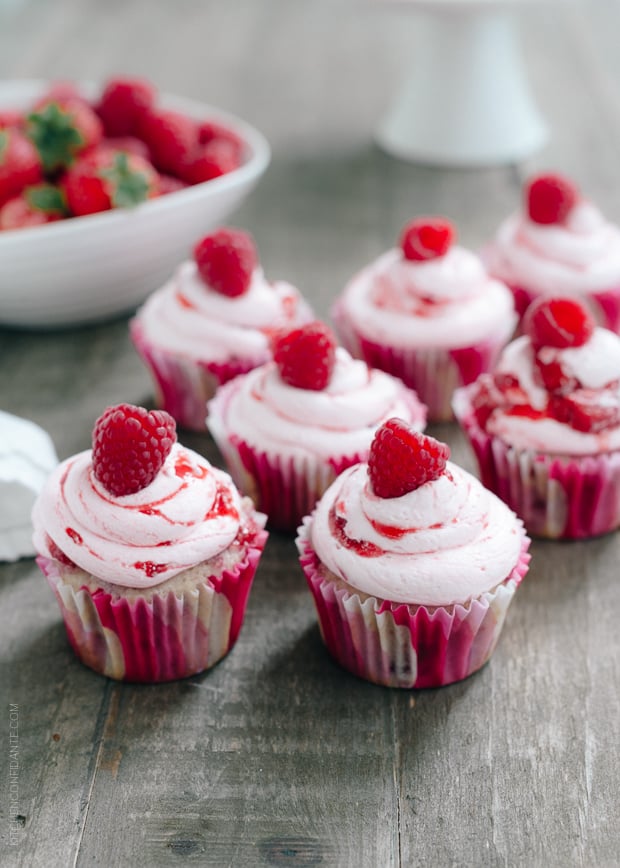 "Mom, what day is it today?"
I would ask her this question every morning when I was a little girl, back when the days of the week all blurred into one, when I was too young to have to care about the difference between a Monday and a Friday. But I did care, because she was a nurse, and during the week, I hated watching her drive down the street to start her shift.
But if she told me it was Saturday, my heart would jump for joy. Saturday meant she didn't have to go to work. She would be home, with me, and the day was ours. It meant she would be in the kitchen, baking breads or cakes, and I would watch, eager to just have my mom all to myself. The promise of spending the day with her was sweeter than any cookie or brownie that would come out of the oven.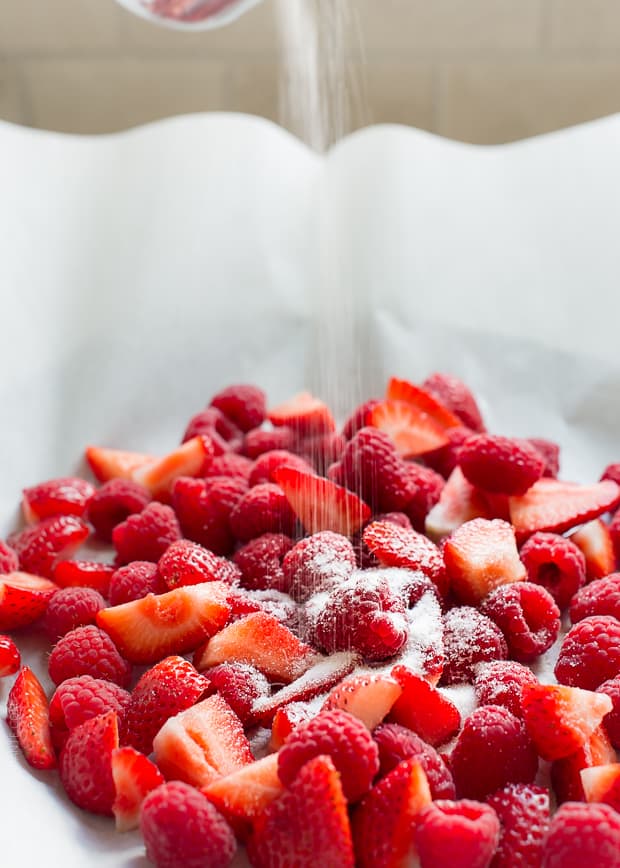 I think back to those mornings when I would ask her that question. Of how I would stall when she would ask me what I wanted for breakfast. The longer I would take making a decision meant she would sit on the edge of my bed just a few minutes more. I would joke that I wanted the lampshade or a sneaker for breakfast, and she never lost her cool. She would patiently prod me to make a real breakfast choice, and eventually, I would be a good little girl and do as I was told. But if I could make those mornings last forever, I would.
If I could have made her life on earth last longer, I would.
Many of you know that my mother fought for her life, twice. Breast cancer came at an early age, years before pink ribbons and the breast cancer awareness was part and partial to October. Her second battle ended when I was in college, and all these years later, I miss her, on Saturdays, and EVERY. SINGLE. DAY.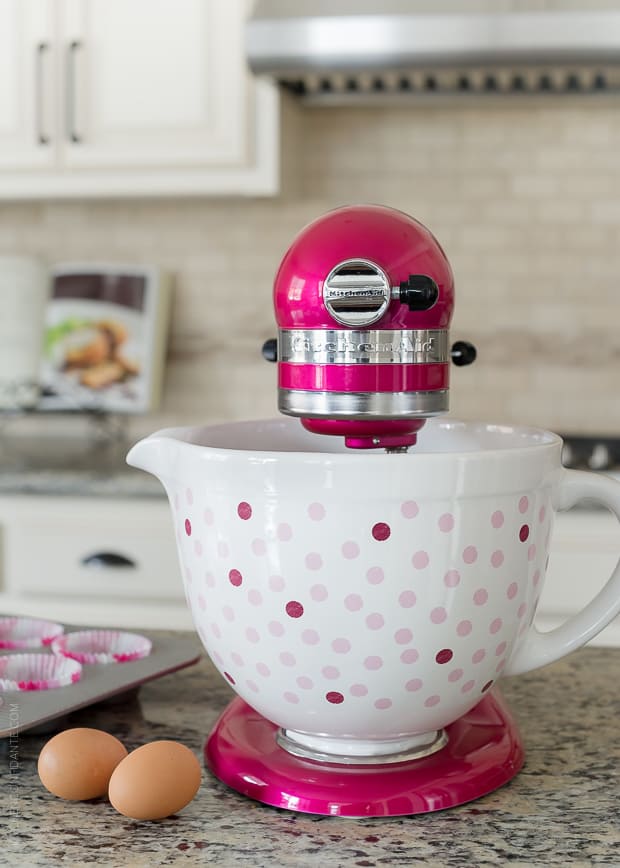 It's because of my mom, and because of how close this awful disease is, that every year, I am honored to be part of KitchenAid's Cook for the Cure. This year is a little different — KitchenAid's donation campaign is called 10,000 Cupcakes One Great Cause. During the month of October (Breast Cancer Awareness Month), for each person who shares an original cupcake recipe on Twitter or Instagram with the hashtags #10000Cupcakes AND #Donate, KitchenAid will donate $1 to Susan G. Komen to help support the fight against breast cancer, up to $10,000.
I used my Raspberry Ice KitchenAid Stand Mixer outfitted with the Pink Polka Dot Ceramic Bowl to make these Roasted Berry Cupcakes. Taking a few extra minutes to roast strawberries and raspberries not only left my kitchen smelling like I had spent hours making jam, it added extra sweetness to both the cupcakes and the buttercream frosting.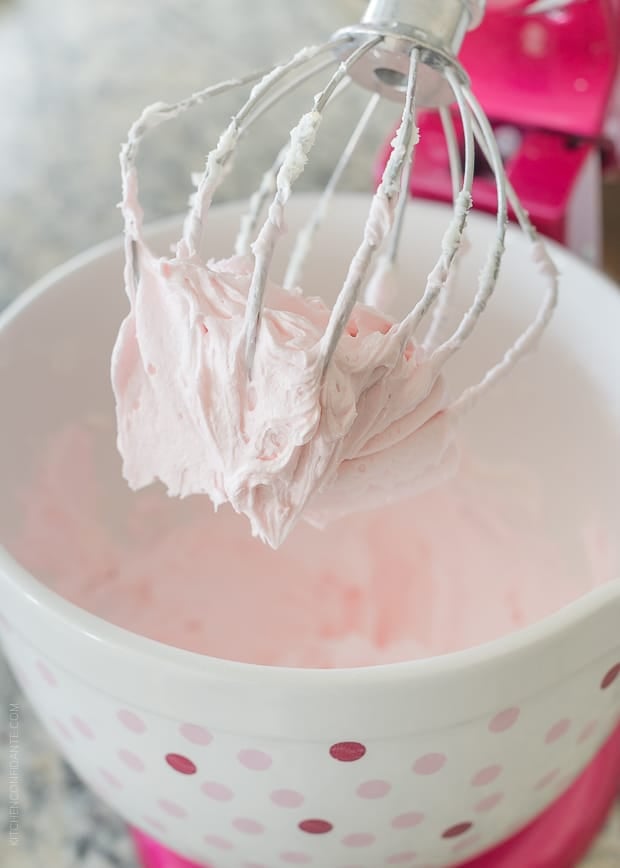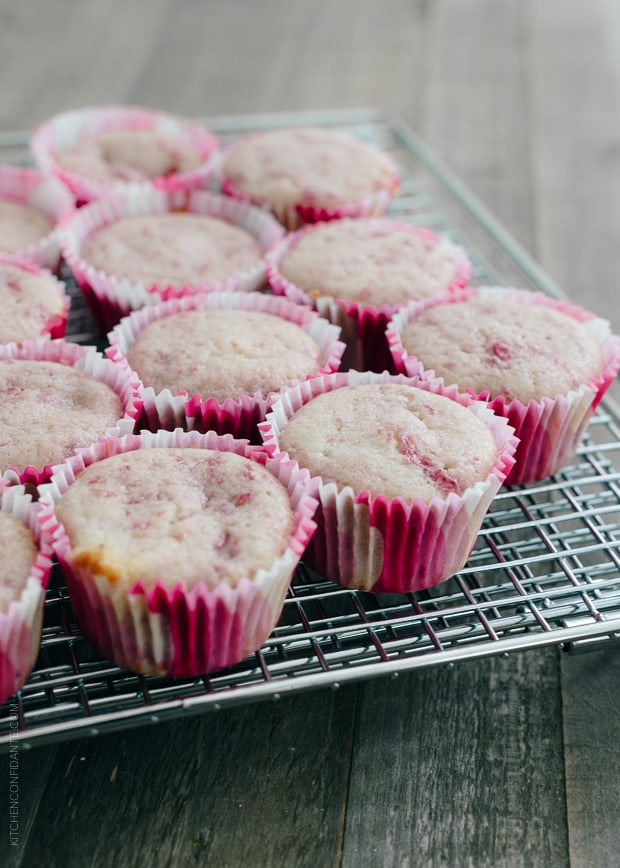 I'd love for you to join me. Will you? Please, go bake some cupcakes! To help you get started, KitchenAid is donating one Raspberry Ice Stand Mixer and Pink Polka Dot Ceramic Bowl to one of you! Use the widget below to enter the giveaway.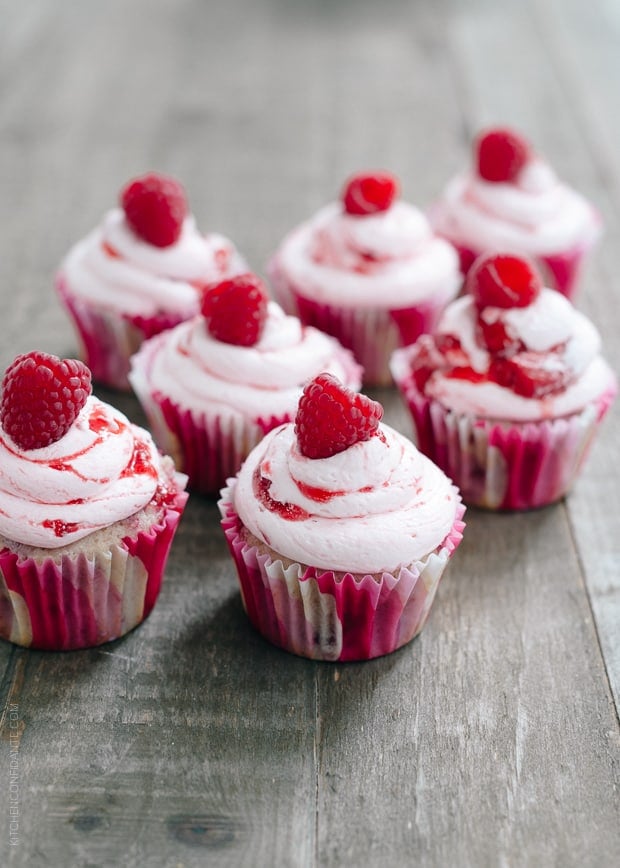 For more information on KitchenAid's Cook for the Cure initiative for Breast Cancer Awareness, visit 10,000 Cupcakes One Great Cause to learn how you can support their efforts.
Disclosure: This post is part of a collaboration with KitchenAid and their Cook for the Cure initiative for Breast Cancer Awareness. While I was provided the KitchenAid Stand Mixer and Cook for the Cure Ceramic Bowl to create this recipe, I was not compensated to publish this post; I am always honored to participate in their #cookforthecure efforts. All opinions are, as always, my own.
Swirls of sweetly roasted berries add richness to these light cupcakes!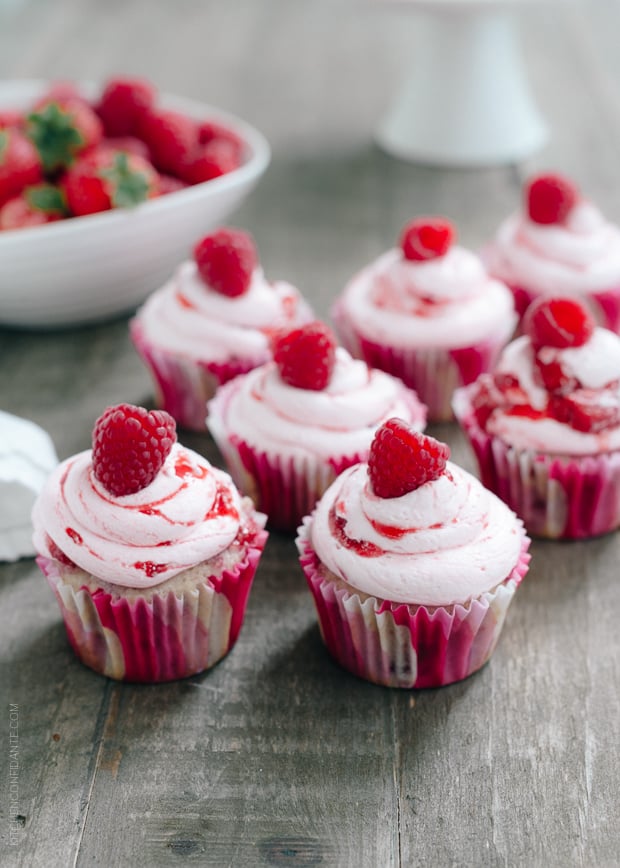 Print Recipe
Ingredients
For the roasted berries:
3 cups assorted berries (raspberries and sliced strawberries work well)
1/4 cup sugar
For the cupcakes:
1/2 cup (1 stick) unsalted butter, softened at room temperature
3/4 cup granulated sugar
2 large eggs
1 teaspoon vanilla
1 1/3 cup cake flour
1 1/4 teaspoons baking powder
1/4 teaspoon kosher salt
1/2 cup buttermilk
1 cup roasted berries, drained
For the frosting:
1/2 cup (1 stick) unsalted butter, softened at room temperature
1/2 cup cream cheese
3 cups confectioner's sugar
1-2 drops pink food coloring
1 cup mashed roasted berries
Instructions
Preheat the oven to 400°F. Line a small baking tray with parchment paper and scatter the berries in one layer on the tray. Sprinkle with the sugar and roast for about 15-20 minutes, or until the berries are soft and have released their juices. Remove from the oven and cool completely. You will use about half for the cupcakes - take the roasted berries and drain some of the excess liquid. Mash the remaining berries using a fork and set this aside for the frosting.
Lower the oven temperature to 350°F. Prepare muffin trays by lining with cupcake liners.
In the bowl of a stand mixer with the whisk attachment, cream the butter until light and fluffy. Mix in the sugar until well incorporated, then add the eggs and vanilla, scraping down the sides of the bowl periodically.
In a small bowl, whisk together the cake flour, baking powder and salt. Add the flour to the egg mixture, mixing until just incorporated. Add the buttermilk and mix again until the batter is smooth, but take care not to over mix.
Remove the mixing bowl from the stand mixer and gently fold in the roasted berries. Spoon the batter into the muffin trays, about 3/4 full.
Bake for about 20 minutes, or until an toothpick inserted in the center come out with just a few moist crumbs. Set aside to cool before icing.
Make the frosting by whisking the butter, cream cheese and confectioner's sugar in a stand mixer with the whisk attachment on low speed. When the ingredients start to come together, increase the speed to medium and let the icing mix for about 2 minutes. Add the food coloring and mix again. Once the icing is smooth, remove the mixing bowl from the mixer. Spoon the mashed berries into the bowl, then spoon the icing into a piping bag outfitted with a large decorating tip. As you frost the cupcakes, the berries will swirl with the frosting.