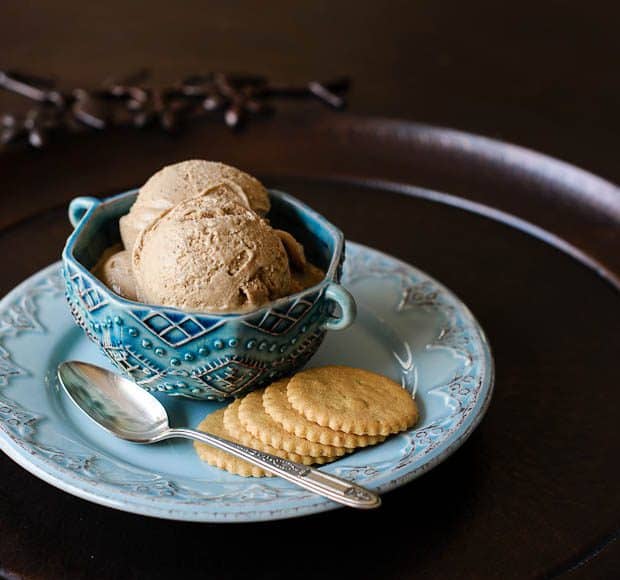 Simple Sundays | Chai Tea Ice Cream + Chai Coconut Ice Cream Sandwiches
Coffee or tea? For me, coffee is both a daily necessity and indulgence. But hot cups of tea are for when I need a little pampering. They remind me of the company of dear friends and chats over comforting sips. There is something so consoling…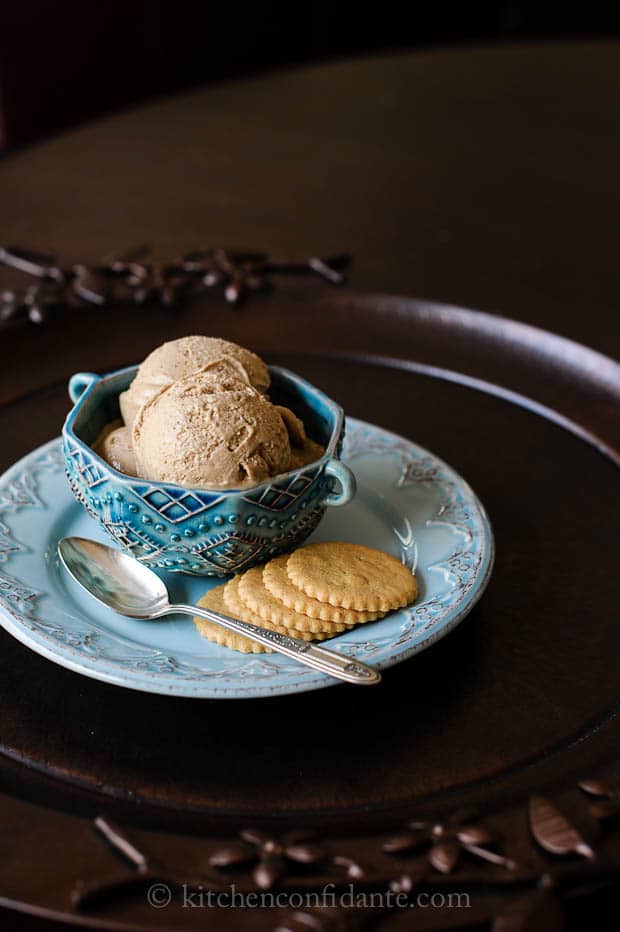 Simple Sundays | Chai Tea Ice Cream + Chai Coconut Ice Cream Sandwiches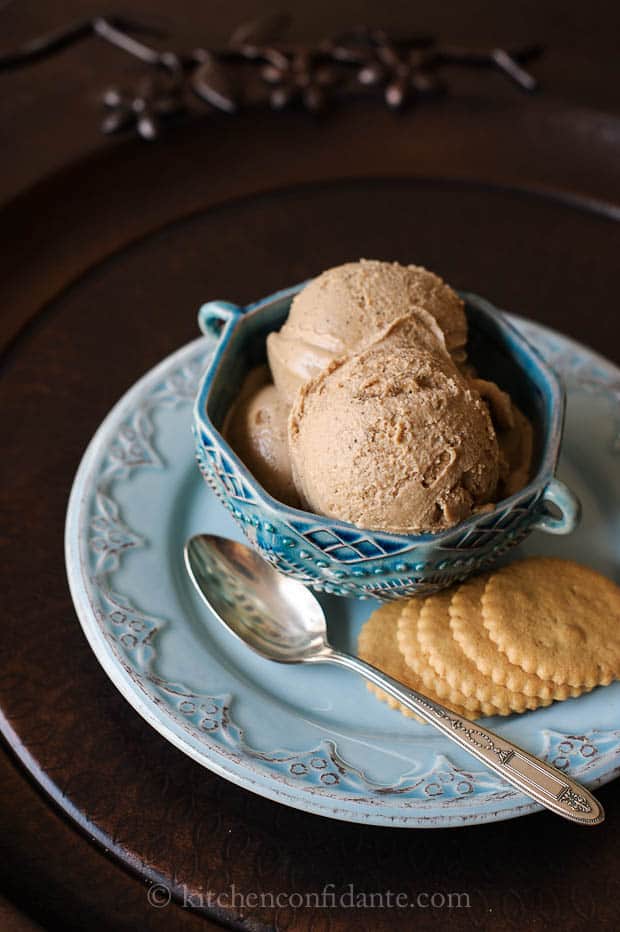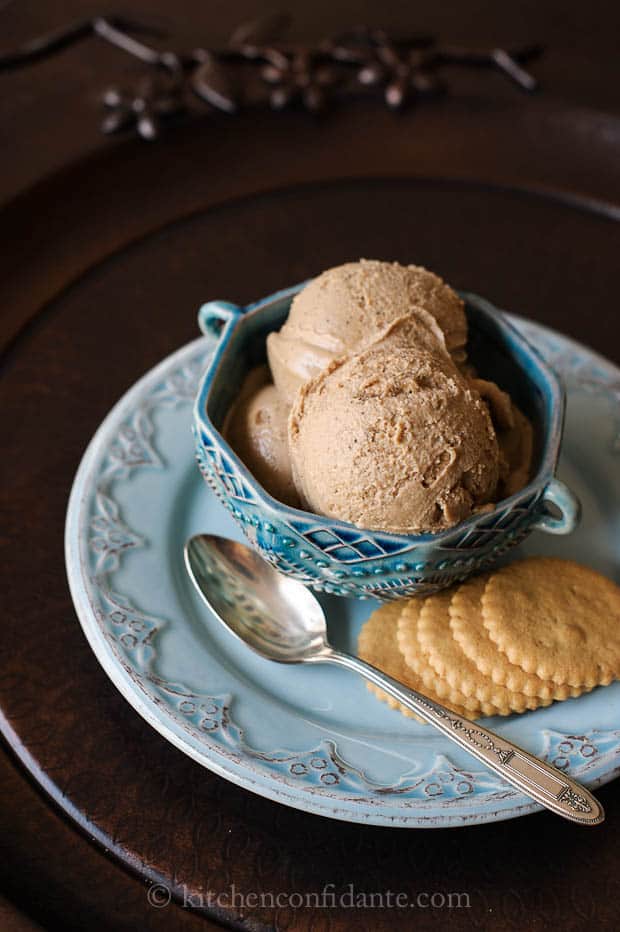 Coffee or tea? For me, coffee is both a daily necessity and indulgence. But hot cups of tea are for when I need a little pampering. They remind me of the company of dear friends and chats over comforting sips. There is something so consoling about the ritual of tea…steeping the leaves, swirling the string from the tea bag around the spoon, the fragrance released…I love that.
Tea is something I associate with winter and snowy days. But yesterday, I found myself craving the comforting flavors of a rich chai tea, scented with cinnamon, cardamom, clove and orange. So I did the next logical thing. I made Chai Tea Ice Cream.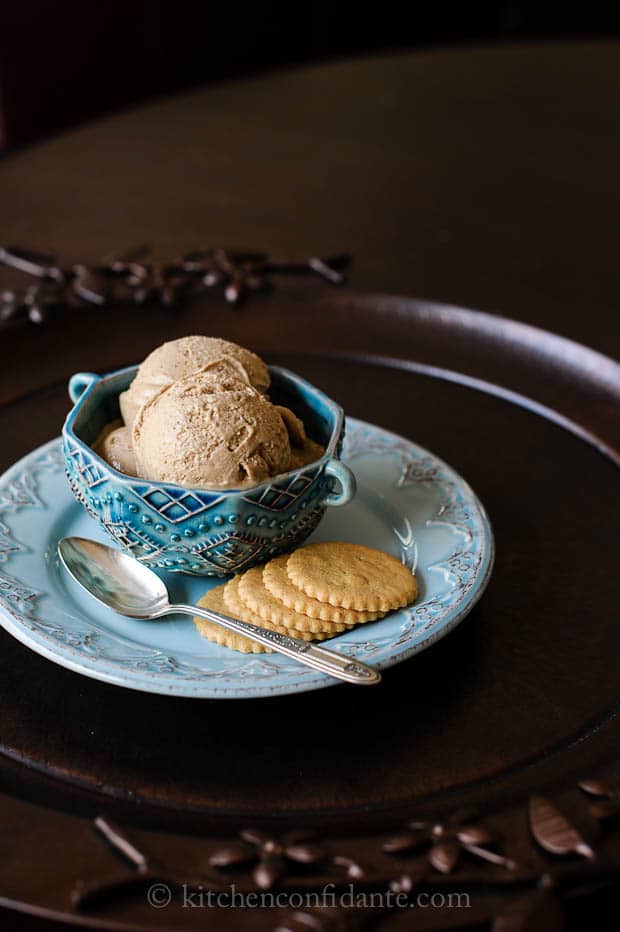 Several summers ago, I was an ice cream making machine. Every weekend, I would churn out quarts of creamy deliciousness. But my ice cream maker saw a lull in recent years, I've been favoring frozen yogurts. As I warmed the cream and milk on the stove, stirring my custard to a thick silkiness, I realized that I had missed the rituals behind ice cream making, too. The tea leaves floating in the cream released the most soothing aroma and the whole process was so familiar and so calming.
I know that today is Simple Sundays, and you may be thinking that homemade ice cream may not be appropriate for today's post. But I assure you, once you've made ice cream at home, you will find that it really is not too difficult. And besides, today is National Ice Cream Day! Yes, indeed, there is such a thing.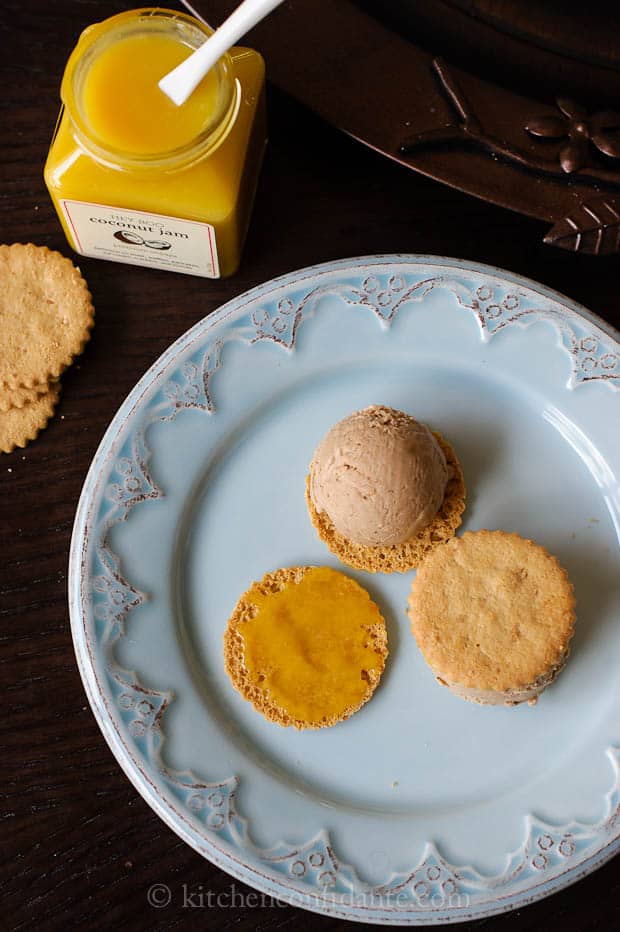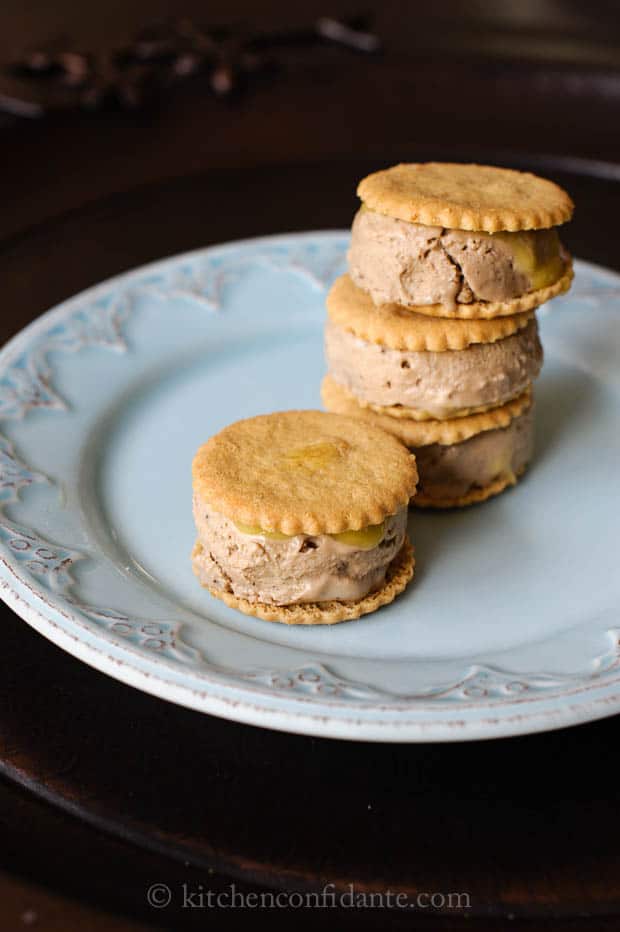 One spoonful of my freshly churned Chai Tea Ice Cream and I was in heaven. I had to take it a step further. I brought out some toasted coconut cookies and smeared them with a dollop of coconut jam, a gift from friends. The ice cream went between the cookies, the chai and coconut flavors just working together so beautifully, my eyes rolled to the back of my head in bliss.
So treat yourself. If there's such a thing as a soothing and luxurious ice cream, this is it. I just know you will love it.
Disclaimer: Several months ago, Two Leaves and a Bud sent me a selection of their superb organic teas. I finally had a chance to make something wonderful with them and have grown to love the teas, their company's philosophy, and their earth conscious sachets. I was neither compensated nor required to write about their product. All opinions are, as always, genuinely my own.
If you love a rich cup of tea, sweetened and with milk, this is a refreshing way to enjoy a cup of tea on a hot summer day. The Black Ceylon tea, cinnamon, cardamom, clove buds, and orange peel in this chai tea will fill your kitchen with a comforting aroma. Even those who don't like tea will likely find the flavors appealing - flavors similar to gingerbread, pumpkin spice lattes, and Thai iced tea will surely convert skeptics.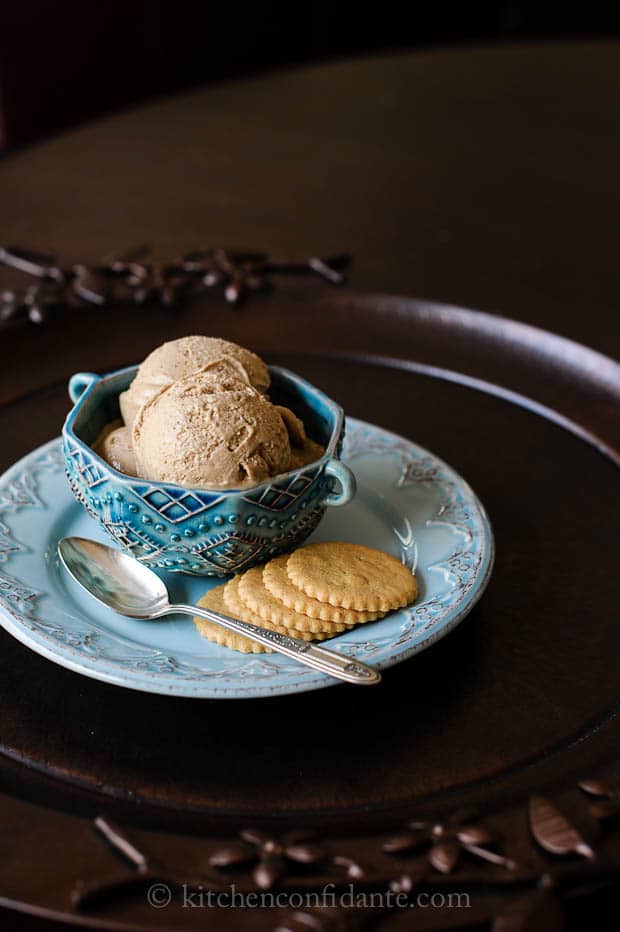 Print Recipe
Ingredients
2 cups heavy cream
1 cup skim milk
2/3 cup sugar, divided
1/4 cup chai tea (such as Two Leaves and a Bud Mountain High Chai)
1/8 teaspoon vanilla
pinch of salt
4 egg yolks
Instructions
In a medium sauce pan, combine the heavy cream, skim milk, 1/3 cup sugar, tea, vanilla and salt, and bring to a gentle simmer over medium heat. Use a wooden spoon to stir, dissolving the sugar, and bring the cream mixture to about 175 degrees (about 8 minutes). Turn off the heat, cover the pan, and allow the tea infused cream steep for 15 minutes.
Meanwhile, whisk the egg yolks in a separate bowl, and slowly add the sugar, whisking for about 4 minutes, or until the eggs are light in color and thick. When the cream finishes steeping, ladle 1 cup of the hot cream in a drizzle into the eggs while whisking to temper. Pour the egg mixture back into the saucepan, and gently cook over medium low heat, stirring constantly with a wooden spoon for about 8-10 minutes. You will know the custard is ready when you are able to coat the back of your wooden spoon and run your finger down, leaving a line.
Prepare an ice bath. Strain the mixture into the prepared bowl of the ice bath. Depending on your sieve, you may need to strain twice to catch the tea leaves. Let the ice cream custard cool for 1 hour in the ice bath, stirring periodically. The ice cream may then be churned immediately or, if you like, the following day (keep the mixture chilled in the refrigerator till then).
Pour the custard into the chilled bowl of your ice cream maker and churn for about 30 minutes. It may be served immediately or stored in an airtight container in the freezer.
Chai Coconut Ice Cream Sandwiches
Place a small scoop of Chai Tea Ice Cream on one Toasted Coconut Thin Cookie. Smear coconut jam on another cookie, and place on top of the ice cream topped cookie, pressing down gently. Freeze in an airtight container until ready to serve.