Spicing up the Simple Things
When we're grilling up some fantastic steaks – whatever the style – sometimes there's nothing better on the side than hearty steak fries. It satisfies that meat-and-potatoes, stick-to-your-ribs craving, and when you prepare them on the grill, it's a healthier alternative to the deep fried…
Spicing up the Simple Things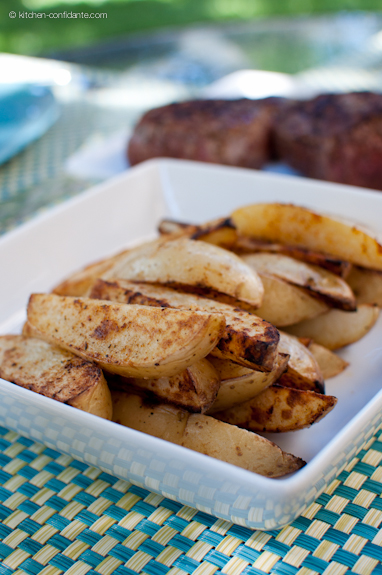 When we're grilling up some fantastic steaks – whatever the style – sometimes there's nothing better on the side than hearty steak fries. It satisfies that meat-and-potatoes, stick-to-your-ribs craving, and when you prepare them on the grill, it's a healthier alternative to the deep fried french fries we all love.
Grilled steak fries can be very straightforward. Season simply with salt and pepper, and it's instantly delicious. But our spud-sy friends welcome different flavors and carry them very well. You can hit them with Parmesan cheese, Old Bay seasoning, or even curry for interesting variations.
As I was prepping my potato wedges for the grill over the weekend, I realized it would be a perfect opportunity to play with a birthday gift from my ever-thoughtful parents-in-law. They had sent me a box of assorted grill spices from Penzeys Spices. I had never heard of this company before, and typically, I do not buy spice blends simply because I create my own. But they sent over such a fun variety, and I could not wait to experiment with them!
Using the Jamaican style Jerk seasoning, I made Grilled Jerk Steak Fries. One thing is for sure, Jerk is not just for chicken anymore, at least in my book. The crispy skins of the fries had a feisty kick that gave way to steamy, pillowy potato inside, I nearly forgot all about the beautifully grilled grass-fed steak on my plate.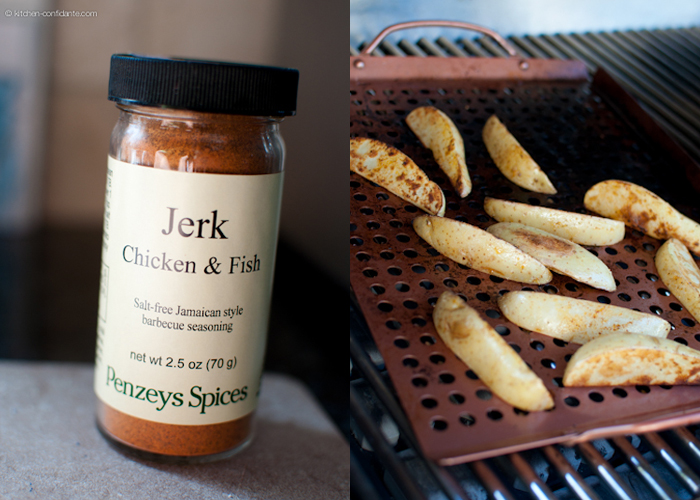 Grilled Jerk Steak Fries
Serves 4
2-3 large potatoes (Russet, Long White, or Yukon Gold work well), sliced in half length-wise then into wedges
3-4 tablespoons extra-virgin olive oil
kosher salt
Jerk seasoning
In a medium sized bowl, toss the potato wedges in the olive oil, coating them evenly. Season to taste with salt and Jerk seasoning. Place the wedges on a hot grill and grill them for about 5 minutes per side, or until fork tender. Remove from the grill, and while hot, season with a little more salt to taste.
Note: You can also blanch the potatoes prior to seasoning and grilling. I have since cut out this step (less dishes to wash!), but if you choose to do so, blanch very quickly (no more than 2 minutes), dry the potatoes very well before seasoning, and grill for about 2-3 minutes per side.