Summer Corn and Nectarine Tabbouleh + Scenes from the Heartland
I nearly forgot the magnificence of the Midwestern sky. It had been over ten years, and my eyes had become accustomed to rolling hillsides green in the winter and golden in the summer, the sky a mere afterthought. Billowy clouds are a rarity in California,…
Summer Corn and Nectarine Tabbouleh + Scenes from the Heartland
I nearly forgot the magnificence of the Midwestern sky. It had been over ten years, and my eyes had become accustomed to rolling hillsides green in the winter and golden in the summer, the sky a mere afterthought. Billowy clouds are a rarity in California, perhaps intimidated by the drama below.
But in the midwest, the cloud filled skies reign imposing and awe-inspiring. What the landscape lacks in elevation, it makes up in its endless fields of blue and white above. You raise your eyes and feel it swallow you whole, and the sky is as majestic as any mountain or ocean or rocky cliff.
It shelters infinite fields of summer corn and weathered red barns, and the small towns that greet you as you drive through the countryside. As we traveled through the heartland a week ago, leaving the shine of Chicago behind towards Iowa, the sun beat down on us and the fields, and it reminded me of when I first understood Woody Guthrie: As I was walking that ribbon of highway, I saw above me that endless skyway.
The heartland is grand.
With summer corn in abundance, Summer Corn and Nectarine Tabbouleh is a refreshing way to take in the land of plenty. Sweet kernels of corn with the surprise of tender, ripe nectarine takes so well to a mint infused tabbouleh salad. Heaps of freshness round out each bite, making it a wonderful side to any warm weather meal.
Summer Corn and Nectarine Tabbouleh
One of the great things about tabbouleh is that the flavors get better over time, making this a great dish for entertaining. Make it the evening before, enjoy chilled from the refrigerator, and summer meals become so much easier with company. Or if you're like me, just eat the whole bowl yourself.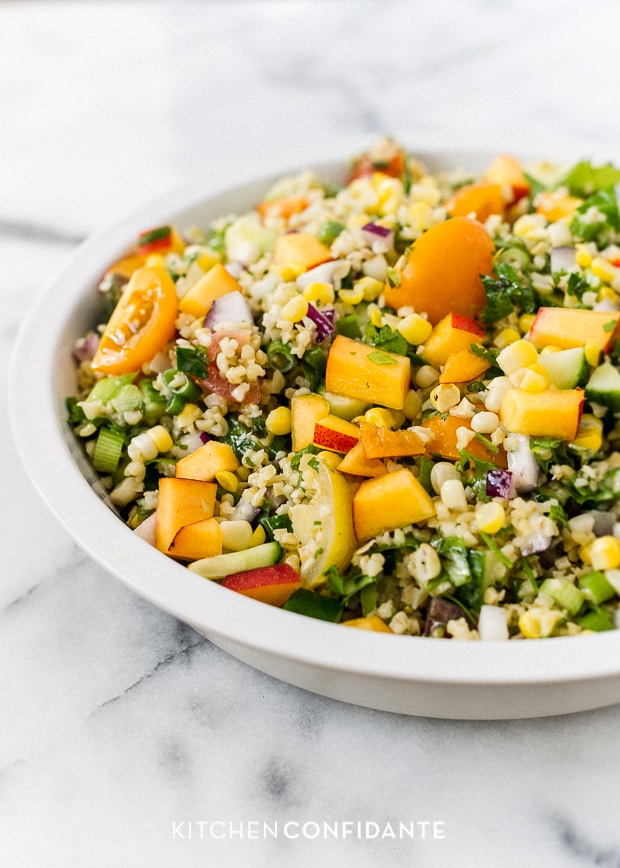 Print Recipe
Ingredients
1 cup bulgur wheat
2 ears fresh corn, grilled or steamed, kernels removed
2 ripe nectarines, pitted and cubed
1/2 cup diced red onion
1/2 cup diced English cucumber
3 scallions, finely chopped
1/2 cup chopped cilantro
1/4 cup chopped mint
Juice of half a lemon
1/4 cup creme fraiche
2 cloves garlic, minced
2 tablespoons olive oil
Kosher salt
Freshly ground black pepper
Instructions
Prepare the bulgur by placing it in a large bowl and covering with boiling water. Let it stand for 30-45 minutes or until the bulgur has puffed up. Strain the bulgur well and place it back in the bowl.
As the bulgur rests, chop the remaining ingredients. Once the bulgur is ready, add the corn, nectarines, red onion, cucumber, scallions, cilantro and mint and give it a good stir. In a small bowl, whisk together the lemon juice, creme fraiche, garlic, olive oil and season generously with salt and pepper (about a teaspoon each), to taste. Add the dressing to the salad and stir until evenly coated. Adjust seasoning with salt and pepper, if necessary. Keep in a tightly sealed container in the refrigerator until ready to serve.
Adapted from Lemon and Fresh Herb Tabbouleh, by Cleveland Clinic Heart Center, Bonnie Sanders Polin, Ph.D., and Frances Towner Giedt, Cleveland Clinic Healthy Heart Lifestyle Guide and Cookbook via Epicurious.