Summer Wheat Berry Salad with Stone Fruits and Goat Cheese
If you love stone fruit as much as I do, you'll love this Summer Wheat Berry Salad with Stone Fruits and Goat Cheese! Make it your go-to salad this summer! This post is brought to you in partnership with J. Lohr Vineyards & Wines. We…
Summer Wheat Berry Salad with Stone Fruits and Goat Cheese
If you love stone fruit as much as I do, you'll love this Summer Wheat Berry Salad with Stone Fruits and Goat Cheese! Make it your go-to salad this summer! This post is brought to you in partnership with J. Lohr Vineyards & Wines.
We drove through the winding roads, on the back roads of Marin that we used to know intimately like the back of our hand, the scent of eucalyptus seeping in through the car vents as we passed through dark canopies that led to hairpin turns bathed in sunlight. When my husband and I first moved to California, these weekend drives used to be our favorite thing to do, leading us to the coast, where we would happily spend hours exploring and strolling, witnessing the crashing waves, roaming elk and endless miles of gorgeous shoreline.
To be honest, once we started having babies and moved a little further inland, these weekend jaunts became overtaken by soccer games and music lessons, birthday parties and all the minutia of family life. But a few weekends ago, when the temperatures soared and reintroduced us to summer, we couldn't shake it – the coast was calling, and I dug out the picnic basket.
With the kids in tow, I navigated my husband through the twists and turns. "How do you remember any of this?" he wondered when I reminded him about where to find the best parking at one of our favorite overlooks. "How could you not?" I asked in return.
Clearly, I remember some of the details a little more than he does.
But then again, I didn't anticipate (or remember) how busy the beaches were! The parking lot was full – finding a spot was a small miracle.
We weren't the only ones at the beach who came searching for the ocean breeze. It was the place to be that day, families with kites in the air, bonfires roaring, and dogs sniffing hopefully for a bite of fried chicken in our hamper. One lady apologized. "I'm vegetarian. He doesn't get to smell meat often."
Well, he probably sniffed more than chicken in our picnic basket. I unpacked the Summer Wheat Berry Salad with Stone Fruits and Goat Cheese I had made earlier in the morning, along with more of the nectarines, apricots and cherries we are savoring this time of year. The kids begged for some madeleines, and I poured a couple of glasses of J. Lohr Estates Riverstone Chardonnay to toast our first picnic of the season. The grapes used in this chardonnay are grown in Monterey County's cool climate winegrowing region, just less than three hours down the northern California coast from where we picnicked, and the fruit forward characteristics of the wine were perfect with our picnic! It was crisp and light, and definitely summer picnic ready, and the long drive and crowded beach became a memory with a sip.
If you love stone fruit as much as I do, then I have a feeling this salad will be your go-to as long as stone fruit season lasts. Use whatever good fruit you can find – nectarines and cherries went into mine, along with dried cherries. And one especially good thing about this salad is if you happen to cut into a piece of fruit that isn't quite ready (which does happen – I seem to cut into under-ripe nectarines all the time), throw it into this salad – the tanginess and crunch works perfectly with the wholesome wheat berries and creamy goat cheese!
With the long drive back ahead of us, the time to pack up our picnic came all too soon. But as we shook off the sand and folded our blankets, we made a vow to come back again soon. We had missed it far too much. And summer is just beginning.
Disclosure: This post is brought to you in partnership with J. Lohr Vineyards & Wines. Thank you for supporting brands that matter to me; sponsored posts such as this help behind the scenes at Kitchen Confidante. All opinions in this post are, as always, my own.
Summer Wheatberry Salad with Stone Fruits and Goat Cheese
Summer Wheat Berry Salad with Stone Fruits and Goat Cheese is full of sweet cherries and nectarines and is picnic ready for your next adventure!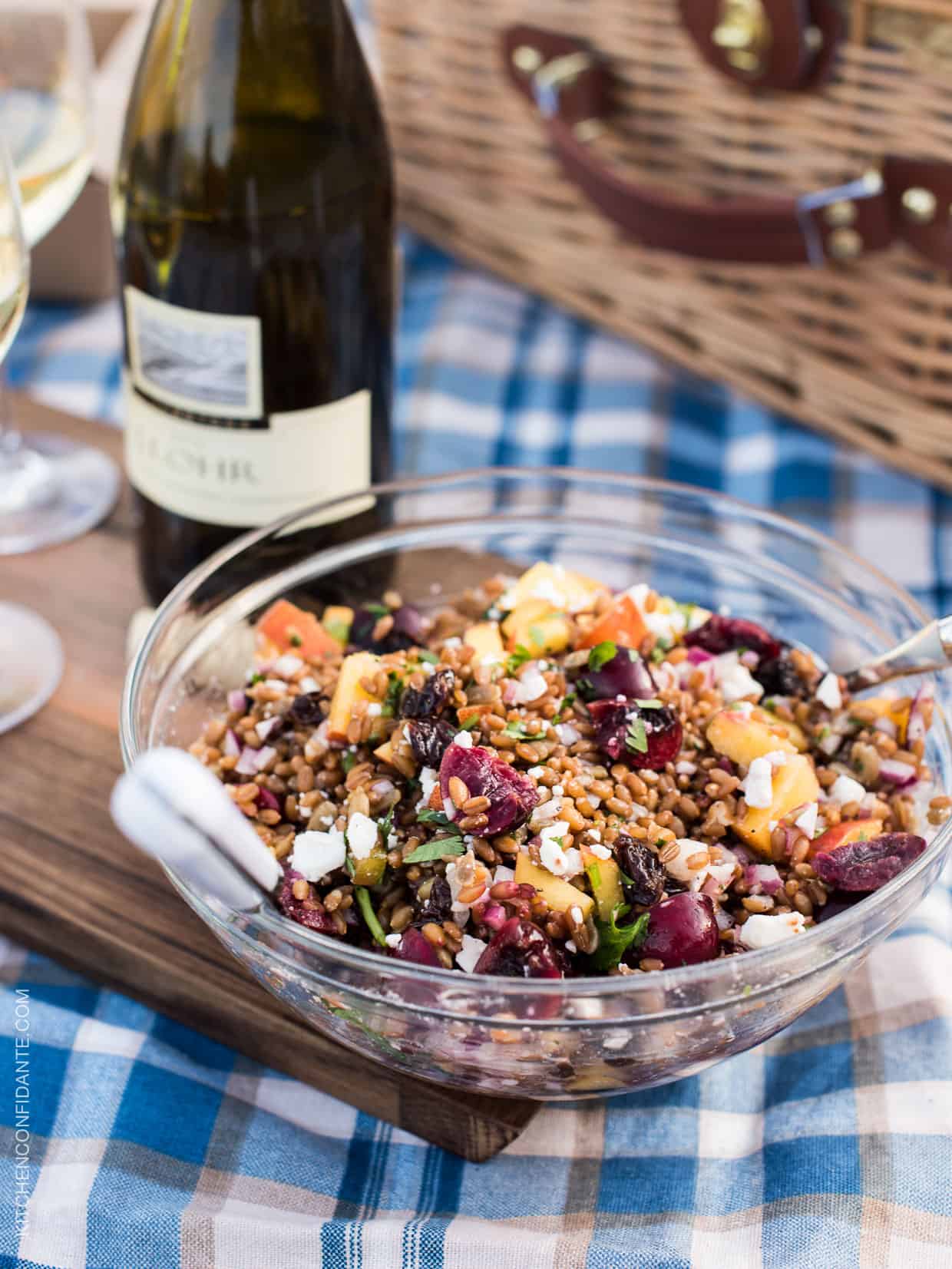 Print Recipe
Ingredients
1 1/2 cups wheatberries
3 1/4 cups water
1 1/2 teaspoons kosher salt
1 cup diced nectarines
1/2 cup dried cherries
1/2 cup fresh quartered cherries
1/4 cup chopped cilantro
1/4 cup crumbled goat cheese
1/4 cup sunflower seeds
3 tablespoons olive oil
1 tablespoon white balsamic vinegar
1 tablespoon lemon juice
kosher salt
ground pepper
Instructions
Place the wheat berries, water and salt in a medium sauce pan and bring to a boil. Lower heat to a simmer, cover the pan and cook for about 30-45 minutes, stirring occasionally, until the wheat berries are tender. If there is any excess water, drain, and let cool.
In a large bowl, stir together the cooked wheat berries, nectarines, cherries dried cherries, cilantro, goat cheese, and sunflower seeds. In a small bowl, whisk together the olive oil, vinegar and lemon juice, and stir into the salad. Season to taste with salt and pepper. Chill in the refrigerator until ready to serve.