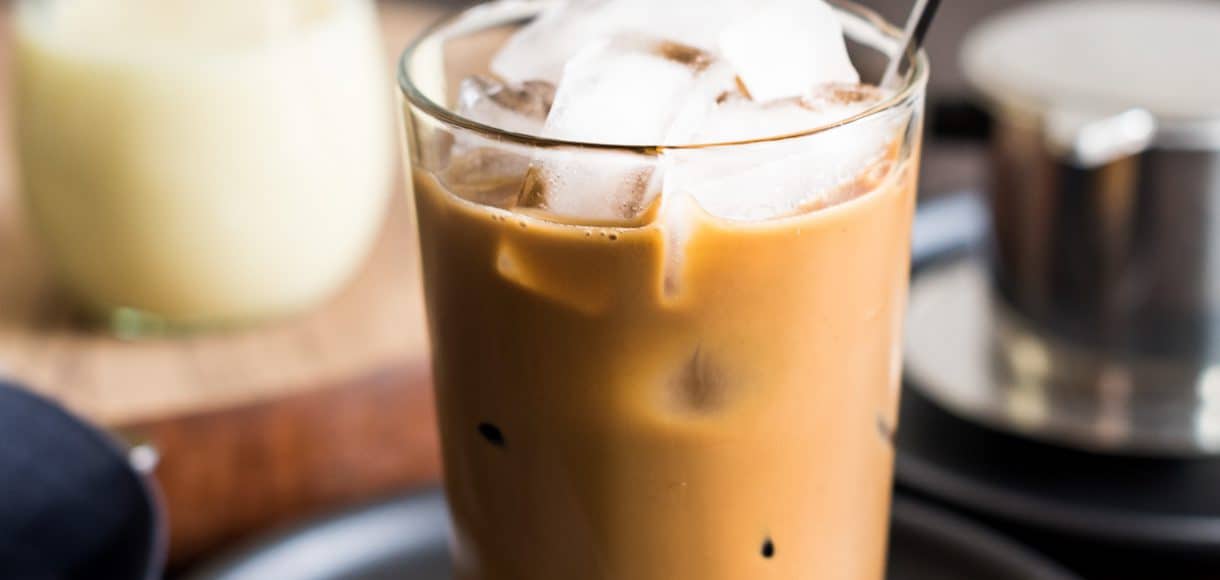 Traditional Vietnamese Iced Coffee (Ca Phe Sua Da)
Sips of traditional Vietnamese Iced Coffee bring a minute of peace to your day. Try this easy recipe made with a simple phin filter for an authentic taste of Vietnam.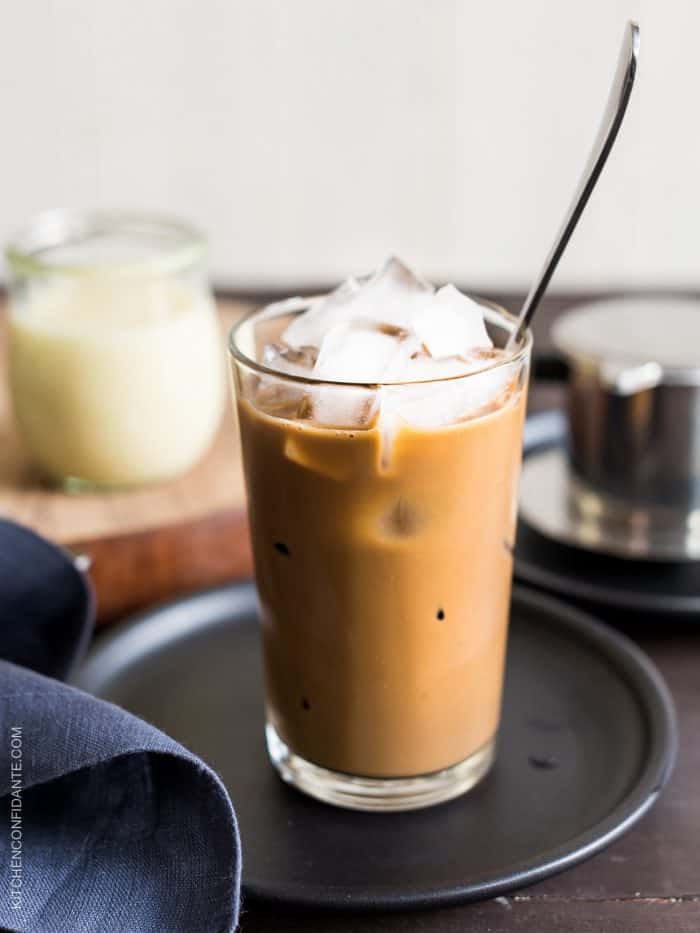 Traditional Vietnamese Iced Coffee (Ca Phe Sua Da)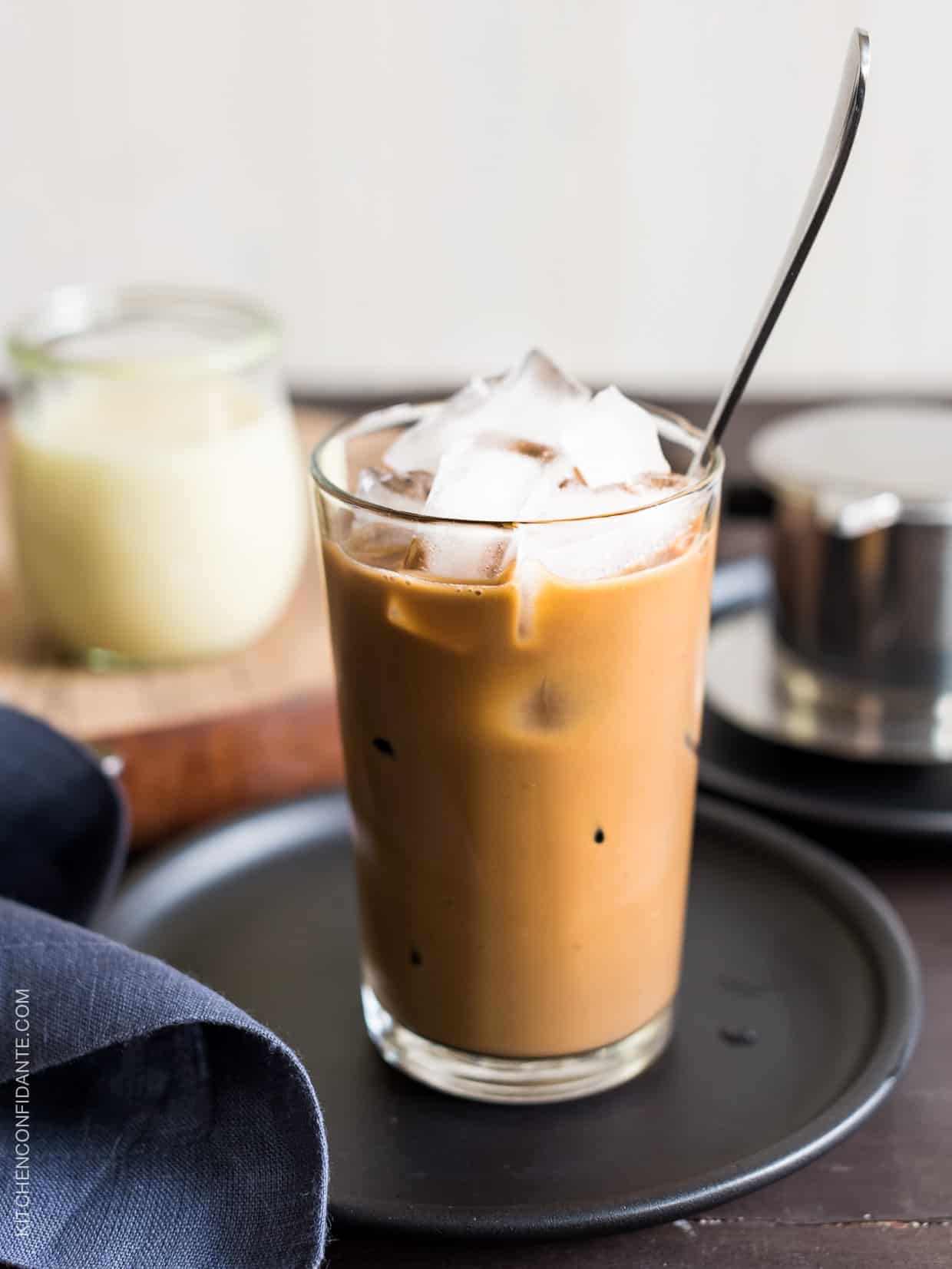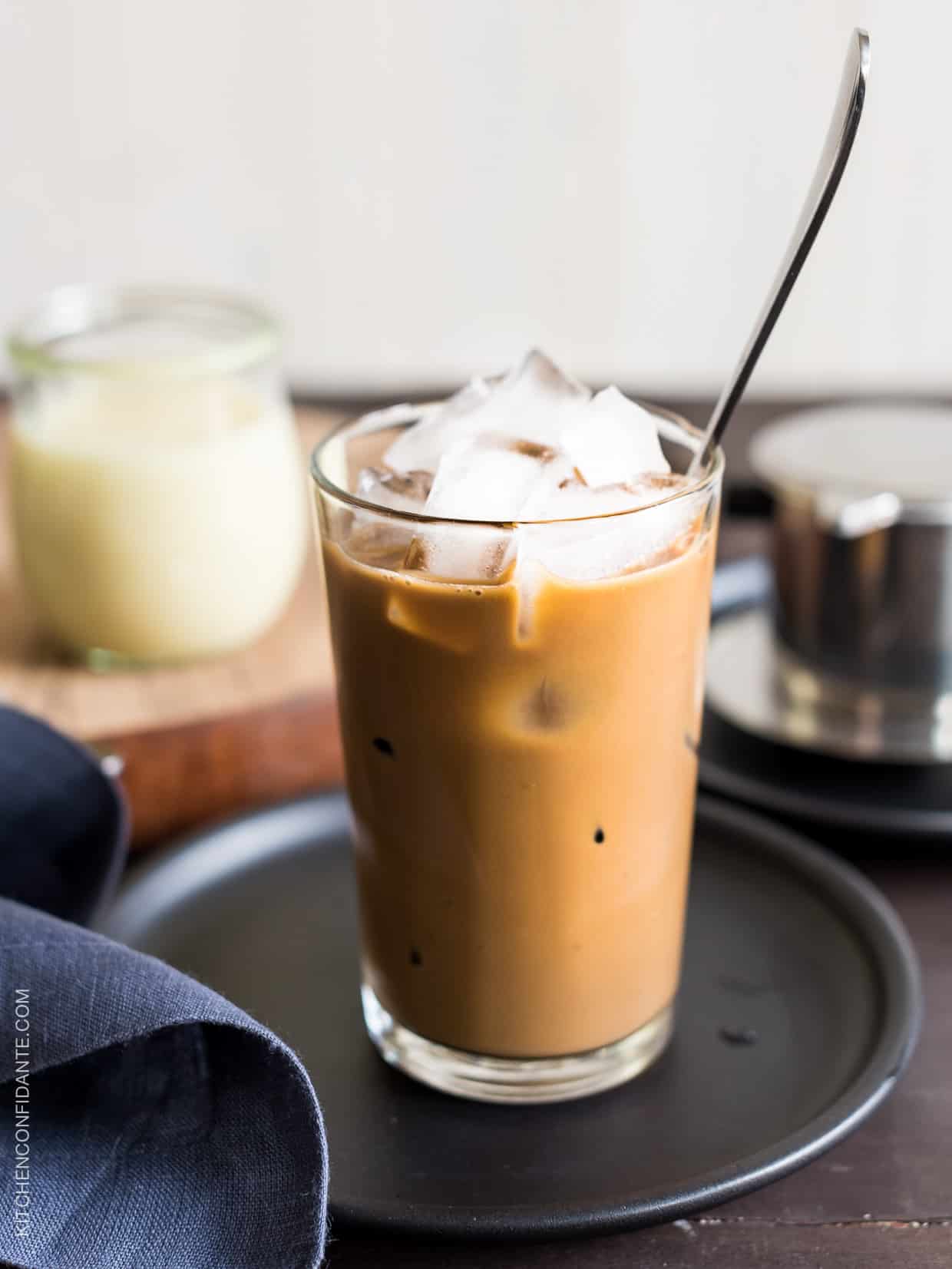 "If I pour your cup, that is friendship
If I add your milk, that is manners
If I stop there, claiming ignorance of taste,
that is tea
But if I measure the sugar
to satisfy your expectant tongue
then that is love"
– Cold Tea Blues, Cowboy Junkies
What is it about that cup of tea – or a cup of coffee – that tastes all the sweeter when it is made by someone else? When love surpasses the sugar, and coaxes the bitterness into something to bear?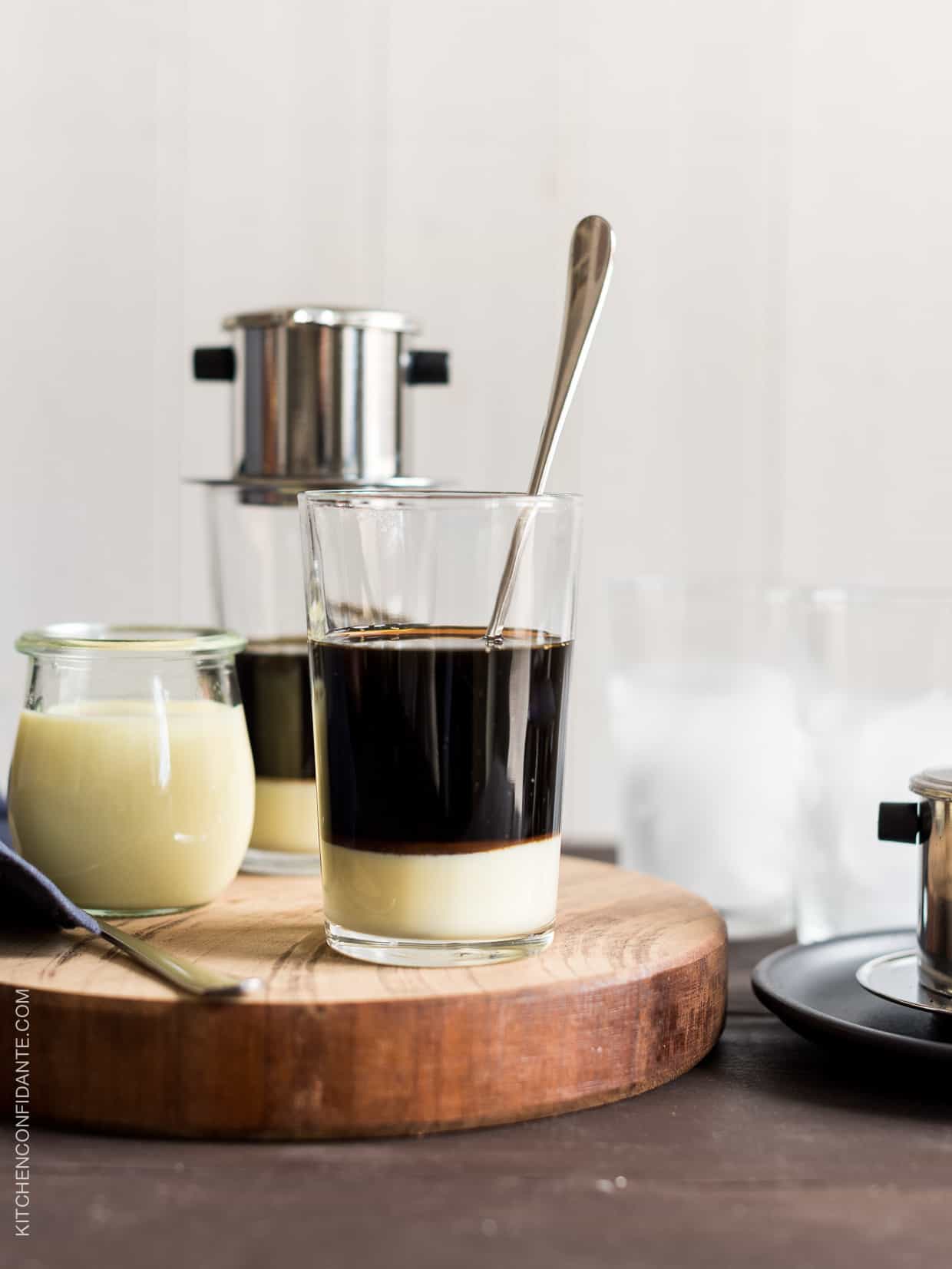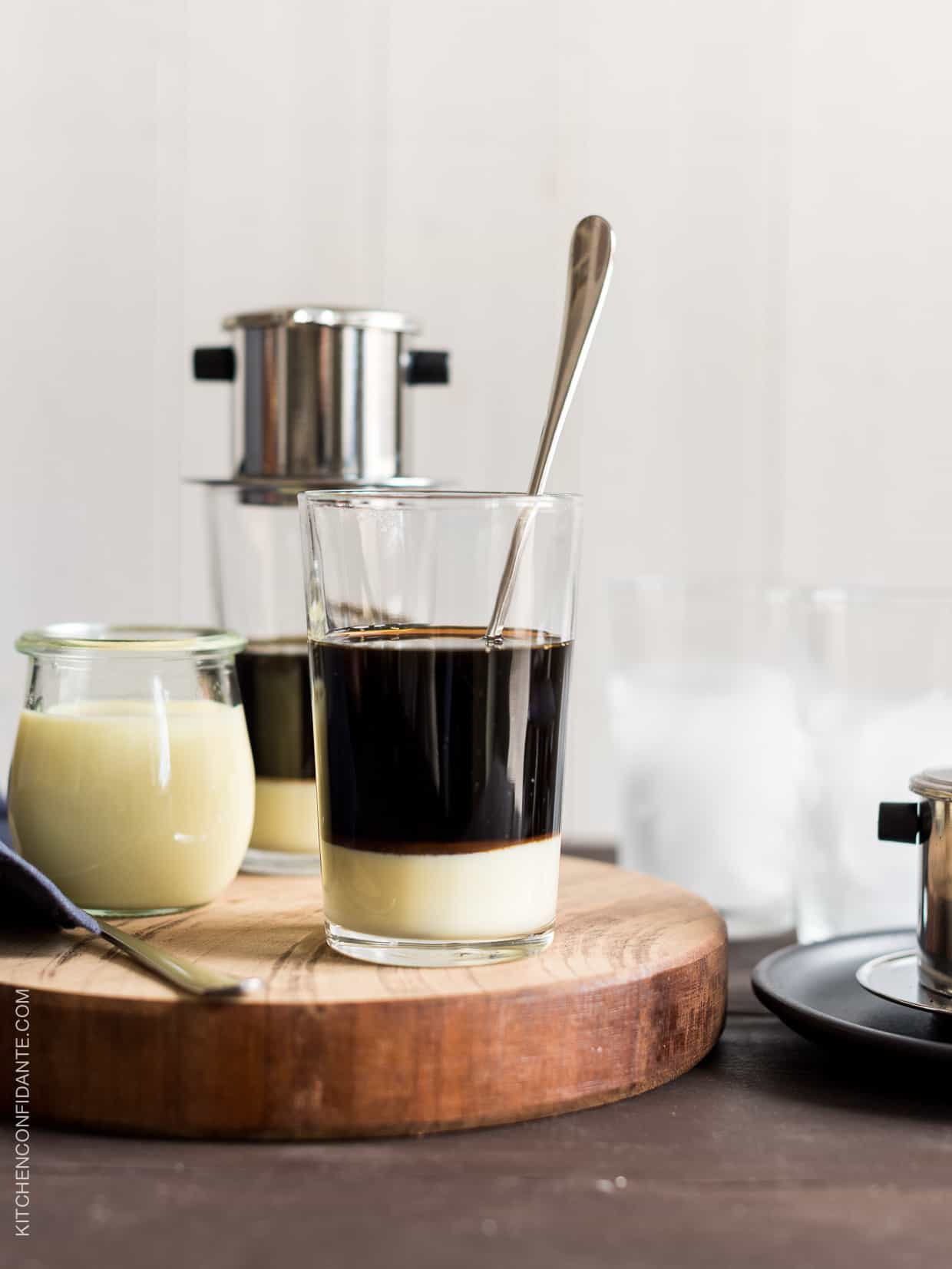 Over the years, I have learned that there is more to a cup of coffee than blindly figuring out the ratio of water to grounds, or even to the method. Because even if I follow a specific recipe, the coffee I make myself on the weekdays doesn't taste nearly as good as the coffee my husband greets me with on the weekend. I think something happens when someone you love stirs the spoon to swirl it to perfection.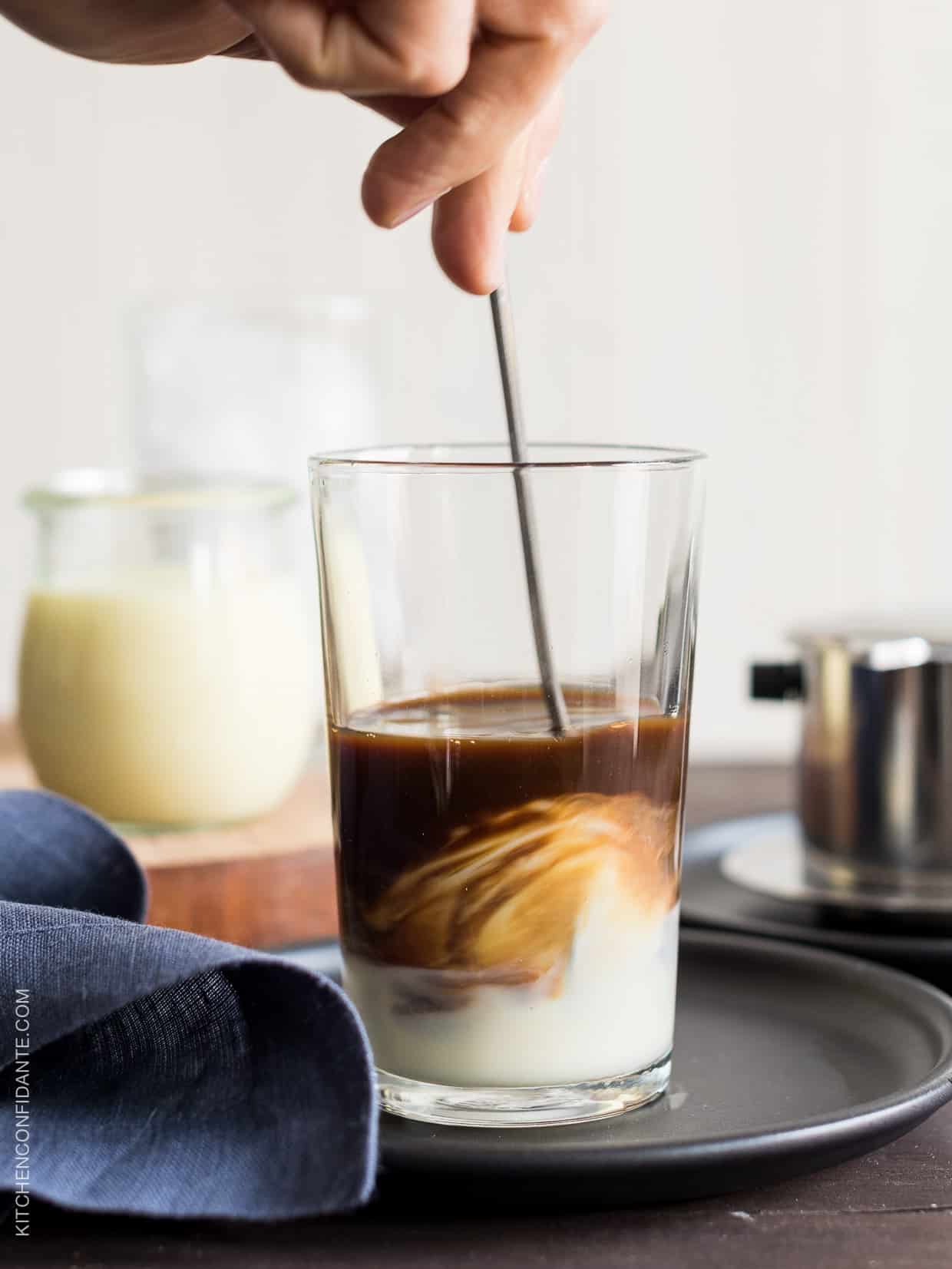 When I am greeted by a cup of his coffee on the weekends, the morning starts of with sips of inner peace, and I awaken more gently. And by mid day, it is time for me to return the favor.
A tall glass of Traditional Vietnamese Iced Coffee (Ca Phe Sua Da) is what he craves on the weekends, and although I used to make it once in a blue moon with the coffee maker, we now have a small arsenal of traditional coffee phin filter
to make our mid-day treat.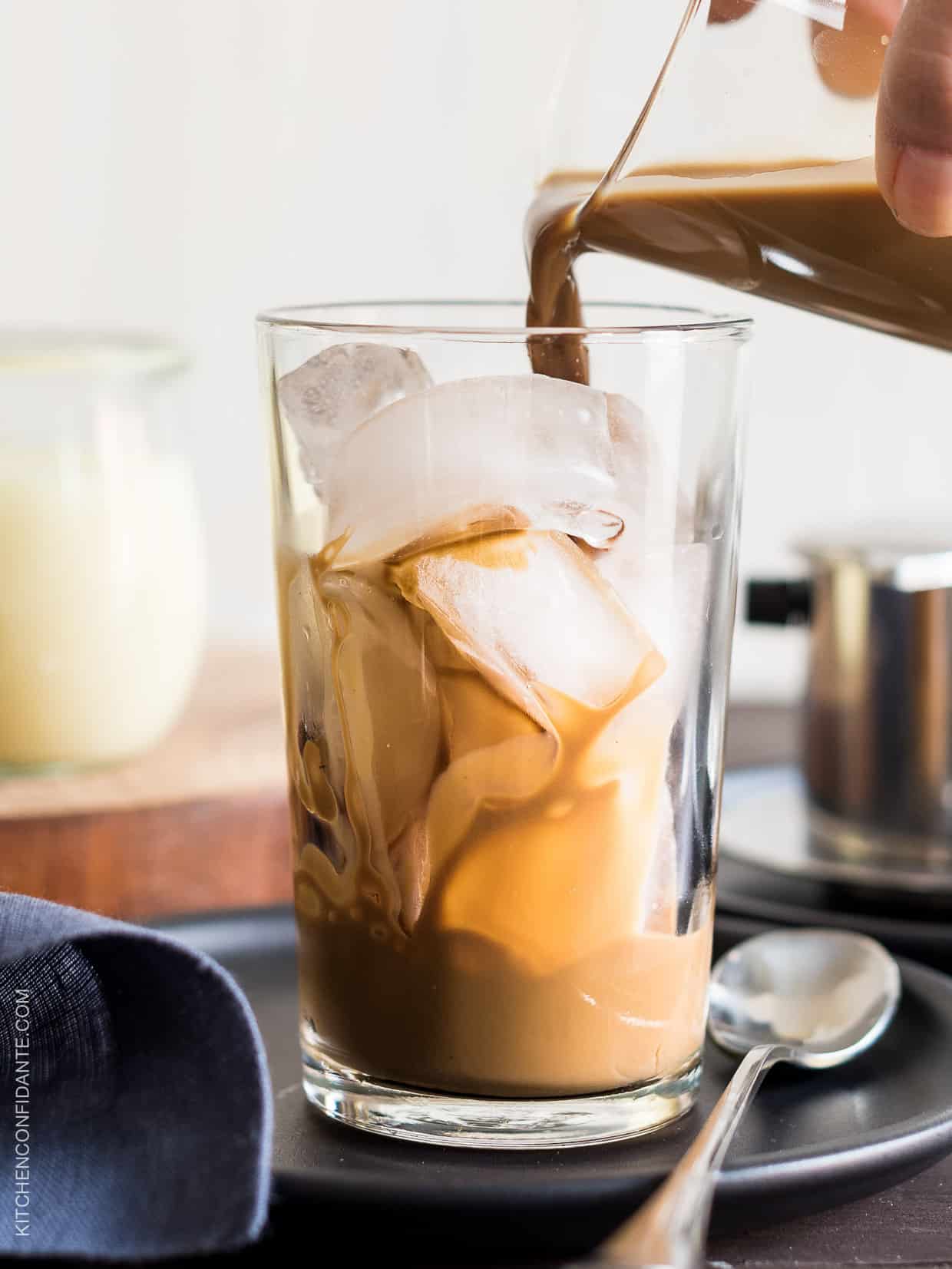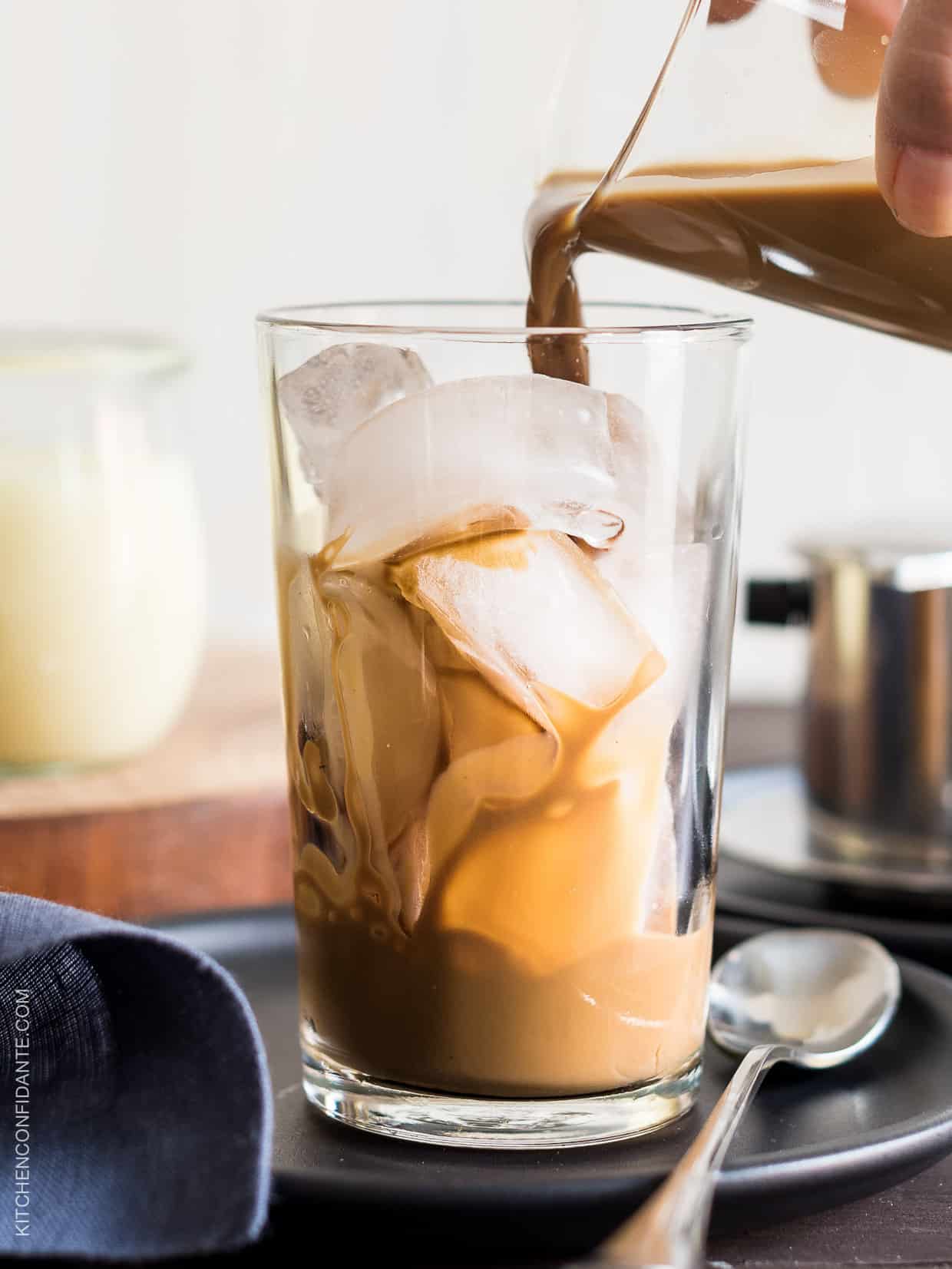 Brewing coffee using a phin filter has taught me to be more patient – the slow drip of the rich coffee into the glass reminds me that good things are worth waiting for, each sip tasting richer and sweeter than the last. It's these little rituals that make our weekends richer, little gifts to one another, in a glass.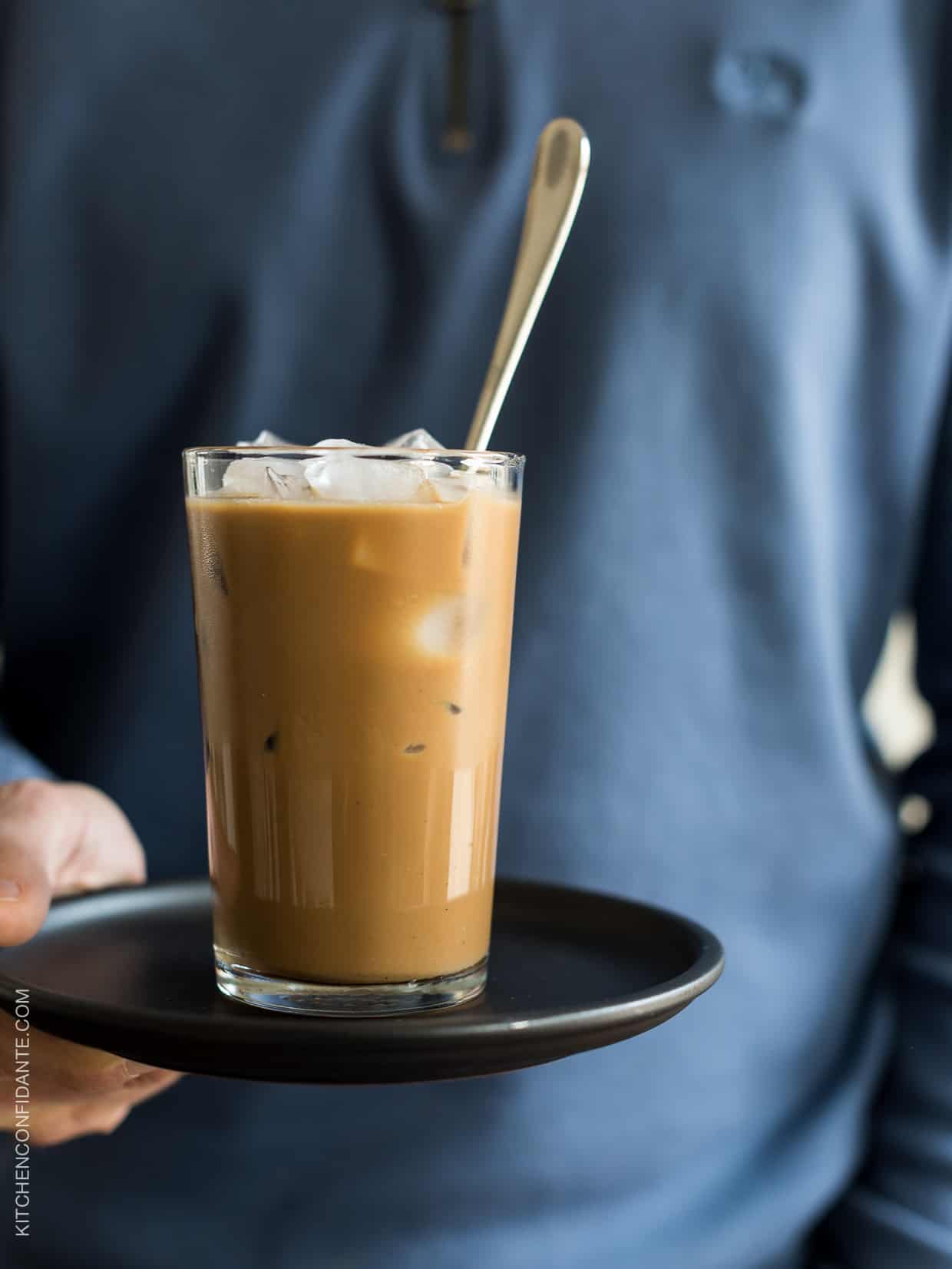 Disclosure: There are affiliate links in this post.
Traditional Vietnamese Iced Coffee (Ca Phe Sua Da)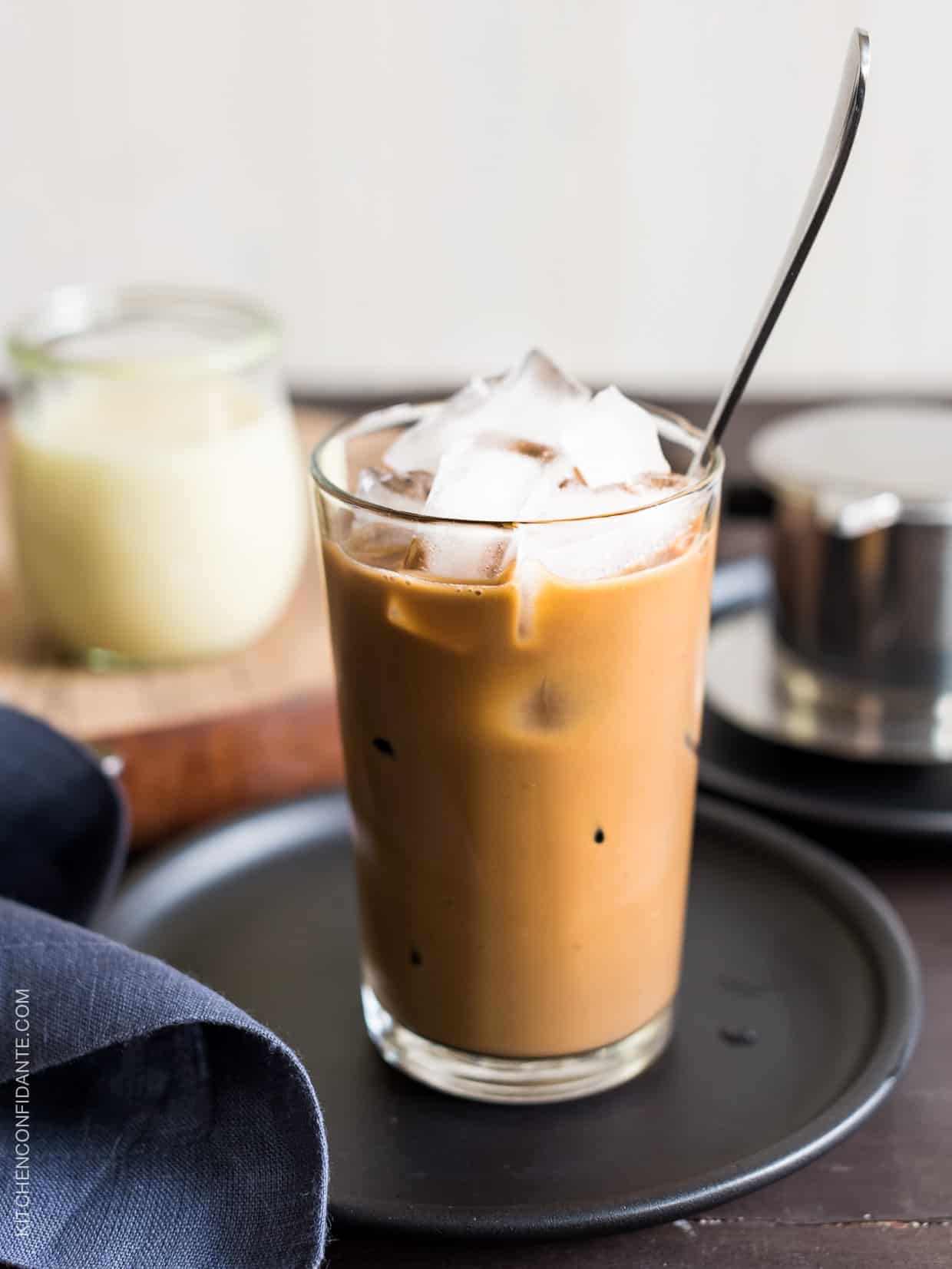 Print Recipe
Ingredients
3 tablespoons condensed milk (I recommend Longevity Brand Condensed Milk)
3 tablespoons dark French roast coffee, ground (use the richest you can find – I recommend Trung Nguyen Gourmet Blend)
8 oz boiling water
1 cup ice
Instructions
Pour condensed milk in a tall glass. Place the phin filter chamber and cup spanner on top of the glass, remove the filter and measure out the coffee, leveling it out by gently tapping the chamber. Place the filter on top, and pour just a touch of boiling water into the filter, just about to the level of the filter (about 20 mm or so) and let the water absorb into the coffee. Proceed to fill the chamber with the rest of the hot water to the top, cover, and let it steep until all the water passes through the filter. This can take some time, about 6-7 minutes.
Remove the filter, stir the condensed milk and coffee, then pour over a tall glass with ice. Serve immediately.
Notes
This requires an 8 oz traditional coffee phin filter
. It's an inexpensive tool that I have found to truly be worth adding to my kitchen arsenal.