Tri Color Cauliflower Salad
A recipe for Tri Color Cauliflower Salad – a trio of purple, white and green cauliflower, with feta, herbs, and a Sherry vinaigrette.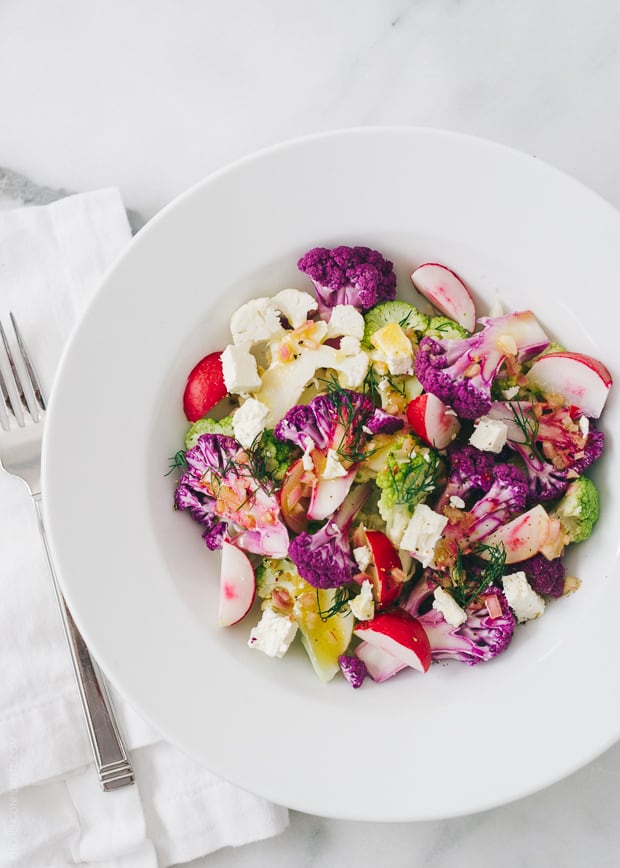 Tri Color Cauliflower Salad
This Tri Color Cauliflower Salad was inspired by the Farmer's Salad at the Andaz 5th Avenue and is composed of purple cauliflower, Romanesco, creamy feta, fresh herbs, and a light vinaigrette.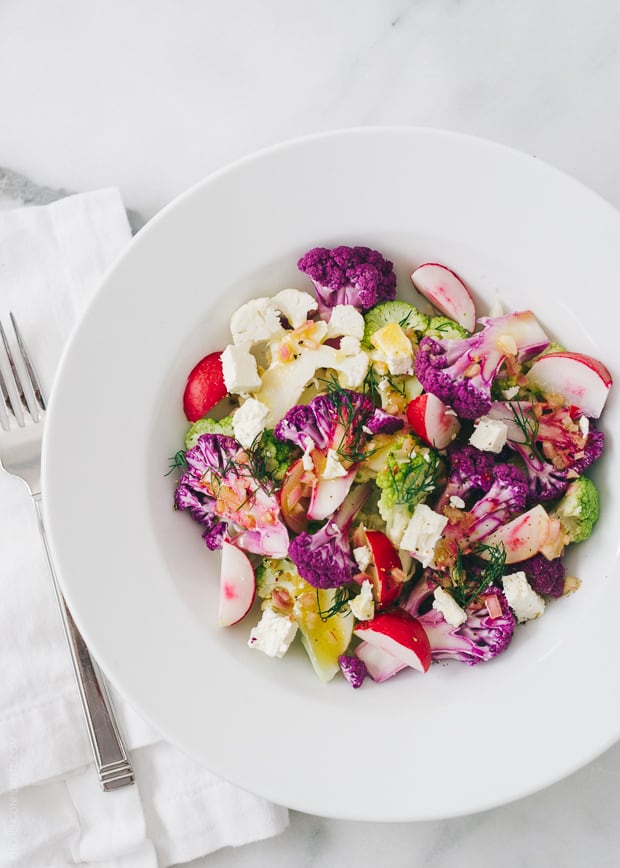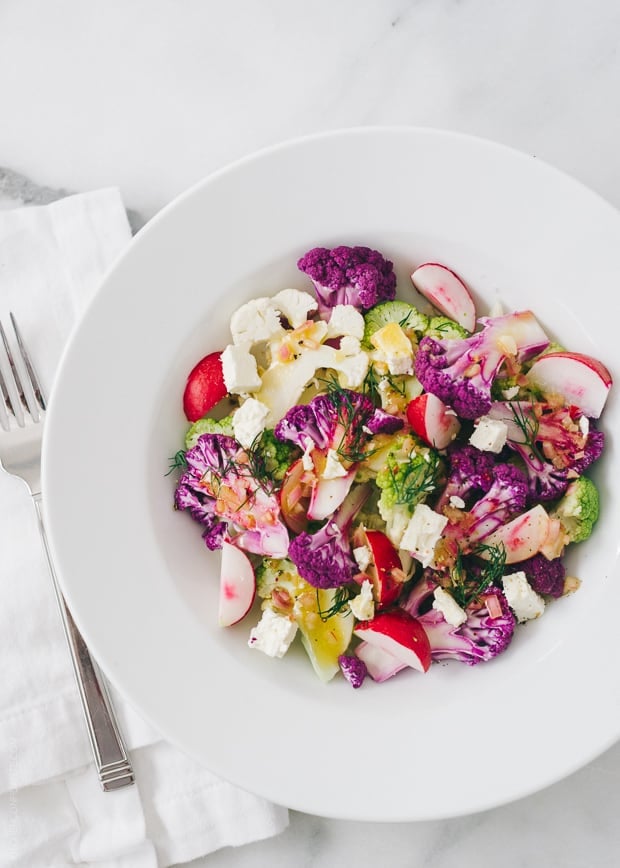 This post first appeared August 3rd, 2014 as part of the Simple Sundays series. I hope you enjoy this favorite from my kitchen!
There was a moment when I looked at my husband across the aisle and thought, "this is it." Our children were sitting in the row with me, the oxygen masks secured on our faces, the breathing in and out of the clear air oddly calming.
It was a wet and gloomy March morning when we left San Francisco to fly back to New York to celebrate my brother's wedding, and for a scary moment, I thought we just wouldn't even make it, alive. The plane was over half an hour into flight when there was an unexpected loss in cabin pressure, and the pilots, in their masked breathing, advised us to use the masks when they dropped from the ceiling. Yes, those masks that you see illustrated on the card in the seat pocket in front of you. The masks that you ignore when the flight crew demonstrates at the beginning of each flight. That morning, as the air in the cabin thinned and my lungs begged for a good breath, they couldn't seem to fall fast enough.
That flight was on the heels of the first Malaysian Air tragedy, and all the passengers were a bundle of nerves. We diverted to Oakland, and landed safely. But as we boarded a new plane, it did not surprise me that we lost about twenty passengers entirely. My husband half-joked that we should hop in the car and drive to New York for the wedding.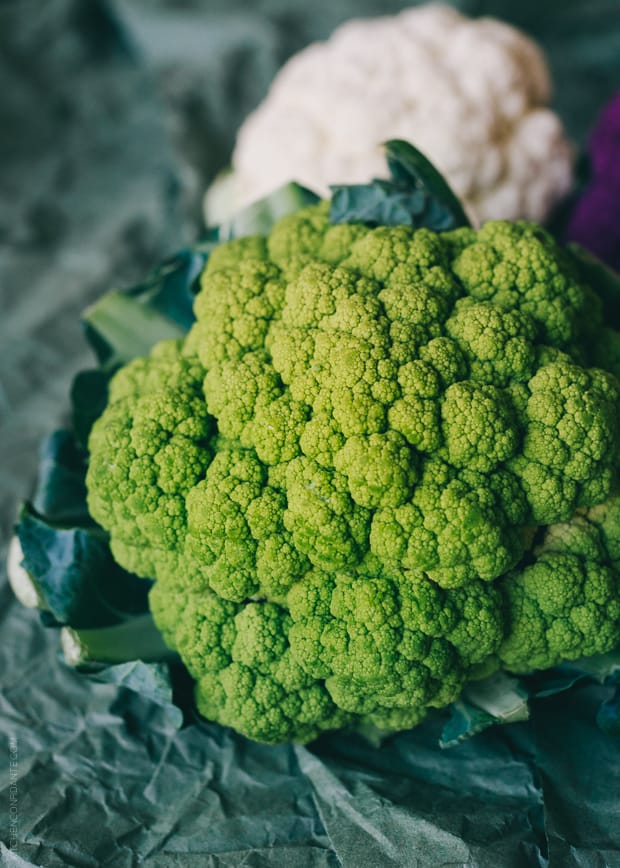 When our car emerged from the Midtown Tunnel into the city, it was well past midnight, and we were weary and tired. And famished. But our sleek hotel room was a welcome oasis, with its view of the New York Public Library and midtown office lights that enchanted the children. And I was surprised to find that the quality of the room service surpassed my expectations.
That night, I ordered their Farmer's Salad, composed of gorgeous raw purple cauliflower, Romanesco, chunks of creamy feta, fresh herbs, and a refreshing vinaigrette. It was light yet satisfying, and, in my mind, the perfect meal.
Over the course of our stay there, we would come home from wedding events or shows hungry, and we would find ourselves ordering room service late at night. I found myself ordering this salad again and again, that is how much I loved it. It was consistently perfect. This Tri Color Cauliflower Salad has been haunting me ever since, and finally, five months after my brother's wedding, I finally recreated it at home.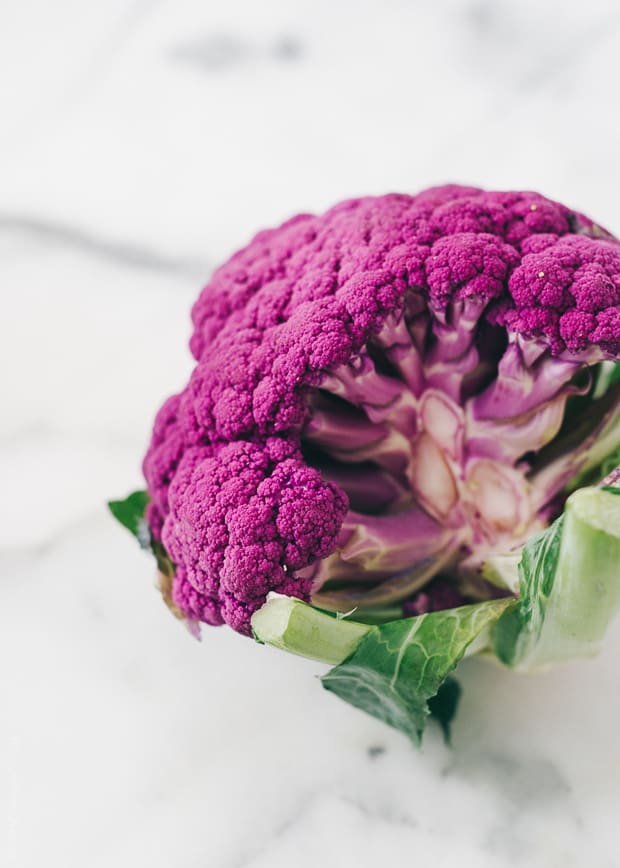 It's funny how certain things can haunt you. I confess, that flight changed me. I was never so grateful to land safely. It had turned me, someone who was never frightened of air travel, into someone who experiences some apprehension with each odd noise on a flight. I now pay attention to the safety briefings. I look at the emergency card. I count the number of seats to my nearest exit. But then, there are good things that can haunt you. This salad is proof of that. And it's definitely worth remembering.
More Cauliflower Recipes
Baked Cauliflower Parmesan
Coconut Curry Cauliflower Rice Bowls
Creamy Cauliflower and Potato Soup
Roasted Cauliflower and Sweet Potato Chowder
Hummus Battered Buffalo Cauliflower "Wings"
Tri Color Cauliflower Salad
This Tri Color Cauliflower Salad was a welcome bite during my stay at the Andaz 5th Avenue. Since cauliflower is plentiful all year round, to me, this salad is ideal in that it is satisfying and accessible throughout the year. But if you can find gorgeous purple cauliflower and green Romesco, it will be even more vibrant.
Ingredients
1

medium shallot

minced

2

tablespoons

Sherry vinegar

1

tablespoon

fresh lemon juice

1

teaspoon

Dijon mustard

9

tablespoons

extra-virgin olive oil

Fine sea salt and freshly ground black pepper

1 1/2

cups

sliced white cauliflower

1 1/2

cups

sliced purple cauliflower

1 1/2

cups

sliced green cauliflower or Romesco

1

cup

radishes

quartered

1

cup

feta cheese

cut into 1/2 inch pieces

fresh dill

for garnish
Instructions
In a small bowl, whisk together the shallot, sherry vinegar, lemon juice and mustard. While whisking, slowly pour in the olive oil. Season with salt and pepper. Set the dressing aside, or refrigerate until you are ready to make the salad.

Combine the cauliflowers, radishes and feta in a large bowl. Dress with the Sherry vinaigrette. Adjust seasoning with salt and pepper, if necessary. To serve, plate the salad, and garnish with sprigs of dill. Serve immediately.
Notes
Recipe inspired by the Farmer's Salad at the Andaz 5th Avenue. Sherry vinaigrette from Bon Appetit.
Nutrition
Calories:
431
kcal
|
Carbohydrates:
12
g
|
Protein:
9
g
|
Fat:
40
g
|
Saturated Fat:
10
g
|
Cholesterol:
33
mg
|
Sodium:
485
mg
|
Potassium:
563
mg
|
Fiber:
5
g
|
Sugar:
6
g
|
Vitamin A:
163
IU
|
Vitamin C:
149
mg
|
Calcium:
214
mg
|
Iron:
4
mg