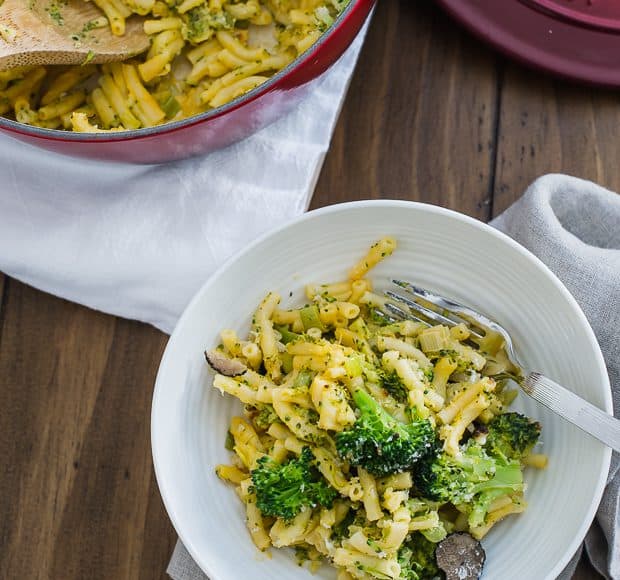 Truffled Mac and Cheese with Broccoli and Goat Cheese
I've confessed it to you before, have I not? I'm pretty sure I told you that mac and cheese was not part of my vocabulary growing up. Gasp, I know! My parents embraced comfort foods of all sorts, but macaroni and cheese was, somehow, something…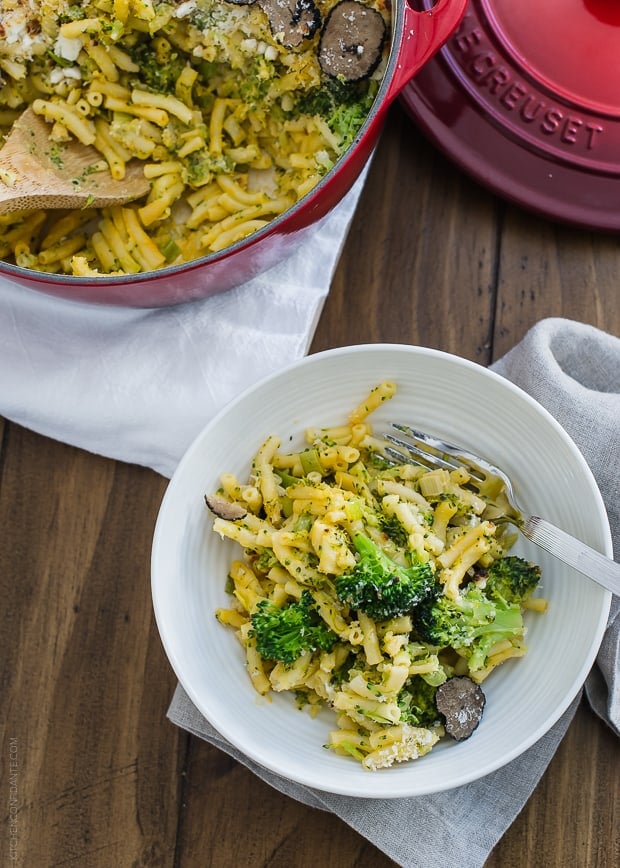 Truffled Mac and Cheese with Broccoli and Goat Cheese
I've confessed it to you before, have I not? I'm pretty sure I told you that mac and cheese was not part of my vocabulary growing up. Gasp, I know! My parents embraced comfort foods of all sorts, but macaroni and cheese was, somehow, something that never touched my lips until years later, when I spent summers as a camp counselor. Even then, I will admit that it wasn't love at first bite. If anything, my mac and cheese enlightenment did not occur until college and beyond, when I finally had a taste of how mac and cheese was meant to be.
Cheesy, creamy and just the right balance of pasta to cheese – it really does make a difference! So when my children fell in love with mac and cheese, I started to get it, especially when we began to get spoiled on versions with delicious cheeses and restaurant offerings of decadent mac and cheese boasting of lobster, or truffle oil, or dry-aged cheddar. In other words: mac and cheese nirvana. Use the good stuff and you'll taste the good stuff. Always a good mantra to live by.
Like any busy mama, I will defer to a box of mac and cheese on those hectic weeknights, when time is precious. But I can't help myself – I always have to add a little something more. There's something fun about transforming a simple box of ingredients into something more exciting!
The possibilities are endless when it comes to jazzing up a box of macaroni and cheese. I'm so excited to partner with Horizon Organic to create a twist on a family favorite, with broccoli, goat cheese and some truffle oil! It's a guaranteed hit with the kids, and for me, too (total win-win when they eat their broccoli with gusto!).
If you ever find yourself in that dinner rut, definitely give this Truffled Mac and Cheese with Broccoli and Goat Cheese a try. And if you're looking for more cheesy inspiration, check out Horizon Organic's MAC-N-ATOR – this clever mac-n-cheese recipe generator makes it easy to create a quick and delicious meal with the ingredients you have in your pantry! Find this and more recipes on the Horizon Mac and Cheese Pinterest Board, as well.
This is a sponsored conversation written by me on behalf of Horizon Organic. The opinions and text are all mine.
Truffled Mac and Cheese with Broccoli and Goat Cheese
Jazz up mac and cheese with flavors both kids and grown ups will love!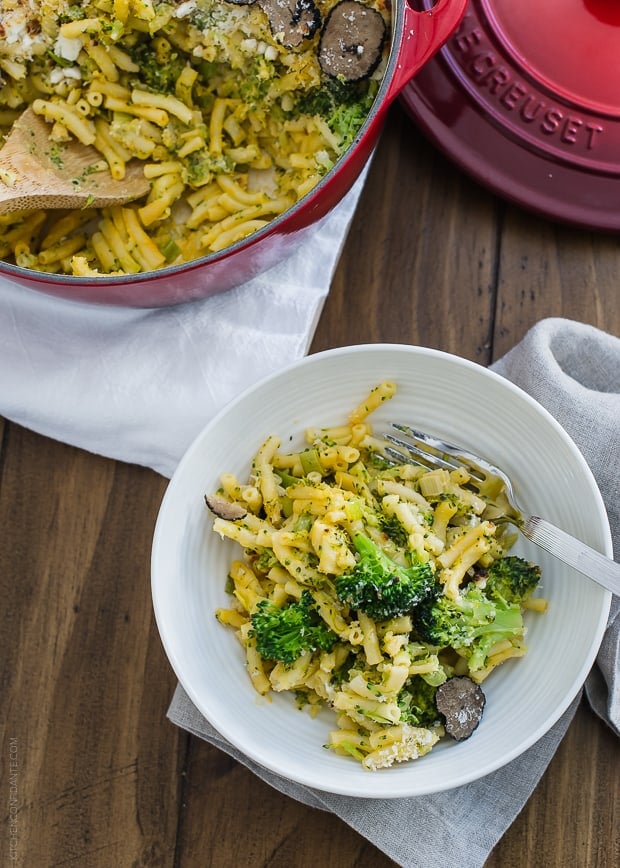 Print Recipe
Ingredients
2 boxes Horizon Organic Organic Mac
1 small head brocolli, cut into bite sized pieces
5 tablespoons butter, divided
1 leek, cleaned and finely sliced
1/2 cup reduced fat milk
4 oz crumbled goat cheese, divided
2 drops truffle oil
kosher salt, to taste
freshly ground black pepper, to taste
1 cup panko bread crumbs
shaved truffles (optional)
Instructions
Preheat the broiler.
In a large pot, bring 6 cups water to a boil. Season water with salt, then cook both the pasta and broccoli for about 8 minutes, or until the pasta is cooked al dente and the broccoli is fork tender.
Meanwhile, in a medium, oven proof pot, melt 4 tablespoons butter over medium low heat and cook the leeks until wilted, about 3 minutes. Stir in the milk, and cheese from Horizon Organic Organic Mac packet and mix until smooth. Drain the cooked pasta and broccoli, and add to the cheese mixture, along with 3 oz goat cheese and truffle oil, stirring well until the pasta is coated with the cheese mixture. Adjust seasoning with salt and pepper if necessary. Remove from heat. Top with panko bread crumbs. Melt remaining tablespoon butter and drizzle over the breadcrumbs. Scatter the remaining 1 oz goat cheese on top of the breadcrumb topping.
Place under the broiler for about 5 minutes, or until the top is lightly browned. If you wish, serve with thin shavings of truffles.