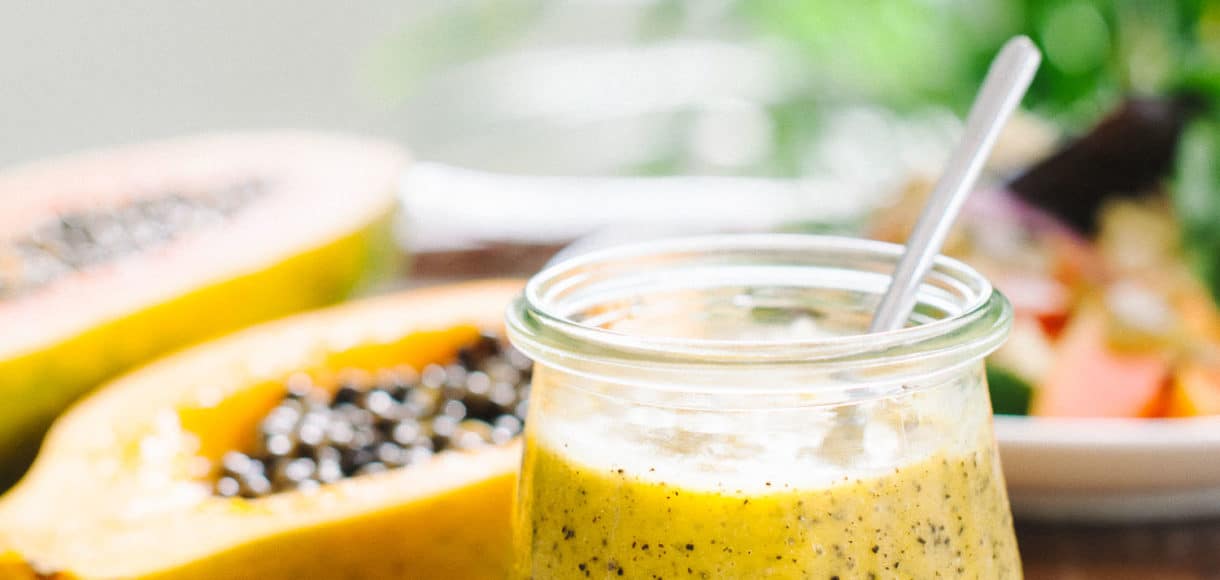 Papaya Seed Vinaigrette Dressing
Don't throw away those seeds! Papaya seeds are good for you, and delicious drizzled over a salad in this Papaya Seed Vinaigrette Dressing.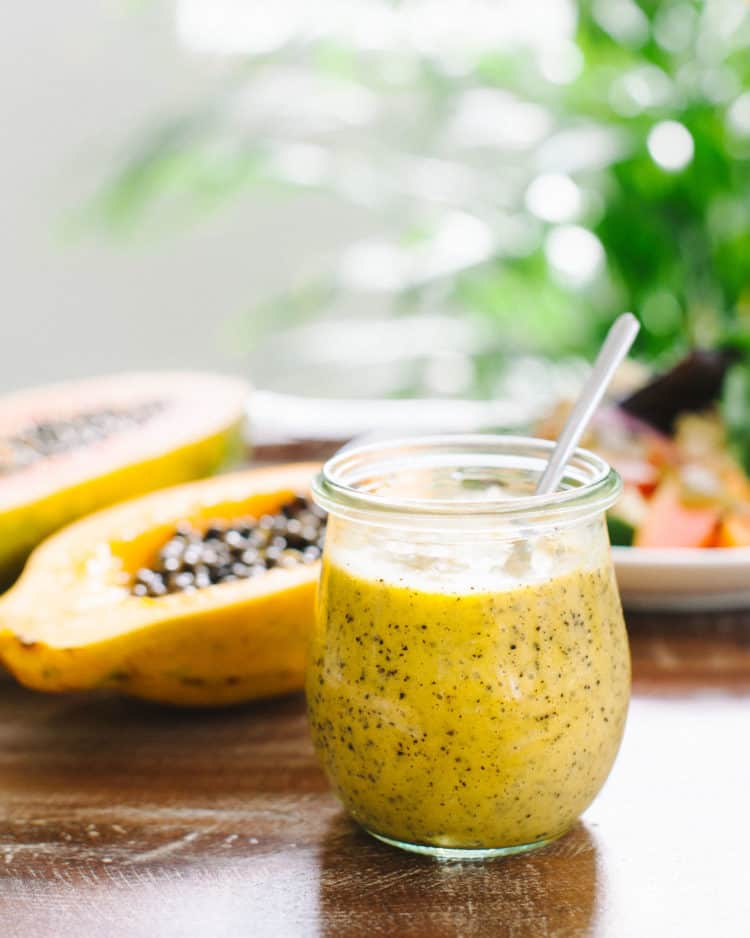 Papaya Seed Vinaigrette Dressing
Don't throw away those seeds! Papaya seeds are good for you, and delicious drizzled over a salad in this Papaya Seed Vinaigrette Dressing.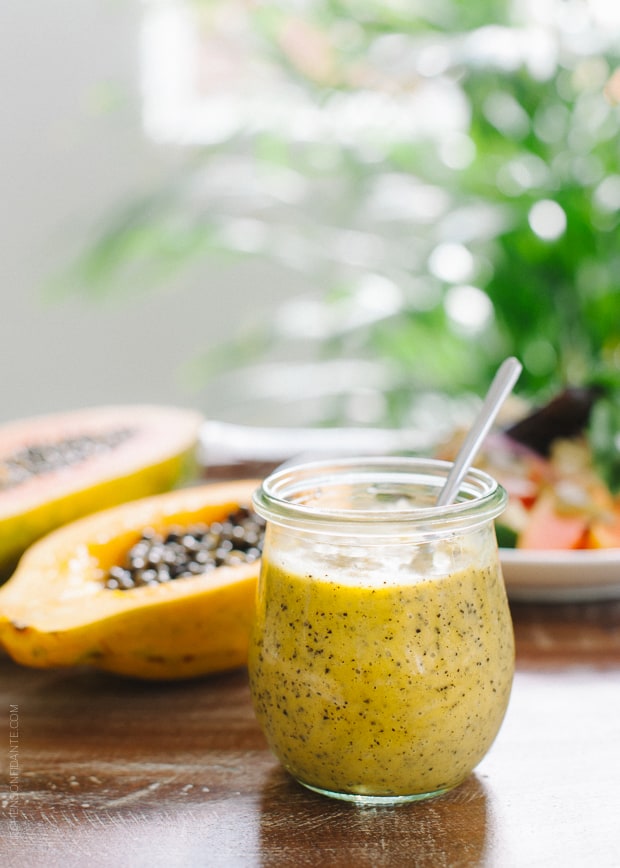 On our last day in Hawaii, I stepped onto our lanai, the floor beneath me still toasty from the sun's intense gaze that day. I dropped into the chair, ate some melting ice cream and waited for the sun to begin its farewell. The sunrises and the sunsets are my favorite thing to do when I am on island time – perhaps because time is all mine when on vacation. There is nothing holding me back from spending an hour watching the sun dip lower into the ocean, peeking behind clouds that are tinged with brilliant orange purples, until nothing is left but darkness. The luxury of each minute is something I savor when we go away.
There is actually more to savor, than just time. Each moment with my family is something I cherish, each meal, each sip of good Kona coffee. I make it a point to enjoy fish for every possible meal, and to eat my fill of papayas and mangoes.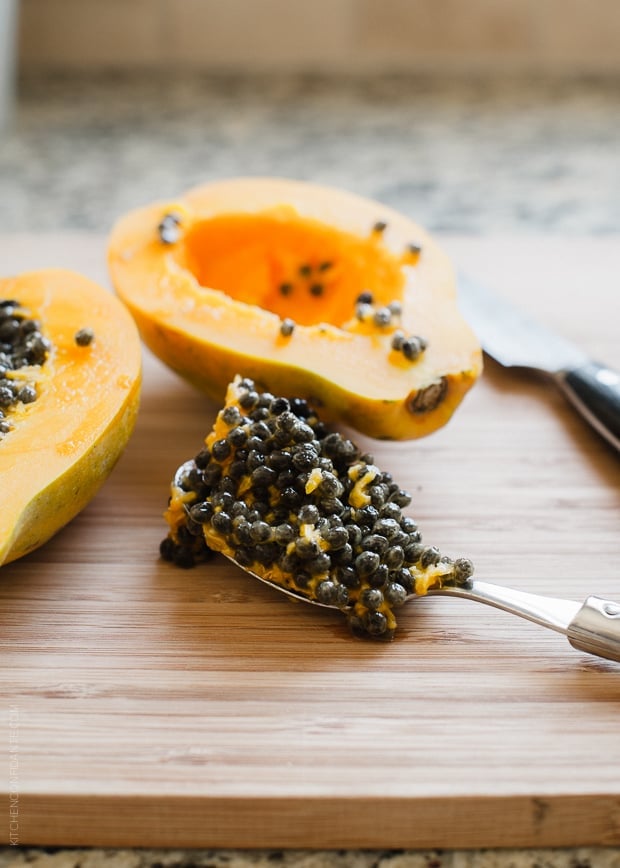 But I learned something new on this trip. I never realized, until recently, that papaya seeds are edible! All these years, those mysterious looking seeds went straight into the garbage (now compost), and now I am making up for lost time. When I returned home, I wanted to recreate the Papaya Seed Vinaigrette that accompanied my salads, and I marveled at how the seeds, with it's light bitterness, worked so nicely, along with fresh papaya, into this salad dressing. There may no longer be time for lazy sunsets and farewells to each day, but I can capture the island feel in a bottle of dressing. It should hold me over for a while…at least until we plan the next vacation.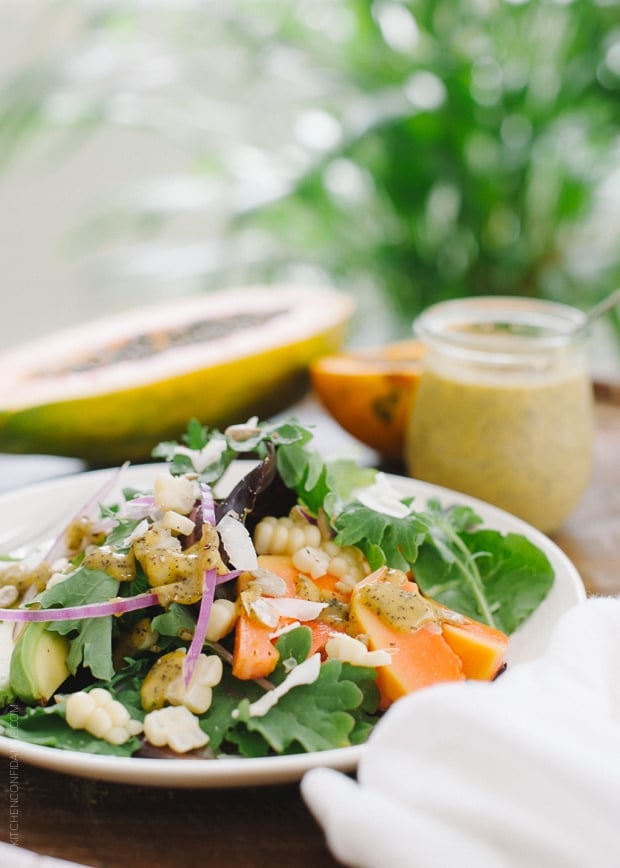 Eat Seasonal
It's that time again! July has brought it's bounty, and I am joining Becky from Vintage Mixer and our friends to share dishes that embrace eating seasonal! Check out the seasonal food guide and these recipes for more #EatSeasonal inspiration.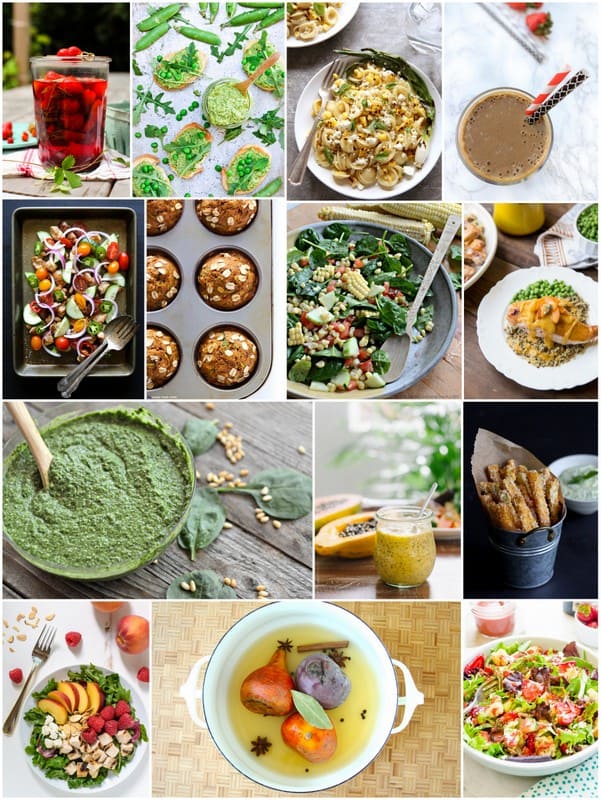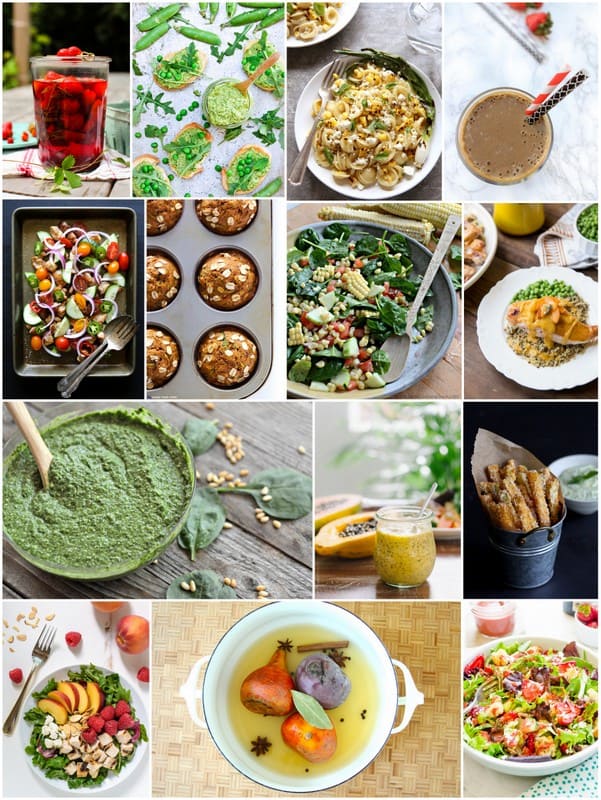 Quick Pickled Strawberries with Black Pepper and Tarragon by Simple Bites
Pea and Arugula Pesto by Floating Kitchen
Creamy Grilled Corn Pasta by Completely Delicious
Chocolate Strawberry Protein Smoothie by The Lemon Bowl
Crispy Chicken & Cucumber Salad with Dijon Vinaigrette by Climbing Grier Mountain
Healthy Zucchini Muffins by Gimme Some Oven
Fresh Corn Salad by Bless this Mess
Apricot Glazed Chicken by Vintage Mixer
Spinach Pesto by Mountain Mama Cooks
Baked Zucchini Fries with Pesto Yogurt Dipping Sauce by Cookin' Canuck
Peach Salad with Grilled Chicken and Raspberries by Well Plated
Poached Beets with Star Anise and Cinnamon by Project Domestication
Strawberry Fields Panzanella Salad with Strawberry Balsamic Vinaigrette by Flavor the Moments
How to Make Arugula Pesto by FoodieCrush
PAPAYA SEED VINAIGRETTE DRESSING
Save those papaya seeds and put them in a tasty salad dressing!
Ingredients
1/2

cup

fresh papaya

cut in cubes

3

tablespoons

papaya seeds and pulp

4

tablespoons

white balsamic vinegar

1

tablespoon

agave nectar

1

teaspoon

Dijon mustard

1/4

teaspoon

freshly grated ginger

1/4

teaspoon

kosher salt

freshly ground black pepper

1/3

cup

olive oil
Instructions
Place papaya, papaya seeds and pulp in a blender and puree until smooth.




Add the vinegar, agave nectar, Dijon mustard, ginger, salt and pepper and blend.

Add the olive oil and blend again. Adjust seasoning with salt and pepper if necessary.
Nutrition
Calories:
99
kcal
|
Carbohydrates:
4
g
|
Fat:
9
g
|
Saturated Fat:
1
g
|
Sodium:
82
mg
|
Potassium:
25
mg
|
Sugar:
3
g
|
Vitamin A:
85
IU
|
Vitamin C:
5.5
mg
|
Calcium:
4
mg
|
Iron:
0.1
mg