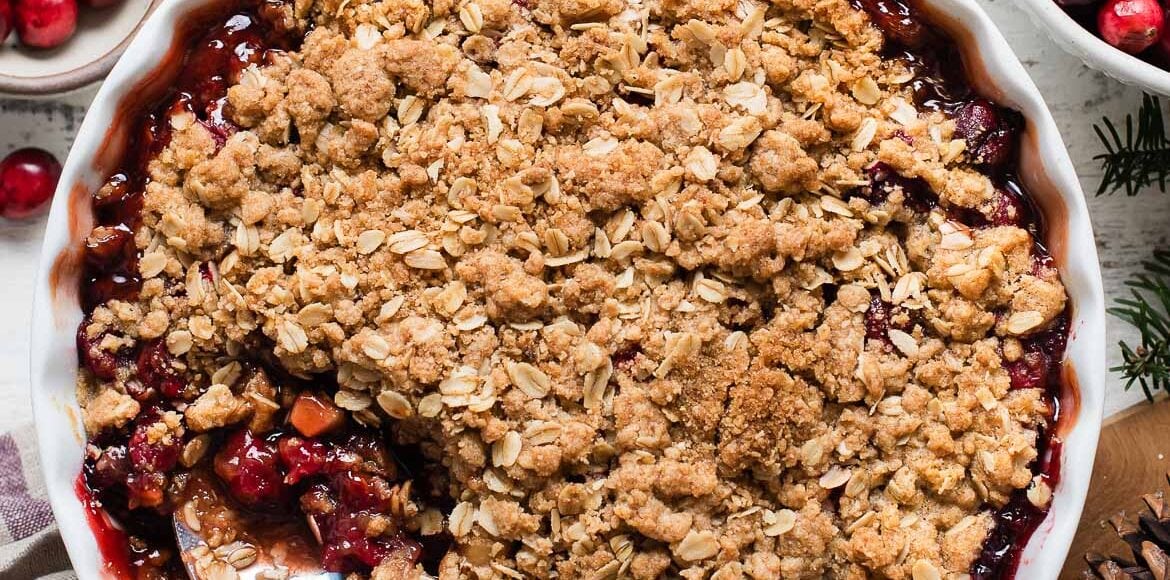 Cranberry Apple Crisp
Apple Cranberry Crisp – If you love apple crisp, you'll love this apple cranberry recipe twist with sweet apples, tart berries, and a spiced crumb topping that is holiday-ready!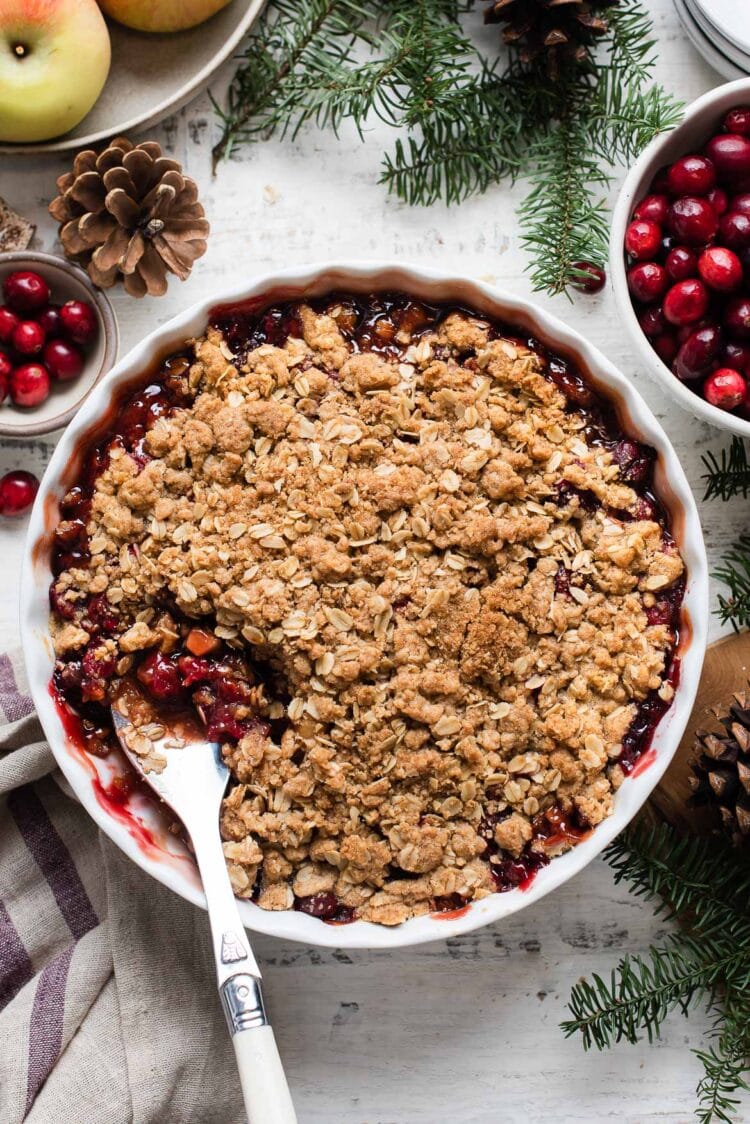 Cranberry Apple Crisp
Cranberry Apple Crisp – If you love apple crisp, you'll love this holiday-ready cranberry apple recipe twist, festively spiced with premium Watkins spices for cranberry season! This post is brought to you in partnership with Watkins.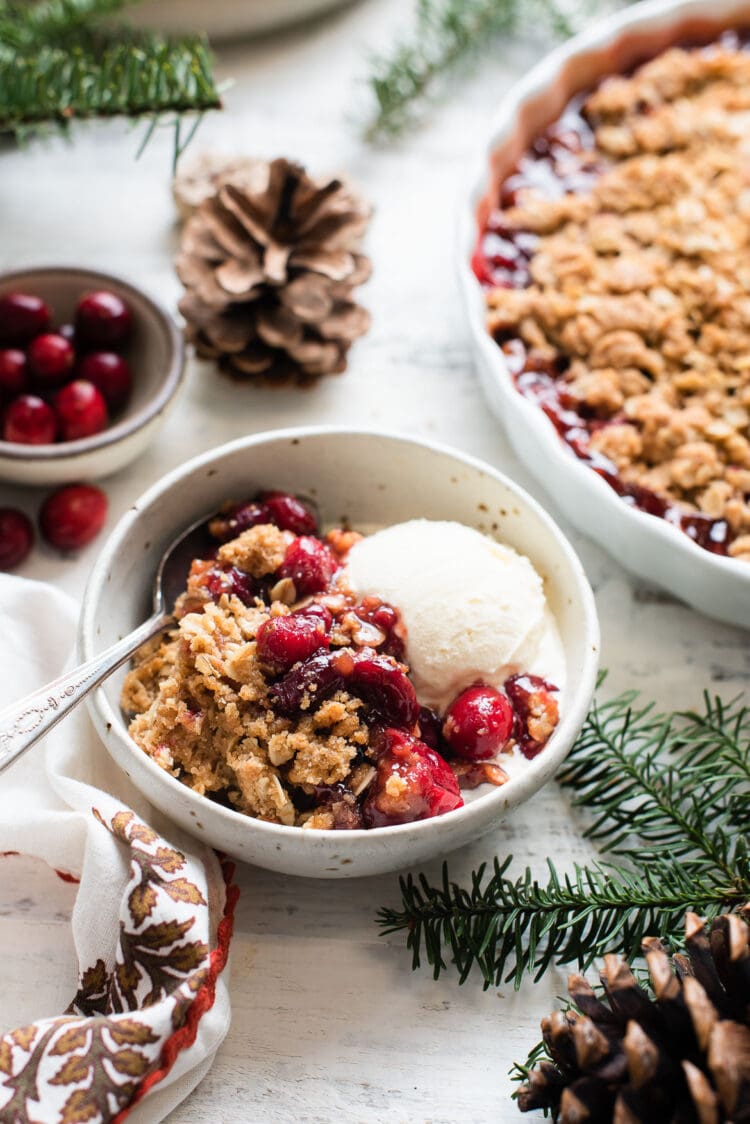 As a self-declared summer person, I have begun to entertain some doubts about this supposed truth. I do indeed miss the hours of daylight and ease of wearing sundresses and sandals, and let's not forget the bounty of summer produce. But I've come to realize that we have entered one of my other favorite times of the year – the holidays! With that comes the cozy sweaters, Christmas music, silly holiday movies, and all the holiday baking.
And let's not forget the cranberries.
By now, you probably know my deep love for cranberries. As soon as I see them in the markets, I instinctively reach for them and always have them on hand. The cranberry-sauce-kick-off leads to a season of cranberry cooking and baking, whether it's making my cranberry curd, shortbread bars, or my family's personal favorite, cranberry tea cake, which we love to bake for our neighbors every year.
But this season, I wanted to introduce a new recipe for the holidays.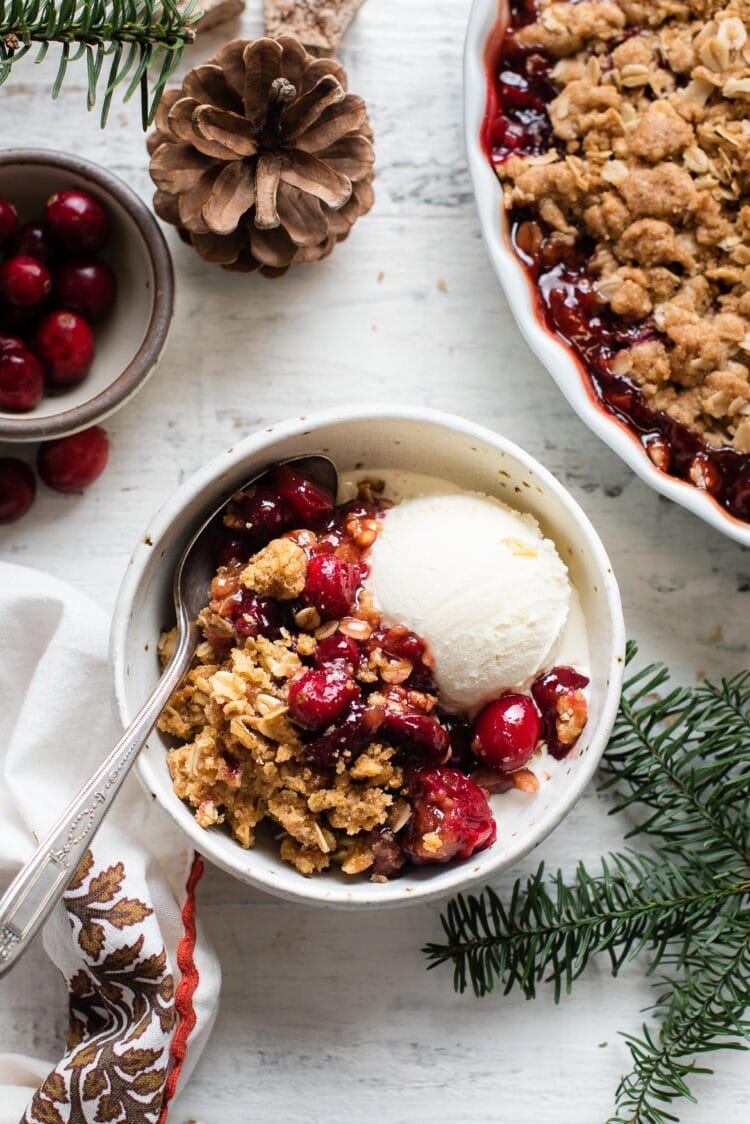 If you were to ask my family what desserts represent us as a unit, I think we would all agree that we have a special place in our heart for the homespun. Project baking is all well and good, but we love the simple recipes that we hand down from generation to generation, bringing a sense of tradition and joy. Things like Papa's buttermilk banana bread, and my mom's Apple Walnut Delight, or the blueberry crisp I've been making since the summer I met my husband.
So this year, I thought it was high time to introduce a Cranberry Apple Crisp to the family. I wish you could have seen their eyes when I served it up with a dollop of ice cream, melting into the sweet and sour mess of cranberries and spiced crumb topping. It brought the wonder of the holidays to life! After one bite, I knew: this is a new tradition my children will look forward to, year after year.
Holiday Cranberry Apple Crisp
Since a fruit crisp is one of the most straightforward but satisfying desserts you can make, I don't like to complicate things. But it's the holidays, and we need to give it a little extra touch of merry. A few extra spices in the tangy filling and the crumbly, buttery topping do just that.
For this recipe, I baked with my friends at Watkins. For over 150 years, Watkins has been known for their gourmet flavoring products, and found in kitchens across North America! I love that all their products are free from dyes, high-fructose corn syrup, added MSG, and other artificial ingredients.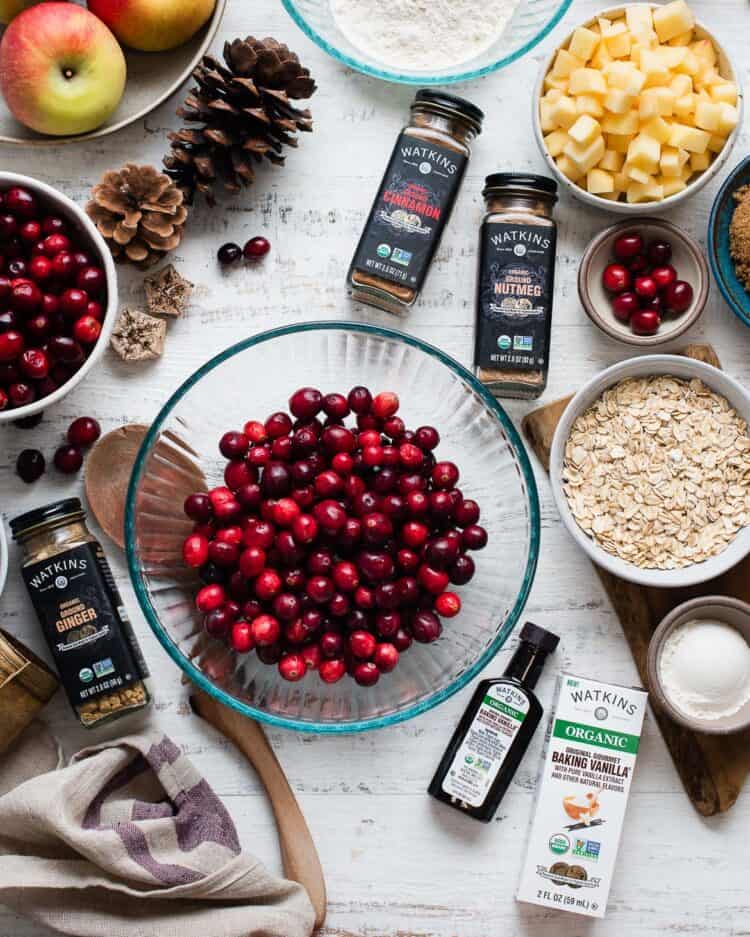 I add Watkins Organic Original Gourmet Baking Vanilla and a touch of Watkins Organic Ground Ginger to brighten the cranberry-apple filling. The tart cranberries are balanced by Honeycrisp apples, and the vanilla and ginger really do mellow out the flavors.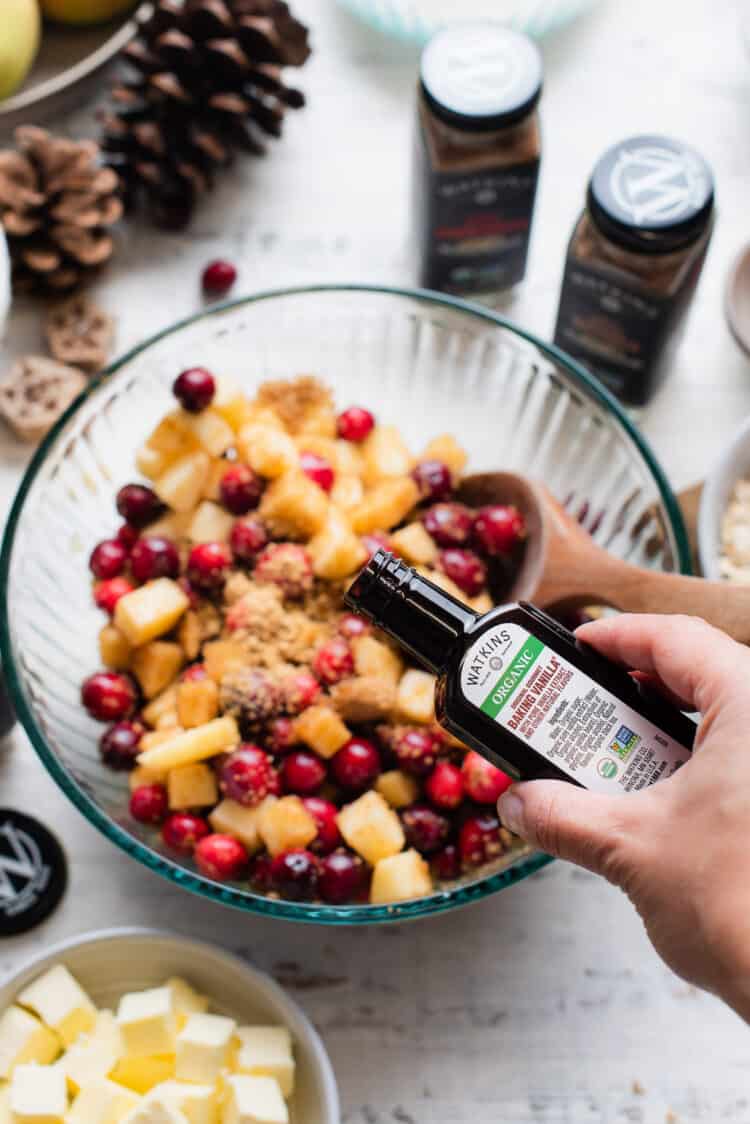 As for the topping, Watkins Organic Ground Cinnamon, Organic Ground Nutmeg, and Organic Ground Ginger make the buttery crisp topping extra festive and cozy. It's like lighting the most fragrant holiday candle — it makes the kitchen smell delicious as it bakes! Without question, this spiced cranberry crisp is made for the holidays!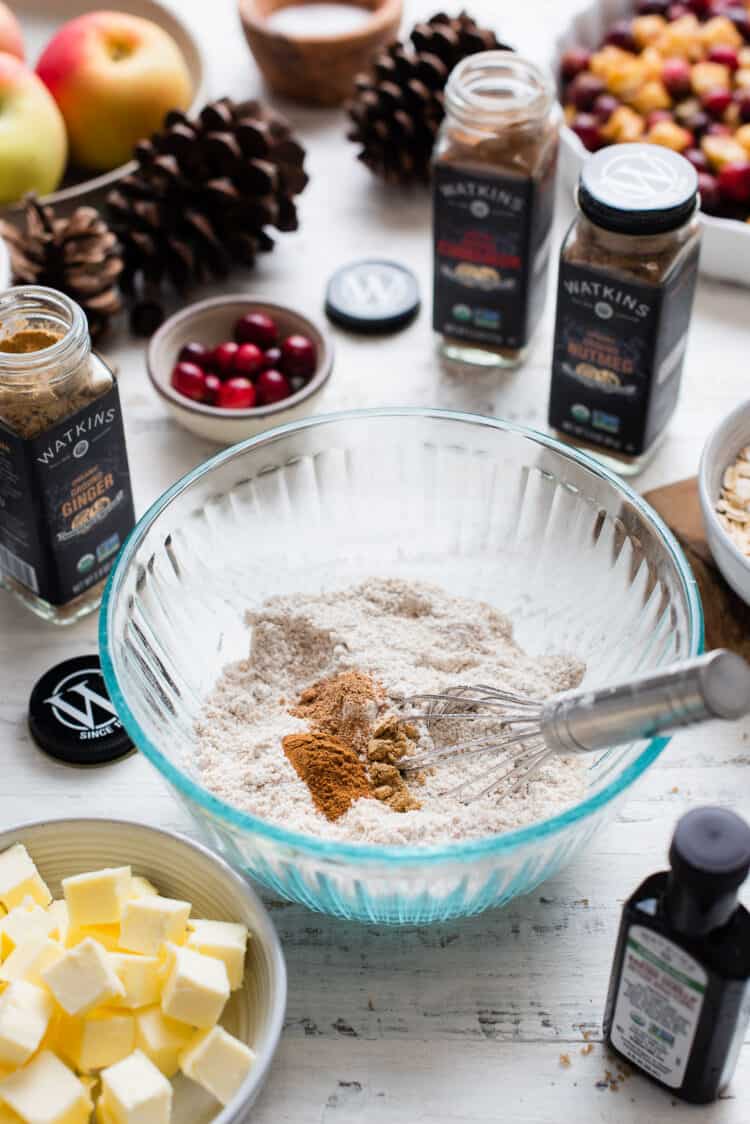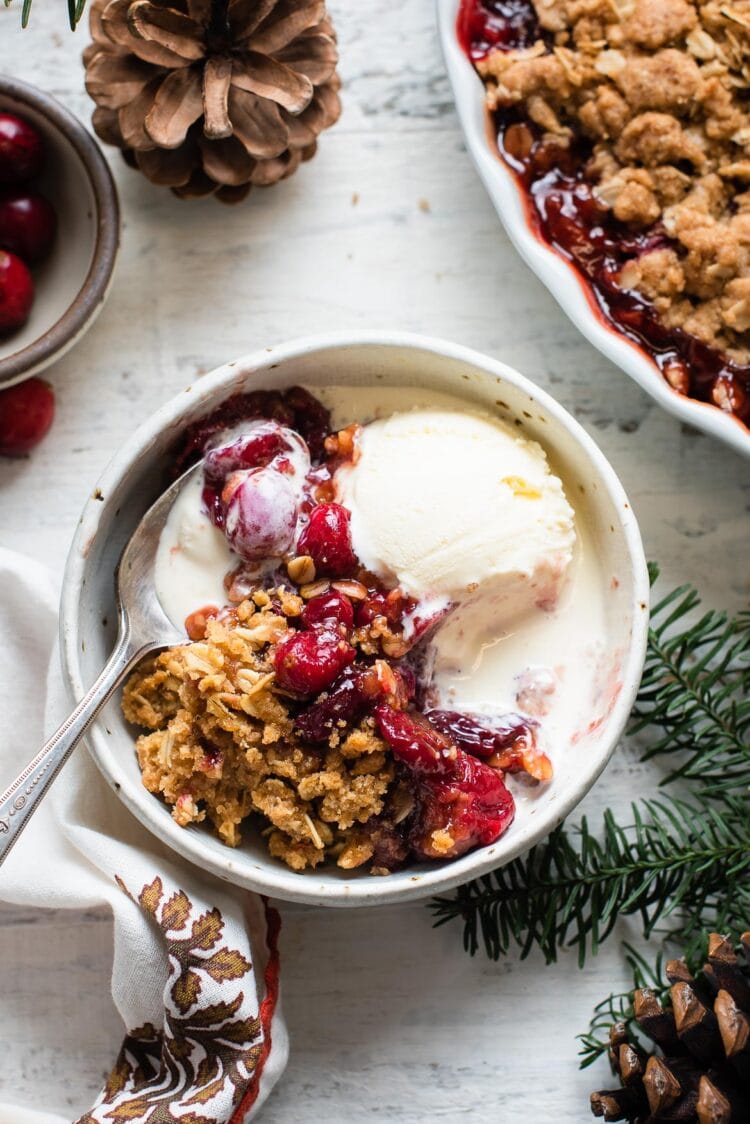 Grab a spoon and dig in – I hope this recipe makes you and yours more merry this holiday season!