Some Like It Hot
On Valentine's Day, aka Day of Chocolates & Flowers, I couldn't think of a better complement to all the sweetness than something hot and spicy.  When I think of fiery hot, I think of Jambalaya…which makes me think of…Chicago.
Chicago?
Actually, yes.  Some of the tastiest Jambalaya to ever burn my tongue is in good ole' Chi-town, which is, coincidentally, where I met my Valentine.  See how it all comes full circle?
Believe it or not, my favorite recipe for Jambalaya is from Chef Robert Childers of the House of Blues, Chicago.  Spice it up, spice it down (like I sometimes do for the sake of my little ones), it'll fire up your palate for sure.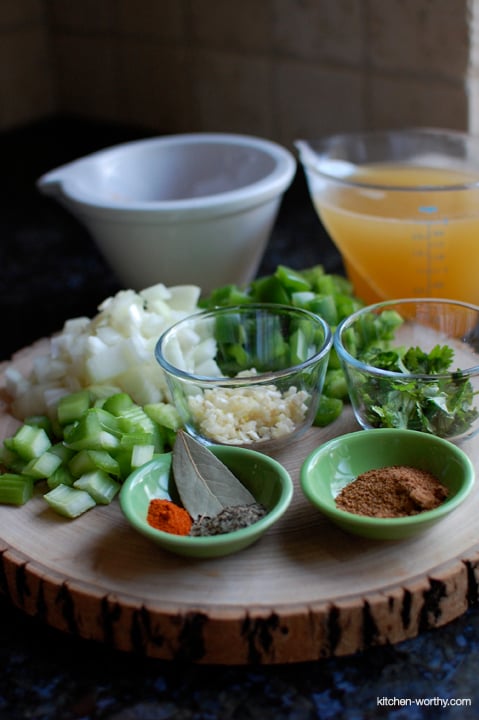 Jambalaya

Ingredients:

3 tablespoons vegetable oil
2 boneless, skinless chicken breasts, cut into 1--inch cubes
2 boneless, skinless chicken thighs, cut into 1-inch cubes
1 cup chopped onion
1 cup chopped green bell pepper
1 rib celery, chopped
1 clove garlic, minced
¼ cup chopped parsley
8 ounces Andouille or Kielbasa sausage, sliced
1 teaspoon Cajun spice
½ teaspoon dried thyme, crushed
¼ teaspoon cayenne pepper
1 bay leaf
1½ cups converted rice
2 cups chicken stock
1 cup tomato sauce
½ pound small raw shrimp, peeled, cleaned and deveined
Chopped parsley for garnish

Directions:

In a large heavy dutch oven over medium high heat, heat the oil and brown the chicken breasts and thighs for 5 minutes. Add the onion, bell pepper, celery, garlic, and parsley and cook for 5 minutes longer. Add the sausage, Cajun spice, thyme, cayenne, bay leaf, and season to taste with salt and pepper. Cook for 1 minute. Stir in the rice, chicken stock, and tomato sauce, and bring to a boil.

Reduce the heat to medium low, cover and cook for 30 to 35 minutes. Gently nestle the shrimp into the rice 5 minutes before the jambalaya is finished.

When ready to serve, fluff the rice with a fork. Garnish each serving with chopped parsley.

from Burt Wolf's Local Flavor's, Chicago, via Cooking.com
16 Responses to "Some Like It Hot"
Leave a Comment