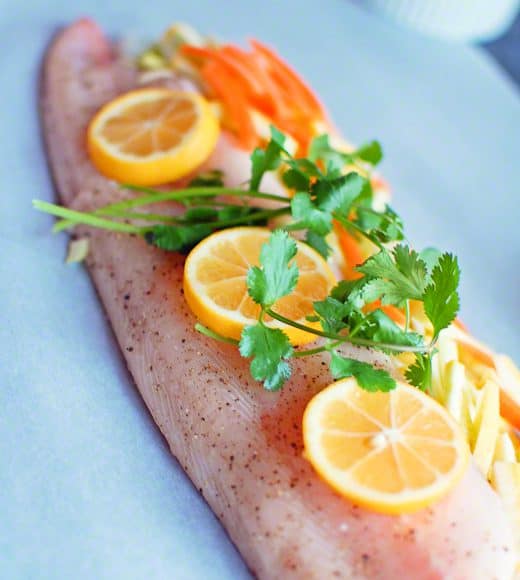 En Papillote
en pa·pil·lote|än pä-pē-ˈyōt| adjective and adverb (of food) cooked and served in a paper wrapper: [as postpositive adj.] fish en papillote We often think about how we should eat seafood more often, but somehow it is easy to forget when you live with a family…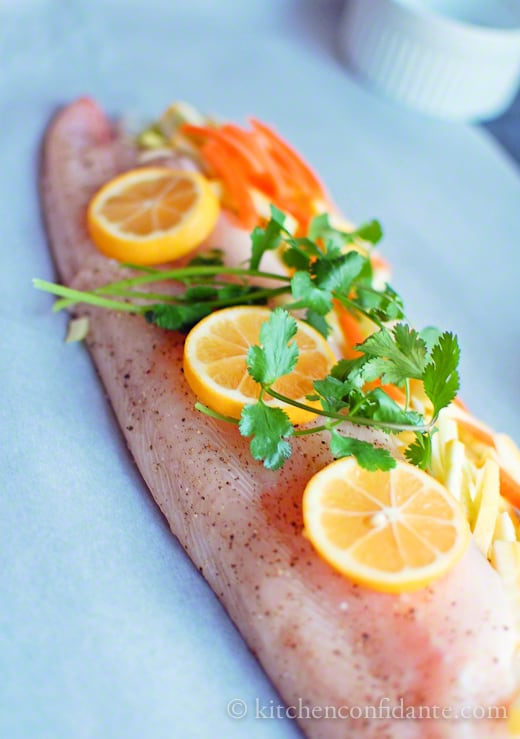 En Papillote
en pa·pil·lote|än pä-pē-ˈyōt|
adjective and adverb
(of food) cooked and served in a paper wrapper: [as postpositive adj.] fish en papillote

We often think about how we should eat seafood more often, but somehow it is easy to forget when you live with a family of carnivores (that prefer land animals).  Okay, slight exaggeration.  We do enjoy our fair share of sushi and shrimp and clams, but for some reason, fish tends to fall off the radar once in while.
With the Lenten season here, it does kind of remind me to put fish on the family menu at least once a week.  That's my Catholic upbringing tapping on my shoulder.  Admittedly, I often fall off the fish on Friday wagon (especially when I would rather not waste perfectly good non-fish leftovers from the previous night's dinner).  But there really is no excuse, especially when there are so many delicious ways to prepare fish.
One of my favorites is en papillote, or "in paper."  It's simple, it's healthy, and it's versatile.  All you need are some vegetables and some aromatics, whatever you have on hand.  I especially love  that you can easily assemble this ahead of time, then pop the packets into the oven whenever you are ready, where the fish will cook in a pocket of steam.
In this recipe, I combined the mild flavors of leeks (I love leeks with seafood) with yellow squash, carrots, cilantro, and lemon.  Other vegetables that go nicely are bell peppers, snow peas, scallions, and fresh thyme.  White wine provides a wonderful steam for the fish, but if you don't have a couple of tablespoons readily available, chicken broth will work fine, too.
Simply salt and pepper your fillets, place a little butter on parchment paper (or drizzle a tiny bit of olive oil on the fish), and lay the fish on a bed of leeks.  Place your vegetables around the fish, lay some slices of lemon on top, and then fold the parchment paper into a packet.
There are various ways to go about the packet folding.  You can do little pleats, you can do simple folds, you can reinforce the packets with cooking twine or even paper clips.  Whatever method you choose, make sure you fold tightly and there are no rips.  As the fish cooks inside, you'll see your little packets puffing up from the steam inside.
When it's done, you'll have succulent fish, just soft vegetables, and a very healthy dinner.  The best part?  You can serve the fish, right in its packet, which makes for easier clean up!
[framed_box width="618″ bgColor="undefined" textColor="undefined" rounded="true"]
Fish En Papillote

2 fillets of firm white fish, such as halibut or cod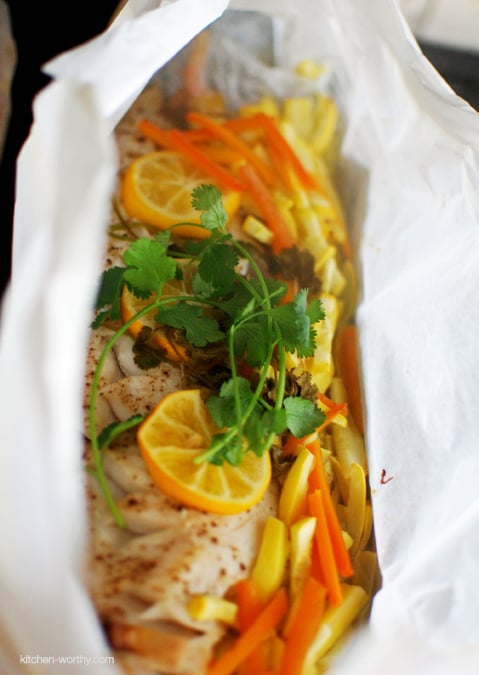 2 yellow squash, sliced julienne
1 carrot, sliced julienne
1 leek, sliced once lengthwise, the cross cut
several sprigs cilantro
1 lemon, sliced
2 Tbsp butter, thinly sliced or drizzle of olive oil
2 Tbsp white wine (or substitute with chicken broth)
salt and pepper to taste
Preheat the oven to 400 degrees.  Season fish with salt and pepper.
Take two pieces of parchment paper.  If using butter, lay a few pieces of butter along the center of the paper.  Put leeks on paper, then lay the fillets on top.  Arrange the remaining vegetables along the sides of the fish.  Garnish the top with lemon slices and herbs.  If you are using olive oil in place of butter, lightly drizzle the top.  Drizzle with wine or broth.
Fold the parchment paper, creating tight seams and making sure the ends are secure.  Place in a baking dish or pan and put in the oven.  Bake for 15-20 minutes.  Simply serve the fish in their packets, garnishing with extra herbs, if you wish.
[/framed_box]