Simple Sundays | Buttermilk Brined Cornish Hens
Simple Sundays | Buttermilk Brined Cornish Hens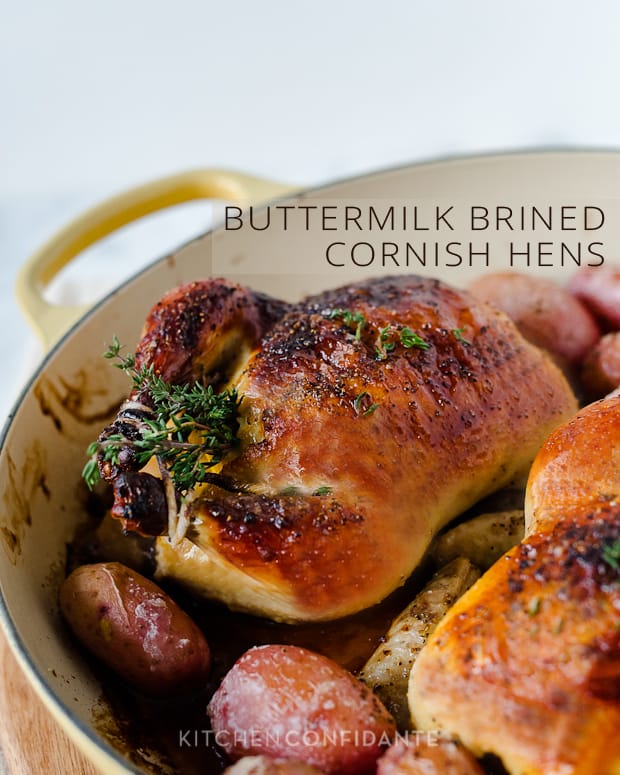 We were at my aunt's house last night, seated in a corner of the crowded room, the old photo album in my lap. Yellowed self stick pages held precious black and white photographs, vestiges of our family history, in some cases with dates or ages written in tiny blue ink on the edges. My great grandmother, in traditional Maria Clara, looked severely at us behind the plastic page. It was 1911, her expression severe, but she looked young and vulnerable, standing while holding her baby propped on a bench.
The photo below showed her as a mature woman, seated, still in traditional dress, surrounded by her sons and daughters, all in their 20's, 30's and 40's. Look, there is my grandmother, I pointed out to my husband. The writing on the photograph indicated that she was 40. And there is Lola Pacita, I smiled. She was 36. My grandmother's younger sister, whom she lovingly called nene – little girl –, was the reason why we were there. She turned 90 years old this week, and our family had gathered from all over the bay to celebrate.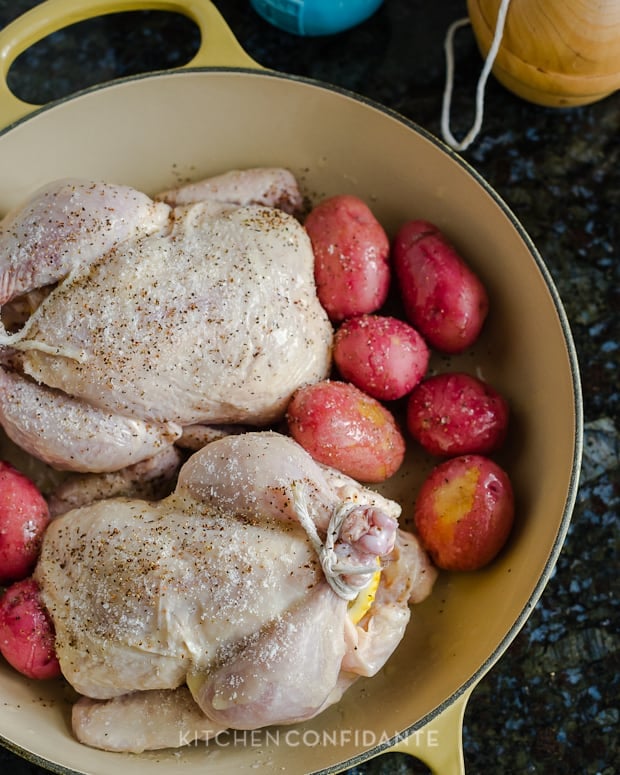 As we turned page after page, we were transported through the years, relatives slowly aging with each flip of the page. Uncles robust and young, in full military dress, confusing me because they looked so similar to cousins my own age. The family in the pictures grew in number, as my great grandmother's children married and formed families of their own. Cousins, second cousins, little ones. All related.
And then we turned the last page. The last photo made me gasp. It was a snapshot at my parent's wedding, my mother and father holding hands and making their way through the tables, greeting their guests. My mother's eyes were in mid blink, a big smile on her face, and it was like looking at a mirror and seeing my sister at the same time. But what made me catch my breath was my dad. His expression. It was in a side smirk that was eerily familiar. My little boy's smirk. I never realized it before, but the adorable idiosyncrasy my husband and I love about our son was actually a legacy from my father.
Our family history continues.

Cornish hens are more than just mini me's of everyday chickens, I do believe that they have a special flavor all their own. And when prepared in a buttermilk brine, they are a wonderful change of pace from the standard roast chicken. I hope you enjoy these Buttermilk Brined Cornish Hens. They're incredibly simple, moist and full of flavor.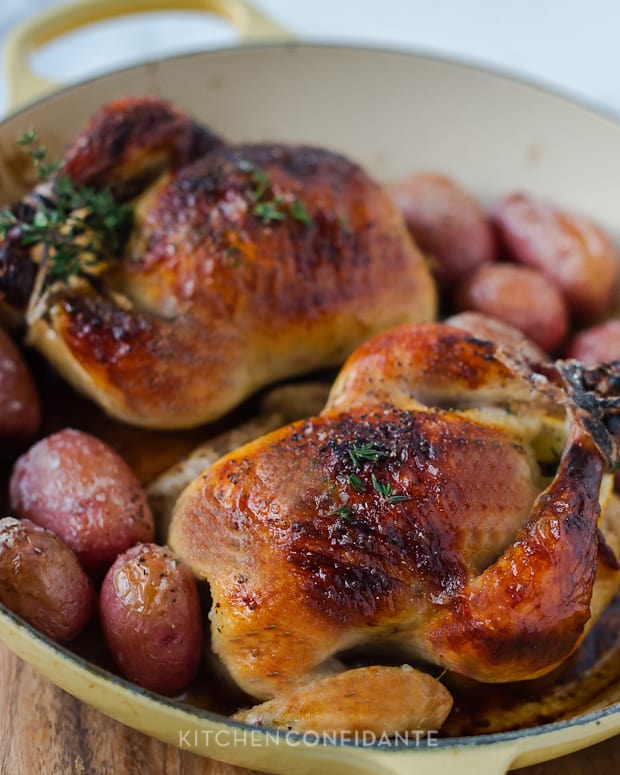 Buttermilk Brined Cornish Hens
Cornish hens are so dainty, they immediately feel like a fancy way to serve roast chicken for company. But these hens are just as lovely for a weeknight meal. The buttermilk brine infuses flavor and moisture to the hens, and can be done the night before.
Print Recipe
Ingredients
2 Cornish hens, 1 1/2 to 1 3/4 pounds each
3 cups buttermilk
2 teaspoons salt
1 teaspoon cayenne pepper
1 teaspoon garlic powder
1 teaspoon cumin
Juice of 1 lime
1 lemon, halved
2 tablespoons butter, melted
kosher salt
freshly ground pepper
fresh thyme
Instructions
Rinse the Cornish hens under cool water, including the cavity. Pat dry with paper towels, set aside.
In a large bowl, whisk together the buttermilk, salt, cayenne pepper, garlic powder, cumin and lime juice. Place the hens breast side down and cover with plastic wrap. Place in the refrigerator. Let the hens brine for at least 3 hours, or overnight.
Preheat the oven to 425 degrees. Take the hens out of the brine and lightly pat dry with paper towels. Season the cavities with a little salt and pepper, and insert half a lemon and a sprig of thyme. Tie the legs together with kitchen twine. Brush the hens with melted butter, and season generously with salt and pepper. Place in a roasting pan. If you wish, you can surround the hens with red potatoes, brushed with butter and seasoned with salt and pepper.
Place in the middle rack of the oven. Roast the hens for 50 minutes to 1 hour; until the skin is bronzed and the internal temperature in thickest part of the thigh is about 180 degrees.