Simple Sundays | Roast Chicken with Morels and Onions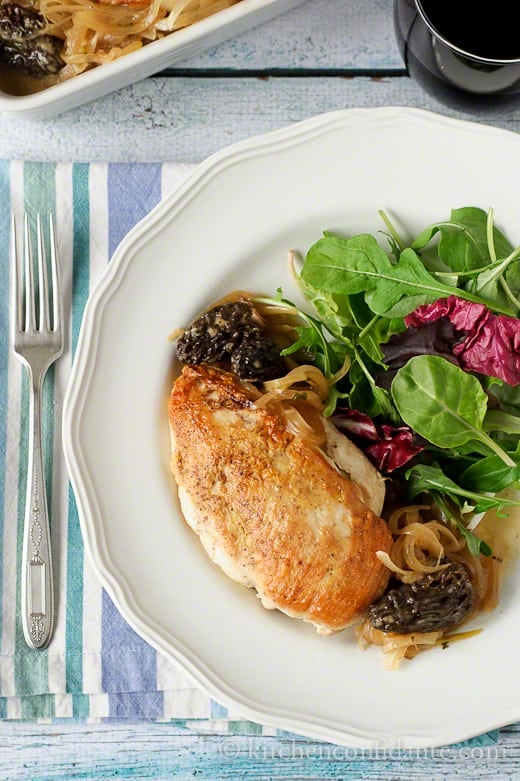 The skies have been grey for days, and we Northern Californians have been very polite about it.
Oh this weather! Can you believe this rain? Our gripes are quickly followed up with a cheery, But we certainly need it!
Despite the gloom, I think we have all be pretty good-natured about it. Yes, we do need the rain. The skiers have certainly been happy about the snow in Tahoe. For those of us whose plans don't involve jaunts to the mountains, being cloistered in our homes means staying in to keep warm and cozy. Baking. Roasting. Slow cooking. At least for me, that is the case.
The clean scent of the earth and the greening grass after a spell of rain makes me turn to earthy flavors – this simple roast chicken is dressed with a sauce of sweet onions and musky morels. The mushrooms act as little sponges, soaking up the pan sauce, perfect with each forkful of the chicken. This dish may sound fancy, but really, it's not. It's down to earth, effortless, and just right for a rainy day.
Roast Chicken with Morels and Onions

Yield: Serves 4

Prep Time: 15 minutes

Cook Time: 20 minutes

Total Time: 35 minutes

I have been loving dried mushrooms lately. It keeps well in the pantry, and can be pulled into action whenever you need. A quick soak in hot water rehydrates the morels, leaving you with a rich liquid that adds to the earthy flavor in this dish.

Ingredients:

1 oz (28 g) dried morel mushrooms
4 boneless, skinless chicken breasts
kosher salt and freshly ground black pepper
2 tablespoons extra virgin olive oil
1 medium yellow onion, thinly sliced
2 tablespoons sherry vinegar
1 tablespoon all-purpose flour
1 cup chicken stock
1 cup liquid from rehydrated morels
1 tablespoon fresh thyme
1 tablespoon half and half

Directions:

Preheat the oven to 375 degrees.

Place morel mushrooms in a small bowl and cover with hot water. Allow to soak. While it softens, work on the chicken.

Pat chicken dry with paper towels, and season generously on both sides with salt and pepper. Heat an ovenproof, deep-sided saute pan or skillet over medium-high heat. Add olive oil. Add the chicken and cook for about 5 minutes until the chicken readily releases from the pan and is golden brown when turned. Flip the chicken over, then put the pan into the oven. Roast for about 15 minutes, or until the chicken reaches an internal temperature of 160 degrees with a meat thermometer. Transfer the chicken to a serving dish and cover.

Return the saute pan to the stove over medium heat. Add the onions and cook for about 1 minute, stirring periodically. Drain the mushrooms, reserving the liquid, and add to onions. Stir in the vinegar. Add the flour and stir until the onions and morels are coated. Stir in the chicken stock, reserved mushroom liquid and thyme. When the sauce has thickened, stir in the half and half, and adjust seasoning to taste with salt and pepper. Add the sauce to the chicken in the serving dish and serve immediately.

Recipe adapted from Roast Chicken with Wild-Mushroom Sauce from Martha Stewart Living, March 2007.
20 Responses to "Simple Sundays | Roast Chicken with Morels and Onions"
Leave a Comment