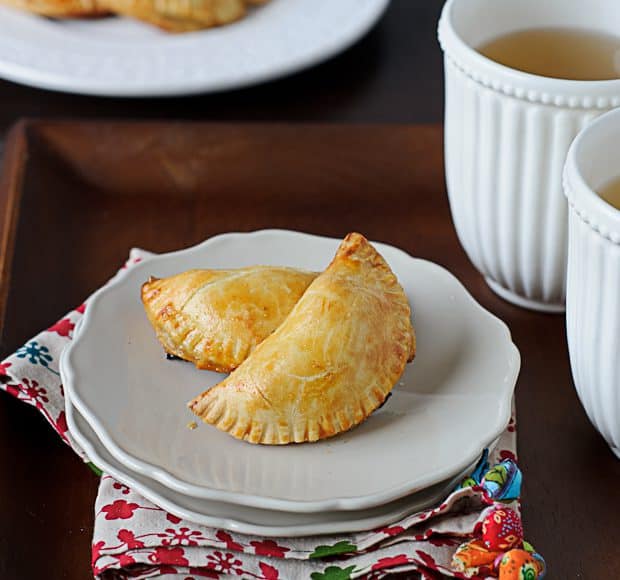 Banana Empanadas
I cautiously took each step down the stairs with an extra sense of care, still feeling weak from a weekend of nausea. My feet were happy to plant themselves on the solid wood of the first floor. As I walked into the kitchen for the…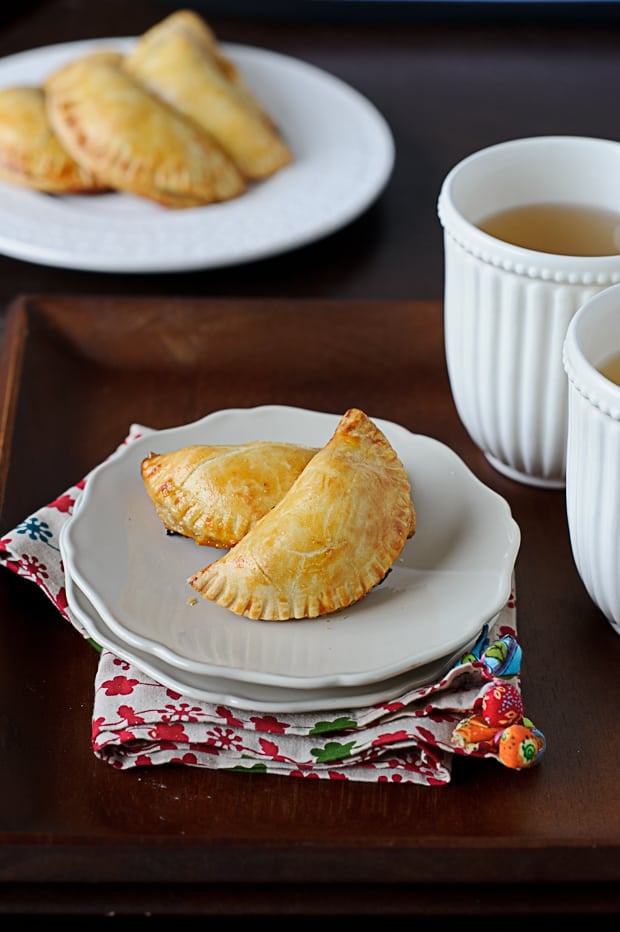 Banana Empanadas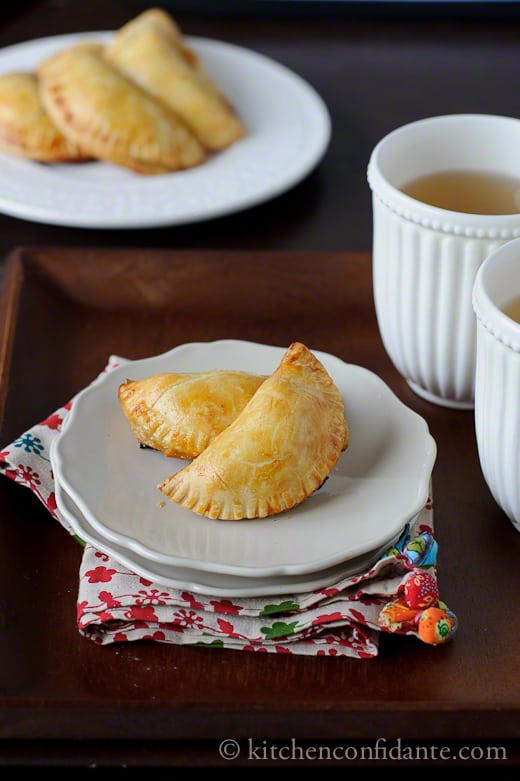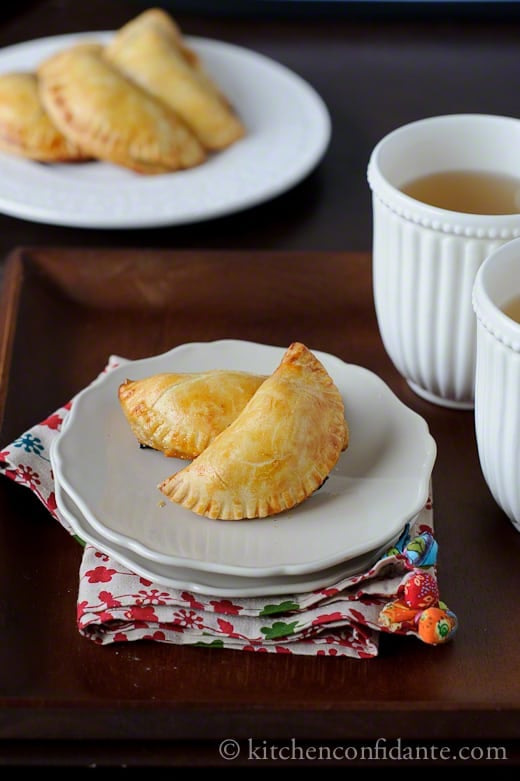 I cautiously took each step down the stairs with an extra sense of care, still feeling weak from a weekend of nausea. My feet were happy to plant themselves on the solid wood of the first floor. As I walked into the kitchen for the first time in days, the first thing that drew my eyes was the fruit basket, overflowing with browned and speckled over ripe bananas. They had been neglected, since none of us really had the appetite to consume our normal amount.
This could only mean one thing: time to fire up the oven.
I was happy to do so. I had been secretly hoping we would have some ripe bananas for Buttermilk Banana Bread. But there was something else.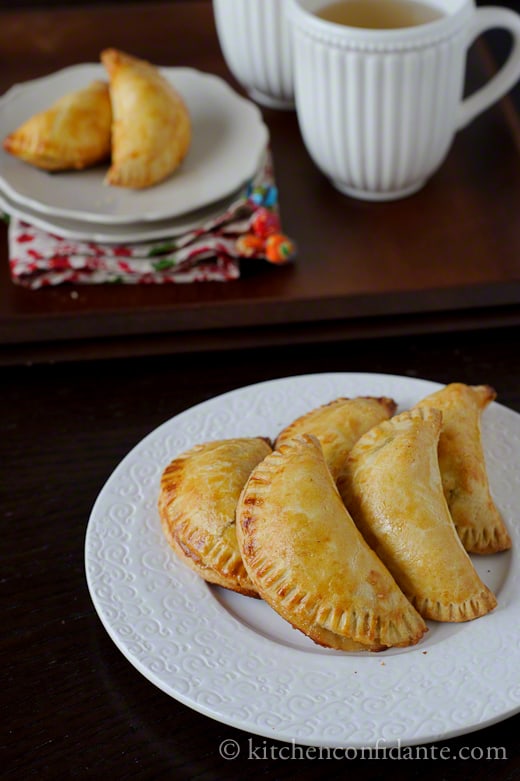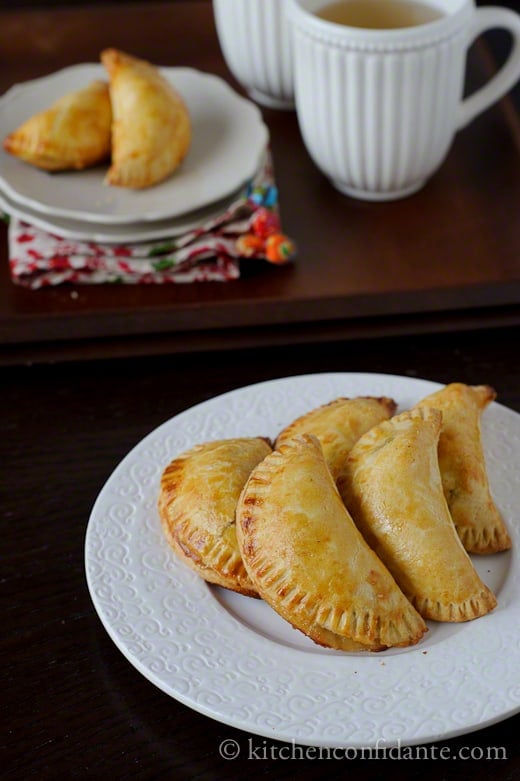 Empanadas. Every once in a while, I get a craving for a savory empanada, filled with morsels of ground beef or shredded chicken. A few months ago, however, we were at a friend's house for dinner, and she served savory Banana-Black Bean Empanadas. I was intrigued. Bananas in an empanada? A savory one? Hmmm.
Since then, it seems that everywhere I turn, I encounter empanadas. Kathryn of Dramatic Pancake featured three succulent empanadas, beautifully crafted by her friend, Lulu. That was the clincher. I wanted to make empanadas. Sweet ones.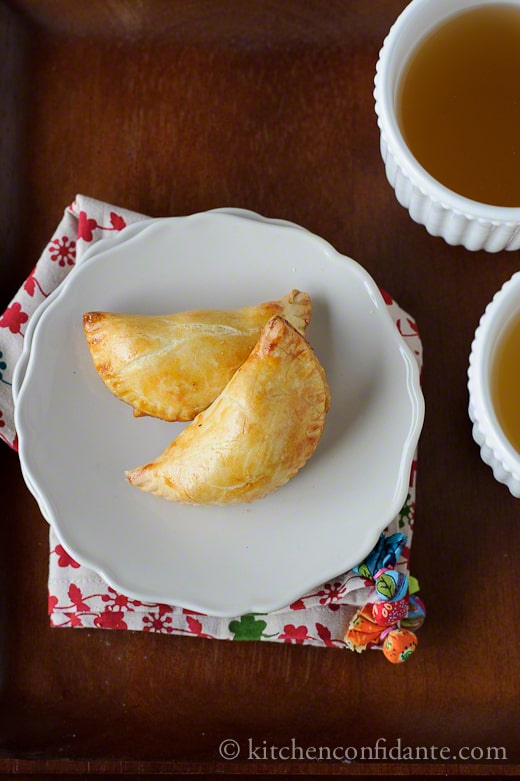 Enveloped in a traditional empanada dough, sweetened ever so slightly, I tucked in chunks of sweet, ripe bananas dusted with glistening brown sugar. To emulate a traditional Turon (a Filipino treat similar to a strudel), I also put some jackfruit – more out of nostalgia than necessity. They emerged from the oven, delicious little turnovers, their sweet filling bubbling and syrupy.
With my cup of tea, I sat down to break into the flakey crust. I was definitely feeling better.
Empanadas come in as many variations as the countries that have been influenced by Spanish cuisine. There are the savory, and there are the sweet. In the Philippines, most empanadas stay on the savory end of the spectrum, but this filling is similar to the Turon.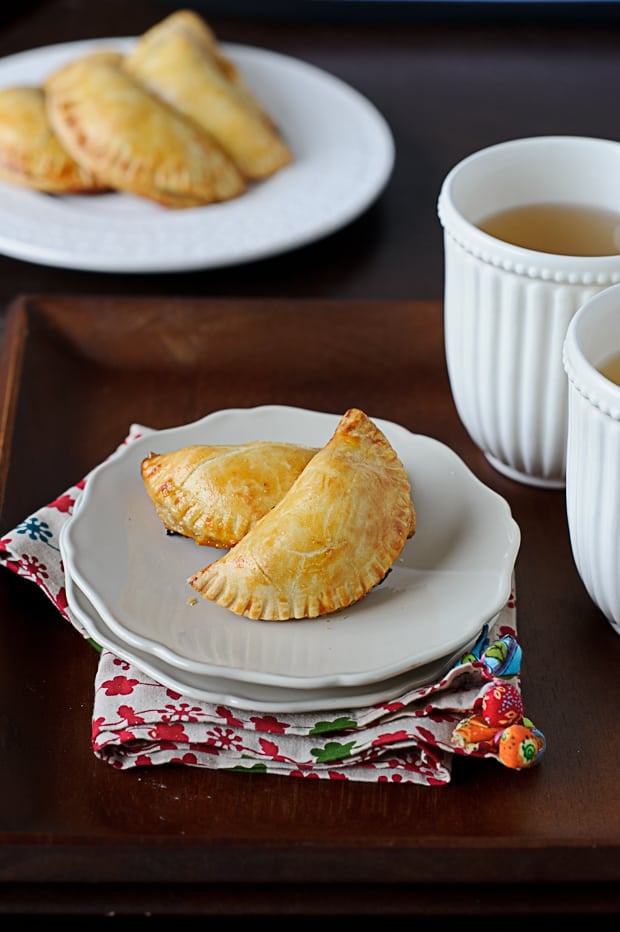 Print Recipe
Ingredients
Pastry
1 1/2 cups all-purpose flour
1 pinch of salt
3 tablespoons sugar
8 tablespoons (1 stick) cold unsalted butter, cut into small pieces
1 large egg yolk, lightly beaten
1/4 cup ice water
Filling
2-3 very ripe bananas (or, ideally, plantains)
1/4 cup brown sugar
1 jar/can jackfruit (optional but highly recommended)
To Seal and Brush
1 large egg, separated
2 tablespoons milk
Instructions
Place flour, salt and sugar in the bowl of a food processor and pulse till incorporated. Add the butter and pulse for about 10 seconds, until the mixture looks like crumbs. Add the egg yolk and pulse. With the food processor running, add the water in a slow drizzle until it comes together in a ball. Take care not to get the dough too wet. Place the ball of dough on plastic wrap and flatten into a disk. Wrap the dough tightly and store in the refrigerator for at least 1 hour before using, or overnight until ready to use. The dough can also be frozen.
Preheat the oven to 400 degrees.
Roll out the dough and use a 4 inch cutter, you should have about 1 dozen disks. Place on parchment paper or silicone baking mat to ready for filling.
Cut bananas into 1/2 inch pieces and toss in brown sugar in a bowl. Place a heaping tablespoon in the center of each disk. If you are using jackfruit, place a small amount in the center as well. Brush the edges with egg white and fold the dough over the filling, pressing the edges shut. Crimp with a fork to seal. Return to refrigerator for several minutes if the dough has softened considerably.
Whisk together the egg yolk and milk and lightly brush the empanadas just before baking. Place in oven and bake for about 20 minutes, or until the dough is a golden brown. Best served immediately, when piping hot.
Pastry adapted from Rich Pie Pastry, Memories of Philippine Kitchens, by Amy Besa and Romy Dorotan.