Layers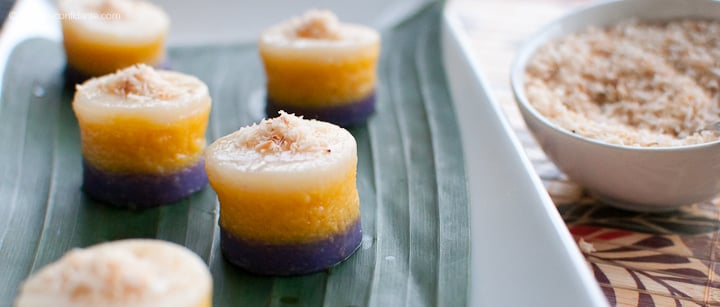 While most children beg for brownies, cupcakes and Rice Krispy Treats, ask my daughter what her favorite dessert is, and she will likely surprise you. Her most requested treat is a brightly hued, tri-colored delicacy, layered and sticky, and rich in sweet coconut flavors. And I will admit to you that it is with pride on my part that she favors the Filipino native dessert Sapin-Sapin, because it proves she is her mother's daughter.
We both adore what is called kakanin in the Philippines, the word that is used to describe the delicacies made of glutenous rice, also known as malagkit (sticky). Other examples of kakanin include Suman, which is a specialty of my maternal grandfather's province of Bicol, Bibingka, and Puto. Growing up, my favorite was Cuchinta (or Kutsinta), a brown rice cake served with freshly grated coconut. Any time we attend a family gathering where there is a table of these delicacies displayed, my little girl will happily fill her plate with a variety of them, but of them all, her favorite is the Sapin-Sapin.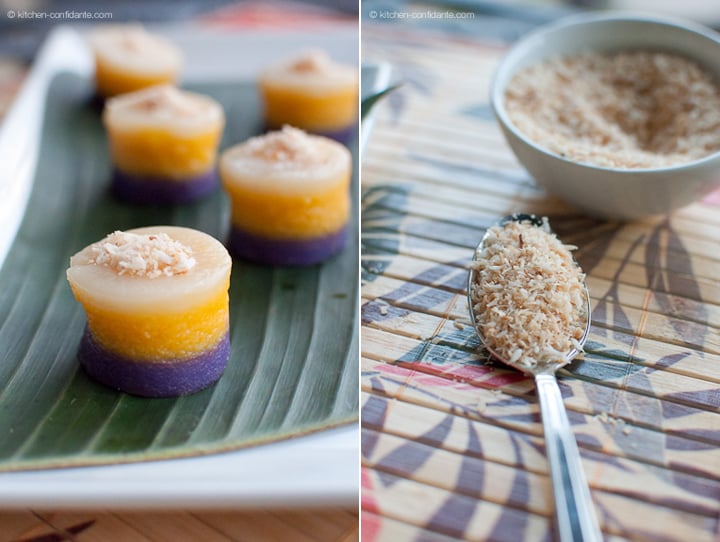 I can't blame her. The colors are vibrant and so appealing! Sapin-Sapin literally means "layers," and although the whole dessert is made with sweet coconut milk and sticky rice flour, each layer may have a different flavor. Food coloring is typically the source of the pigment, but the deep violet color is usually flavored with real ube, or taro. Sometimes, the golden yellow is enhanced with sweet mais (corn) or langka (jackfruit).
She has been begging me to make Sapin-Sapin, and it's not something I typically make. For me,  kakanin is something you buy or order from a caterer. That's just the way it is. But my daughter's enthusiasm inspired me, and I became just as eager to make this dessert. My version uses not only ube (taro), but langka in the yellow layer, as well. I omit the traditional latik (a browned, caramelized coconut extracted from coconut cream) topping, and stick with just toasted coconut sugar as garnish, simply for personal preference.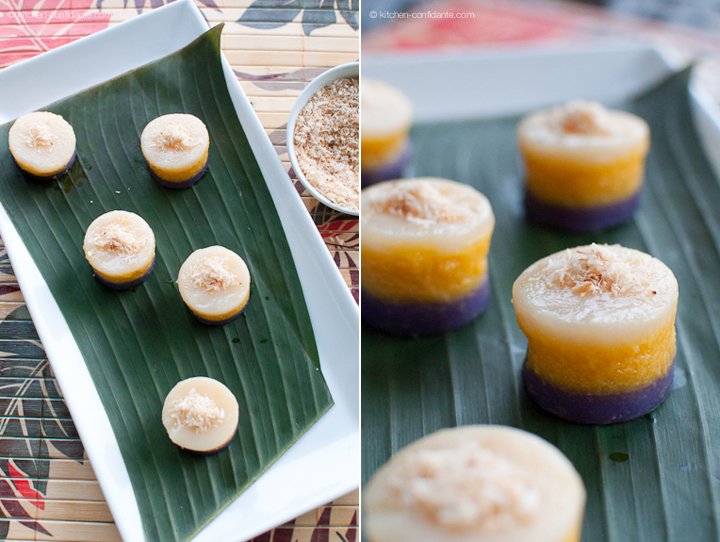 The dessert was ready when my daughter came home from school last Friday and you should have seen her eyes light up at the sight of these translucent orbs of sticky goodness. I was pleased with how they turned out, and so was she. Even our cat stole a taste! It may be some time before we can plan a trip to visit the Philippines, but in the meantime, at least we'll have Sapin-Sapin.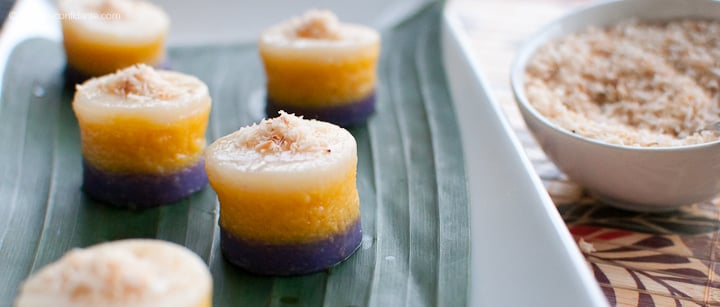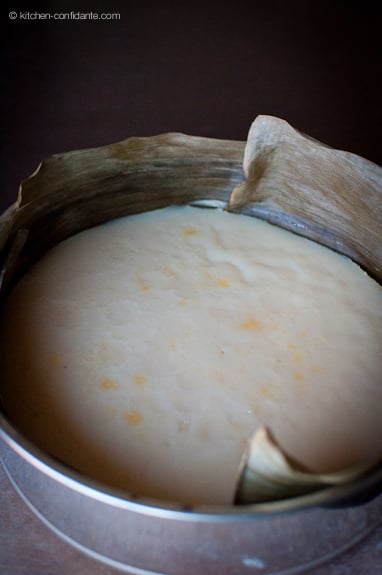 Sapin-Sapin
Makes one 9 inch "cake."
A blender helps to achieve a smooth batter, however, if you do not have one, a whisk and some arm power will do just fine. You will also need a large pot/wok/steamer.
banana leaves (optional) or parchment paper
coconut oil or cooking spray
1 cup sweet rice flour (glutinous)
1 cup granulated sugar
1 13.5 oz can of coconut milk (gata)
1 14 oz can of condensed milk
1/4 cup canned ube (taro), drained
1/4 cup langka (jackfruit), canned or jarred, drained
violet and yellow food coloring (If the idea of this bothers you, consider these vegetable based, natural food colorings. They are pricey, but might be worth it!)
coconut sugar, for topping (see recipe below)
Prepare a dish (I used a spring-form pan) by lining the bottoms and sides with banana leaves or parchment paper. Brush lightly with coconut or canola oil, or spray lightly with cooking spray.
Whisk together rice flour and sugar. Add to coconut milk and condensed milk and blend (or whisk well) until smooth. Divide into three portions, about 1 1/3 cup each. Leave one portion white. Take the second portion and blend in the ube and a few drops of violet food coloring until you achieve a rich purple color. Take the third portion and do the same with the langka and yellow food coloring.
Prepare a steamer and set water to boil.
Beginning with the purple ube batter, pour into prepared pan/dish. Carefully place into the steamer and cover. Steam for about 30 minutes, or until an inserted toothpick comes out clean. Pour the yellow langka layer and steam for another 30 minutes or until set. Finally, pour the final white layer and steam 30 minutes or until set.
Carefully remove the Sapin-Sapin from the steamer and allow to cool completely. Chill in the refrigerator until ready to serve. Slice in wedges (or use a round cutter as I have), and serve with coconut sugar.
Coconut Sugar
1 cup coconut flakes
4 tablespoons sugar (to taste)
In a skillet over medium low heat, toast coconut flakes until just golden brown, stirring frequently. Add sugar and stir till you reach desired color.
42 Responses to "Layers"
Leave a Comment