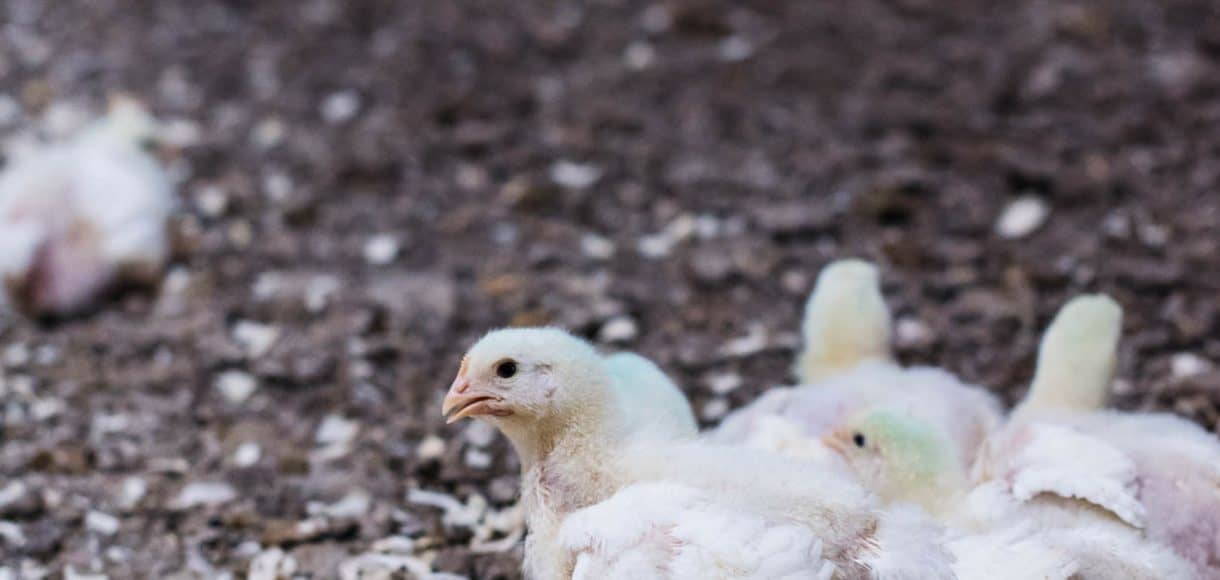 A Visit to a Chicken Farm: Learning About Chicken Production in the U.S.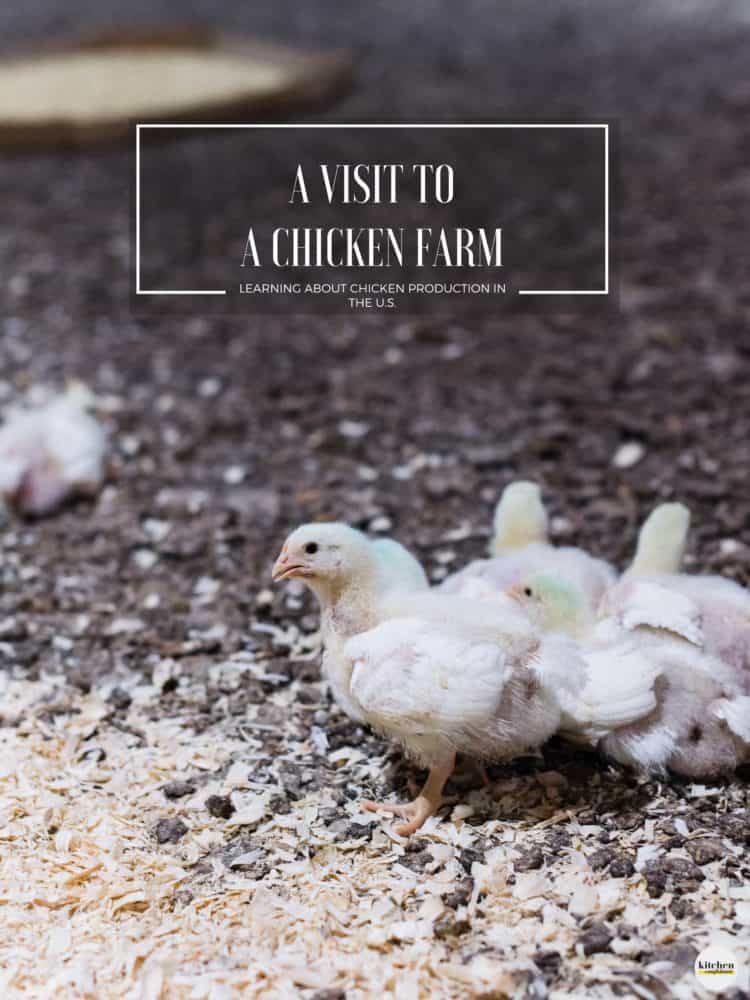 A Visit to a Chicken Farm: Learning About Chicken Production in the U.S.
Have you ever wondered what it's like at a chicken farm and chicken production in the U.S.? Join me as I share my recent visit to a farm in Maryland with Chicken Check In. I learned how farmers and the National Chicken Council are working hard to provide safe, healthy, and sustainable food. This post is sponsored by the National Chicken Council.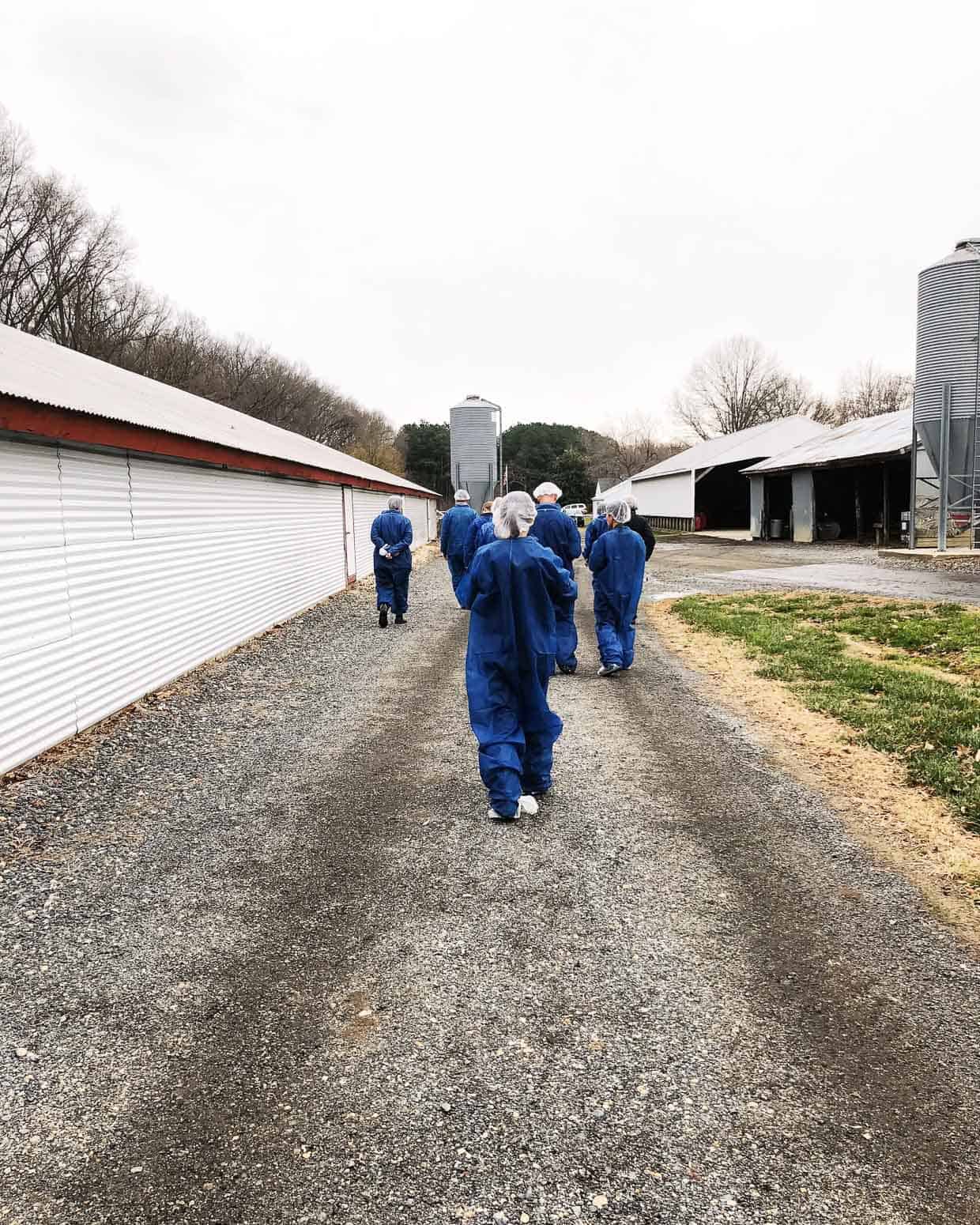 Over the years, I've had the privilege of visiting a number of farms. Meeting the farmers who grow our food, absorbing a sense of place, and gaining a better understanding of the work it takes to produce the food that makes it to our dinner table is one of the most wonderful benefits to writing this blog, and one of my favorites.
There's one thing that I've experienced every single time I visit a farm – I come away with a sincere appreciation for farming and the families that devote themselves to feeding our country. The farmers I have met are humble, generous, and proud of what they do. They welcome us to their farms, introduce us to their families, and provide us with a glimpse of what it takes to grow what so many of us take for granted.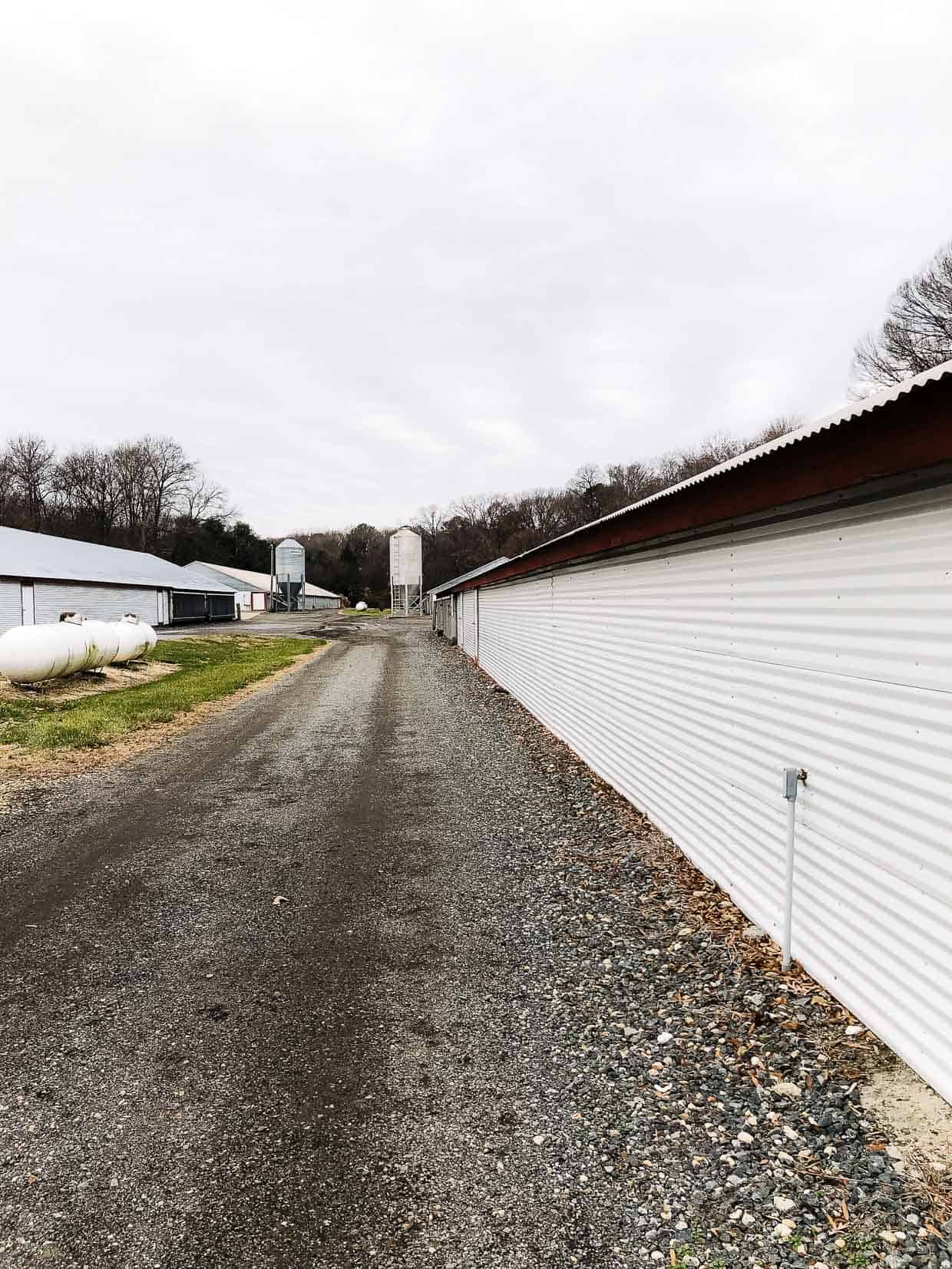 And in the case of my latest trip to the quiet coastal town of Centreville, Maryland, there is a farmer who opened the doors not just to her farm, but to her home.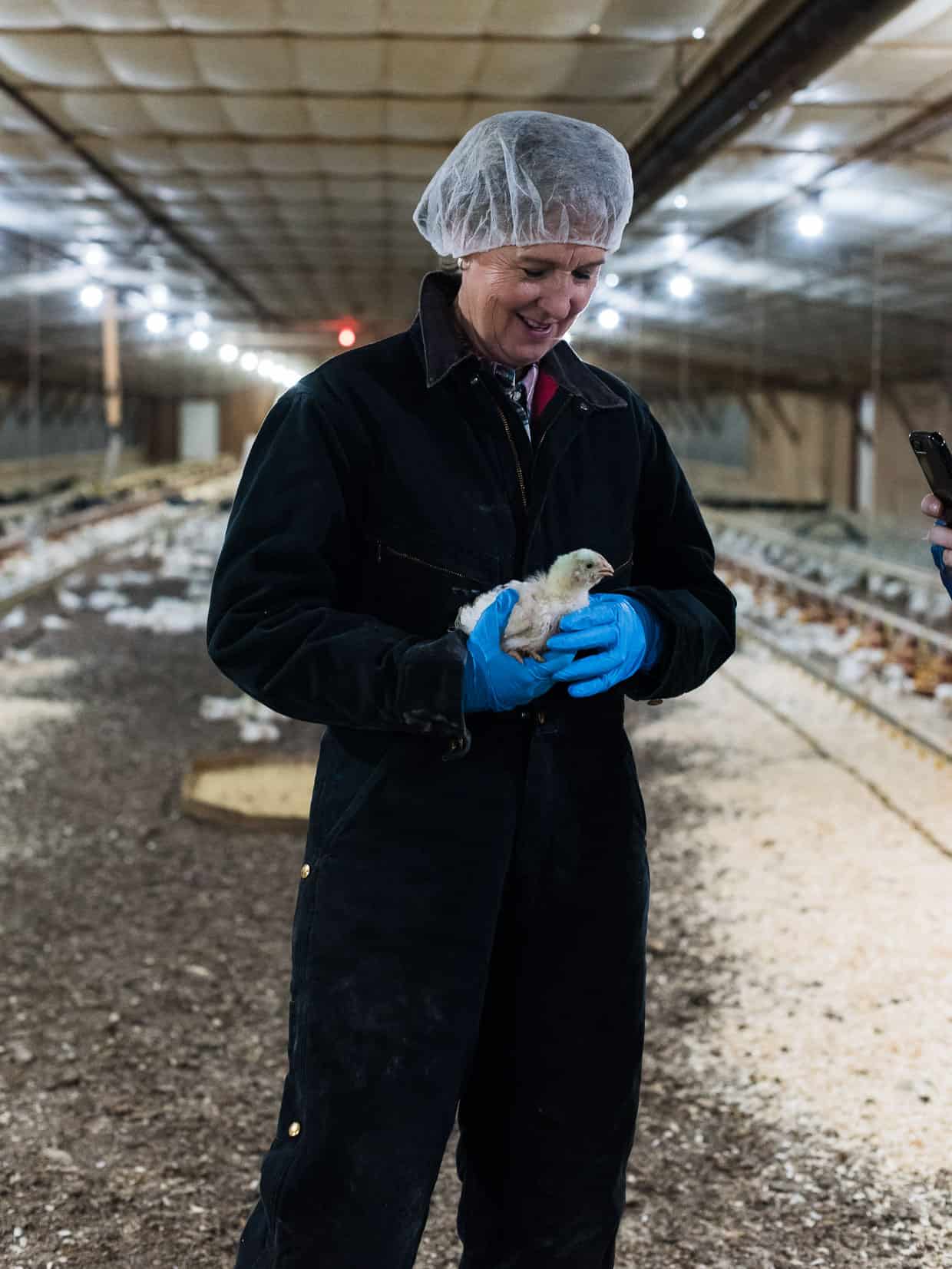 Jenny Rhodes is a fourth generation farmer from Queen Anne's County, Maryland who has devoted the last 20 years to raising two things: her boys and her chickens. With four poultry houses, she not only has grown a business that she is proud of, but she is able to raise over 500,000 chickens for meat, or what are called broilers, a year, feeding over 400,000 families dinner.
If you've ever enjoyed a rotisserie chicken, and I'm sure you have, it may have come from Jenny's farm.
Now when it comes to poultry, I have visited a turkey farm in California, but I have never been to a chicken farm. I wasn't sure what to expect, and had some vague idea based on what is portrayed in the media, or documentaries. To be honest, it's felt a lot like a mystery.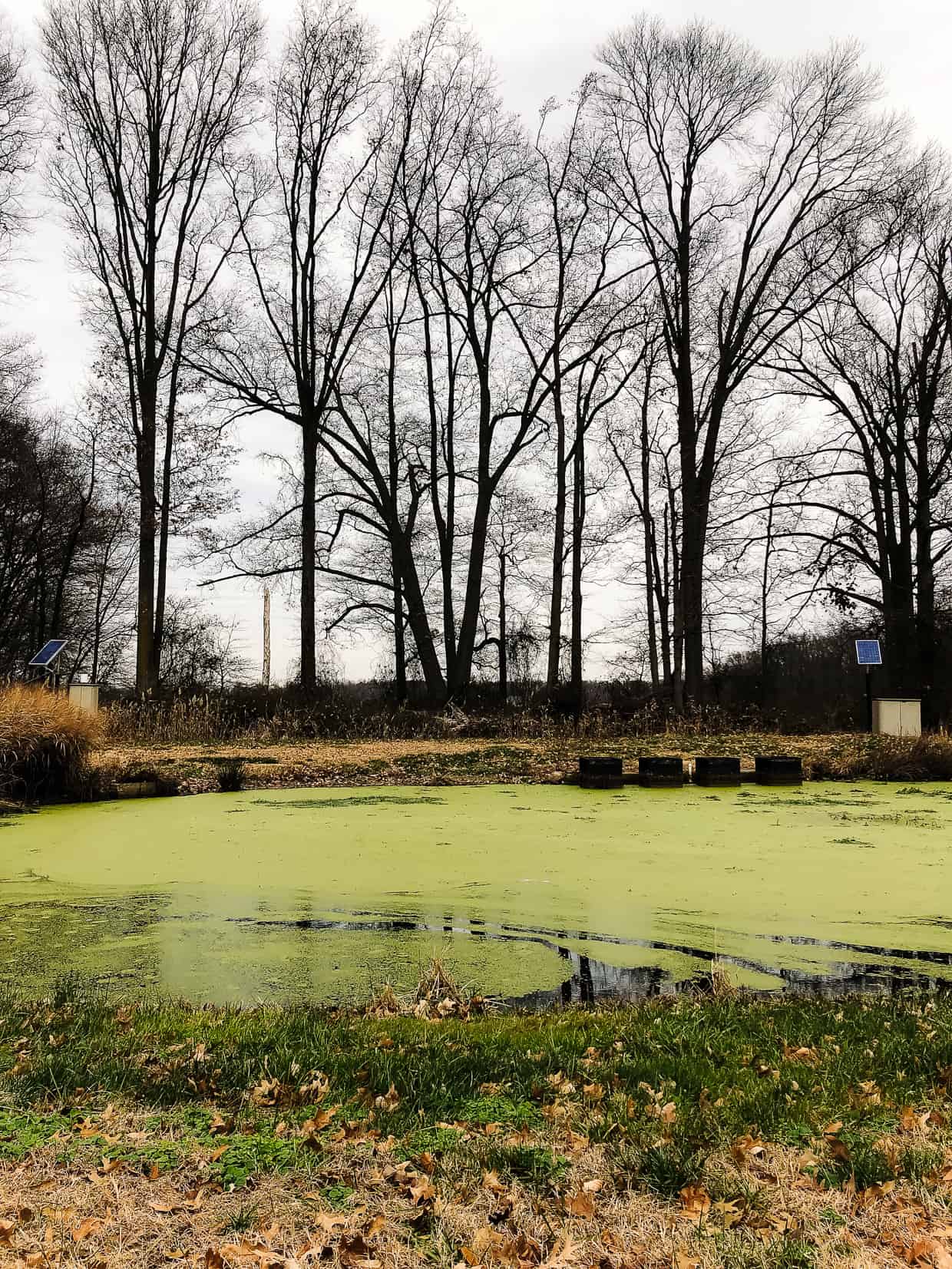 The National Chicken Council (NCC) invited me and 5 other bloggers to Jenny's chicken farm, and they, along with Jenny and other members of the farming community welcomed us to learn about growing chickens, their commitment to the environment, and doing their best to serve the consumers and the chickens they care for. We spent the day openly discussing, addressing questions and dispelling some myths, that I will admit, I previously believed.
As we suited up – to protect the birds from any germs that we may be carrying – and walked into the poultry barn, we left the chilly December weather outside and joined thousands of little chickens strutting around in their cozy, warm home. It was like walking into a greenhouse, quiet and warm.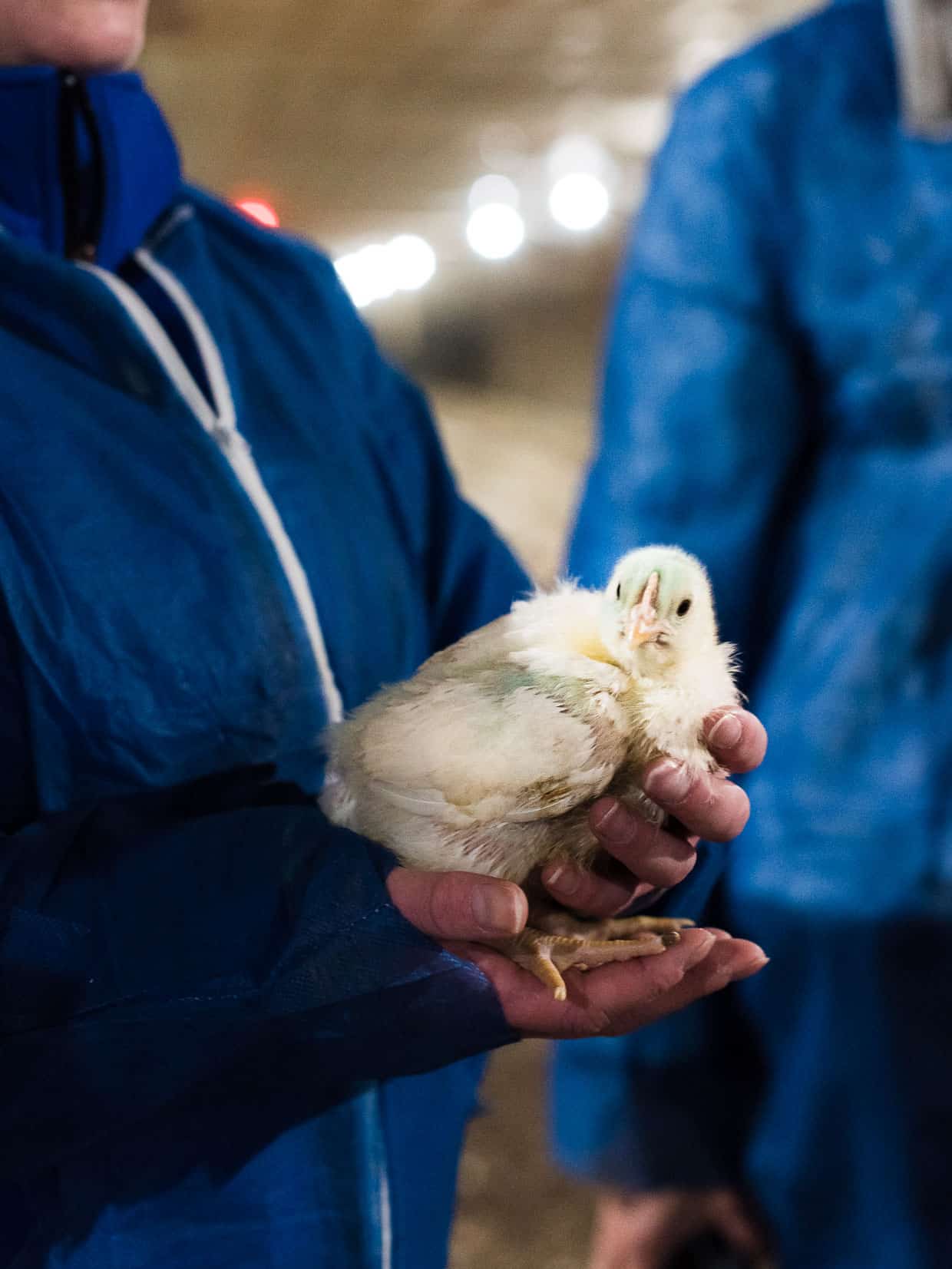 I was struck by how much room the chickens had, and gained an appreciation for the saying, "birds of a feather flock together," because despite their ample real estate, the chickens loved cozying up to one another, in their little flocks. The chickens in this barn were 15-days-old, or in terms we could understand, adolescents. These teenagers had arrived the day they were hatched, and would spend their time in this cozy climate-controlled and ventilated barn, and have access to food and water at all time. Chicken raised for meat (also called "broiler chickens") are never raised in cages, and I will admit that I assumed that perhaps there were some that were raised in cages simply because some food labels highlight "cage-free."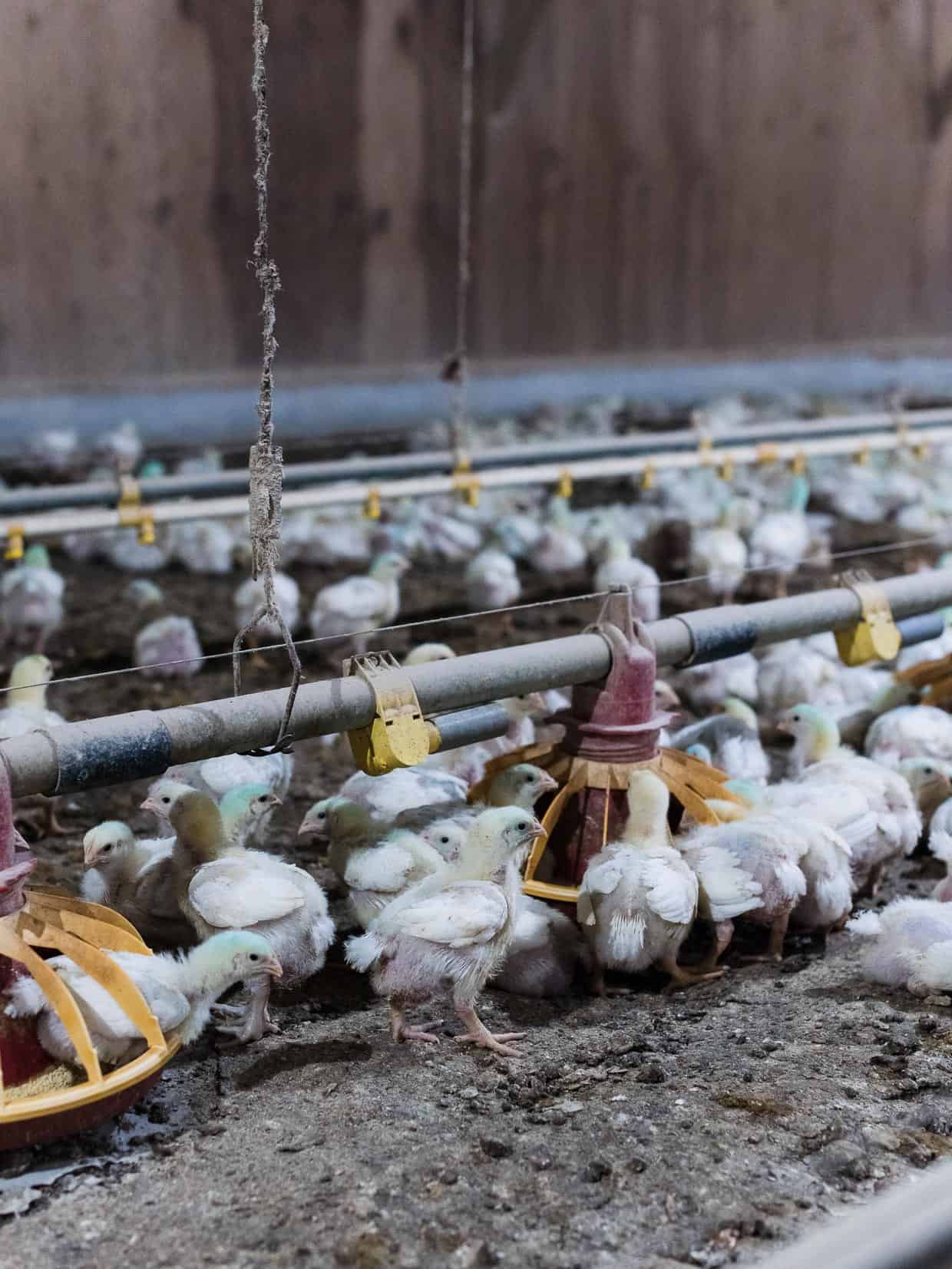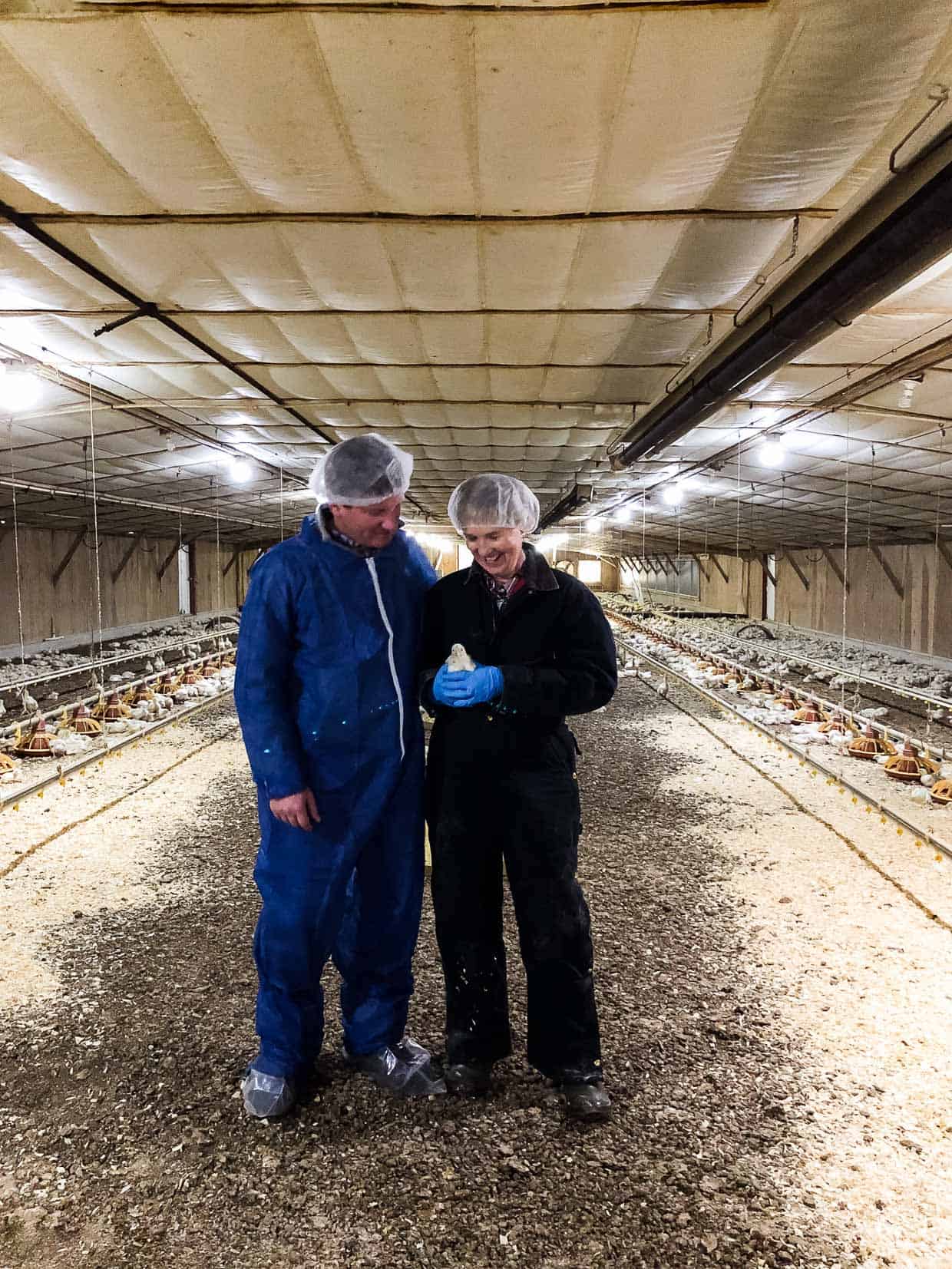 Also, did you know that broiler chickens in the US are never given added hormones or steroids? This is against US law, and has been since the 1950's. But I will admit that again, because of product labels, I incorrectly assumed that there were broiler chickens out there that may be given added hormones. — so labeled or not, any chicken sold for meat in the US will never be given added hormones or steroids.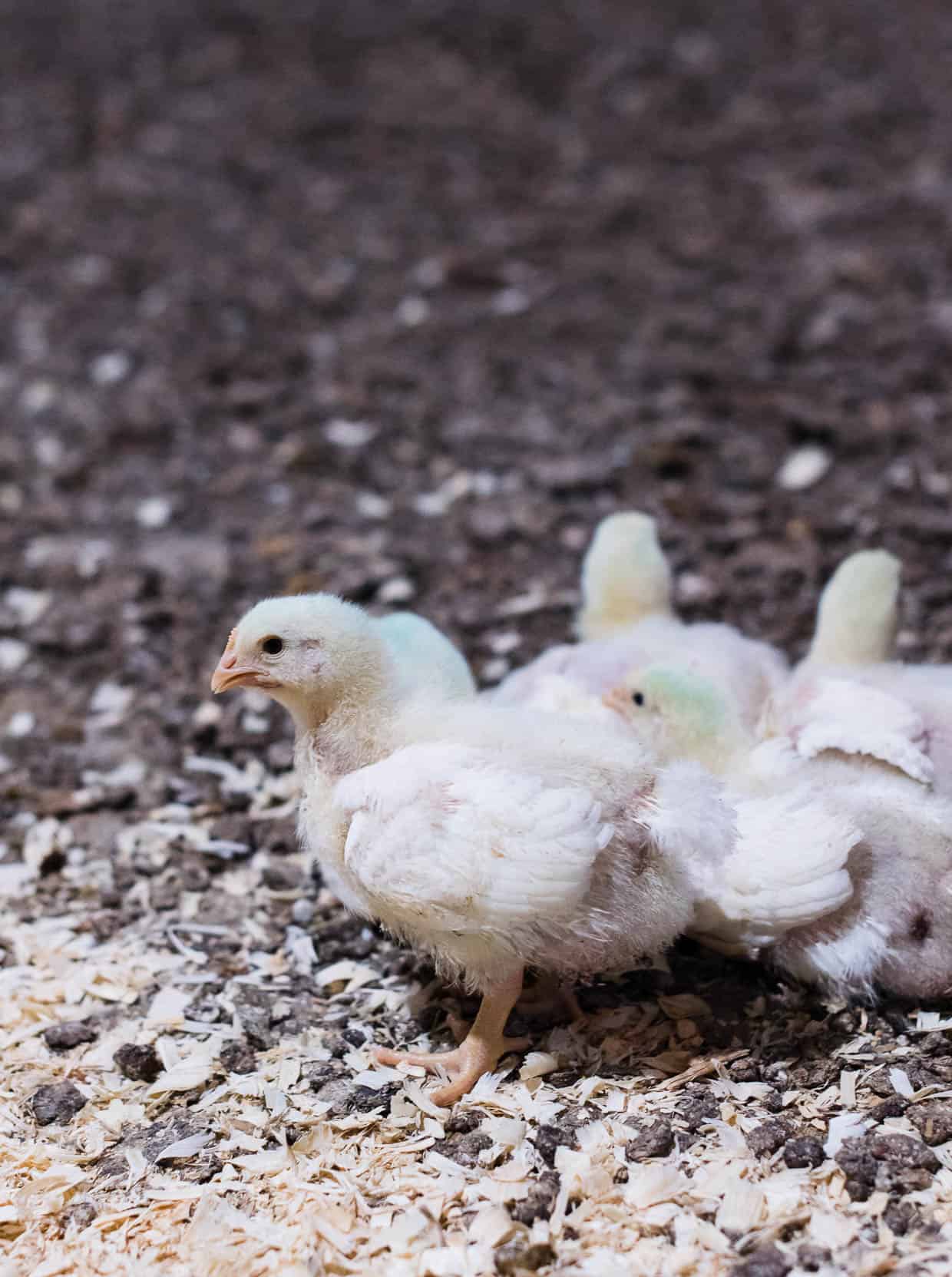 What about those chickens with big breasts? I know, I used to think the same thing. It all boils down to breeding and how chickens today are definitely bigger than the chickens of yesteryear. They're also healthier and stronger than before.
I suppose what really struck me about all this is that it made me feel better about my choices when it comes to enjoying chicken for dinner. The regulations in place do protect us, and my perception of factory farming shifted when I realized that so many chickens are raised on family-owned farms, just like Jenny's.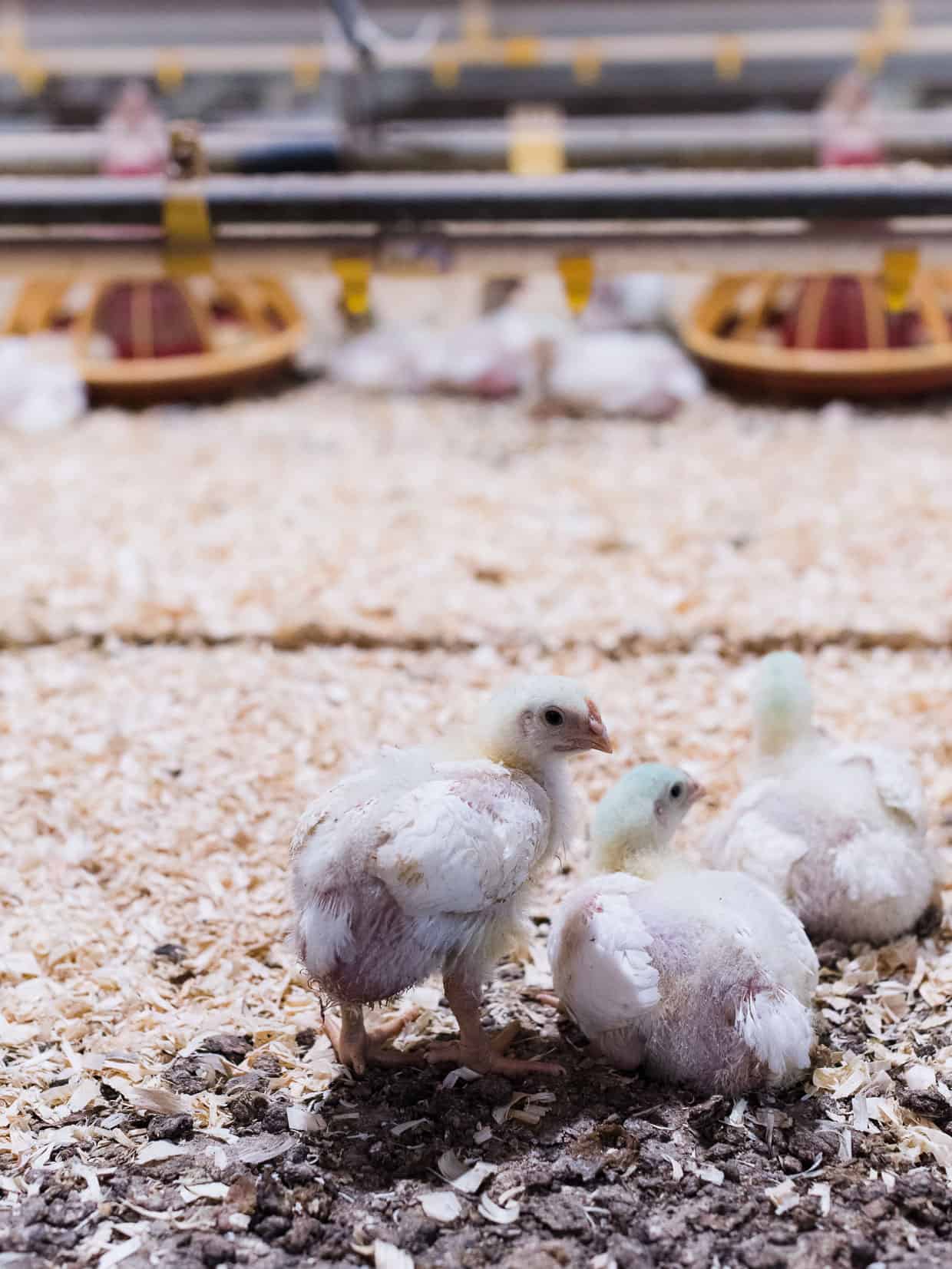 And when I think of all Jenny has accomplished, it's really quite remarkable. She feeds over 490,000 families a year with chicken raised without antibiotics, has raised two sons who have chosen to join the family tradition as fifth generation farmers (both raising chickens, one of them transitioning to organic chicken farming), has her masters degree, and she educates the community about agriculture and environmental stewardship.
She's just one farmer of many who do so much in their little corner of the world. And how she opened up her farm and her home to us was beyond remarkable. Jenny was an open book, was receptive to our many questions, and if that wasn't enough, both she and her mother even cooked lunch for all of us!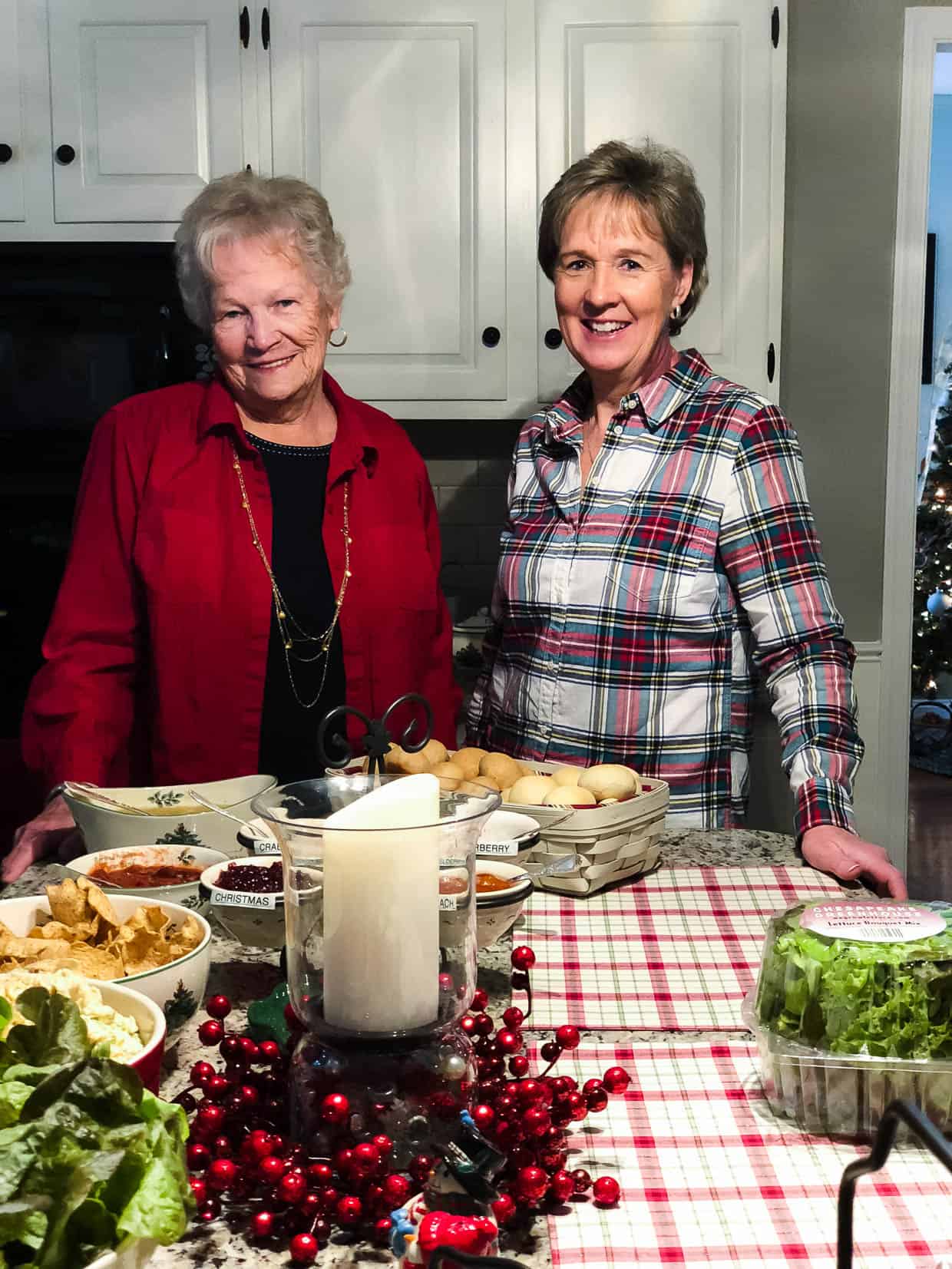 As we said our farewells, and my car drove down the long road and turned onto the highway towards the airport, my mind raced to catch up with all I had seen and learned in the few hours I spent at Jenny's chicken farm. It was an opportunity that many will not have the privilege to see, and I realized that before this, I did my best to understand the food in my grocery store based on the only way I can, the label.
The thing is, farmers don't write the labels, they can't easily tell their story – they haven't been able to share that with you. But I feel that has all changed, or is changing, with Jenny opening her farm and home to us, with how she embraces this technological world we live in. I've gained perspective, not only from where agriculture has come, but from her personally, which you can never fit on any label on any package.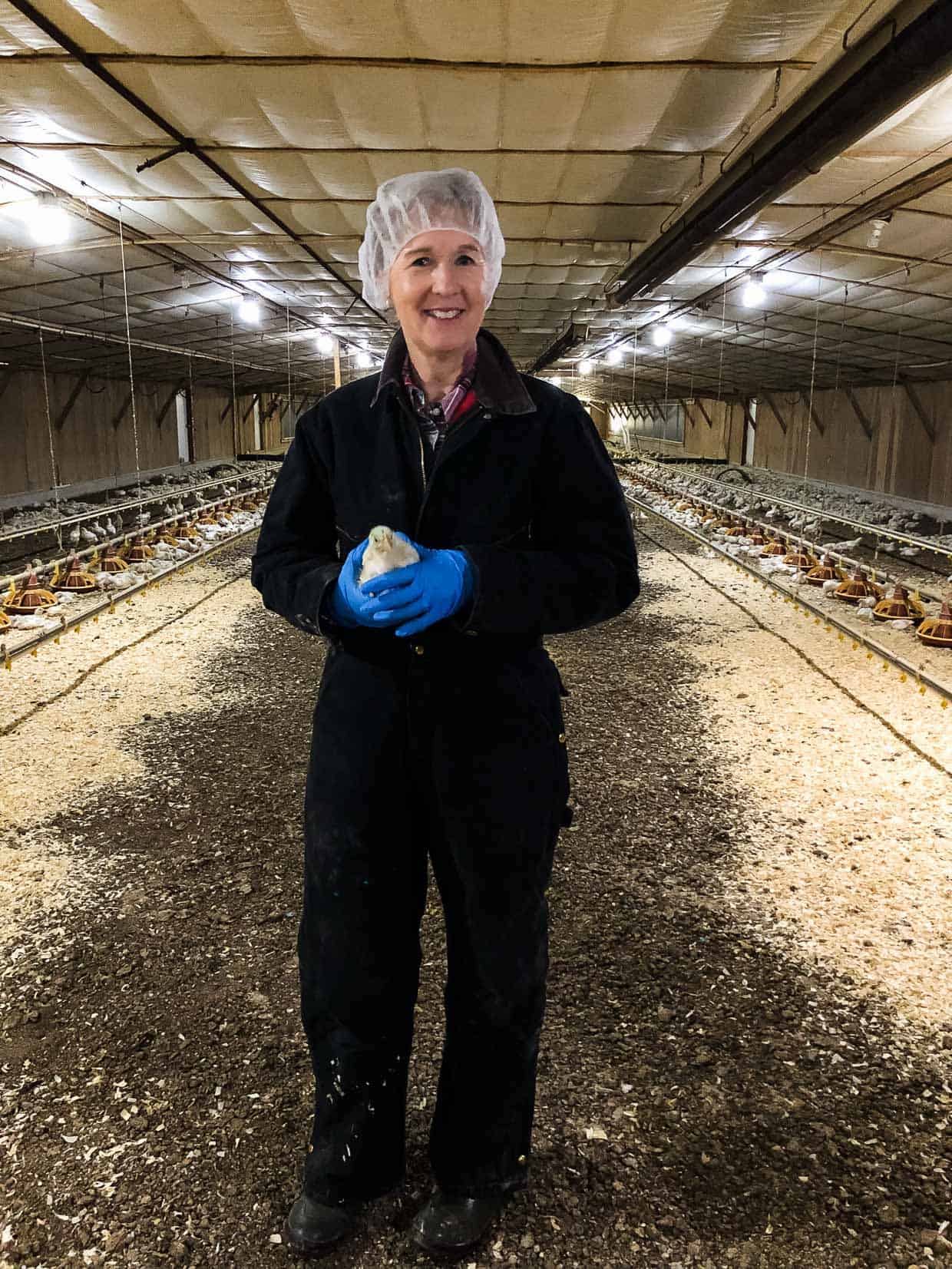 If I were to sum it up, I would say she is doing the best she can to do it right, for her, for her business, for her family, for her chickens, for her community, the environment, and for us. If I could put that on a label, I would.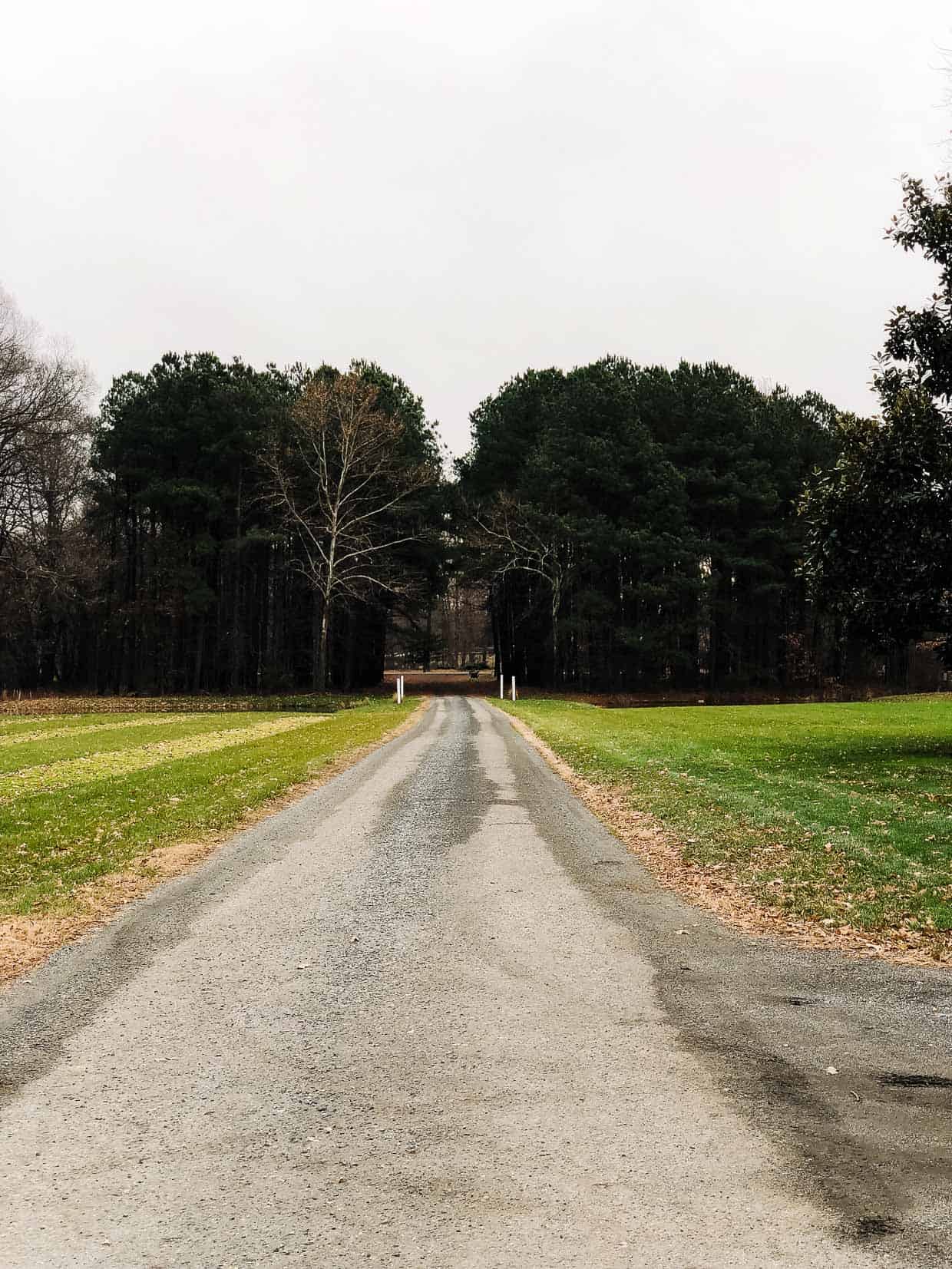 Disclosure: This post is sponsored by the National Chicken Council, however all opinions, as always, are my own. Thank you for supporting brands that help behind the scenes at Kitchen Confidante.