Good Things Come in Small Packages
Mother Nature gives us many gifts. Every single day. Some come wrapped — little presents just waiting to be opened. Like corn. My family cherishes this present from Mother Nature, and in childlike fashion, we usually tear right into them, ripping the packages open to…
Good Things Come in Small Packages
Mother Nature gives us many gifts. Every single day.
Some come wrapped — little presents just waiting to be opened.
Like corn.
My family cherishes this present from Mother Nature, and in childlike fashion, we usually tear right into them, ripping the packages open to steam or boil the lovely kernels until they are just tender enough to savor. But there is another way to go about it that highlights corn's flavors and beauty, in a totally different manner.
Have you ever grilled corn before? Husk and all? It's been a long while since I've had corn prepared this way, and I have come to realize that I have overlooked the beauty that hides within corn's clever packaging. Last night at dinner, I noticed for the first time Mother Nature's brilliance.
When you grill corn, you end up with smokey, charred husks that upon closer inspection, highlight gorgeous striation. Peel each husk away, and it is transformed into a stunning flower.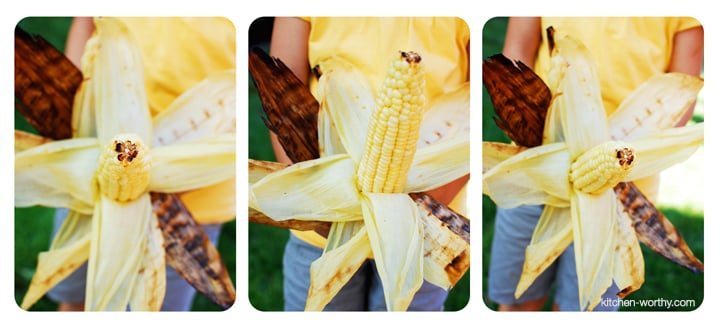 Of course, Grilled Corn In Husks tastes oh-so-good. There is another level of flavor, some smokiness, that penetrates the sweet kernels. The husks envelop the corn cob in its own blanket of steam, cooking the corn very efficiently, protecting it from drying out. And you know what else? It's easier to peel. It's as if this is how Mother Nature intended for us to enjoy her little golden presents.
Grilled Corn In Husks
I can hardly call this a recipe, but here are instructions, in case you've never tried this method before.
Preheat grill to high heat.
Peel off just a few of the outer layers of the corn's husk. Place corn, husks and all on the grill, and allow to cook, rotating periodically. The husks will char, and that is okay. Allow corn to grill for about 15-20 minutes, until the husks are evenly charred.
Carefully peel away the husks to reveal the perfectly cooked corn within. I enjoy my corn this way, but if you wish, you can place the peeled cobs on the grill briefly for some grill marks on the kernels. Otherwise, dig right in.