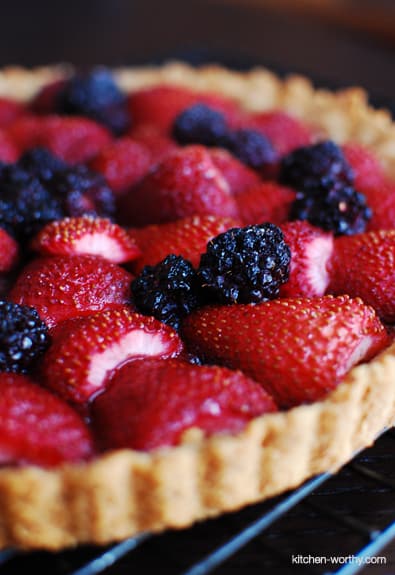 When Life Gives You Strawberries
We are at the height of the strawberry harvest season in California. For the last few weeks, whenever I walk into the market, I have been practically stumbling over strawberries larger than the size of my nose. Have you noticed these California Giant Berries in…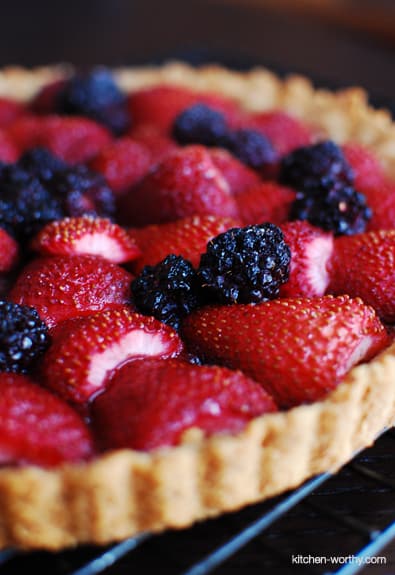 When Life Gives You Strawberries
We are at the height of the strawberry harvest season in California. For the last few weeks, whenever I walk into the market, I have been practically stumbling over strawberries larger than the size of my nose. Have you noticed these California Giant Berries in your local produce section?
I can't help but be mesmerized by these gargantuan strawberries that look like they've been injected with collagen. Putting a fully loaded tray of luscious strawberries as heavy as a newborn baby into my shopping cart is irresistible. Even if I have a smidgen of doubt whether we will eat them all, I buy them, because how could you not? Strawberries at any other time of year are just not the same.
It certainly does not go to waste. The strawberries go into smoothies, yogurt parfaits, with cereal, over oatmeal, dipped in chocolate, and of course, into baked goods.
Oh yes. I have been baking with these Giant Strawberries like a madwoman.
And when life gives you strawberries, you make a tart.
Well, actually, I felt like having a a strawberry pie the other day, but truth be told, I was feeling rather lazy about rolling out pie dough. So, a tart was the next best thing.
This Strawberry-Blackberry Tart with Almond Crust is all about simple, rustic goodness. I love uncomplicated desserts like this! I incorporated almond meal to the crust to give it a bolder flavor and simply pressed the dough into the tart pan. Topped with macerated berries and served with whipped cream (a must), you have a no fuss treat perfect for this time of year.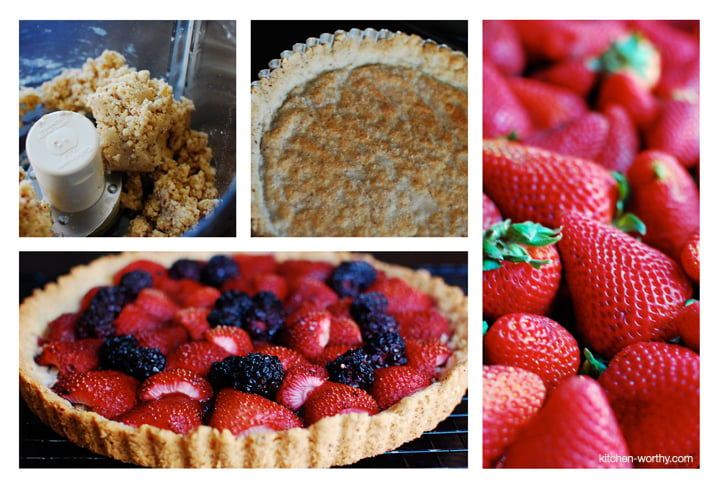 Strawberry-Blackberry Tart with Almond Crust
For the filling:
2 cups berries (halved strawberries, blackberries)
1/4 cup sugar
1 tablespoon sugar (set aside)
For the crust:
3/4 cup flour
1/2 cup almond meal
3 tablespoons sugar
1/4 teaspoon kosher salt
7 tablespoons unsalted butter, chilled and cut into small pieces
1 large egg yolk
1/2 teaspoon vanilla extract
Preheat oven to 400 degrees Fahrenheit.
In a bowl, combine berries and 1/4 cup sugar and set aside.
In a food processor, pulse flour, almond meal, sugar, salt, butter, egg yolk, and vanilla extract until the dough starts to come together into a ball. Press the dough into an ungreased 8 inch tart pan with a removable bottom. Place the pan on a baking sheet and bake in the oven for 15 minutes.
Remove pan from oven and arrange the berries on the crust. Lower heat to 350 degrees. Sprinkle juices from macerated berries and 1 tablespoon sugar on the berries and return to oven. Bake for 30-40 minutes or until berries are tender. Cool on a wire rack. Serve warm or at room temperature with whipped cream.
Whipped Cream
1 cup heavy cream
¼ cup sugar
Splash of vanilla
In a cold mixer bowl (I like to put my mixer bowl and whisk in the freezer beforehand), whisk ingredients until soft peaks form.