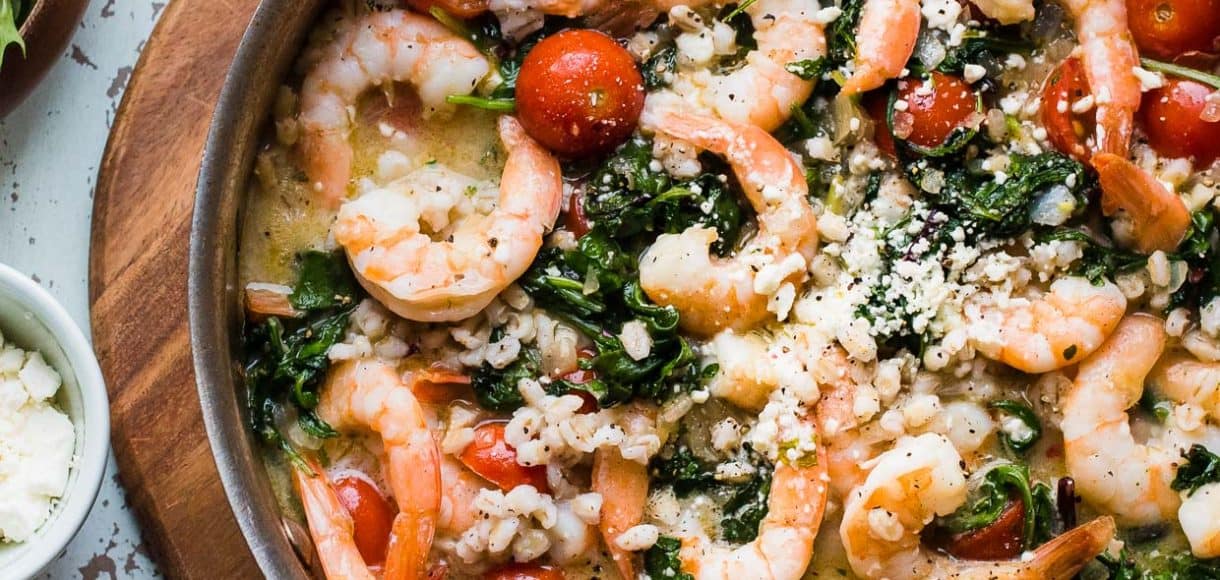 Greek Shrimp, Pearl Barley and Kale with Feta
Simple, light, fresh, and made in one skillet. This delicious recipe for Greek Shrimp, Pearl Barley and Kale with Feta doesn't get any easier! It is one of the many delicious recipes found in Sara Moulton's Home Cooking 101: How to Make Everything Taste Better…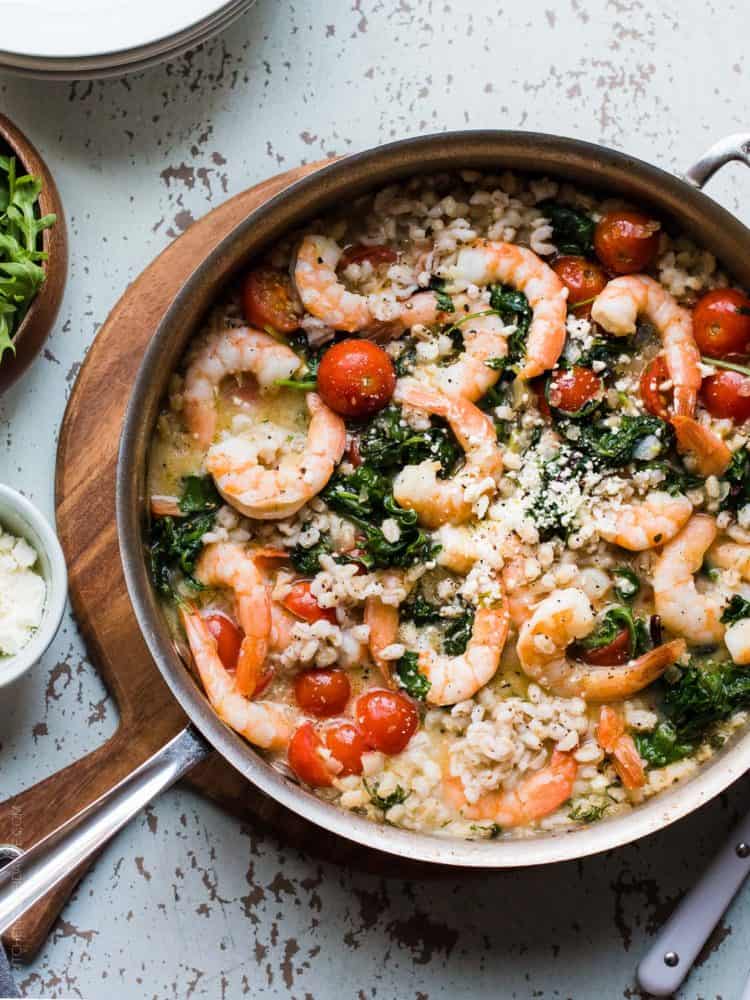 Greek Shrimp, Pearl Barley and Kale with Feta
Simple, light, fresh, and made in one skillet. This delicious recipe for Greek Shrimp, Pearl Barley and Kale with Feta doesn't get any easier! It is one of the many delicious recipes found in Sara Moulton's Home Cooking 101: How to Make Everything Taste Better by Sara Moulton.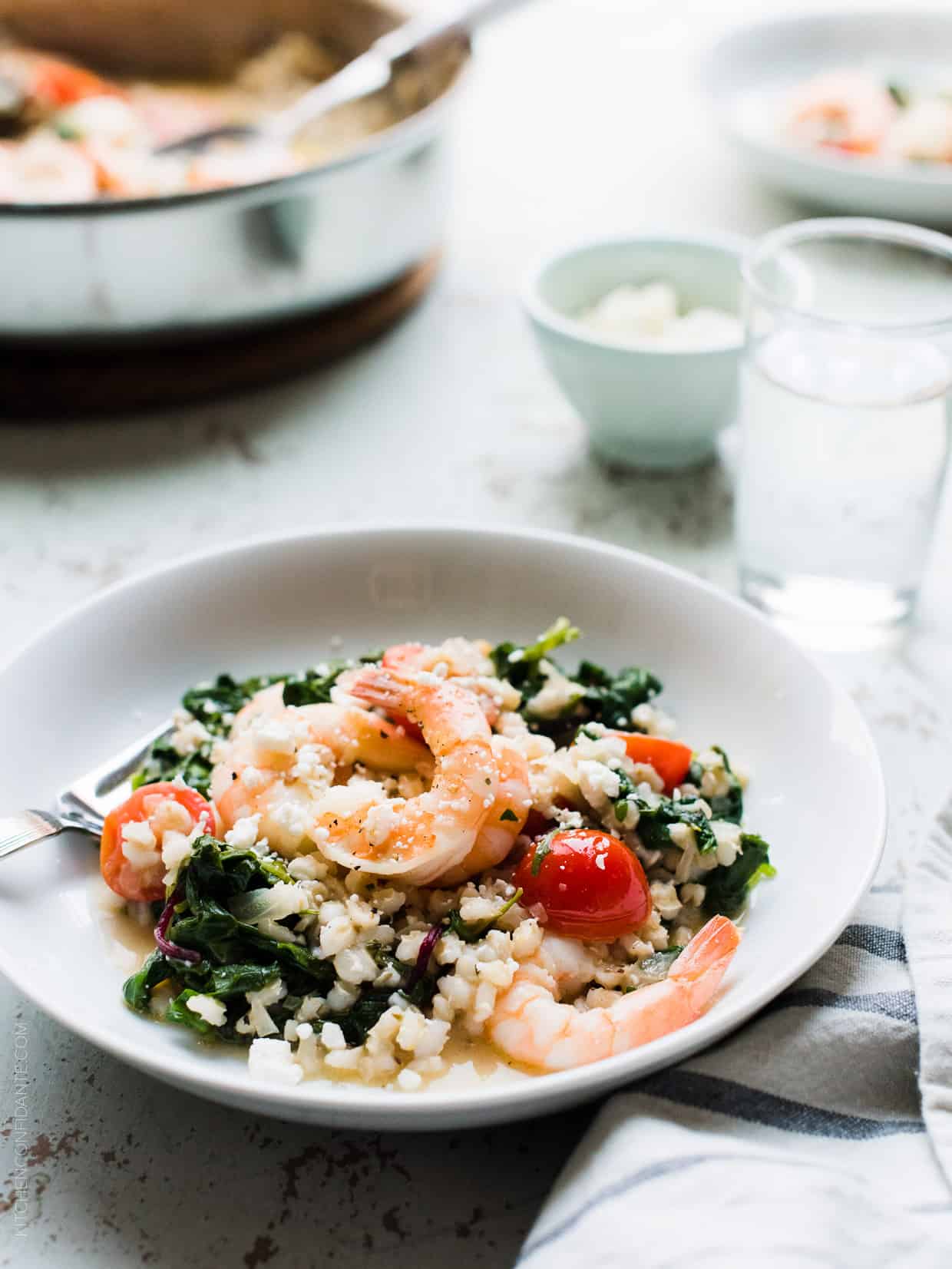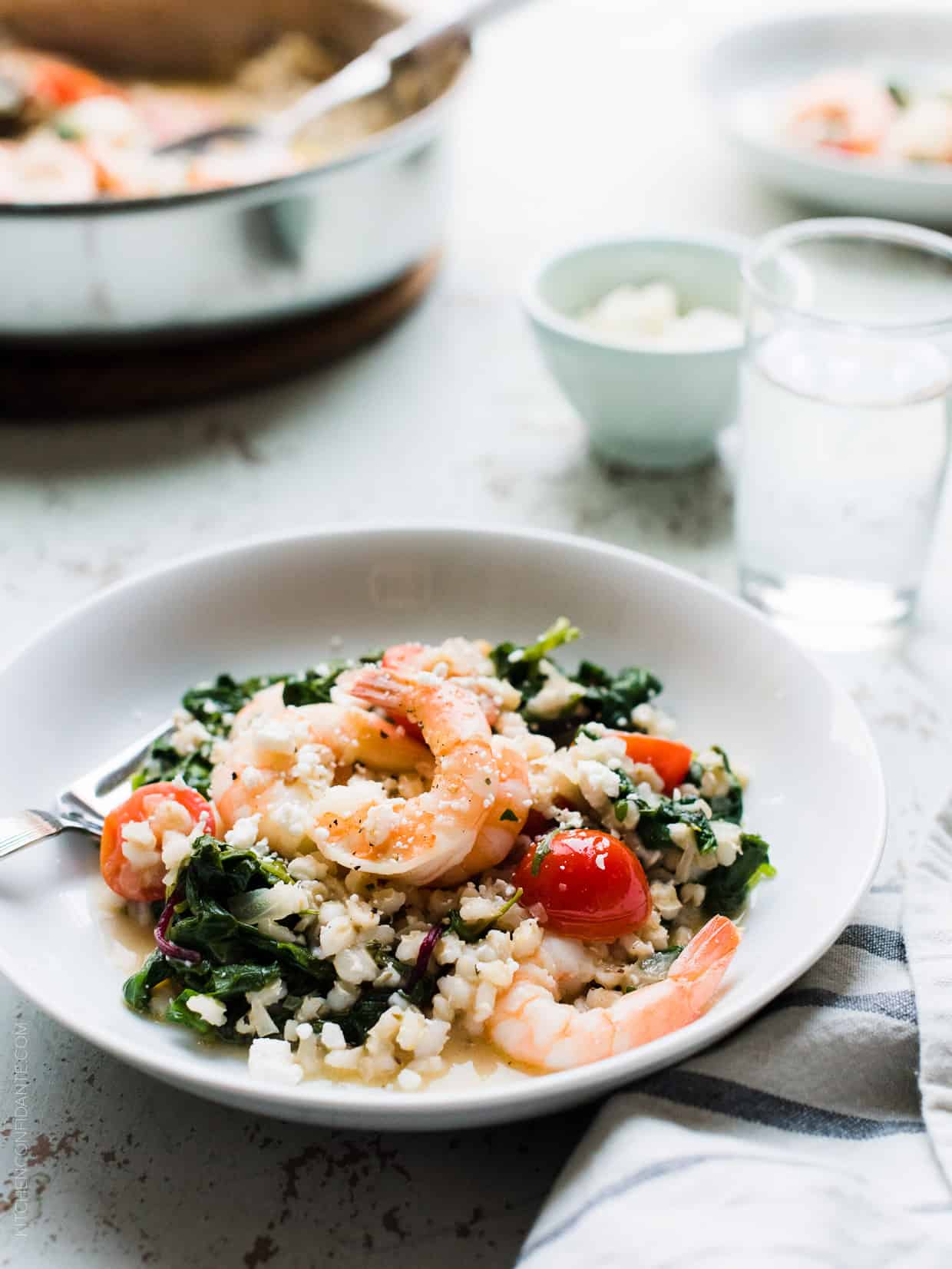 At the end of winter break, my daughter mentioned that the two weeks felt like nothing more than a weekend. I guess that's what happens when you're busy, and action packed it was! Between family visiting for Christmas and our ski trip to Utah, it flew by.
Halfway through, I felt the need to take a mental break from cooking, especially after being in the kitchen all day, every day around the holidays. I wanted to cook, but I didn't want to think — does that make any sense?
When this feeling creeps up, I turn to my cookbooks. Give me inspiration, I will of them. Tell me what to do.
It couldn't have been more timely – I received a copy of Sara Moulton's Home Cooking 101: How to Make Everything Taste Better in the mail right before the holidays. There was no note, but I am pretty certain that my friends from Sunsweet had sent it, after I spent the day with them and with Sara Moulton herself, cooking and playing in the kitchen.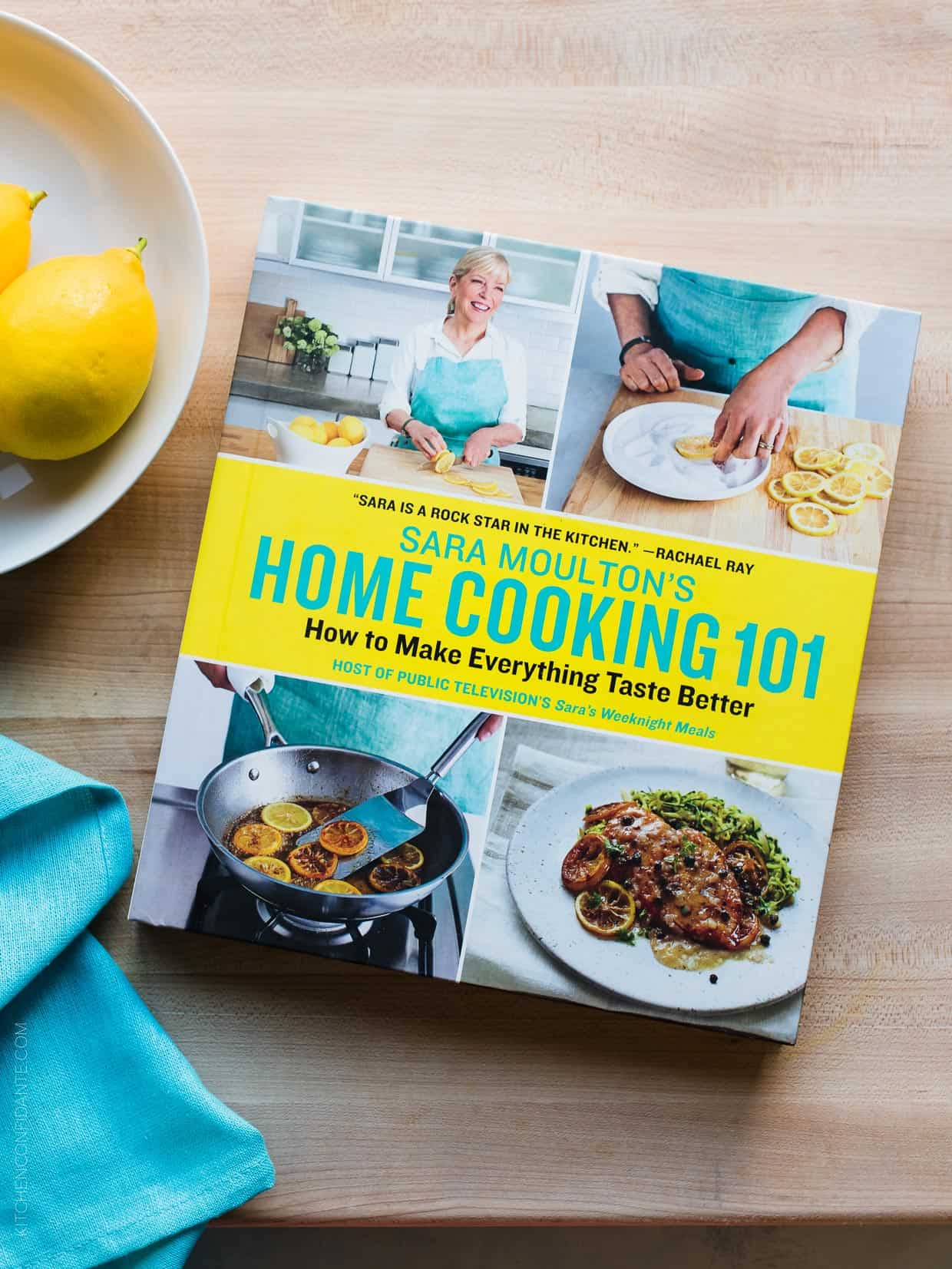 I began to bookmark. And read. And then I bookmarked some more.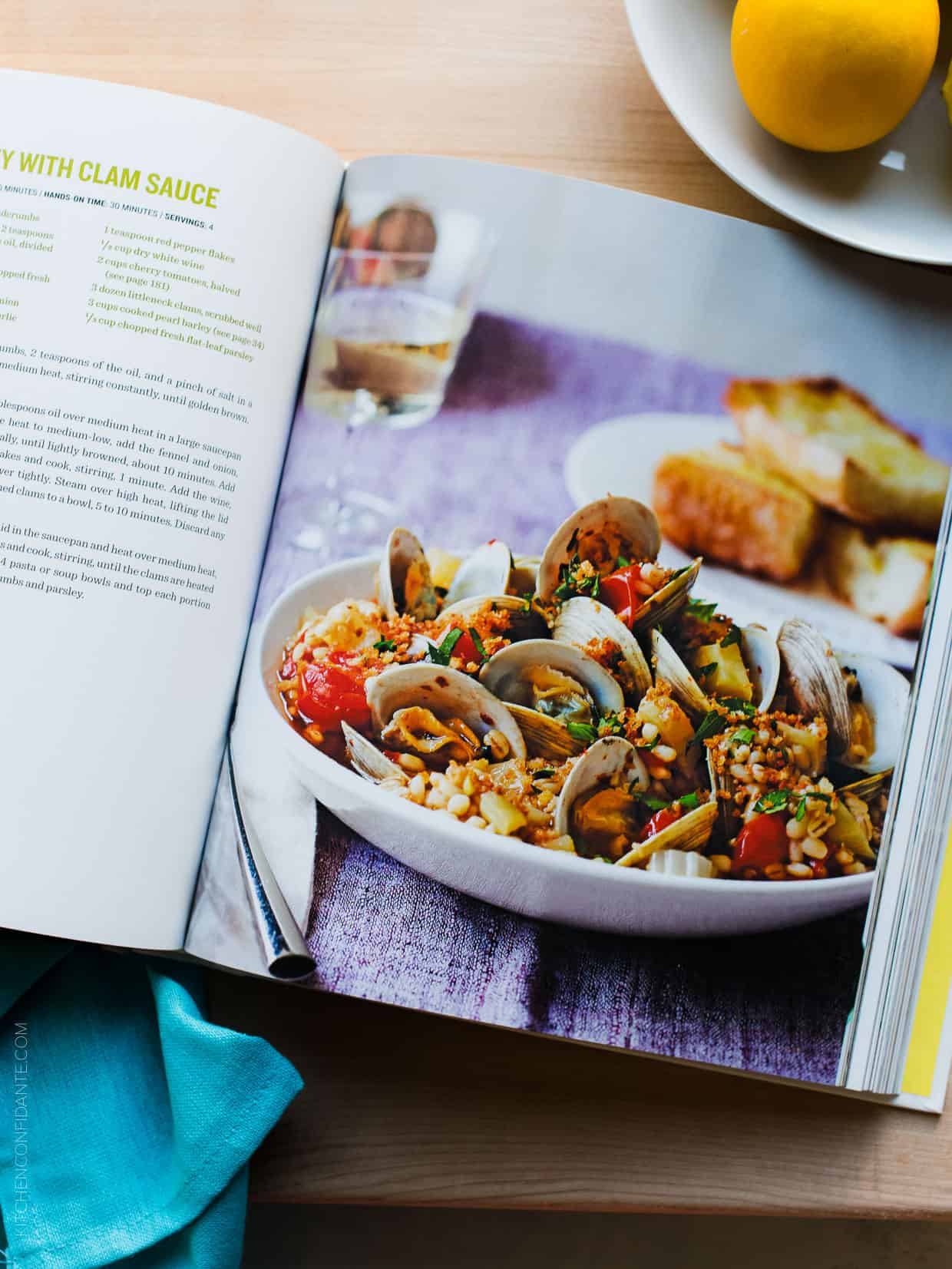 It was like being in the kitchen with Sara again! When you read the pages on the basics of great home cooking, and learn about what she considers essentials in a cook's pantry, it's like chatting with her as she shows you around the kitchen. Her natural way with teaching and mentoring comes through the pages, and it doesn't matter if you've been cooking for 25 years or 5 months — there's something new to learn on each page. All her years of experience ooze from each recipe, and I spent the next several days cooking straight out of her book, not changing anything, not adapting anything…just doing.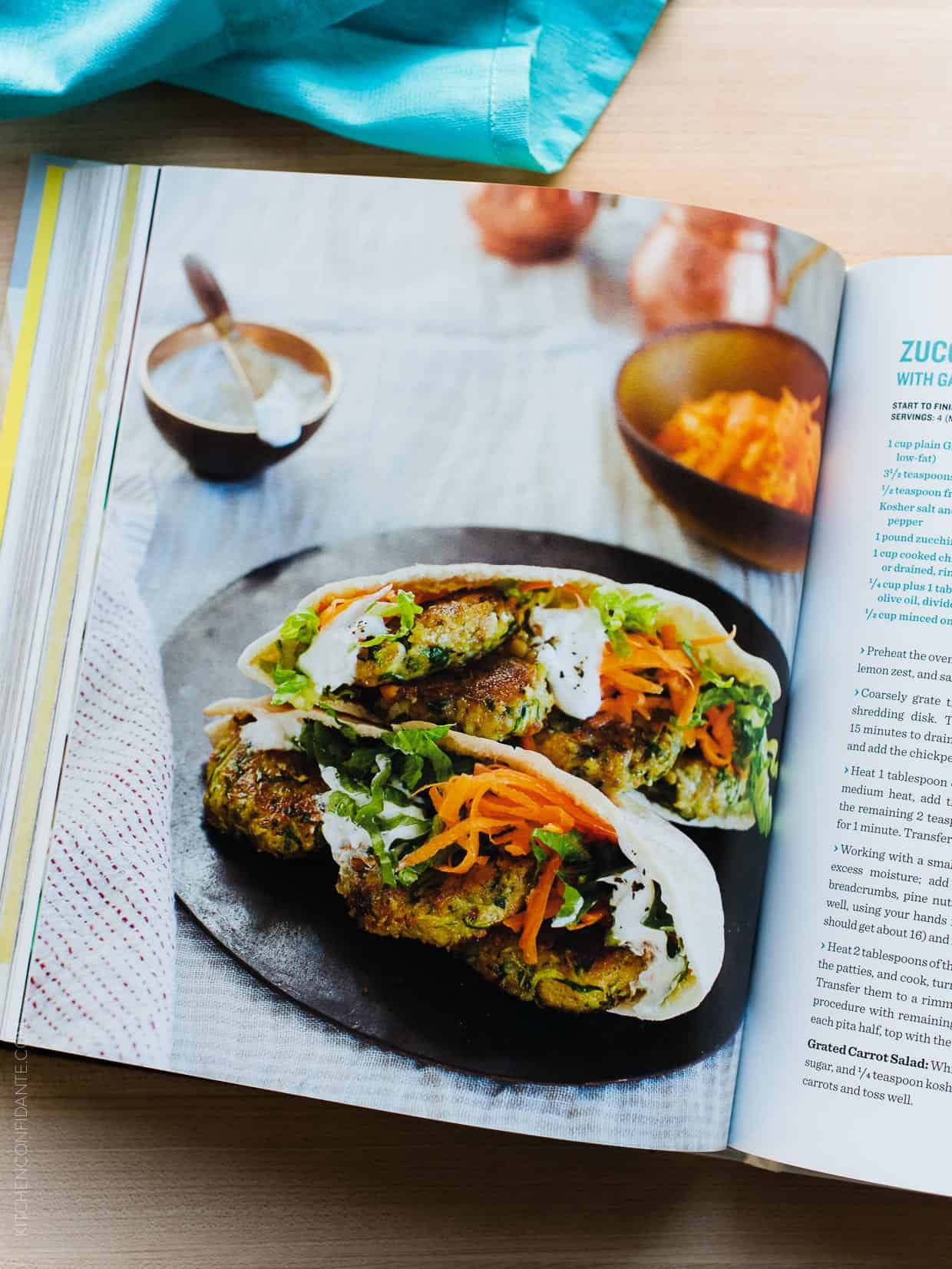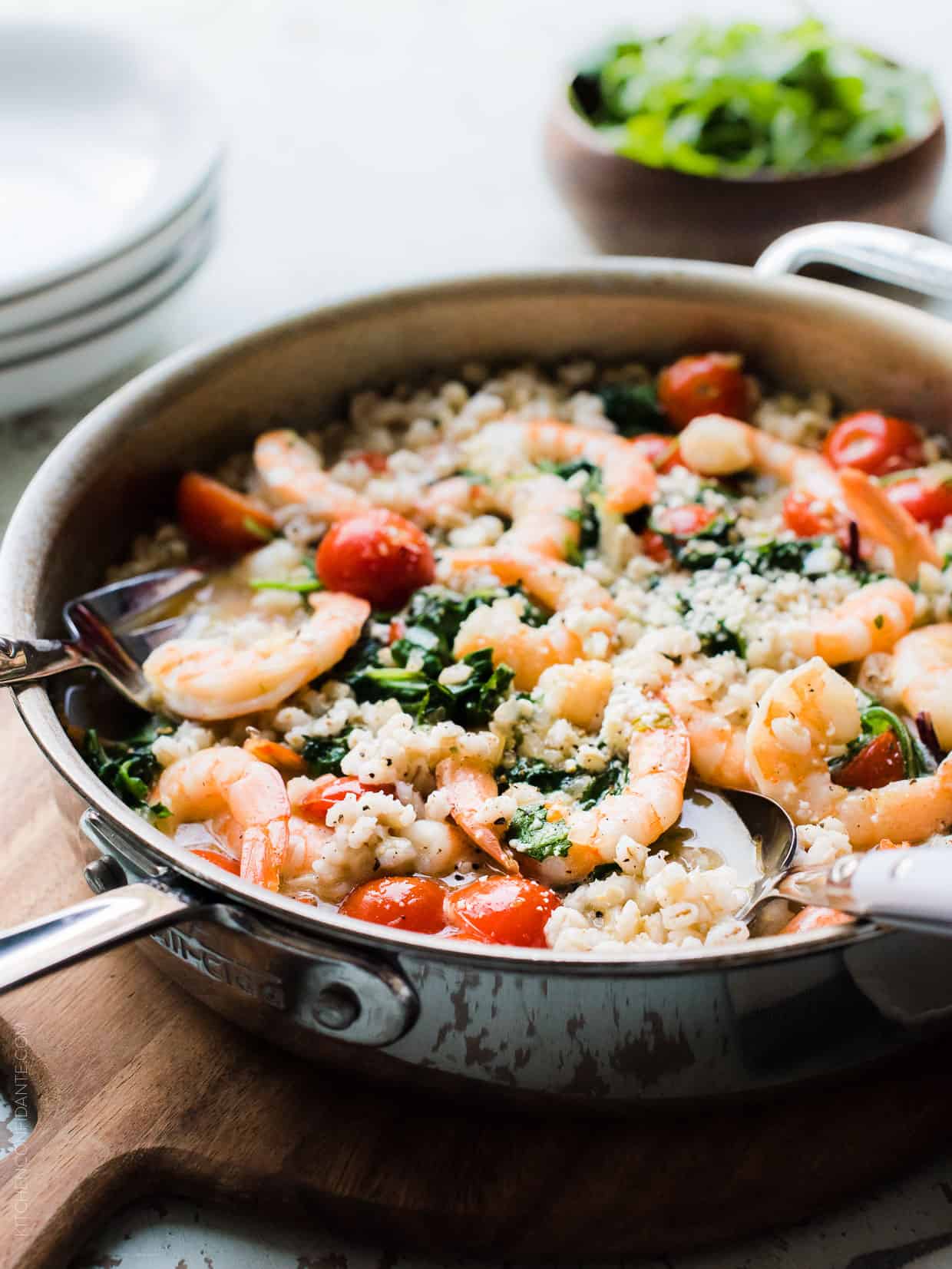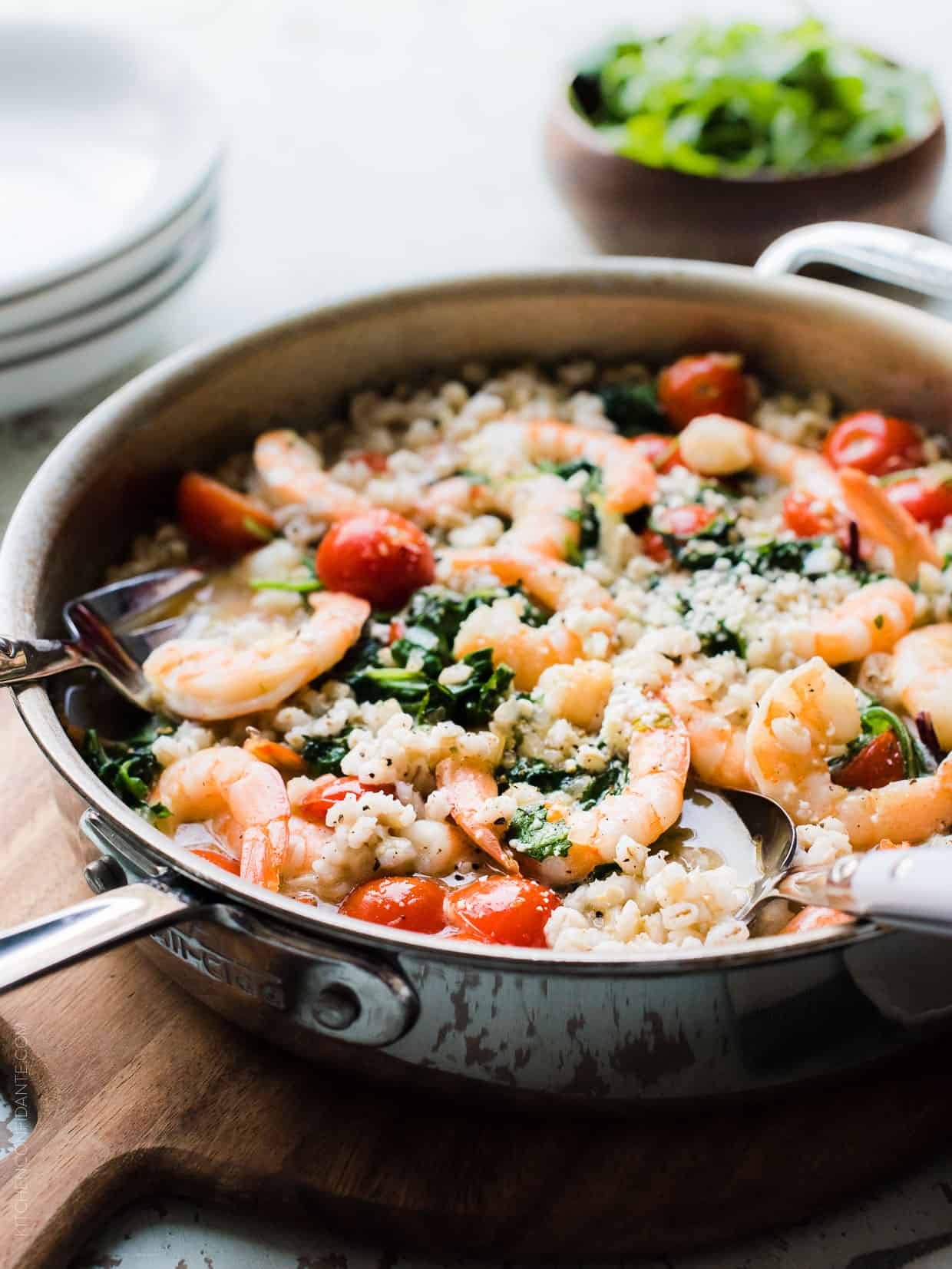 I love her approach to flavor and cooking and have decided that this book is going to become a quick staple in my kitchen. It already has. From veggie forward recipes like Zucchini Patties with Garlicky Yogurt Sauce, to the utterly simple Barley with Clam Sauce – I love how balanced the flavors are, not to mention how precise the recipes are when it comes to serving size.
One dish I kept returning to was her Greek Shrimp, Farro and Greens with Feta. I love how simple it is to riff, based on the available ingredients in my refrigerator and pantry. I made it with barley, with kale, and even with pre cooked shrimp from Trader Joe's one night (it works!). No matter how I changed it up, the recipe was solid and I wanted to share it with you.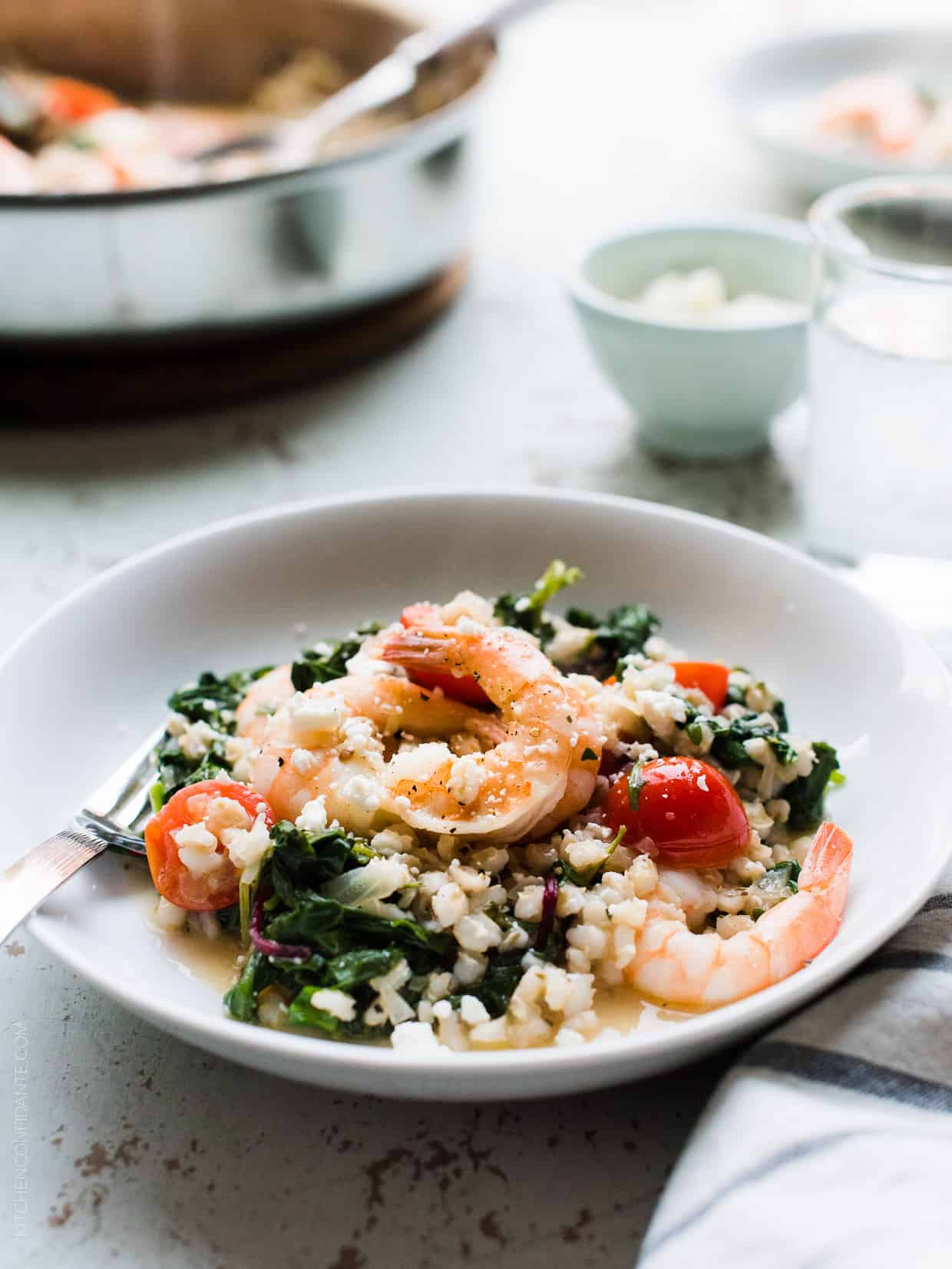 Greek Shrimp, Pearl Barley and Kale with Feta is perfect for post holiday indulgence, New Year's resolutions, or simply, a weeknight meal with the family. It's one of those year round recipes that you can make, no matter the season. Because 'tis always the season for tasty, don't you agree?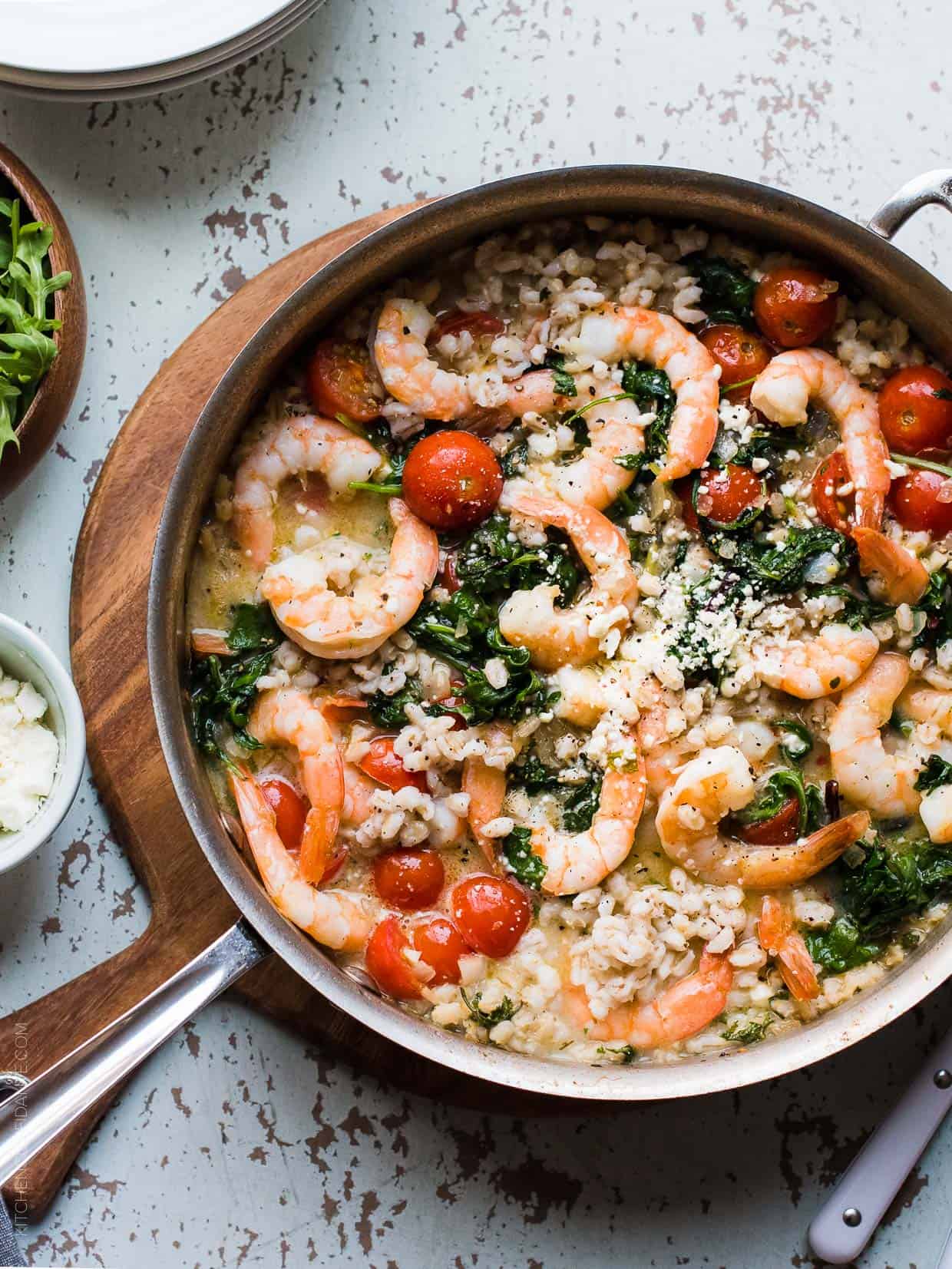 Disclosure: I received a copy of Sara Moulton's Home Cooking 101: How to Make Everything Taste Better. This post is not sponsored. All opinions are, as always, my own. There are affiliate links in this post.
Greek Shrimp, Pearl Barley and Kale with Feta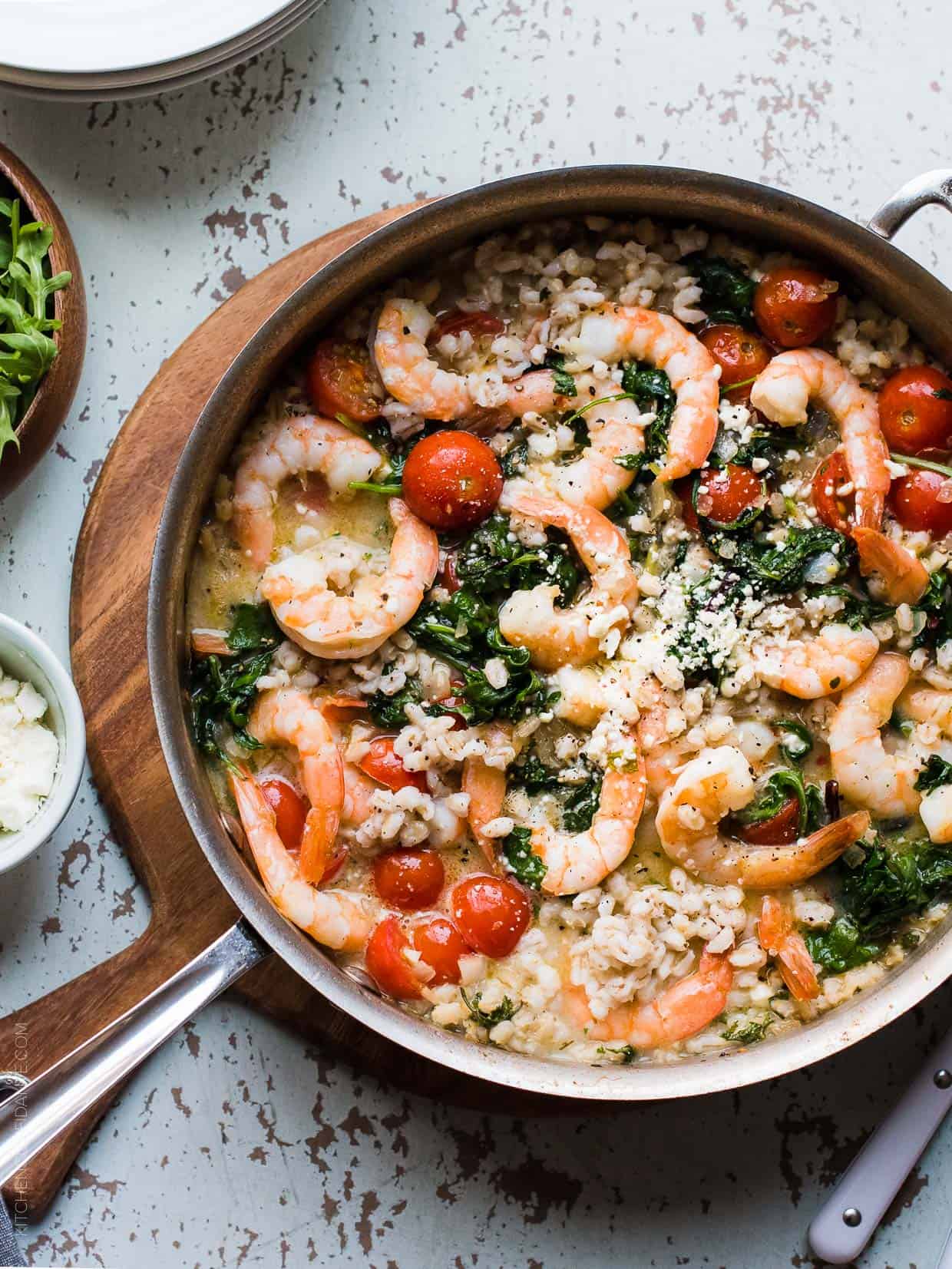 Print Recipe
Ingredients
1/4 cup extra-virgin olive oil, divided
12 ounces peeled and deveined 16/20 shrimp
1 cup finely diced onion
Kosher salt, to taste
2 cloves garlic, minced (about 1 tablespoon)
1 cup halved cherry tomatoes
2 teaspoons red pepper flakes, more or less to taste
12 ounces baby kale
Freshly ground black pepper
1/2 cup white wine
2 cups cooked pearl barley (can substitute farro, brown rice, wheatberries, etc.)
1 tablespoon chopped cilantro
4 ounces crumbled feta cheese, divided
1 cup chicken stock
Instructions
Preheat the oven to 400°F. Set a colander over a wide bowl and set aside.
In a deep-sided, oven proof skillet, heat 1 1/2 tablespoons olive oil over high heat. Add the shrimp and cook for a minute, and season very lightly with a touch of salt and pepper. When the shrimp are golden on one side, carefully turn and cook for 1 minute more. Transfer the shrimp into the colander.
Add a tablespoon of oil to the skillet and lower the heat to medium-low. Add the onion, seasoning to taste with salt, and cook, stirring periodically, until the onions are translucent, about 8-10 minutes. Add the garlic, tomatoes, and red pepper flakes and cook for another minute. Transfer the onion and tomato mixture into the colander with the shrimp.
Add the remaining oil into the skillet, along with half of the kale. Cook the kale, stirring periodically, until they begin to wilt and make room for the remaining kale. Add the rest of the kale, seasoning with salt and pepper. When all the kale is wilted, transfer it to the colander. Shake the colander to drain as much of the juices into the bowl.
Return the skillet to the stove and stir in the wine and the juices reserved from the bowl. Bring it to a boil and let it bubble until the liquid has reduced to about 1/4 cup. Stir in the barley, cilantro, 2 ounces of the feta cheese, and the chicken stock, and bring to a boil. Add the ingredients from the colander, nestling the shrimp into the grains. Sprinkle the remaining feta cheese on top and transfer to the oven. Bake for about 10 minutes. Serve immediately.
Notes
Sara Moulton's method of cooking this dish in stages but in one pan guarantees perfect texture while eliminating extra clean up. The type of greens and grains you use can be adapted to whatever you have on hand. Spinach, chard, mustard greens all work in place of kale, as well as all the varieties of grains!