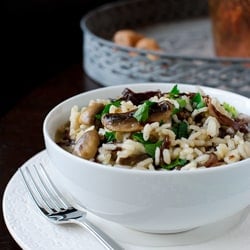 Simple Sundays | Champagne & Mushroom Risotto
The house is still and I just poured my cup of coffee. Two small spoons of sugar, a drizzle of half & half, and I swirl. The morning silence is so thick, you would think I awoke at dawn, but it is already past eight,…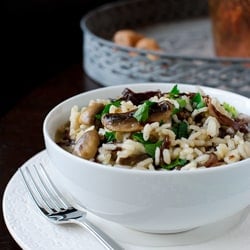 Simple Sundays | Champagne & Mushroom Risotto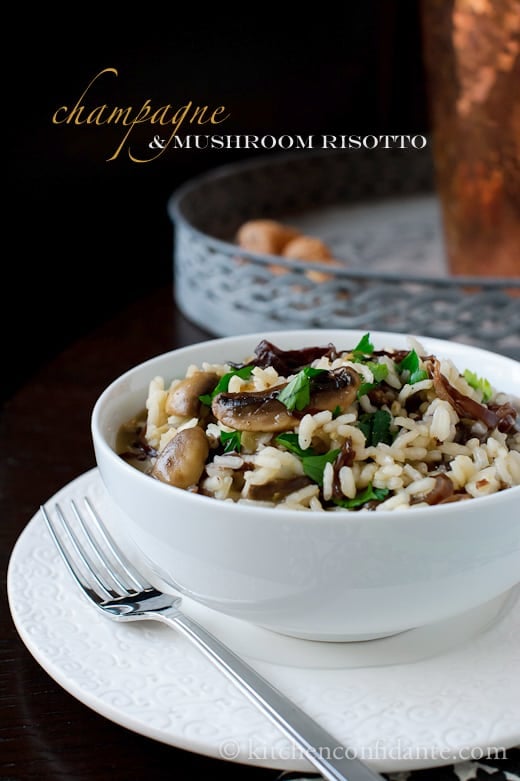 The house is still and I just poured my cup of coffee. Two small spoons of sugar, a drizzle of half & half, and I swirl. The morning silence is so thick, you would think I awoke at dawn, but it is already past eight, and my family is still tucked in their beds. Even the dog is sleeping in — I can hear his deep snores through the ceiling above me.
I love these rare mornings, when the house is mine and my mind free to reflect. This morning, all I can think of is…
Justin Bieber.
Wait! Before you click away, let me assure you, this post is not about Bieber Fever or my daughter's crush on the boy and his hair. (I am happy to report there is no crush on boys, Bieber or otherwise. Yet.) But my friend Justin is wise in his young age, I will admit. He learned at a young age something that I did not until my mid-twenties.
Never say never.
As each year passes, and the champagne bottles are chilled, I pause to reflect. What were the surprises of 2011? There's always something. In my chats with one of my dearest friends, we have always reminded one another: never say never. Did I ever think I would live in California? Never. Yet here I am, and it has been over 11 years. Did I ever think I would write a food blog? Never, yet 2012 marks the start of Kitchen Confidante's third year. Did I ever think I would experience so much satisfaction from it? Never.
Thank you to each and every one of you who stop by and share in my stories each week. This New Year, I can't help but reflect on all of you who make this worthwhile. Your comments, your notes, and your pictures when you cook a dish – they brighten my days. They really do!
Never say never.
As we cross the threshold into 2012, I also can't help but feel anticipation and excitement over inevitable changes that may come our way. We never know what the future holds; we can only hope that we adapt to them.
I hope you were able to ring in the New Year with the ones you love. If, by chance, you find yourself with a little extra bubbly from the evening's celebrations, I have a perfect way to use the last drops of fizz. Champagne & Mushroom Risotto is a wonderful way to soak up any extra sparkling wine, even if the sparkle is long gone. It's all about adaptation, isn't it?
Happy New Year, everyone :)
FTC – The folks at FungusAmongUs had sent me some samples of their dried mushrooms a few months back, and I found that their Natural Dried Wood Ear Mushrooms (pictured above) worked so nicely in the Champagne & Mushroom Risotto. The broth that you are left with after soaking the mushrooms is so flavorful and really adds dimension to the dish. I am not affiliated with FungusAmongUs nor was I compensated for including their product in my post. I am just sharing what I truly believe you will also enjoy! All opinions are, as always, my own.
Champagne & Mushroom Risotto
What a wonderful way to use leftover bubbly! Don't worry if the sparkling wine is already flat, it will still work. A good, dry white wine may also be used.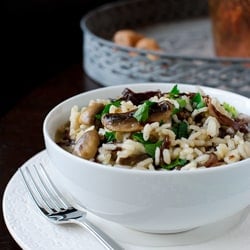 Print Recipe
Ingredients
1 oz dried wood ear mushrooms
8 oz assorted fresh mushrooms, thickly sliced
4 tablespoons unsalted butter
1 tablespoon olive oil
3 shallots, finely diced
1 garlic clove, minced
2 cups Arborio rice (Italian risotto rice)
8 oz sparkling wine
5-6 cups chicken stock, kept warm
kosher salt
freshly ground black pepper
flat leaf parsley, for garnish
Instructions
In a small bowl, cover the the dried wood ear mushrooms with boiling water and let it sit for about 10 minutes. Drain the mushrooms with a sieve and reserve the liquid.  Set both aside.
Heat 2 tablespoons of butter with the olive oil in a deep sided saute pan over medium-low heat. Add the shallots and cook for about two minutes. Add the garlic and cook for another minute. Add the fresh mushrooms and cook for about 3 minutes. Add the rehydrated wood ear mushrooms and stir. Season lightly with salt and pepper.
Stir in the rice and let the oils coat the grains. Stir in the sparkling wine and let it cook until the wine is absorbed. Stir in the reserved mushroom liquid and let it cook down. Proceed to stir in the chicken stock, one cup at a time, letting the rice absorb the liquid between additions. Continue until the risotto is creamy and soft, about 30 minutes. You may or may not need to use all the chicken stock. Season to taste with salt and pepper.
Take the risotto off the heat and stir in the remaining butter. Serve hot, garnished with chopped parsley.
Lightly adapted from Wild Mushroom and Champagne Risotto, Fabulous Fizz by Alice King.