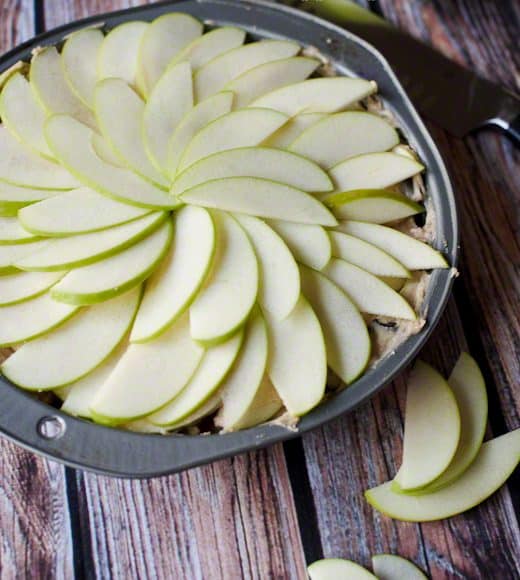 Apple Spice Cake
I have emerged from hibernation. We may have just entered the depths of winter, but after two weeks of all things holiday and having the children home from school, I feel like a bear drowsily emerging from her cave. This was the first holiday break…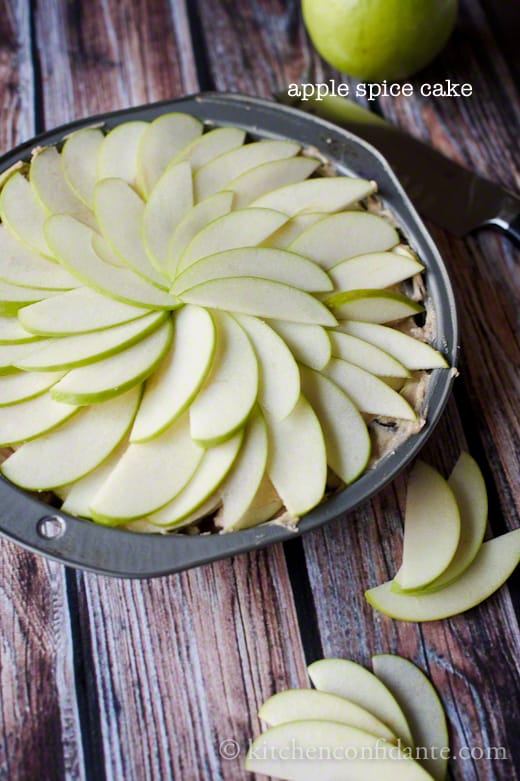 Apple Spice Cake
I have emerged from hibernation.
We may have just entered the depths of winter, but after two weeks of all things holiday and having the children home from school, I feel like a bear drowsily emerging from her cave. This was the first holiday break we did not travel, and our bodies easily fell into a routine that followed it's own circadian rhythms. Alarm clocks were silenced and we all caught up on rest. I have to say, it was really nice.
If I were a bear, my cave would have to be outfitted with a little kitchen, because lazy days are perfect for baking. Repetitively slicing apples and cracking eggs can be so therapeutic, at least when time is plenty and cold weather dictates you stay indoors.
And the sugary sweet aroma of apples soaking in cinnamon and allspice perfumes your home. That is true aromatherapy.
It turns out that as much as time was on my side last week, this Apple Spice Cake is surprisingly easy to make, and does not require a lot of time at all. The batter just needs a few swift strokes with a whisk. And I was also surprised at how the apples are truly the star of the cake. Beneath those petals is a cake so studded with apple, you hardly had to feel guilty as you ate a slice…or two. Which is a good thing, when you're hibernating.
A cake that is comforting without the guilt? Easy to prepare and still looks pretty? And stays moist for days? Yes, it's true. Don't believe me? There's only one way to find out, now isn't there?
I love how simple this recipe is to prepare - leaving the skins intact means no peeling apples and extra nutrition in the cake. It also makes it quite hearty. However, if you would like a slightly lighter and softer texture, I would peel the apples before slicing. The cake will last up to 4 days when stored in the refrigerator in a tightly sealed container. Also, the original recipe called for golden raisins, but I left that out and added chocolate chips instead. Can you blame me?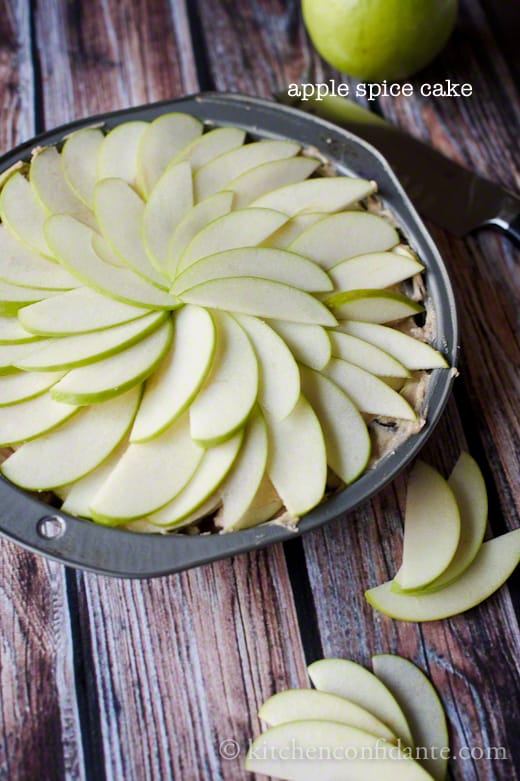 Print Recipe
Ingredients
3 medium green apples
1 cup granulated sugar
1 stick unsalted butter, melted
1 egg
1 1/4 cups all-purpose flour
1 teaspoon baking soda
1 teaspoon ground cinnamon
1/2 teaspoon grated nutmeg (ideally fresh)
1/2 teaspoon ground allspice
1/2 teaspoon salt
1/2 cup chocolate chips
2 tablespoons granulated sugar mixed with 1 teaspoon ground cinnamon
Confectioners' sugar
Instructions
Preheat the oven to 325F. Lightly butter or use baking spray on an 8-inch round cake pan.
Core the apples and slice thin (see note above regarding leaving the skin intact). In a medium bowl, whisk together the sugar, butter and egg. Stir in 2/3 of the sliced apples.
In a separate bowl, whisk together the flour, baking soda, cinnamon, nutmeg, allspice, and salt. Add the flour to the sugar mixture, along with the chocolate chips, and stir until just combined. Pour into the pan and spread. Arrange the remaining sliced apples and gently press into the batter. Sprinkle with the cinnamon sugar mixture. Bake until golden brown and the cake is springy, for about 50 minutes.
Remove cake from oven and let it sit on a wire rack for 10 minutes. Turn the cake onto a plate and let it cool completely, about 2 hours. Dust with confectioners sugar and serve!
Slightly adapted from Williams-Sonoma New Healthy Kitchen Series: Desserts, by Annabel Langbein (Simon & Schuster, 2006).