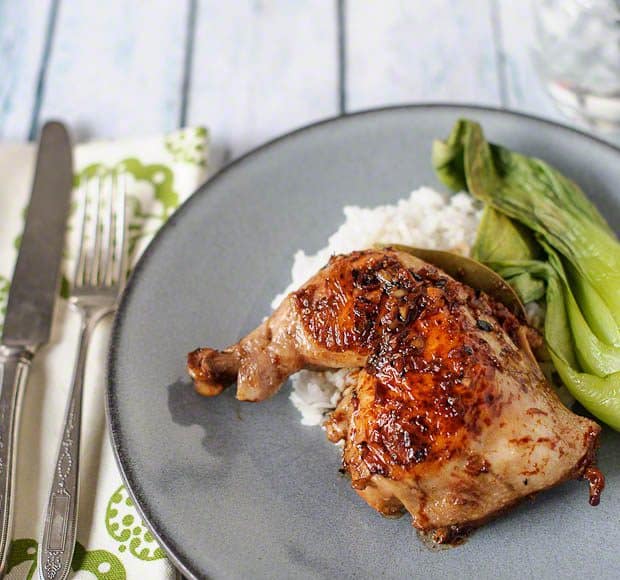 Simple Sundays | Filipino-style Braised Chicken with Cranberry Adobo Sauce
Lolo, what is your favorite dish? Around this time last year, my daughter was working on her 2nd grade heritage report, culling memories and family history. She picked up the phone and called my dad, going down her list of questions. When she came to…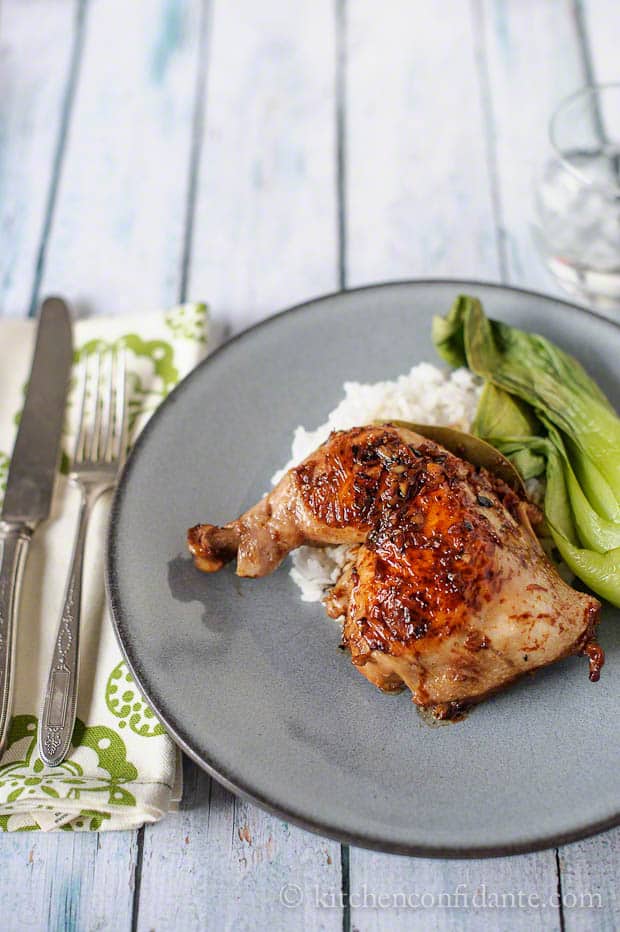 Simple Sundays | Filipino-style Braised Chicken with Cranberry Adobo Sauce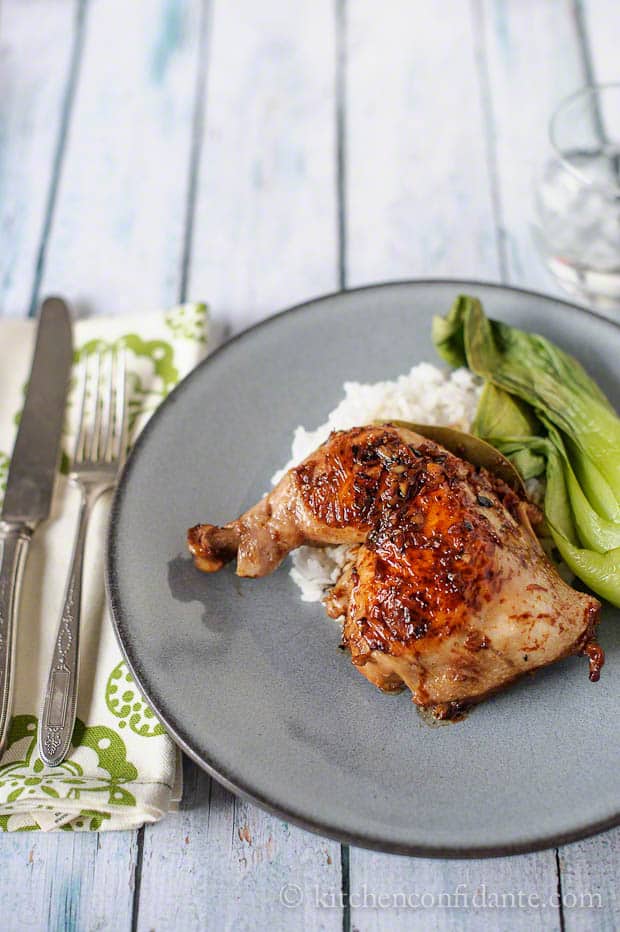 Lolo, what is your favorite dish?
Around this time last year, my daughter was working on her 2nd grade heritage report, culling memories and family history. She picked up the phone and called my dad, going down her list of questions. When she came to "favorite dish," I confidently thought he was going to answer Nilaga. I was surprised when his voice on the speaker phone emphatically replied, Oh! Adobo. I could just hear him smiling.
Adobo? His answer took me by surprise, but I should not have been. Adobo is considered by many the National Dish of the Philippines, what I imagine is comfort food for my dad. And it makes sense. Almost anything can be cooked adobo style, but the most common version is chicken, braised in a rich sauce of vinegar and soy sauce, and lots and lots of garlic.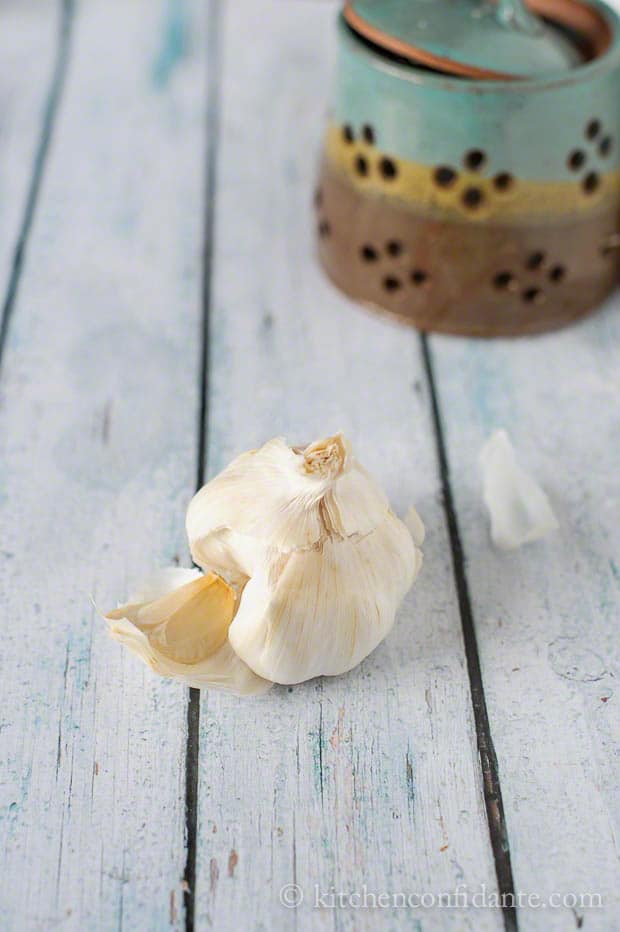 There's nothing better than the rich flavor of tangy adobo sauce, especially when there are bits of sweet garlic swirling within. I always say I would be happy with rice topped with adobo sauce – that is absolute comfort for me. The more garlic the better.
The variations of adobo preparation can be astounding, and today I have a little twist that has quickly become my new favorite. My Braised Chicken with Cranberry Adobo Sauce embraces all the qualities of a traditional adobo, but uses sour cranberry juice in place of the tart vinegar. It achieves that familiar taste quite well, and even if you are an adobo aficionado, I suspect you might not know the difference. But if you look closely, you will notice a richer caramelization in the sauce, one that you will find me sipping by the spoonful.
My family agrees: they like this version best. Now, the big question is: will my dad approve? I'll have to wait till his next visit to find out. But something tells me he'll be reaching into the dish for seconds…with a big smile on his face.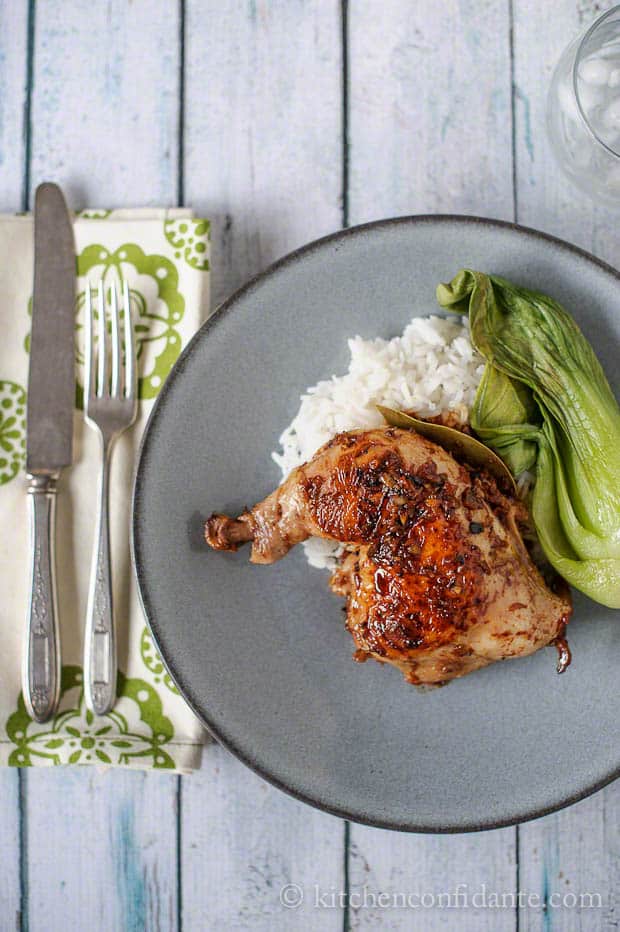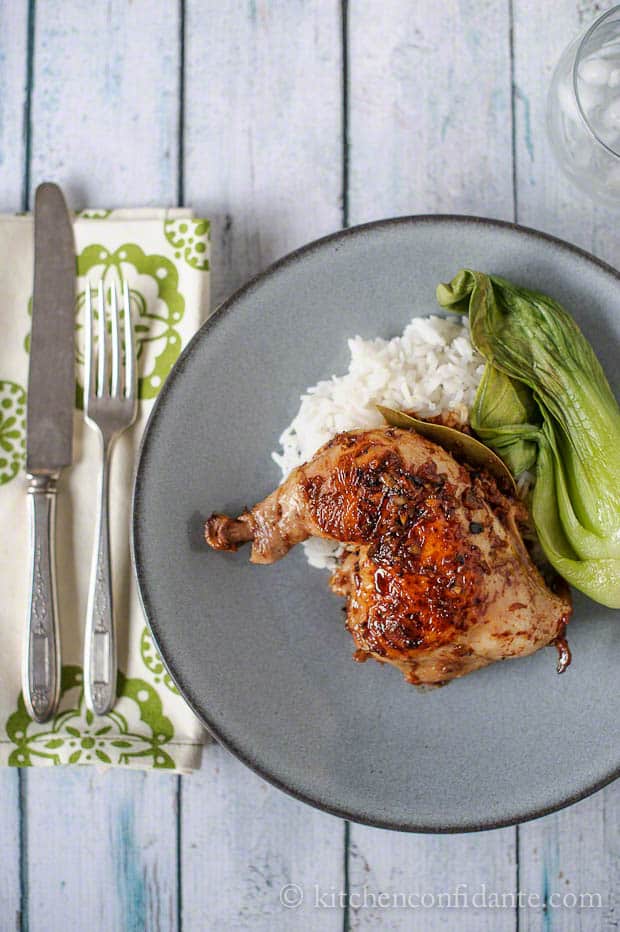 Filipino-style Braised Chicken with Cranberry Adobo Sauce
This is a slight twist on the Philippine National Dish: Adobo. A traditional adobo can be any protein braised in a vinegar and soy sauce base, but this version harnesses the tartness that unsweetened cranberry juice can bring, along with a beautiful caramelization. I daresay, this may be my new favorite way of enjoying adobo!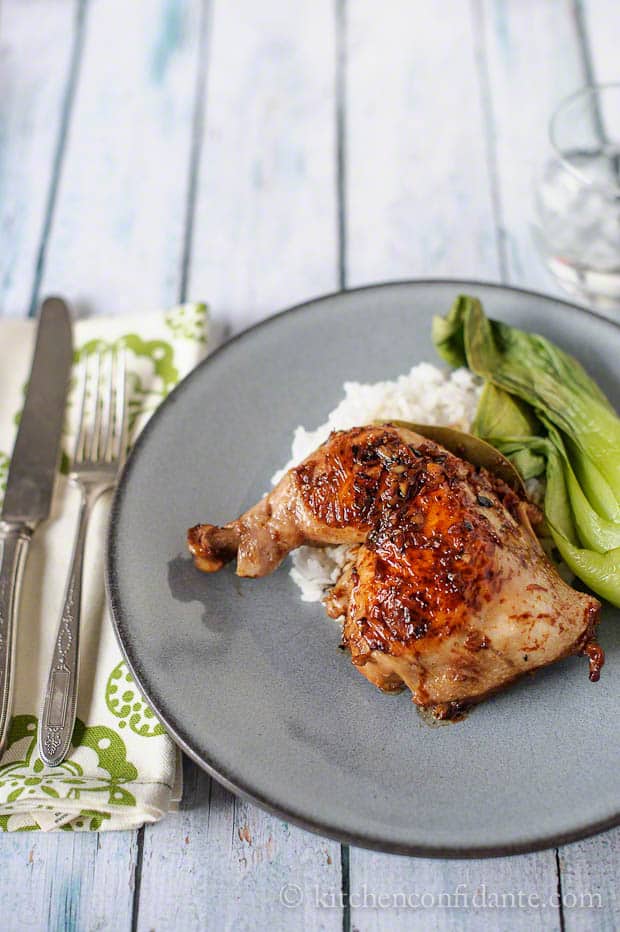 Print Recipe
Ingredients
8 chicken legs on the bone
1/3 cup soy sauce (I like Silver Swan for this recipe)
1/3 cup unsweetened cranberry juice
1 small head of garlic, minced
6 ground peppercorns
2 bay leaves
1 tablespoon canola oil
salt and pepper to taste
Instructions
Marinate the chicken legs in soy sauce, cranberry juice, garlic and pepper, in a non-reactive bowl, for 30 minutes to 1 hour, rotating at least once. The chicken can also marinate overnight.
Place the chicken, bay leaves and marinade in a deep sided sauté pan and cook over medium heat. When the sauce is bubbling, turn the chicken and cook until the meat is nearly cooked through, about 15 minutes. If the sauce seems too dry, add a little water (about 1/4 cup). Transfer the sauce to a bowl, add oil, and brown the chicken on all sides. Return the sauce to the pan, bring to a boil and lower heat to a simmer. Adjust the sauce to taste with salt and pepper. Cook for about 20-30 minutes, or until the chicken is tender and the sauce a thick and deep color.
Serve over rice.