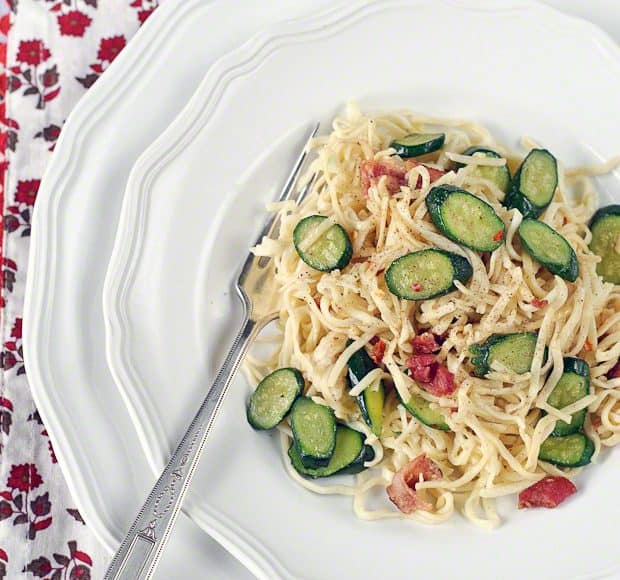 Simple Sundays | Homemade Spaghetti with Baby Zucchini, Bacon and Mozzarella
Skydiving. The Taj Mahal at daybreak. An African safari. Homemade pasta. What's on your bucket list? Some life goals are easier to achieve than others. I may never skydive – not because of fear or lack of opportunity, but simply because I know my husband…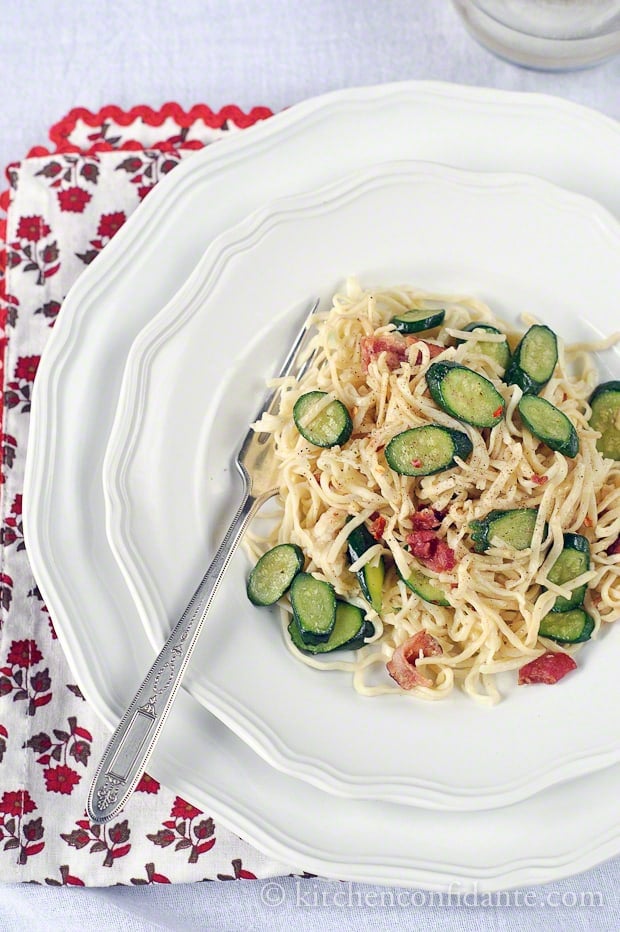 Simple Sundays | Homemade Spaghetti with Baby Zucchini, Bacon and Mozzarella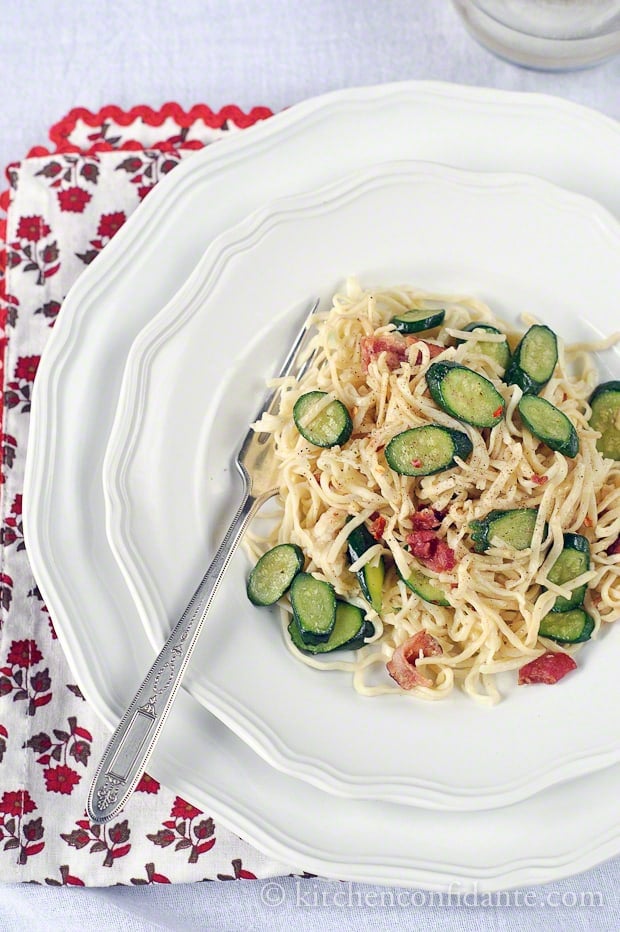 Skydiving. The Taj Mahal at daybreak. An African safari. Homemade pasta.
What's on your bucket list?
Some life goals are easier to achieve than others. I may never skydive – not because of fear or lack of opportunity, but simply because I know my husband may not be able to sleep at night knowing his wife will jump out of plane. For him, I am willing to never feel that jolt of adrenaline and panic as you peer over the edge of the open plane door. I will never feel the wind pull against my skin, forcing my face into an evil smile. I will never feel the pull of the ripcord and the peaceful descent to the ground. And I am absolutely okay with that. For him. (And maybe because I am a teensy bit scared.)
But this weekend, I finally crossed another one off the list.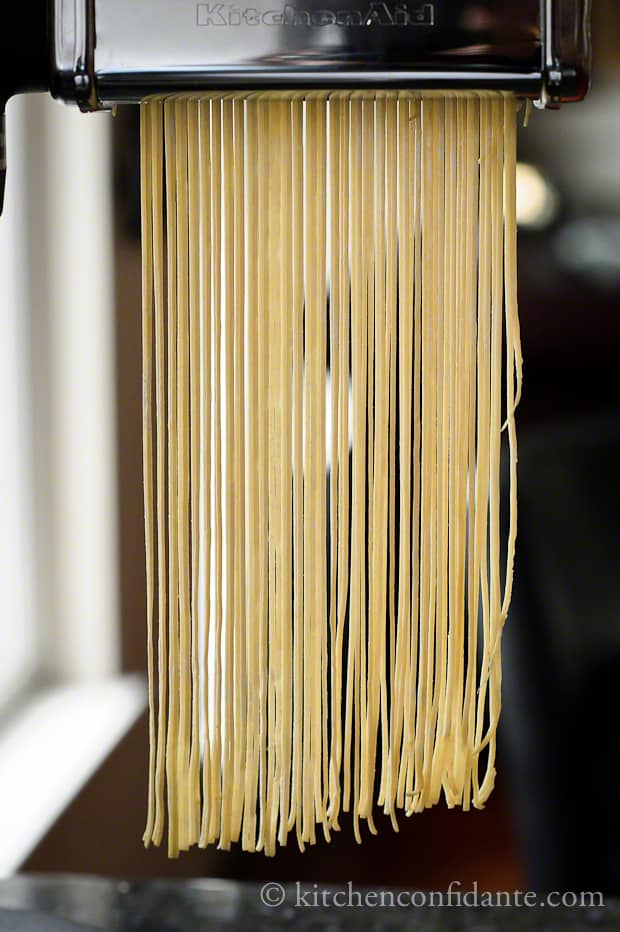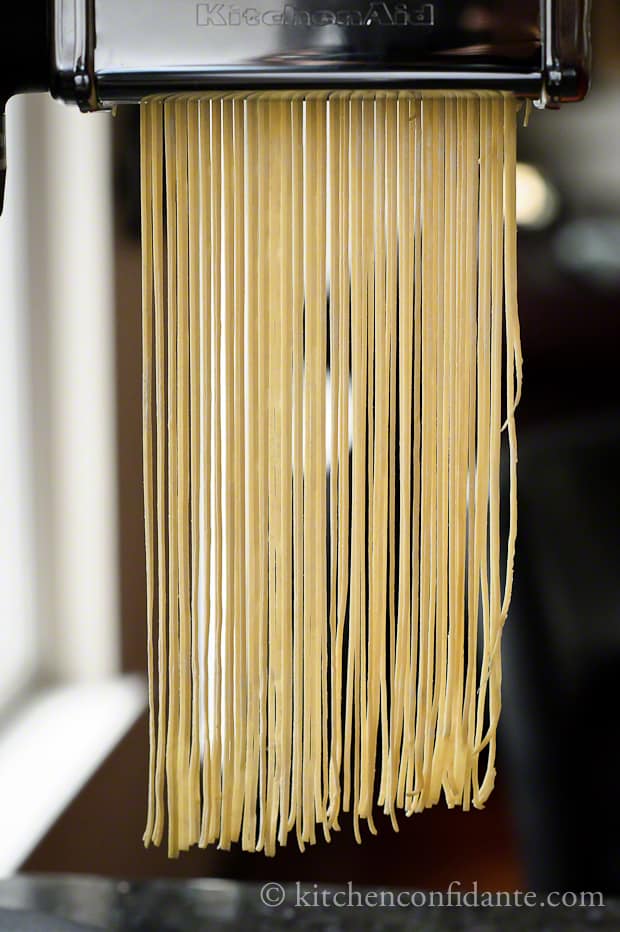 Last Christmas, he surprised me with pasta roller attachments for my stand mixer. He has known how much I have wanted to make my own pasta, and we were both eager to challenge ourselves with dough. But weeks passed – the time (or lack of it) never seemed right. Between work and travel and full weekends, we haven't had a leisurely day to devote to pasta. But today was the day. Deadlines had been met. There were no commitments. And the rain started to fall. It was a perfect day to stay in and play with some flour.
And boy, did the flour fly. By the time I was through, every surface was dusted and occupied by sheets of pasta. Let me assure you – it was worth it. Suffice it to say, it was rewarding to knead my own dough. And see the ball transformed into beautiful ribbons. But to toss the freshly cooked pasta into a pan of fresh baby zucchini with some bits of salty bacon and to twirl the spaghetti to raise it to your mouth – those tender bites were unlike any boxed version we had ever had.
Yes, I crossed it off the list. And I'll be crossing it off again, and again, and again.
Homemade Spaghetti with Baby Zucchini, Bacon and Mozzarella
If you haven't tried making your own pasta, you will be surprised at how easy (and fun) it is. You may never go back. Of course, if you don't have a pasta roller, by all means, substitute your favorite store bought spaghetti. It will be wonderful in this simple and flavorful pasta dish.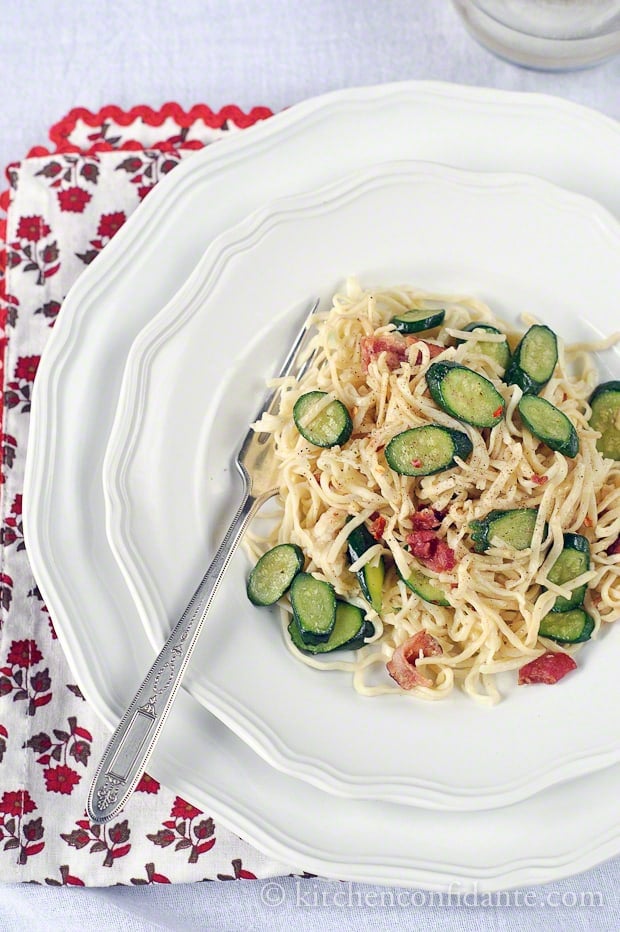 Print Recipe
Ingredients
Basic Egg Pasta
3 1/2 cups all-purpose flour, sifted
1/2 teaspoon salt
4 large eggs
1-2 tablespoons water
Spaghetti with Baby Zucchini, Bacon and Mozarella
1 lb spaghetti, homemade or store bought
12 oz smoked bacon, sliced into small chunks
1 lb baby zucchini, sliced
3 cloves garlic, minced
1/2 teaspoon red pepper flakes
reserved pasta water
Kosher salt
1 cup shredded mozzarella
1/4 cup grated Parmigiano-Reggiano
Freshly ground black pepper
Instructions
For the Homemade Spaghetti
In the bowl of your electric mixer, whisk together the flour and salt. Drop in the eggs and 1 tablespoon of water. Using the paddle attachment, stir on low speed for 30 seconds. Switch the attachment to the dough hook and continue combining the dough for about two minutes. Add an additional tablespoon of water if the dough seems too dry. The mixture will look crumbly but if you take a morsel and squeeze together, the dough should come together.
Empty the dough onto a lightly floured surface and knead until the dough comes together into a ball. Let it sit for 20 minutes.
Divide the dough into 4 pieces. Roll one of the pieces out to about 1/4 inch thickness. Using the large pasta roller attachment, pass it through the 1 setting and fold the dough over. Pass through again and repeat until the dough is smooth. Lower the setting to 2 and pass through. Continue until you are at the 5th setting. The pasta will be long - lay it on a lightly floured surface and cut into 3 or 4 pieces. Lightly dust the top of the pasta sheets with more flour. Repeat with the remaining pieces of dough.
Switch the pasta attachment for the spaghetti cutter. Pass the dough through and set the spaghetti aside.
For the dish
Bring a large pot of boiling water to a boil. Salt the water.
In a large, deep sided saute pan, add the sliced bacon and place over medium heat. Let the bacon brown and all the fat render. Use a slotted spoon and place the browned bacon on a plate lined with paper towels to drain.
Meantime, drop the pasta into the boiling water and cook. If using homemade, it will take 2-4 minutes and float to the top when done. Drain.
Discard some of the remaining bacon fat, leaving about 1/4 cup in the pan. Return to the heat and add the baby zucchini, garlic, and red pepper flakes. When the zucchini is a bright green and just tender, add the pasta and bacon to the pan and toss. Season with a little salt to taste. If the pasta seems too dry, ladle in some of the pasta water to create more sauce. Turn off the heat and stir in the mozzarella and Parmigiano-Reggiano cheeses. Season with freshly ground black pepper. Serve immediately.
Basic Egg Pasta from KitchenAid. Pasta dish adapted from Gemellis with Asparagus, Mozzarella, and Bacon, The Martha Stewart Living Cookbook, 2000.