Clean Slate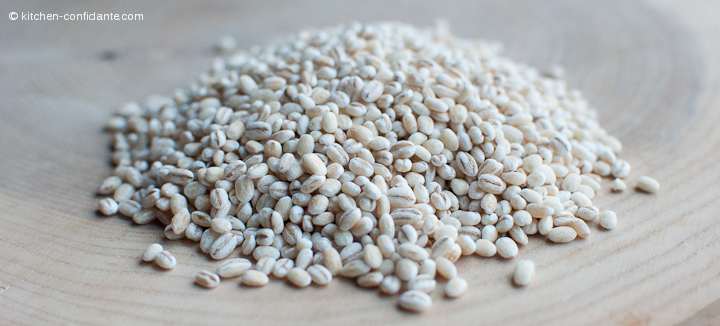 2011 is upon us! The beginning of another year is one I approach with mixed sentiment and reflection. Sometimes I feel a bit wistful of the quick passing of time, the way the months just slip away and how the children continue to grow. Sometimes I feel quite satisfied with all that we have accomplished, with the special moments that we as a family created – those memories that can be tucked away for a lifetime. And of course, I feel hopeful as we embark on another year, all the unknown, and the clean slate.
I hope that you had a cheerful start to your New Year. I know that for many New Year's Eve celebrations, festive food and drink is a must. I automatically think of luxurious foods such as lobster, local Bay Area New Year's favorites such as Dungeness Crab, and traditional dishes such as Prime Rib. If you did observe the New Year with a carnivorous feast of Prime Rib, I wonder if you thought to save the bones? In the past, I have always just thrown them away, but after our holiday Wasabi-Garlic Crusted Prime Rib, I surveyed the remnants and realized that the makings of a soup were in those scraps.
All I needed were some slivers of fresh Shiitake mushrooms and smooth pearls of barley.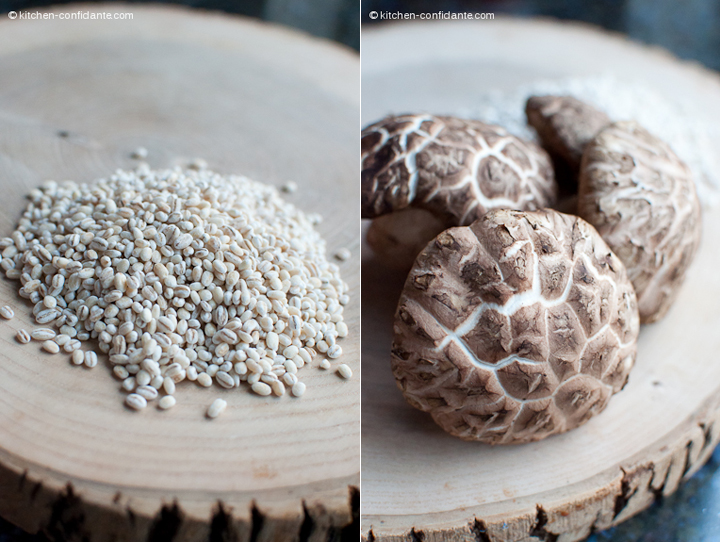 My Beef, Shiitake Mushroom & Barley Soup not only makes excellent use of your prime rib leftovers, it is the perfect meal after an indulgent evening of decadent food and libation. The light broth will soothe your tummy, and hone your body and spirit for any resolutions you may have pledged. I can't think of a better start to a new year.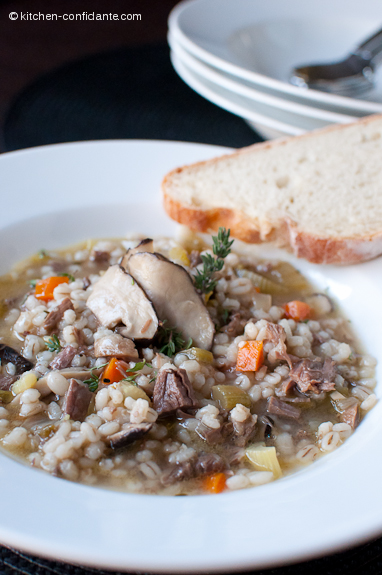 Beef, Shiitake Mushroom & Barley Soup
Serves 4-6.
3 tablespoons extra virgin olive oil
1 onion, diced
1 clove garlic, minced
1 head of celery, diced, divided
2 carrots, diced
4 shitake mushrooms, sliced
1 cup pearl barley*
7 cups prime rib beef stock (see Prime Rib Beef Stock recipe below, or use your favorite low-sodium beef stock)
meat from 3 roasted beef ribs
2 teaspoons kosher salt
freshly ground black pepper
1 tablespoon sherry vinegar
1 tablespoon soy sauce
1 teaspoon fresh thyme
In a small bowl, cover barley with boiling water and allow to sit for about 10-15 minutes. Drain and rinse well, set aside.
In a Dutch oven or soup pot, heat olive oil over medium heat. Sauté onions until transparent. Add garlic, about 1 cup of celery, carrots, and mushrooms and continue to stir and sauté until mushrooms begin to wilt. Add softened barley, beef stock, meat from beef ribs, and season with salt and pepper. Bring to a boil then lower heat and allow to simmer, partially uncovered, for about 40 minutes, or until barley is fully cooked and tender. Stir in sherry vinegar, soy sauce and thyme. Adjust seasoning with salt and pepper. Enjoy!
* Barley of any variety will work in this soup, however, I prefer the dainty pearl barley for its chewy texture and faster cooking time.
Prime Rib Beef Stock
3 left over prime rib bones, with some meat
1/2 onion with skin attached
3 stalks celery
1 carrot
8 cups water
In a dutch oven, cover rib bones, onion, celery and carrot with about 8-10 cups water. Bring to a boil, then allow to simmer over low heat for about 3 hours. Strain broth store in air tight containers in the refrigerator or freezer. Reserve meat for soup.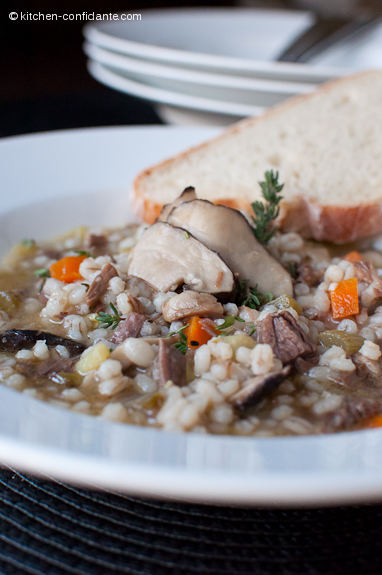 26 Responses to "Clean Slate"
Leave a Comment