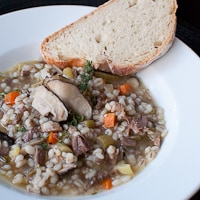 Beef, Mushroom, and Barley Soup
Have leftover beef but don't know what to do with it? This Beef, Mushroom, and Barley Soup is a delicious filling meal while taking care of all of your leftovers!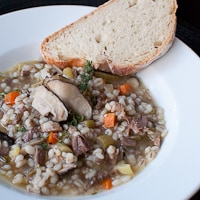 Beef, Mushroom, and Barley Soup
Do you have leftover prime rib? Use the bones and leftovers in this delicious Beef, Mushroom, and Barley Soup featuring prime rib, shiitake mushrooms, and pearl barley!
Happy New Year!
2011 is upon us! The beginning of another year is one I approach with mixed sentiments and reflection. Sometimes, I feel a bit wistful about the quick passing of time, the way the months just slip away, and how the children continue to grow. Sometimes I feel quite satisfied with all that we have accomplished. The special moments that we as a family created – those memories that can be tucked away for a lifetime. And of course, I feel hopeful as we embark on another year, all the unknown, and the clean slate.
I hope that you had a cheerful start to your New Year. For many New Year's Eve celebrations, festive food and drink are a must. I automatically think of luxurious foods. Foods like lobster, local Bay Area New Year's favorites such as Dungeness Crab, and traditional dishes such as Prime Rib. If you observed the New Year with a carnivorous feast of Prime Rib, did you think to save the bones? In the past, I have always just thrown them away, but after our holiday Wasabi-Garlic Crusted Prime Rib, I surveyed the remnants and realized that the makings of a beef, mushroom, and barley soup were in those scraps.
Beef, Mushroom, and Barley Soup
All I needed were some slivers of fresh Shittake mushrooms and smooth pearls of barley.
My beef, mushroom, and barley soup not only makes excellent use of your prime rib leftovers, but it is the perfect meal after an indulgent evening of decadent food and libation. The light broth will soothe your tummy, and hone your body and spirit for any resolutions you may have pledged. I can't think of a better start to a new year.
More Soups I Love
Swiss Chard, Leek, Potato, and Sausage Soup
Butternut Squash and Sweet Potato Soup
Sausage Molo Soup (Filipino Wonton Soup)
Clam and Mussel Miso Soup
Creamy Cauliflower and Potato Soup